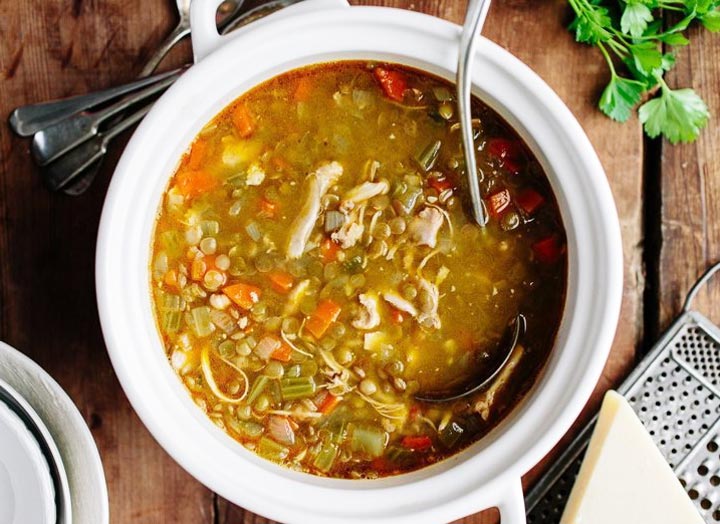 Chicken Lentil Soup Recipe
Serves:  8 to 10
Ingredients:
4 tablespoons bacon fat or butter
1 large onion, diced
2 stalks celery, diced
2 carrots, diced
2 garlic cloves, thinly sliced
2 tablespoons tomato paste
12 cups chicken stock or water
2 cups French lentils
1 pound boneless, skinless chicken thighs (See Recipe Note)
Grated Parmesan or Romano cheese, for serving
Instructions:
Melt the bacon fat or butter in the bottom of a large Dutch oven over medium-high heat and add the onion, celery, carrots, and garlic. Season the vegetables well with salt and pepper. Cook until the vegetables have softened, about 10 minutes. Add the tomato paste and stir to coat the vegetables. Cook until the tomato paste darkens and sticks a bit to the bottom of the pot, about 2 more minutes.
Add the chicken stock and lentils and bring to a boil. Reduce the heat to maintain a very gentle simmer and add the chicken thighs. Cover and continue cooking for 1 hour, checking periodically to make sure the soup isn't bubbling too vigorously. Remove the chicken thighs and put them on a plate to cool.
Working in batches, blend about half of the lentil soup until it's thick and creamy. (You can blend all of it if you like a creamy lentil soup, or none of it if you want it completely brothy. I like it somewhere in the middle.) Stir the pureed soup back into the pot. Using two forks, shred the chicken and return it to the pot. Taste and correct the seasoning.
Serve with cheese sprinkled over the top of the bowl.
Recipe Note:
Shortcut with Rotisserie Chicken: Replace the chicken thighs with 2 cups shredded chicken from a store-bought rotisserie chicken. Add the shredded chicken after pureeing and simmer just long enough to warm the chicken.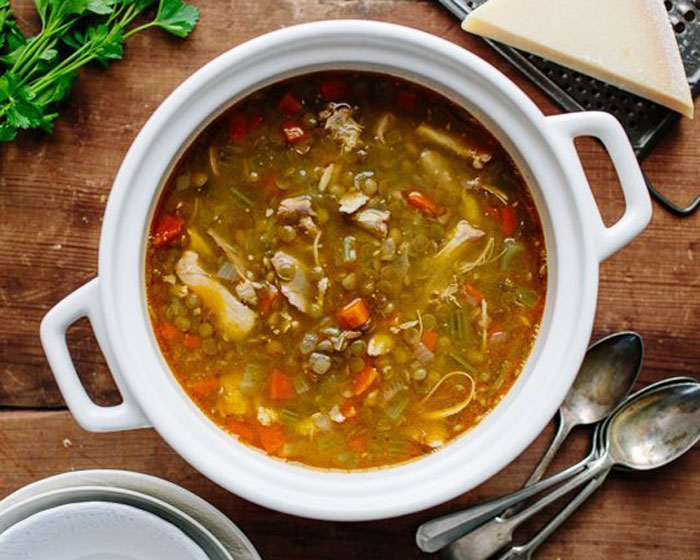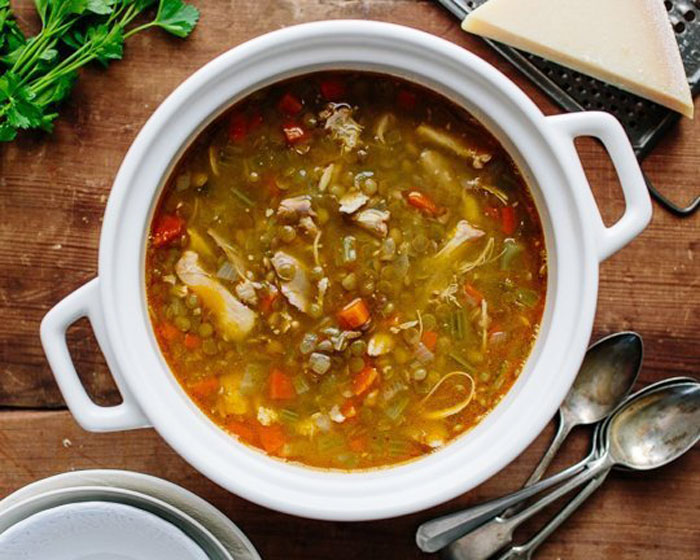 Source thekitchn.com