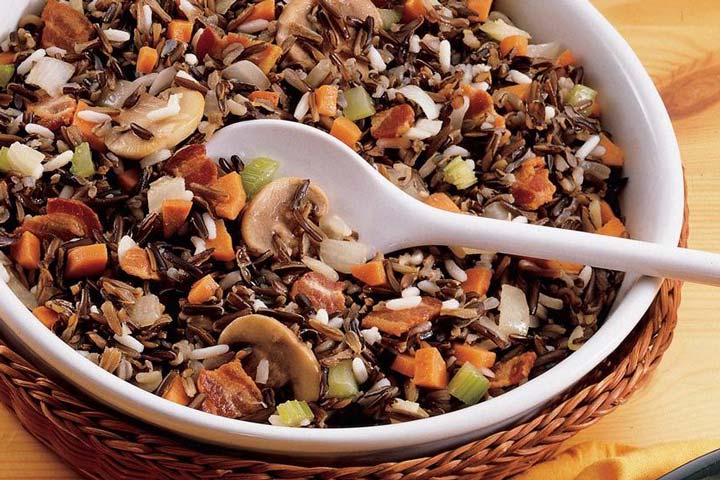 Want to learn how to make Chicken And Wild Rice Casserole?
Do you ever crave the recipes from your childhood? There has to be at least one dish you wish you could make as well as your mom did (and at least a bit more healthy). My mother made a great chicken and rice casserole, but I can still see the Cream of…
  Serves: 4          Prep Time: 10 mins      Cook Time: 20 mins
Ingredients:
1 tablespoon plus 1 tsp olive oil
1 small onion, diced
1 cup mushrooms, sliced
1 teaspoon salt
1/2 teaspoon garlic powder
1 pound chicken breasts (about 2), boneless, skinless, cut into 1/2 inch pieces
1/2 cup sour cream
1 cup shredded cheddar cheese (plus additional for sprinkling on top)
3 cups cooked wild rice (i cooked 1 cup uncooked wild rice in 4 cups water for 50 minutes)
Preparation:
Preheat oven to 350 F.
Place 1 tbsp of olive oil in a large saute pan over medium heat and cook the onions for 2 minutes.
Add the mushrooms, season with 1/2 tsp of salt and cook another 4 minutes or until the mushrooms are tender and the onions are translucent.
Remove the mushroom mixture and place in a bowl.
Heat 1 tsp of oil in the sauté pan and cook the chicken, garlic powder and remaining 1/2 tsp of salt for 3 minutes or until cooked through.
Combine all the ingredients together, place in an 8 x 8 inch baking dish and sprinkle with additional shredded cheese.
Bake for 20 minutes.
 Serve.
Sourceweelicious.com