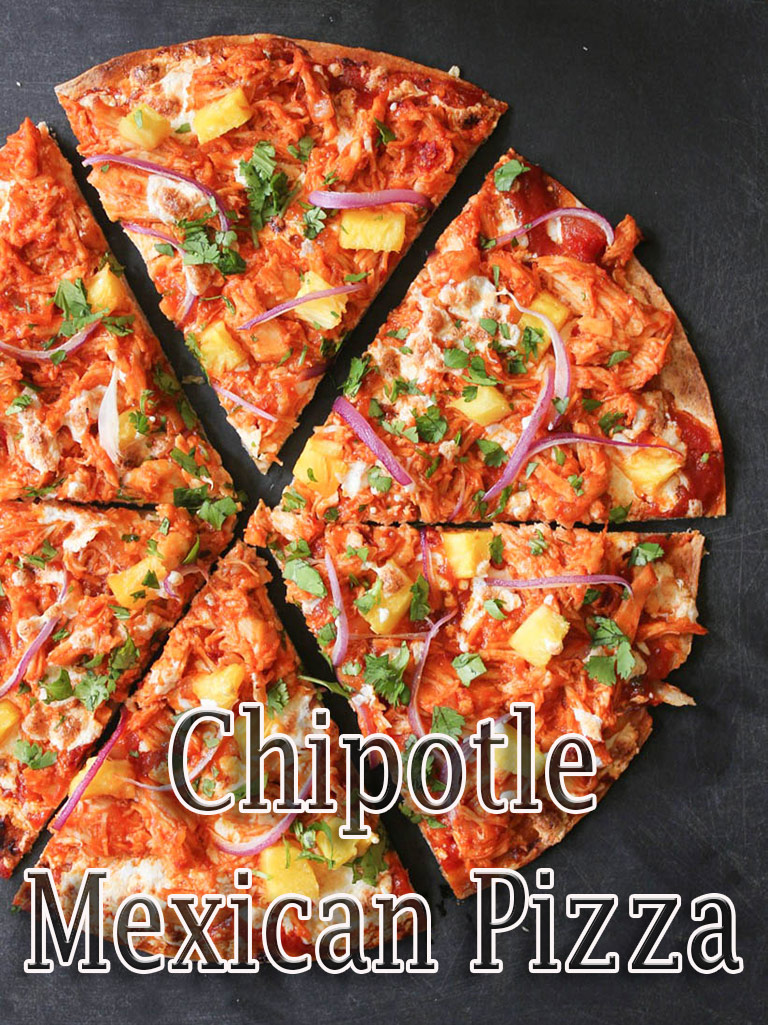 Chipotle Mexican Pizza Recipe
The combo of marinara, mozzarella, fiery chicken breast, sweet pineapple and fresh cilantro is truly glorious, and thanks to the tortilla base, it's surprisingly easy to pull off. Yes, the chipotle chicken takes about 30 minutes to cook, but that's mostly hands-off time, and then you just crisp the tortillas in a skillet, load them up with toppings and broil for 4-5 minutes. Idiot-proof pizza, no dough making/rolling required!
Ingredients
3 tablespoons olive oil, divided
¼ medium yellow onion, minced
1 clove garlic, minced
1 chipotle pepper canned in adobo, minced
1 8-ounce can tomato sauce (also labeled tomato puree)
½ teaspoon honey
2 ounces (1/4 cup) light beer



2 boneless skinless chicken breast halves, halved crosswise
3 9-inch whole wheat tortillas/wraps (I like Toufayan Bakeries, but you do you.)
¾ cups marinara sauce
1 cup + 2 tablespoons grated fresh mozzarella (about 6 ounces)
¼ medium red onion, very thinly sliced
½ cup finely chopped pineapple
1/3 cup freshly chopped cilantro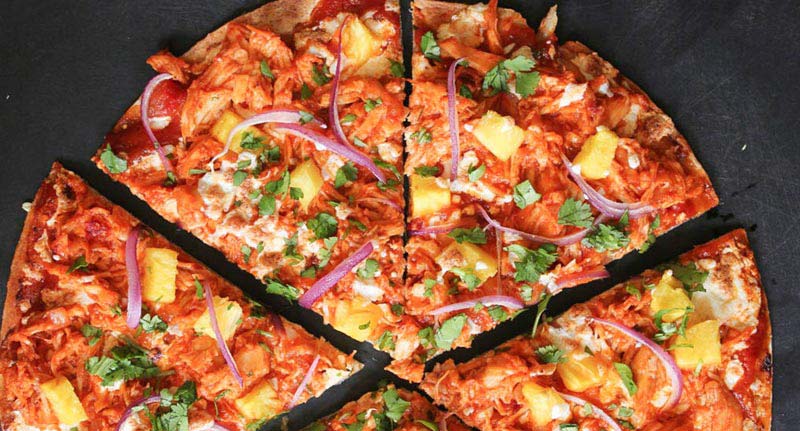 Instructions:
Heat 1 tablespoon olive oil in a medium Dutch oven or saucepan over medium heat. When hot, add the onion and garlic and cook for 5 minutes until the onions are soft and translucent. Stir in the chipotle pepper, tomato sauce, honey and beer and bring to a boil. Lower the heat to a simmer and add the chicken, turning the pieces over to coat them in sauce.Cover with a lid and cook for 20 minutes until the chicken is cooked through.
Transfer the chicken to a cutting board and shred it into small pieces using two forks. Return the shredded chicken to the sauce and cook for 3-4 minutes until the meat has absorbed most of the liquid. Remove from the heat and briefly set aside.
Pre-heat your broiler, and position an oven rack about 6-8 inches beneath it.
Now it's time to assemble your pizzas! You're going to have to do these one at a time, friends. Heat 2 teaspoons olive oil a cast iron skillet (or oven-proof pan) over medium-high heat. When the oil is shimmering (but not smoking!), add a tortilla to the pan. Let it cook for 45 seconds to a minute until it starts to puff up slightly and get a little browned on the bottom. Spread the tortilla with ¼ cup marinara sauce and sprinkle with a third of the mozzarella. Add a third of the chicken mixture in an even layer, then add a third of the chopped pineapple.



Carefully place the skillet under the broiler and cook for 4-5 minutes until the cheese is melted and bubbling and the tortilla is nicely browned at the edges. (Please keep an eye on it, peeps, all broilers are different!)
Loosen the pizza from the skillet with a spatula and slide it onto a cutting board. Top with a third of the chopped cilantro. Repeat this process with the remaining pizzas. Slice each pizza into 6 slices (a pizza cutter is very helpful) and get after it.
Source domesticate-me.com