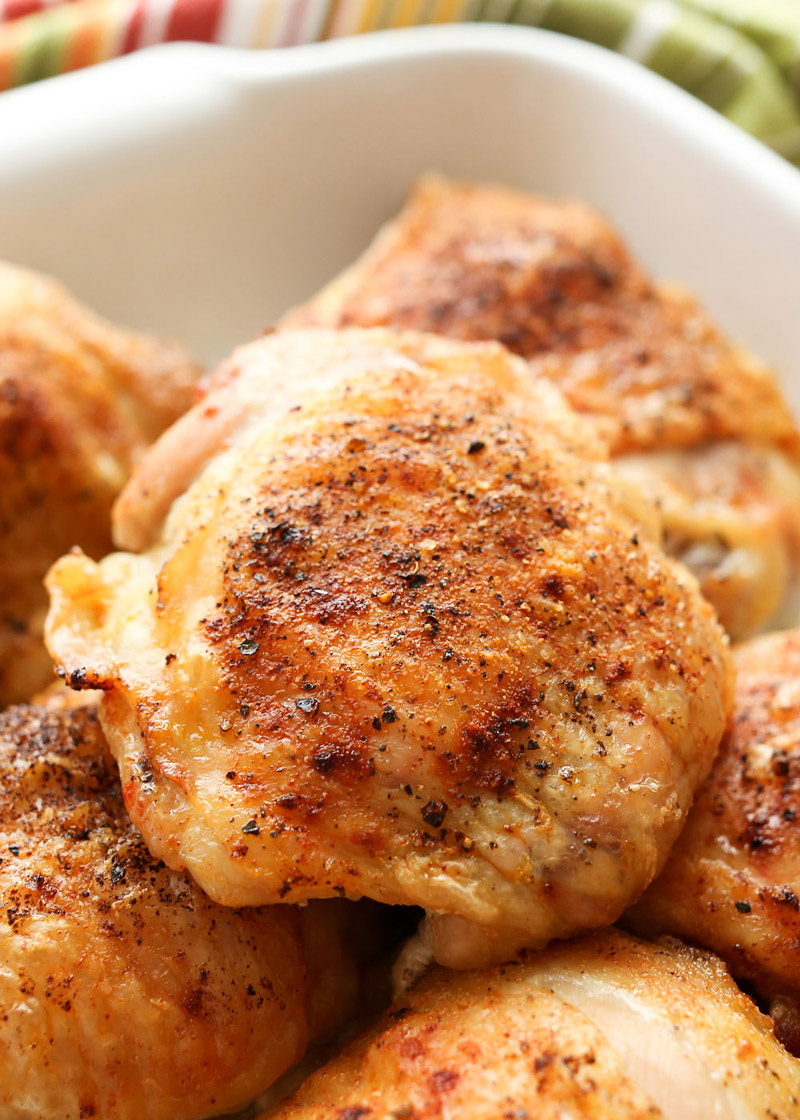 If you try the Paleo diet, you know it's anything but flavorless. You can cut out grains, dairy and legumes and not miss a thing! These 3 chicken thighs recipes are zesty, juicy and packed with primal nutrition.
Honey Spiced Glazed Chicken Thighs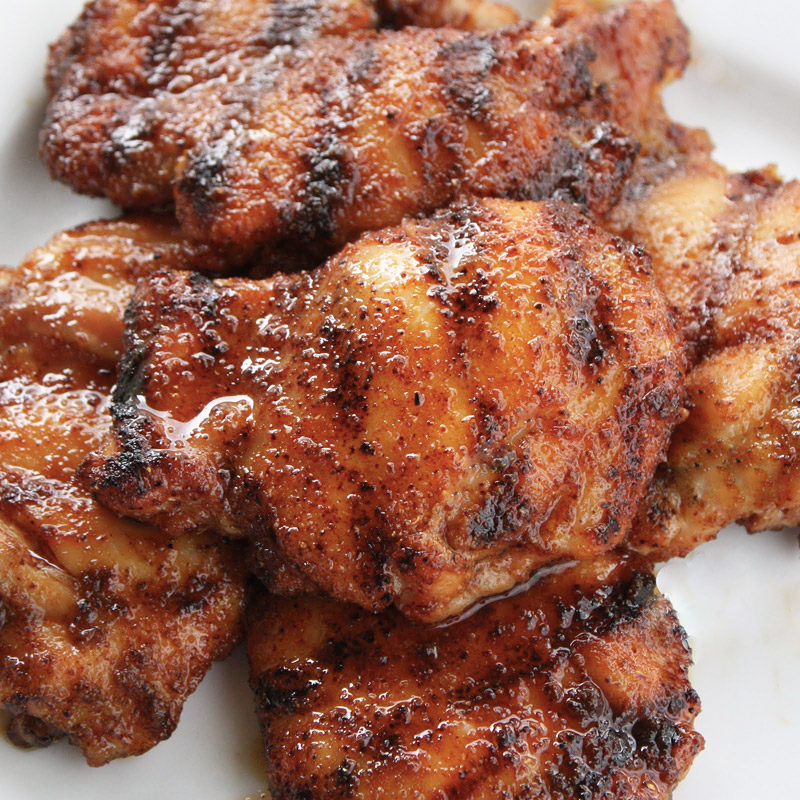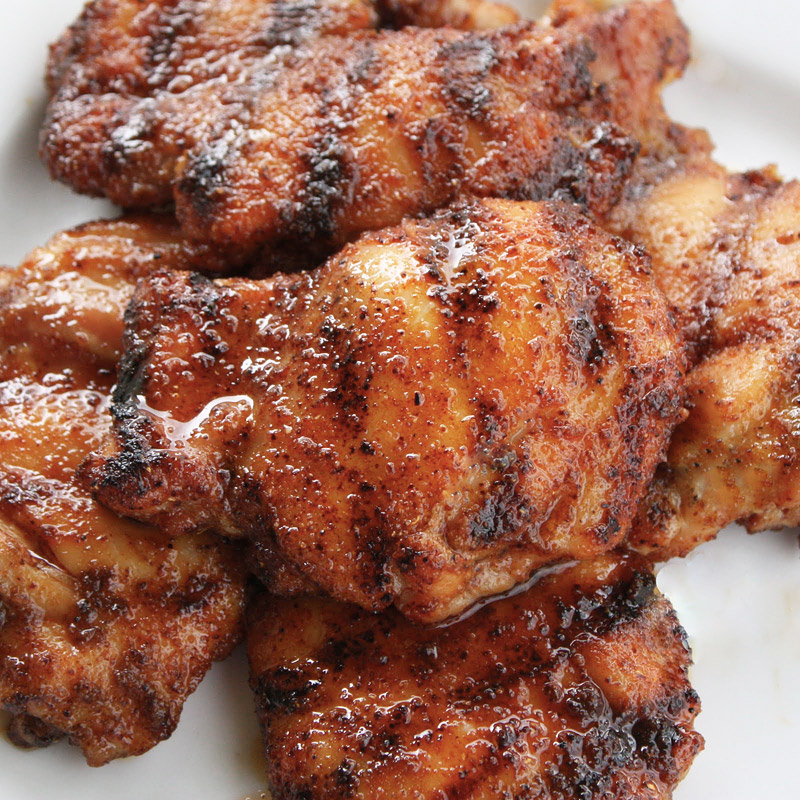 This delicious honey spiced glazed chicken is made with chicken thighs and cooked under the broiler. It's sweet, spicy and oh so delicious!
Ingredients:
1 package boneless skinless chicken thighs (you should get about 8 thighs per package)
2 teaspoons smoked paprika (regular paprika works well too but smoked brings more flavor)
2 teaspoons garlic powder
1 teaspoon kosher salt
1 teaspoon fresh cracked pepper
1 teaspoon red pepper flakes (use less if you don't like heat)
1 teaspoon chili powder
1/2 cup honey
2 tablespoons apple cider vinegar
Directions:
Mix spices together and set aside.
Mix honey and cider vinegar and set aside.
Un-tuck chicken thighs so they are flat. Cover both sides in seasoning, set flat onto sheet pan. When all chicken as been seasoned put under broiler* (I put mine on low just so I don't worry about burning the chicken)
Cook for 5-7 minutes on one side and flip. Cook for a 5-7 minutes on other side. Flip again and then baste the chicken in honey/cider mixture. Be sure to really get the chicken covered. Add to oven again and let it cook under the broiler for a few minutes until the honey starts to thicken up and glaze. It may smoke a little but this is completely normal.
Take chicken out of oven and let rest for a few minutes before devouring. You don't want to burn your mouth with all that hot honey glaze!
* If you have a gas oven and your broiler is at the bottom you can bake the chicken at 400 degrees for about 15 – 20 mins.
Oven Baked Crispy Chicken
This crispy chicken is made in the oven without any breading at all; the only ingredients you need are the chicken, a drizzle of oil, salt, and pepper.
Ingredients:
6 – 8 bone-in skin-on chicken thighs
1 1/2 – 2 tablespoons olive oil
1 teaspoon kosher salt
1/4 teaspoon freshly ground black pepper
Optional: ground paprika and/or granulated garlic
Directions:
Preheat the oven to 400 degrees.
Line a large baking tray or half sheet pan with foil and place all the chicken pieces on it, skin side down. Sprinkle with salt and pepper and flip each piece skin side up. Drizzle about a teaspoon of oil over the skin on each piece of chicken and rub lightly to coat. Sprinkle again with salt and pepper.
Bake for one hour, until most of the the fat has rendered out of the chicken and the skin is golden brown and crisp. Remove from the oven and let rest about 5 minutes before serving.
Maple-Glazed Chicken Thighs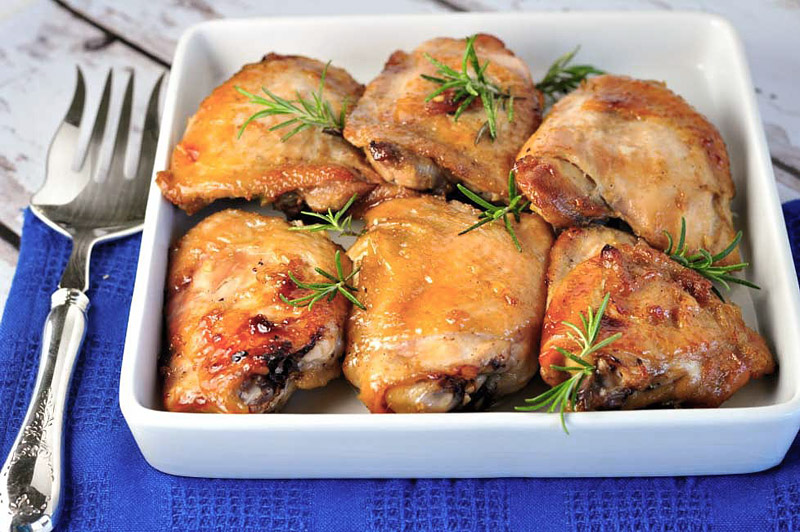 An easy 3-step recipe for tasty chicken thighs glazed with a sweet and salty sauce with hints of ginger and garlic.
Ingredients:
6 bone-in skin-on chicken thighs
¼ cup maple syrup
2 tablespoons coconut aminos (or soy sauce)
1 tablespoon apple cider vinegar
1 tablespoon finely minced garlic
1 tablespoon finely grated fresh ginger
½ teaspoon freshly ground black pepper
Directions:
Whisk together all marinade ingredients.
Put the chicken in a ziplok bag or a marinating container and pour the marinade over.
Turn to coat well.
Refrigerate for at least 2 hours or overnight.
Preheat oven to 375F.
Line a baking sheet with foil and lightly coat with oil to prevent sticking.
Place the chicken parts skin side down on the foil.
Bake for 25 minutes. Remove from oven and carefully turn chicken over.
Bake for 20 minutes more or until juices run clear and the chicken has reached an internal temperature of 165 degrees.