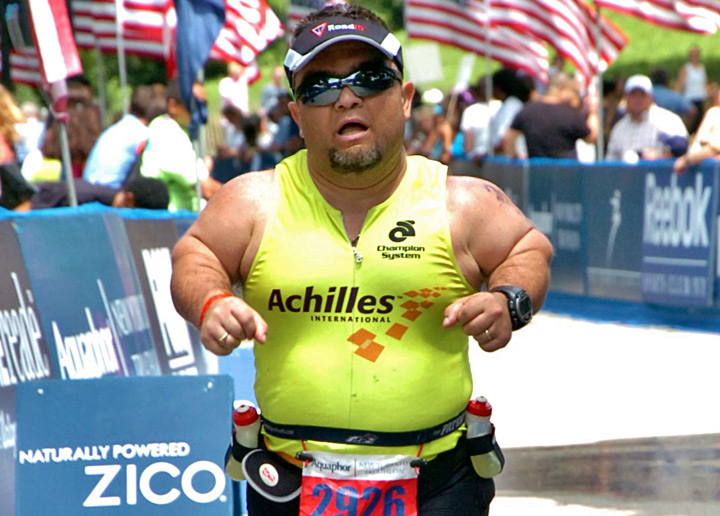 John Young's body may be smaller than the typical marathon runner, but his passion for the sport is giant.
Young, who has dwarfism, stands 4 feet 4 inches tall and has completed six marathons, 10 half-marathons and 36 triathlons since 2008. The math teacher from Salem, Massachusetts, has become an inspiration to people of all sizes, especially his 13-year-old son, after completing prestigious races like the New York City and Boston Marathons.
"I think when it's people of short stature, other people that are physically challenged, that's where I get the most satisfaction out of it," Young told Erica Hill on TODAY Wednesday. "Because I know what it's like to be laughed at and pointed at when you're different."
Young spoke with Hill for the "Run for TODAY" series a few days ahead of Sunday's More-Shape Women's Half Marathon in New York City, which will be hosted by Hill and TODAY's Natalie Morales. While running is now an integral part of his life, it wasn't always that way. In the early 2000s, he was overweight at 195 pounds and had sleep apnea, while also at risk for serious heart problems.
He took up swimming, biking, and finally running, setting his sights on the Boston Marathon. In 2013, he was a mile from the finish line when the bombs went off in a terrorist attack that killed three people and injured 264. Determined to finish the race the following year, he instead became so sick at Mile 10 that he decided to stop.
His son, Owen, tried to put the day in perspective after John's disappointing exit, telling him "sometimes you're the hammer, sometimes you're the nail. Today you were the nail."
John soon made "Be the Hammer" his motto, running his fastest marathon in New York City in 2015 and following it by completing the Boston Marathon for the first time. He is back to run in this year's Boston Marathon on Monday, and having Owen see his perseverance means almost more to him than completing his goals.
"When I did my first triathlon and he watched me finish, I remember the first thing he said to me was, 'Dad, did you win?' Young said. "And I said, 'No.' And he said, 'Why are you so happy?' I said, "Because I did my best. And it was great. I had a lot of fun."'
"If he hadn't started (racing), then I probably would've still been fussing over about how I'm shorter than most other people, and that I usually keep coming in last place," Owen told Hill. "It's just helped me realize that it really doesn't matter what place you come in. It just matters if you finish…what you started."
Source: today.com