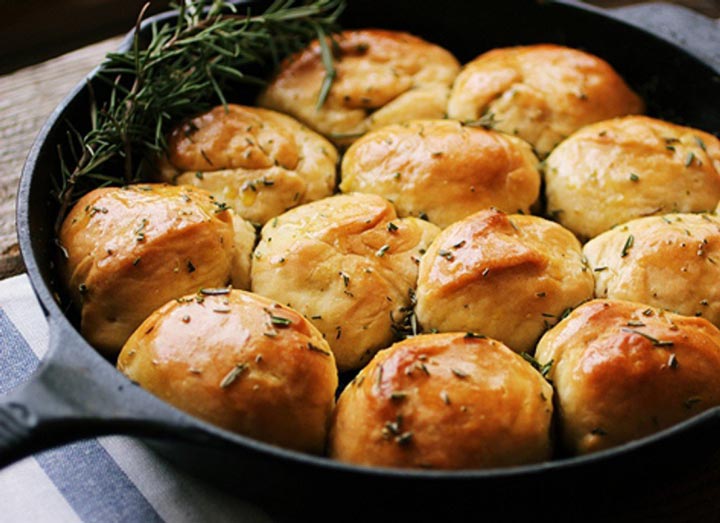 What is a dinner without Rosemary Skillet Rolls?
Rosemary Skillet Rolls stave off hunger when the main meal isn't ready, they're perfect for dipping in soups, and most importantly, they're the ultimate tool for making the most of those extra sauces that tend to linger on plates when meals are over. Delight your guests with these rosemary skillet rolls. They're soft, buttery, and lightly seasoned with fresh rosemary and a sprinkle of salt.
Ingredients:
2 1/2 cups flour
1 tablespoon sugar
2 1/4 teaspoon dry active yeast
1 teaspoon salt
3 tablespoon vegan butter, melted
1/2 cup warm water
1/2 cup non-dairy milk, warmed
5 tablespoons vegan butter
1 tablespoon fresh rosemary, finely chopped
A pinch of salt
Instructions:
Mix yeast and warm water together. Let stand 10 minutes.
Mix flour, sugar, and 1 teaspoon of salt together. Warm the non-dairy milk and 3 tablespoons vegan butter in a saucepan, until butter is melted. Add the mixture and yeast to the flour.
In a standing mixer with a paddle attachment, mix the dough until the mixture starts to ball up. Switch to a dough hook and mix on low for 5 minutes. Dough should be soft and smooth. Divide dough into 12 pieces and roll into balls. Place in an oiled 12-inch cast iron skillet. Let rise in a warm place until at least doubled, about 1 1/2 hours.
Preheat oven to 350°F.
Melt 5 tablespoons butter and add rosemary to it. Liberally brush rosemary butter over the tops of the rolls and sprinkle with salt.
Bake for about 20 minutes, or until browned.
Source onegreenplanet.org