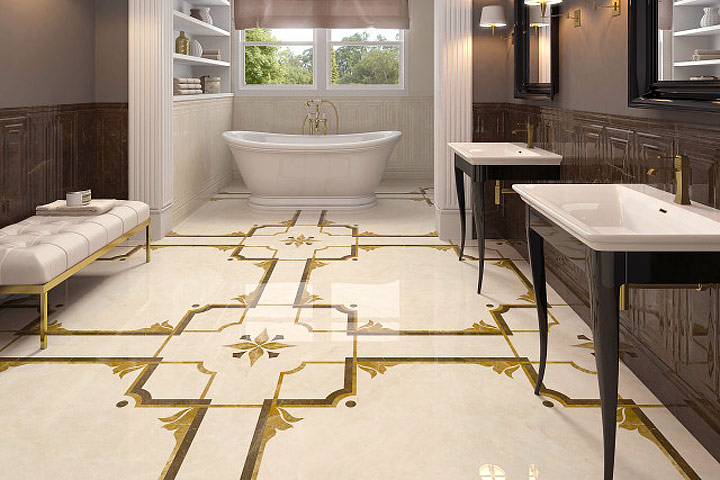 New Technology Drives Tile Trends
If you're designing kitchens and baths, there's a strong probability that you're specifying tile on a regular basis. And if you're specifying tile on a regular basis, you're probably seeing some exciting trends in that material. These trends may even be encouraging you to use it in ways and places you haven't considered before, like on kitchen and bath countertops again.
"I've become incredibly passionate for tile since I was introduced to Coverings in 2010," shares interior designer Alena Capra, CKD, CBD, the show's industry ambassador. Coverings is North America's largest tile and stone trade expo, held last month in Chicago, and scheduled for April 2017 in Orlando.
TECHNOLOGY TRENDS
It's really the technological trends that are driving tile's aesthetic trends. One of the top trends at Coverings, and at the major European shows, continues to be thin porcelain tile. "One of the benefits is that, in some cases, you can apply the tile directly on top of the old floor, reducing the installation time and environmental waste," Capra notes.
Thin porcelain tiles, often called TPT, have been getting increasingly larger. "Both machinery manufacturers that make presses have increased their size capacity to 5'x10.5′, and both can now offer textured surfaces," shares Ryan Fasan, Tile of Spain's technical consultant for the U.S. market. Tile of Spain is one of the owners of the Coverings Show, as well as host of Cevisama, the annual February tile expo in Valencia, Spain.
These surfaces are showing up on floors and walls around the world, including in the U.S. They also have other potential uses. "Thin porcelain manufacturers are approaching cabinetry manufacturers to create highly durable veneers for their designs," Fasan adds. These TPT veneers can become low maintenance cladding for kitchen and bath cabinets, standing up to hard use. These will likely show up in European lines first, as most of the thin porcelains are made in Spain or Italy.
"New technologies bring new design possibilities, but it usually takes a while for the U.S. market to catch on," observes Vittorio Borelli, president of the Italian Association of Ceramics. Another technology trend that has revolutionized the industry is the increasing sophistication of inkjet technologies that reproduce natural looks and textures on tile.
"As print heads and chemistry behind the inks themselves begin to work synergistically, manufacturers can not only imitate the look of other materials but can capture the feel as well," Fasan explains. "Inkjet printers now have the capability of depositing not only colors, but also lusters, metallics and glazes, widening the array of design possibilities to explore," he adds. This inkjet technology, along with TPT, make it possible to have realistic wood-look planks that go the same eight-foot span as solid or engineered wood, Borelli notes. Unlike wood, though, these planks are water-friendly.
Coverings' Capra adds, "There is a greater variety of wood looks than ever before, from hand-scraped to high gloss. The printing also allows for low-relief patterns and fabric looks – some trends we're seeing today. Digital printing has also upped the ante for stone-look tile. [It] has allowed 'book matching' in which the veining at the seams of two tiles matches perfectly. The veins create a continuous run, offering up attractive looks for walls, floors, kitchen islands, backsplashes, countertops and more."
Naples, FL-based designer and blogger Ann Porter, CKD is also enthusiastic about the possibilities that recent inkjet printing offers, which she saw at Cevisama this year. "I was really impressed to learn that they can use inks on the tiles that will create raised and sunken textures. This saves on the cost of a tile if you can achieve the desired pattern and texture all in one firing."
"The new advances are revolutionary," Fasan agrees. "The ability to apply glaze and metallics via inkjet printing offers huge production cost – and thereby landed product cost – savings. Since the firing process uses the most energy and time, the advent of single firing with digital inks and glazes opens up new design capabilities at highly competitive price points." He also predicts near-future production systems taking tile from raw material to packaging entirely with digital production. "Once this becomes reality, smaller production runs and nearly 100 percent bespoke collections will become the norm."
Right now, almost all of this high-tech production is being used in Spanish- and Italian-owned operations, but it's slowly expanding. A walk through Coverings will take you past Brazilian and Chinese brands, as well as U.S. manufacturers that are owned by European companies, all exploring these technologies. "The U.S. has the highest number of ceramic factories from Italian groups. There are five companies with production facilities in the U.S., soon to be six in the coming months," notes Italy's Borelli.
"This trend is occurring because companies want to have better access to the U.S. market," he explains. There are also Italian-owned factories in market growth regions like Western Europe, Poland, Finland, Russia, Ukraine and India, the association executive says.
One area where designers, contractors and homeowners can get some savings now is in installation. Borelli predicts that at Cersaie, September's annual tile expo in Bologna, Italy, "We expect to see many products designed to make installation a breeze," including large tiles with herringbone patterns or micro mosaics, or complete easy-install systems.
Kitchen Studio of Naples' Porter comments, "I can't wait to have a project where I can use large-format tiles that look like water-jet mosaics. Tiles like this can help a homeowner save on material and labor costs. Upkeep is also easier since there is less grout and no porous stone to worry about."
Borelli adds, "ABK Group will continue to expand upon its revolutionary Auto-Leveling products that use a highly flexible body to guarantee perfect flatness regardless of the conditions of the substrate." This can definitely lower a project's installation time and costs.
"Another game changer," the Italian tile executive adds, "is a collection of porcelain tiles from Ornamenta that act like a chalkboard. Due to a specially formulated soft glaze finish, the Paper [series] tile allows one to write on it, then erase, giving it an additional utilitarian function meant to inspire creativity, especially in kids' rooms."
STYLE TRENDS
Many of the top tile style trends at this year's U.S., Spanish and Italian expos are continuations of trends we've been seeing in recent years: wood looks, natural stone looks, hydraulic/encaustic looks, dimensional and textured surfaces, and hexagon and brick shapes. What Capra sees as the dominant style trends for this year are: "Blues inspired by the historical style from 17th Century Holland; and aquas, reminiscent of the colors of the Mediterranean Sea, in everything from large-format sizes to three-dimensional accent tiles, to mosaics." She's also seeing "soft and natural: Light gray and light brown remain popular color selections, and this preference continues in tile. Playing with this are watercolor effects in neutral tones."
Florals and fabrics are also trending this year, according to the Coverings ambassador. She's seeing unique patterns like chevrons, paisleys and damasks on a variety of backgrounds and materials. "Fabric-like prints are also showing [up on] a new generation of wood-look porcelain. This is a nice example of how fashion and textiles are influencing home design."
Porter shares her style notes from Cevisama: "The strongest continuing trends included an interest in salvaged materials and weathered and rustic tiles. This continuing trend includes burnished metals and oxidized stone with the popular wood and stone looks. Realism also continued with natural stone and wood-look tiles increasing in the number of patterns available in a collection. One had as many as 22 stone patterns for the most random look," she recalls.
Borelli expects to see hexagons and bricks continuing to trend strongly at Cersaie this fall, with "linear and fragmented patterns, chevron and herringbone tiles, and soft color palettes dominating the show floor."
One innovation that is really strengthening the brick trend is the 90-degree tile that can wrap around an exterior or interior corner. Like the advent of book matching, this has really improved the overall look of a tile installation.
LAST WORDS
"If you haven't looked at tile much for the past few years, it's time to see what you've been missing. For a centuries-old industry, the future looks fresh and bright indeed!" declares Tile of Spain consultant Ryan Fasan. If you can't get to Italy in September, Spain next February or Orlando next April, seek out a high-end tile distributor in your area to see what's new and exciting, he suggests. You can also visit the Pinterest boards for Ceramics of Italy, Tile of Spain or Coverings, which is co-owned by those two European trade groups and the Tile Council of North America. Whichever approach works best for you, don't miss out on tile's latest trends. KBDN
Source: kitchenbathdesign.com
About Author: Jamie Gold, CKD, CAPS is an independent designer in San Diego, the author of New Kitchen Ideas That Work and upcoming New Bathroom Idea Book (Taunton Press), and a blogger, design journalist, seminar developer and industry consultant.