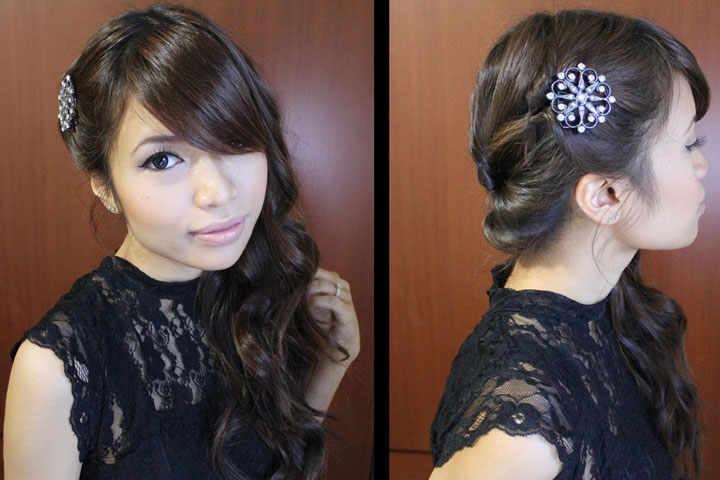 Looped Side Swept Prom Hairstyle Tutorial
Hey girls, today we are back with another hairstyle video tutorial Looped Side Swept Prom Hairstyle which is perfect for Medium long hair. The hairstyle is easy and simple. It is ideal for medium long hair. You just need to curl your hair. To get the curled hair, use the heating rod and follow the steps as shown in this video tutorial.
Let's get started and create yourself this Looped Side Swept Prom Hairstyle:
Curl the hair from below. You can choose any heating rod size depending on the need of the curls size.
Once your curling is over, make a ponytail from side of hair.
Split the ponytail and flip it.
Now take some strand and then tie with the elastic band.
Create a hole and then flip it toward the hole.
You can create any many as ponytails in the side. But here we are making only three side ponytails.
When you are done, you gather all the hair and bring it to the other side.
Use the hair accessories to enhance the hairstyle.
Finally your looped side swept prom hairstyle is ready.




This is one of those hairstyle which is the easiest cascading side swept hair style that's perfect for proms and parties. Always end your hairstyle using hair accessories to glam up the hairstyle and it does make a difference! Here in the tutorial we have used products like Heat Protectant Spray, Paddle Brush, Rat Tail Comb Infiniti by Conair You Curl XL Curling W and Elastic Hair Ties, Scünci Bendini Clips. Try it out and enjoy.
Video by: Bebexo (YouTube)
Source www.ehairstyles.org