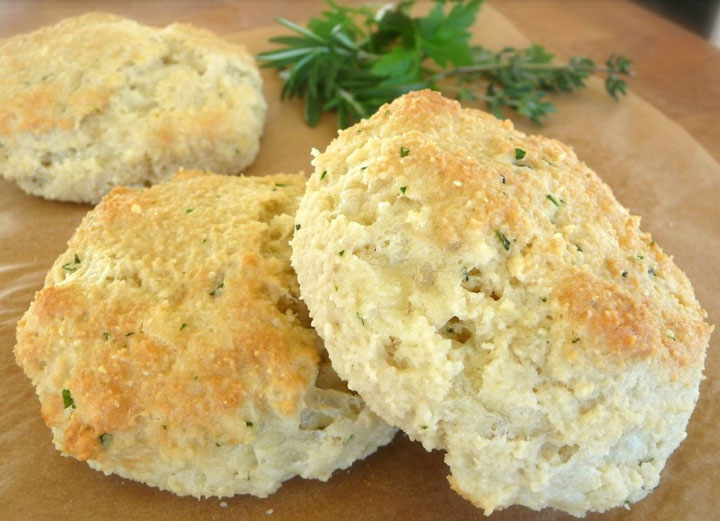 Herbed Yogurt Biscuits Recipe
Every cook needs a foolproof biscuit recipe, and this version proves to be just that, along with a welcome addition of zesty fresh herbs and savory black pepper. Greek yogurt subs in for more traditional buttermilk, providing an airy texture and a oh-so-subtle tang. These delightful biscuits are easy enough for a weeknight meal, but impressive enough for dinner with friends!
Makes 6 to 8 biscuits
Ingredients:
2 cups (9 ounces) all-purpose flour, plus more for rolling
1 tablespoon baking powder
1 1/4 teaspoons kosher salt
1 teaspoon baking soda
1/4 teaspoon freshly ground black pepper
4 tablespoons (2 ounces) cold unsalted butter
1/2 cup whole or low-fat plain Greek yogurt
1/4 cup minced fresh herbs, such as dill and Italian parsley
Cold milk (whole or 2%), as needed
Good butter and flaky salt, for serving
Instructions:
Preheat the oven to 450°F. Line a sheet pan with parchment paper.
In a medium mixing bowl, combine flour, baking powder, salt, baking soda, and pepper and whisk to incorporate. Cut the butter into razor thin slices; add to the dry ingredients, tossing to coat with flour, and place the bowl in the freezer for 5 to 10 minutes.
Gently fold the Greek yogurt and minced herbs into the dry ingredients, stirring until most of the flour is absorbed and the dough forms a shaggy ball. If the dough still seems too dry, add milk, a tablespoon at a time, as needed. Turn the dough out onto a floured work surface and knead just until it forms a smooth ball, about 10 to 15 seconds.
Pat the dough into a 1/2-inch thick round. Flour a sharp biscuit or circular cutter and cut out biscuits, as close together as possible. (Do not twist the cutter; press straight down and pull straight up.) Use a bench scraper or spatula to transfer biscuits to the prepared baking sheet, spacing them about 1/2-inch apart. (For flakier biscuits, see recipe notes below.)
Bake the biscuits for 12 to 14 minutes, rotating halfway through cooking time, until tall and golden brown. Remove from the oven and allow to cool for 5 minutes before serving. Top with good-quality butter and a generous sprinkle of flaky salt.
Source thekitchn.com