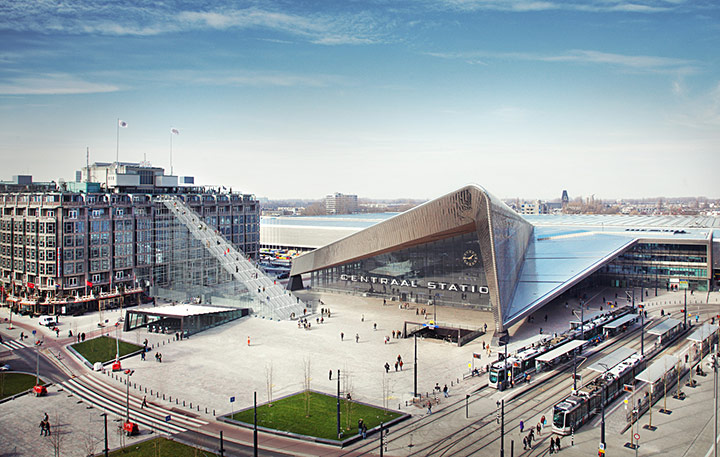 This spring, the Dutch city of Rotterdam will erect a giant staircase leading from Stationsplein, outside the entrance of the central station, to the top of the Groot Handelsgebouw — an important building in the city's history. Designed by MVRDV, the scaffold structure pays homage to Rotterdam's rebuilding efforts in the wake of the second world war.
The stairs will be inaugurated on May 16, 2016 by mayor Ahmed Aboutaleb, and will remain open to the public until June 12. The stairway offers a progression of perspectives over the city as one ascends 29 meters to the roof of the adjacent building. Once at the top, a temporary observation deck overlooks the entire city. In addition, a rooftop cinema will open specially for the event, offering a wide variety of films, debates and performances. Visitors will also be able to enjoy refreshments and find out more about Rotterdam and its ongoing development.
"I used to see Rotterdam from the kriterion after the films and it gave an fantastic overview of the city," explains Winy Maas, co-founder of MVRDV.
"The roof of the groot handelsgebouw, one of the best buildings of the reconstruction of the Netherlands, deserves to be used as a base for the next intensification of Rotterdam. the stairs suggest that. The stairs aim to animate the rooftop and to imagine a second layer in the next step of rotterdam's urban planning. a second reconstruction. It would be good to make it a permanent fixture."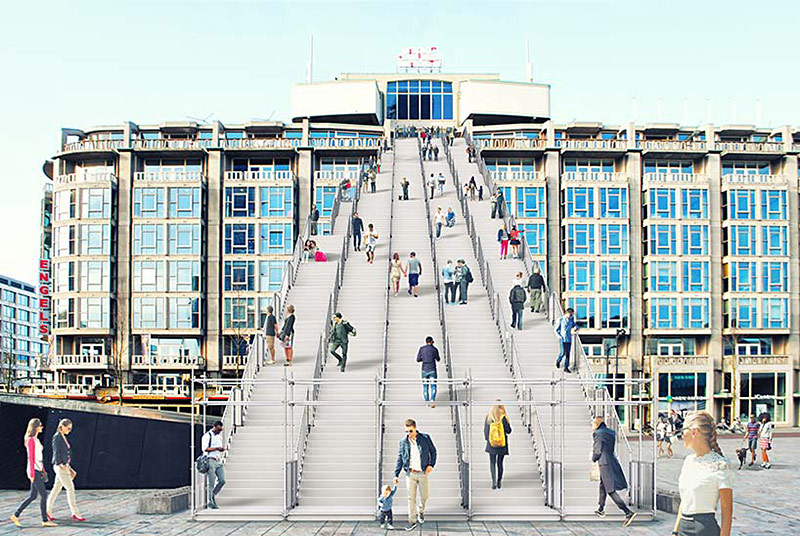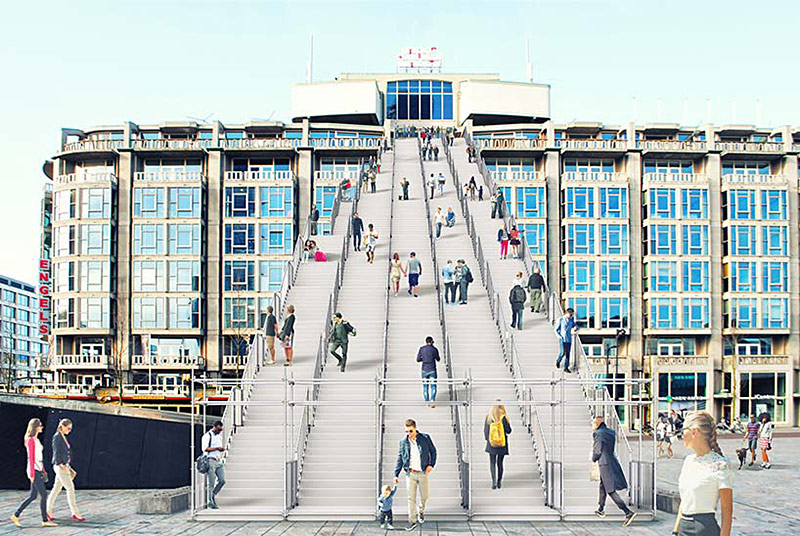 The scheme forms part of a large cultural event titled Rotterdam celebrates the city. Such gatherings often provide distinct vantage points, such as the Euromast, which was constructed for the Floriade in 1960, and the cable cars on the Coolsingel built for the reconstruction event C70.
"Now we create a new lookout where people can enjoy the unique views of this newly built city,"says Anouk Estourgie of Rotterdam celebrates the city.
Source: designboom.com