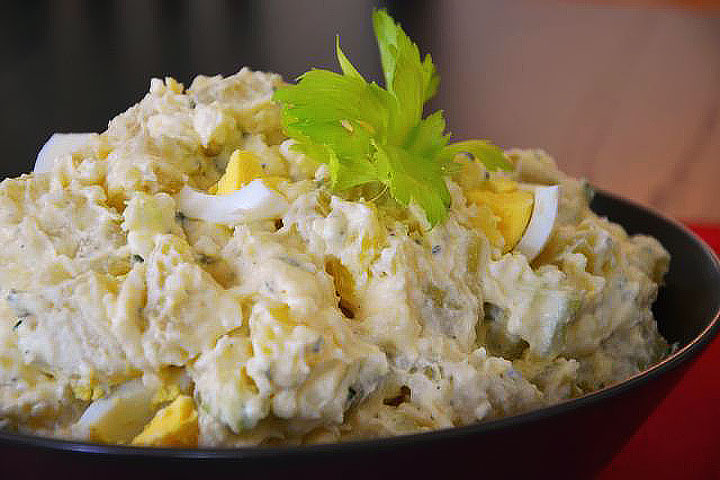 Egg and Potato Salad
If you love potato salad and egg salad, then look no further. This popular barbecue side dish utilizes the delicious flavors of both.  Easy to make and perfect for any cookout or party.
Ingredients:
2 pounds medium white potatoes
1 tablespoon/15 mL salt (for boiling potatoes)
5 boiled eggs
1 1/2 cups/360 mL mayonnaise
1 large rib of celery, finely chopped
2 tablespoons/30 mL fresh chives, finely chopped
1 tablespoon/15 mL dijon mustard
1 tablespoon/15 mL prepared relish (use more if you wish)
2 teaspoons/10 mL salt
1 1/2 teaspoons/12.5 mL cider vinegar
1/2 teaspoon/5 mL onion powder
1/4 teaspoon/1.25 mL black pepper
1/4 teaspoon/1.25 mL garlic powder
Preparation:
Boil eggs, drain and set in cold water for 15 minutes. Peel eggs, place into a bowl and store in the refrigerator for about 1 hour before using.
In a large pot, bring 3 quarts of water to boil. Add salt and stir through. Peel potatoes and cut into quarters. Boil potatoes for 22-25 minutes or until they are easily pierced through with a knife. Do not overcook or the potatoes will become too mushy. Toward the end of cook time, fill a very large bowl with ice and water. Drain potatoes through a large strainer and place strainer with potatoes into the ice bath. Let potatoes cool in ice bath for 10-15 minutes. Drain once more and chop potatoes into 3/4 inch cubes. Set aside.
In a large plastic of glass bowl, Combine mayonnaise (use the creamy, mild-flavored kind), mustard, relish, cider vinegar, salt, black pepper, onion powder, and garlic powder. Roughly chop four of the five eggs. Add to the bowl and mash into mayonnaise mixture. Add the potatoes, chopped celery, and chopped chives to the bowl. Gently fold into egg salad mixture until well incorporated. Taste and add more salt if needed. If the mixture is not creamy enough, add another 1/4 cup of mayonnaise at a time until it reaches the desired consistency.
Scoop salad out into a serving dish and chop remaining egg into sixths. Place pieces around the salad and top with washed celery leaves or chopped chives for garnish. Cover with plastic wrap and let cool in the refrigerator for at least 2 hours before serving.
If serving this dish at a cookout, fill a baking tray with ice. Nestle potato salad dish in the center with the ice surrounding the bowl. Refill ice as needed. This will help to keep your salad nice and chilled, particularly on warm days
Store leftover potato salad in an airtight container in the refrigerator for 2-3 days after preparation. Do not freeze.