Chocolate Sandwich Cookies with Marshmallow Cream Filling recipe
Stuff homemade chocolate sandwich cookies with a sweet marshmallow cream filling for a delicious dessert that's lighter than it tastes.
Ingredients:
COOKIES:
1 cup sugar
5 tablespoons butter, softened
1 teaspoon vanilla extract
2 large eggs
2 cups all-purpose flour (about 9 ounces)
5 tablespoons unsweetened cocoa
1 teaspoon salt
1 teaspoon baking powder
1 teaspoon baking soda
1 cup fat-free buttermilk
Cooking spray
FILLING:
1 envelope unflavored gelatin (about 2 1/2 teaspoons)
3/4 cup cold water, divided
1/2 cup sugar
1/4 cup light-colored corn syrup
1/8 teaspoon salt
1/2 teaspoon vanilla extract
Preparation:
1. Preheat oven to 375°.
2. To prepare cookies, combine 1 cup sugar and butter in a large bowl. Beat with a mixer at medium speed until well blended (about 2 minutes). Add 1 teaspoon vanilla and eggs; beat until combined. Lightly spoon flour into dry measuring cups; level with a knife. Combine flour, cocoa, 1 teaspoon salt, baking powder, and baking soda; stir well with a whisk. Add flour mixture and buttermilk alternately to sugar mixture, beginning and ending with flour mixture.
3. Drop dough by rounded tablespoonfuls 2 inches apart onto baking sheets coated with cooking spray. Bake at 375° for 10 minutes or until set. Cool on pans 5 minutes. Remove from pans; cool completely on wire racks.
4. To prepare filling, sprinkle gelatin over 1/2 cup cold water in a large bowl; set aside. Combine remaining 1/4 cup water, 1/2 cup sugar, syrup, and 1/8 teaspoon salt in a medium saucepan over medium-high heat. Cook, without stirring, until a candy thermometer registers 244°. Remove from heat. Gradually pour hot sugar syrup into softened gelatin mixture, beating with a mixer at low speed, then at high speed until thick (about 6 minutes), scraping sides of bowl occasionally. Add 1/2 teaspoon vanilla; beat until well blended.
5. Quickly spread about 2 tablespoons filling over bottom side of 1 cookie; top with another cookie. Repeat procedure with remaining filling and cookies.
 

Please follow us on Pinterest and enjoy our collection of recipes, crafts, fitness, health tips, gardening, DIY and more…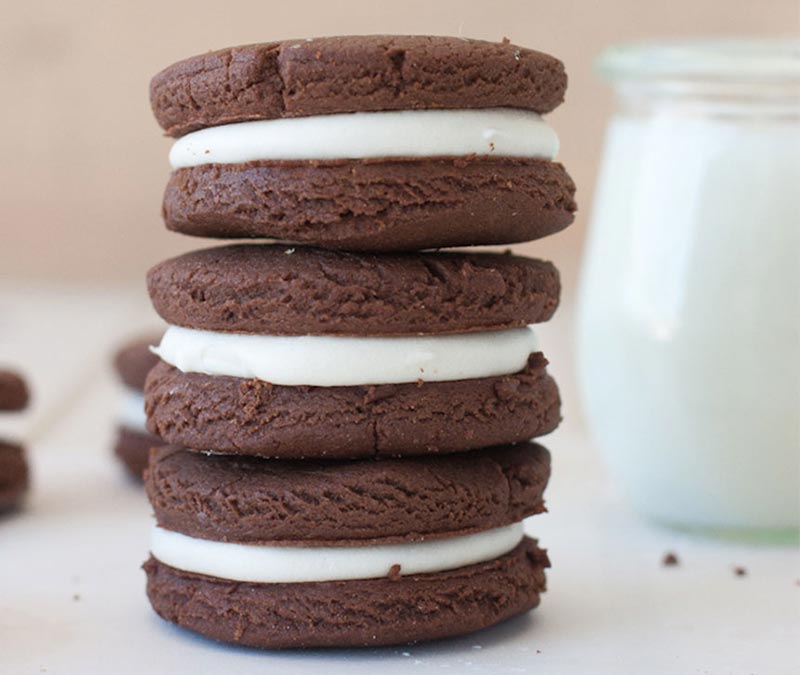 Source myrecipes.com