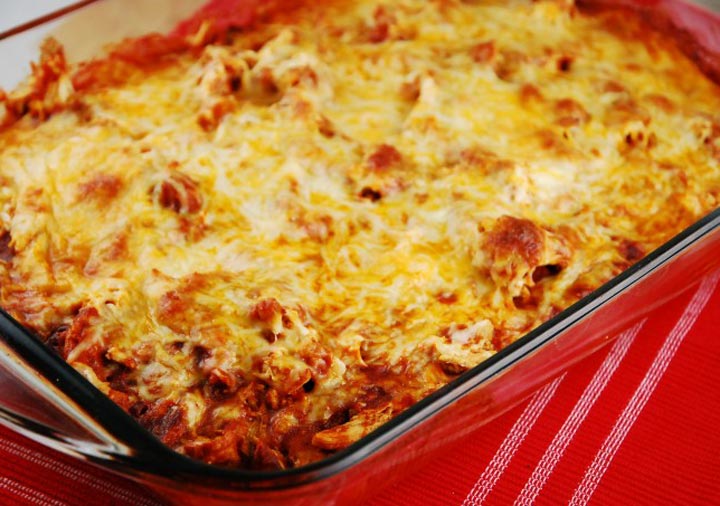 Chicken Tamale Casserole Recipe
This unique twist on a tamale turns a popular Mexican meal into a classic American-style comfort dish that is positively delicious. A base of cornbread mixed with corn, green chilies and fresh jalapenos, topped with shredded chicken, enchilada sauce and cheese. It's a quick and easy dish to prepare, and heats up great the next day too. This was so good, and so satisfying…it was a great Weight Watchers Dinner Recipe that the whole family could enjoy.
Ingredients:
1lb skinless, boneless chicken breasts, cooked and shredded
1 16oz package frozen corn, defrosted
1 8oz box cornbread mix (I used THIS kind)
1 cup reduced fat Mexican style cheese, shredded
16 oz red enchilada sauce (I used 2 packages of THIS kind)
1/2 cup fat free milk
1 4oz can green chilies
2 small jalapenos, seeded and diced
1/4 cup liquid egg substitute
1 tsp cumin
1/2 tsp paprika
Salt and pepper to taste
Instructions:
1. Preheat oven to 400 degrees. Spray a 13 x 9 baking dish with nonfat cooking spray.
2. In a medium sized bowl, combine, cornbread mix, corn, milk, egg substitute, green chiles, jalapenos, 1/4 cup of the cheese, cumin, paprika, and salt & pepper. Mix well, then pour into baking dish.
3. Place in oven and bake for about 15 minutes. Remove from oven and poke all over, using a fork.
4. Pour 1/2 of the enchilada sauce all over the top. Then evenly cover with the chicken. Pour remaining enchilada sauce over chicken and top with the remaining cheese.
5. Return to oven, and cook for another 12-15 minutes, or until the cheese is golden and bubbly.
6. Let cool for 5 minutes before serving.
Preparation time: 10 minute(s)
Cooking time: 30 minute(s)
Number of servings (yield): 8
Culinary tradition: Mexican
Calories: 265
Fat: 3.5g
Protein: 21g
Source laaloosh.com