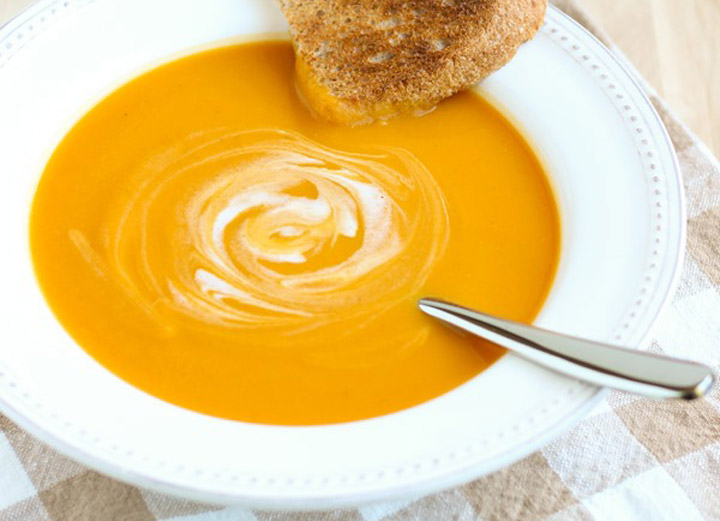 Butternut Squash and Sweet Potato Soup Recipe
Butternut Squash and Sweet Potato Soup is creamy, comforting, and easy to make. Vegan and gluten-free.
Prep Time: 20 minutes     Cook Time: 30 minutes     Total Time: 50 minutes
Ingredients:
1 medium butternut squash, peeled and diced (about 5 cups)
1 large sweet potato, peeled and diced (about 3 cups)
2 carrots, peeled and chopped, (about 3/4 cup)
1 small yellow onion
2 tablespoons olive oil
4 cups vegetable broth
1/4 cup full fat coconut milk
1/4 teaspoon ground nutmeg
1/4 teaspoon ground ginger
1/4 teaspoon curry powder
1/2 teaspoon garlic powder
1/4 teaspoon salt
Instructions:
Start by warming the olive oil in a large pot over medium heat. Sauté the onion and the carrot for about three to five minutes.
Next, add the squash and sweet potato to the pot and pour in the vegetable broth.
Then add the spices and salt and bring to a boil. Once it has started to boil, reduce to a simmer and cover while allowing it to cook for about twenty minutes or until all of the veggies are very tender.
Using an immersion blender or regular blender, puree the vegetables until a thick, smooth consistency is reached.
Pour in the coconut milk and continue to blend until it is mixed thoroughly. Serve warm with fresh bread and enjoy!
Source  makingthymeforhealth.com