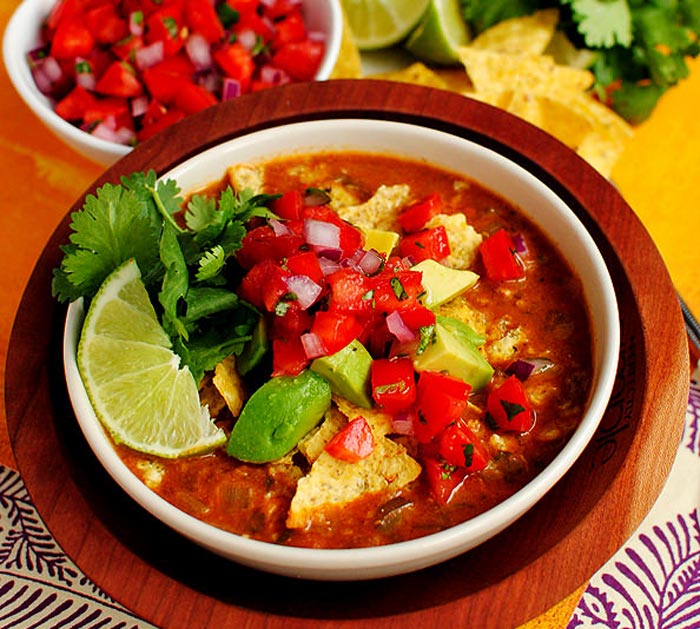 Restaurant-Style Chicken Tortilla Soup
Restaurant-Style Chicken Tortilla Soup is a gluten-free, restaurant quality soup you can make at home!
Dairy free, gluten free
Ingredients:
1 Tablespoon vegetable oil
2 large chicken breasts, cut into bite-sized pieces
1 small onion, chopped
2 Tablespoons taco seasoning or 1 recipe homemade taco seasoning (see notes for
recipe)
1 Tablespoon paprika
1/2 teaspoon salt
1/2 teaspoon cumin
1/2 teaspoon chili powder
1/4 teaspoon cayenne pepper (or more or less)
3 Tablespoons fresh cilantro, chopped
pepper
1 can pinto beans, drained and rinsed
juice of 1/2 lime
32oz gluten-free chicken broth, divided
2 Tablespoons gluten-free or regular masa (could use flour)
Toppings: pico de gallo, chopped avocado, tortilla chips, fresh cilantro, lime wedges
Directions:
Heat oil in a large soup pot over medium heat. Add chicken and onion then sprinkle in taco seasoning, paprika, and salt. Stir well then cook until chicken is cooked through and onions are tender, about 10 minutes. Add cumin, chili powder, and cayenne pepper, then saute for one more minute. Add cilantro, pepper to taste, pinto beans, lime juice, and 3-1/2 cups chicken broth then simmer for 20 minutes, stirring occasionally.
Meanwhile, make pico de gallo, chop avocado, and combine remaining 1/2 cup chicken broth with masa or cornmeal in a small bowl. When soup is done simmering, drizzle in chicken broth/masa mixture, and simmer for 10 more minutes. Serve topped with crushed tortilla chips, chopped avocado, and pico de gallo. Garnish with fresh cilantro and lime wedges, if desired.
Source iowagirleats.com