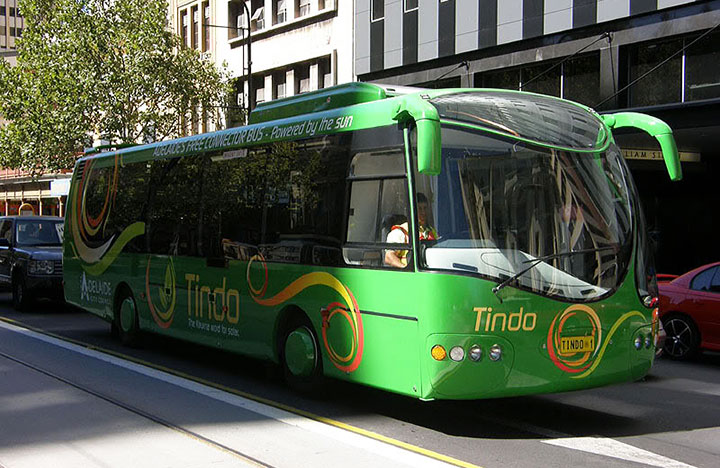 The world's first solar powered bus, Tindo was launched in 2007 in Adelaide, Australia. Not only is the bus fuel-free, but passengers can ride it for free! It's also a pretty cool ride — literally. The bus is air-conditioned and can carry as many as 40 passengers. It's also a WiFi hotspot, another free service.
Buses have important place in public transportation.
Buses provide an essential service and are indispensable in public transportation. They play a pivotal role in economic development and sustenance. But they consume thousands and thousands of tonnes fossil fuel, pumping harmful gases into the atmosphere. To reduce and stop emission of gases, various alternatives have been explored like hybrid-electric buses.
The hybrid electric buses are powered by diesel/hybrid electrical propulsion systems. This system reduces emissions and conserves fuel. But the fact here is that there is still combustion, carbon dioxide being emitted. This has not helped because what is wanted is zero emission. To guarantee zero emissions, electric buses were introduced, but the electricity it runs on is likely to have been generated by fossil energy so, this no better.
Just recently, the solution was found, a solar powered bus.
The first bus to run purely on solar energy has hit the town streets, its name is Tindo. The name was generated from Kaurna an Aboriginal language in Australia that means "sun".
Tindo looks much like other conventional buses you find on the road but the difference is that the bus is not powered by usual fuels like hydrogen, diesel or petrol but pure solar energy. It is the first bus in the world to be powered 100 percent by the sun, unlike most of her counterparts that are hybrids or gas-powered, she actually has zero emission. There is no combustion to generate power at all.
The Adelaide City Council's electric solar powered bus is the first of its own kind and is used every day by the people of Adelaide through the Adelaide City Council's free connector bus service.
According to the city of Adelaide, the bus has saved the environment over 70,000 kilograms of CO2 emissions annually.
Tindo
In average traffic conditions, Tindo can travel for about 200km before reconnection to the plug. For conventional vehicles, we calculate amount of fuel against distance, that is, one litre petrol travel for 5km but with Tindo you calculate the number of minutes on the plug against distance. So one minute of recharging is equivalent to one kilometre of driving.
The regenerative braking system on the bus increases the vehicle's efficiency by 30 percent. Regenerative brakes are special type of brakes that do not pollute or consume, if compared to conventional ones. When brakes are applied, conventional ones wear out because the kinetic energy released result in the loss of a lot of energy. The regenerative system recovers most of the energy so it recharges the batteries.
Tindo is equipped with powerful Swiss-made 220kwh sodium nickel hydride batteries that gives her enough thrust to reach her highest speed of 76km/h.
Tindo is recharged using a unique solar photovoltaic (PV) system at the Adelaide Central Bus Station. The bus stations are equipped with a solar PV system on the roof, in a concept similar to the solar parking lots for cars and bicycles.
Source: sundaymail.co.zw