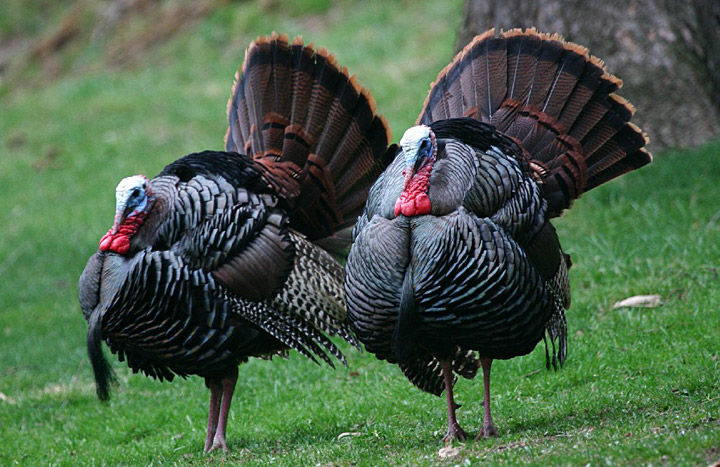 Teaneck plans to use air horns to deal with wild turkeys problem
The Teaneck township government plans to acquire 20 air horns — to be distributed by its health officer to the public for free — to help deal with the local wild turkey problem.
A representative from the state also said she captured an aggressive male turkey Tuesday afternoon, which she said will help break ease the aggression of the wild birds that have been causing a nuisance for residents. "Hopefully this will help a lot," said Amy Schweitzer of the Department of Environmental Protection's fish and wildlife division.
So far this year, there have been about a dozen complaints from residents of aggressive wild turkeys, as well as one police report. Some birds have attacked residents, pecked at cars, held up traffic and even flown through one resident's glass kitchen window.
Schweitzer, township Health Officer Ken Katter and Vincent Ascolese, an animal control officer, attended Tuesday night's council meeting to discuss how residents can handle encounters with the wild birds.
Only the state has the ability to touch the birds. But to humanely scare away the birds, Schweitzer and Ascolese noted the importance of humans asserting dominance, such as by using water hoses or making loud noises.
Ascolese said he will give 20 air horns to Katter to distribute to the public.
"We have to coexist as best as possible," he said.
Schweitzer said common complaints are the birds defecating in yards or attacking windows. Window decorations or cardboard in windows could help prevent birds from doing that, she said.
The birds' aggressive behavior, usually attributed to the males, tends to decrease in the summer when flocks break up, Schweitzer said.
She said residents with an immediate issue with an aggressive bird should contact the police because her own response time could be 60 to 90 minutes.
Source: northjersey.com