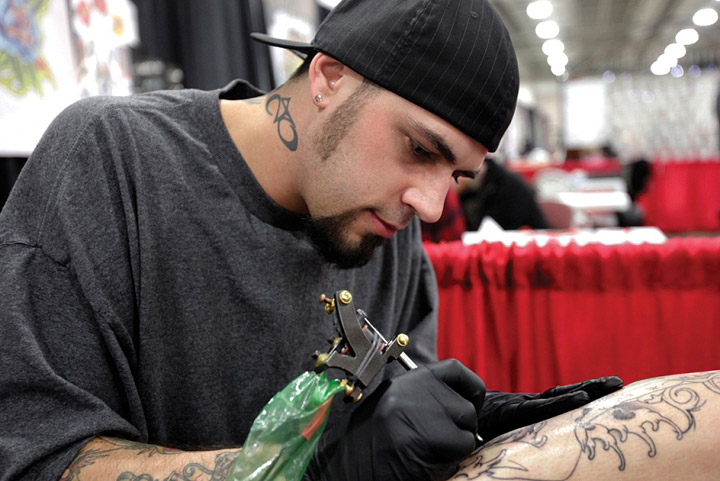 So, you finally have the tattoo that you wanted for so long. Now, the most important task to look out for is to take proper tattoo aftercare of your art piece. In fact, the healing of your tattoo is very crucial in determining the color outcome of the same. Tattooist knows exactly what methods you should be using for tattoo aftercare as he is the expert and knows what works well with his procedure and the skin type.Here is a checklist of what you should do to take care of your tattoo.




Be patient: Remember a tattoo takes at least a month to soak the ink in and heal completely. Depending upon the size, location and placement, it takes around seven to fourteen days to peel and dry. Till the time it heals completely, you must retain patience and look after it properly.
Bandaging: Once you get tattooed, your artist will clean the area, apply an anti-bacterial ointment and cover the tattoo with a bandage or some dressing. Leave the covering on for 2-6 hours. Once you have left the tattoo parlour, resist the temptation to open the bandage. The bandage is there to protect your tattoo from airborne bacteria, which can penetrate through your broken skin. The bandage should be left on for at least two hours. In case it is a plastic wrap, DO NOT keep it on for more than two hours. You do not want to suffocate your tattoo!
Washing and cleaning: After removing the bandage, wash your tattoo using lukewarm water and a mild antibacterial or antimicrobial liquid or soap to gently wash away any ointment, blood and/or plasma and completely clean the area. Do NOT use anything abrasive on the tattoo. Your hand is your best tool in this case. If your tattoo feels slimy and slippery, you have probably been oozing plasma. Try to gently remove as much of this as possible because when the plasma dries on the skin surface, it creates scabs. Now pat your tattoo firmly with a clean towel or paper towel to get it completely dry.
Caring: After your tattoo is dry, apply a thin layer of antibacterial ointment on it using your fingers. Avoid using petroleum jelly or any anti-bacterial powder. Remember to reapply the same antibacterial lotion at regular intervals to keep your tattoo moisturised and prevent dryness or itchiness.
Peeling of skin: After few days, your skin will start peeling. This is perfectly normal and is a sign that your tattoo is healing. Do not pick or scratch your tattoo, and keep the area moisturised.
Precautionary measures: As tattoo is basically a wound, sun exposure should be avoided at least for two to three weeks until the wound has healed completely. This is probably the most crucial of all tattoo care tips. Avoid chlorine water and sea water for at least a month after getting inked. Always apply sunscreen on the tattoo before going out. Avoid over moisturisation to prevent infection. In case you suffer from a skin infection, consult your artist or a skin specialist immediately.
Source: thehealthsite.com