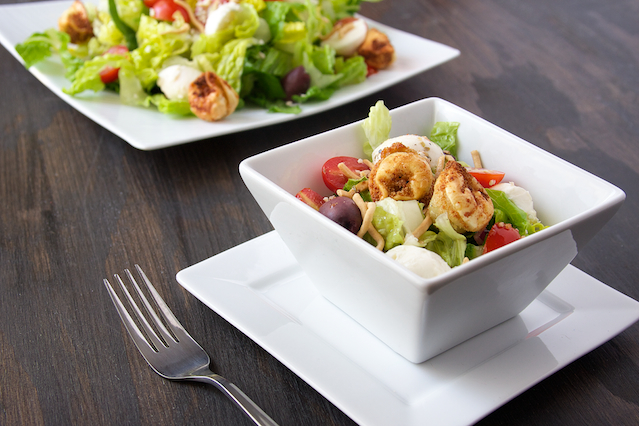 Chopped Salad Recipe
This Chopped Salad is not your standard lettuce, cucumber and carrot salad! There are a lot of random ingredients (beans, chow mein noodles, 2 cheeses, tortellini, etc.), but they come together really nicely. One thing I like about this salad is that you can easily add grilled chicken or shrimp and turn it into a meal. Plus, the beans and tortellini make it pretty filling.
Ingredients
romaine lettuce, roughly chopped
½ cup grape tomatoes, cut in half
½ cup medium mozzarella balls, cut in half (we used bocconcini)
¼ cup gorgonzola cheese, crumbled
½ cup Kalamata olives
¼ cup dry chow mein noodles
½ cup cannelini beans, drained and rinsed
½ red onion, finely diced
salad dressing (we used Greek vinaigrette)
1 cup cheese tortellini, fresh
For frying the tortellini:
1 egg, plus 1 tablespoon water
1 cup Italian bread crumbs
vegetable oil, enough to fry the tortellini
Directions
Start by frying the tortellini, make sure you use fresh. Heat vegetable oil in a large frying pan.
While the oil heats, prepare the egg wash. In a small bowl, whisk 1 egg together with 1 tablespoon of water.
In another small bowl, pour 1 cup of Italian bread crumbs.
Dip the tortellini in the egg wash first, then dredge them in the bread crumbs.
Fry the tortellini, a few at a time, in the hot oil. Fry until golden brown.
Remove from heat and transfer to a paper towel-lined plate.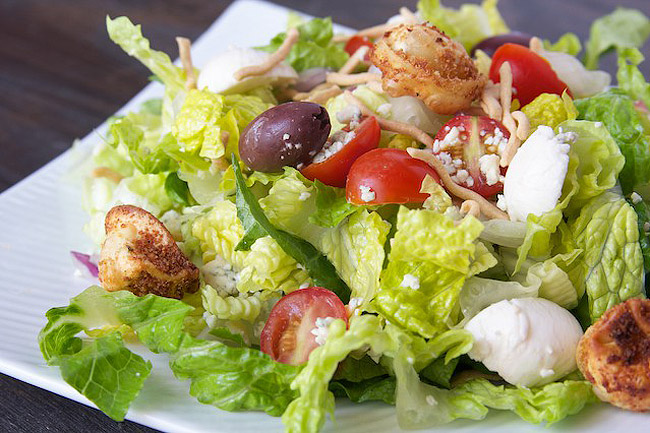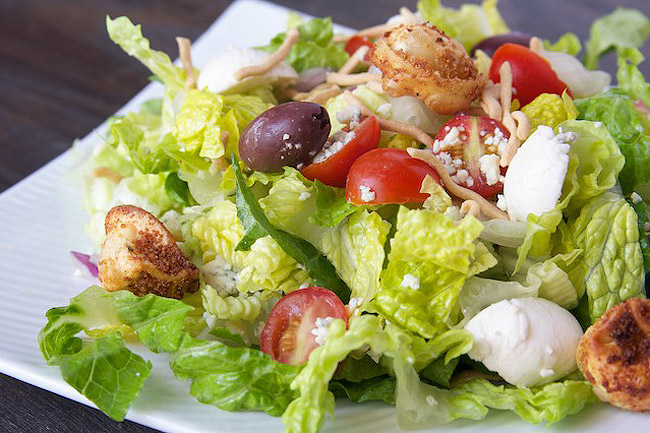 In a large bowl, toss together the rest of the salad ingredients.
Add the fried tortellini and chow mein noodles last so that they don't get soggy.
Top with Greek vinaigrette, or salad dressing of your choice.
Source: livelovepasta.com