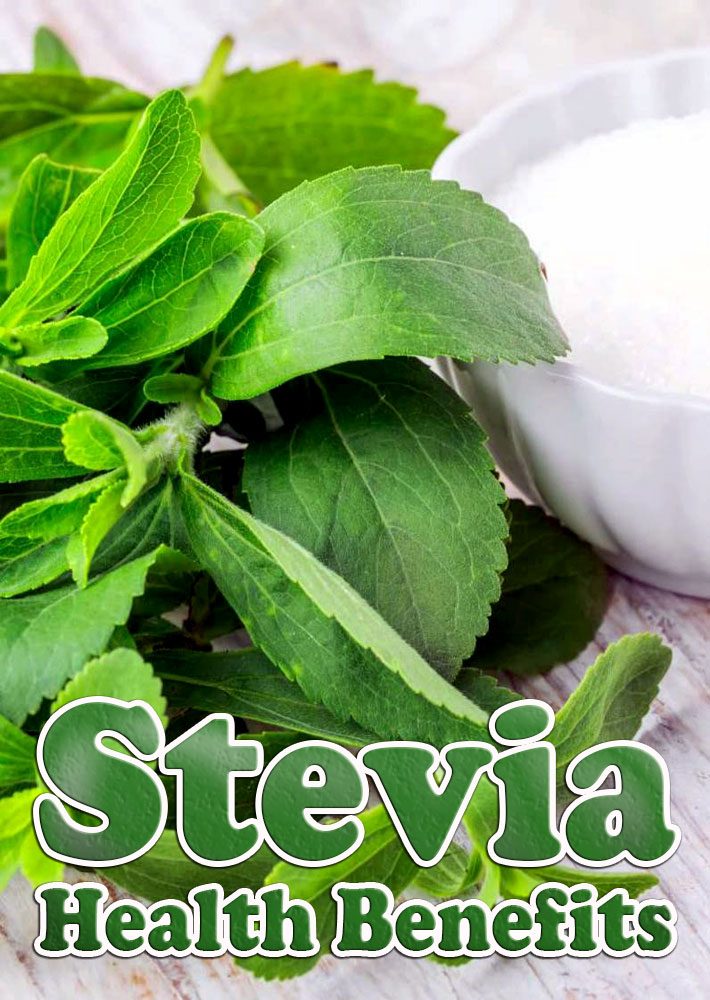 Stevia is a small shrub like perennial plant which belongs to the sunflower (Asteraceae) family. It is also known as Eupatorium rebaudianum, sweetleaf, honeyleaf and sugarleaf, and sweet herb of Paraguay. The leaves of Stevia are a source of natural zero-calorie sweetener which is considered sweeter than sugar (sucrose). It has been used in South and Central America , Japan and many other parts of the world as a sugar substitute and in the treatment of a number of health conditions for centuries. Initially the leaves of this herb were consumed fresh or dried but eventually chemists isolated the glycosides called stevioside and rebaudioside from its leaves that give stevia its sweet taste.
Stevia also contains phytonutrients, trace elements, minerals, vitamins and volatile oils which give Stevia its nutritional and medicinal properties. In 2008, FDA (The Food and Drug Administration) approved sweetener derived from the herb stevia as safe for use in foods and beverages. The steviols glycosides are now used in herbal supplements, foods and beverages, and as sweetening powders and syrups. Unlike other sweeteners, it can be used in baking and cooking and its lesser amount is ample.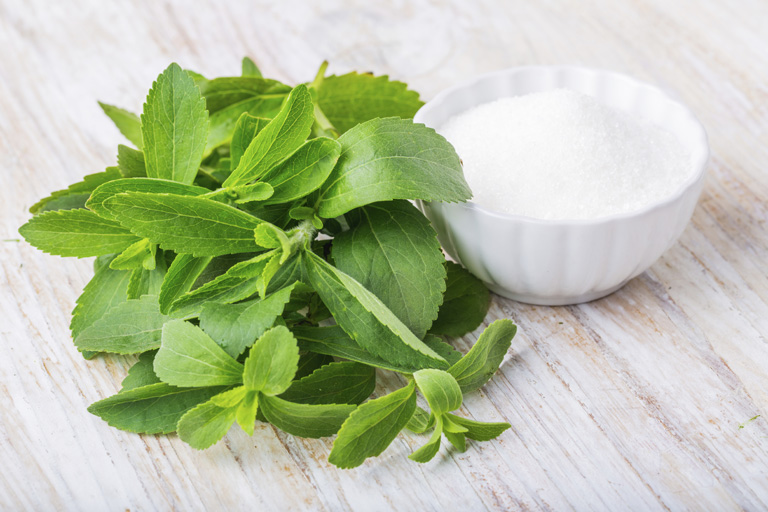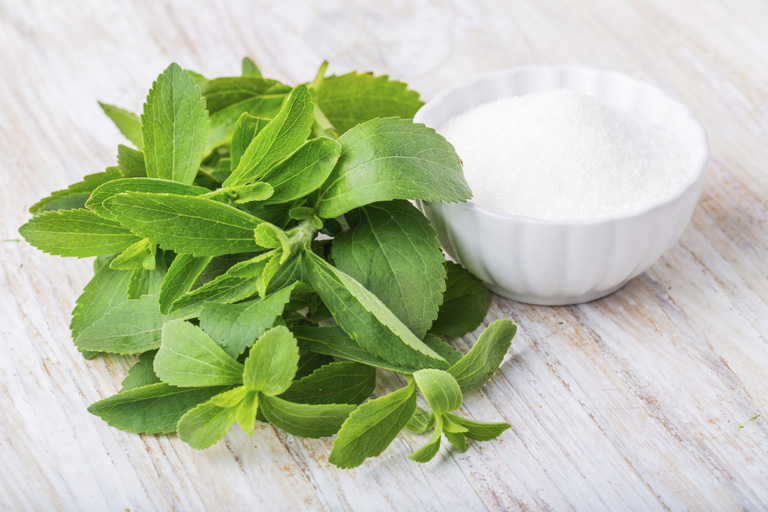 What are the Health Benefits of Stevia?
A number of studies show that Stevia can be beneficial in the treatment of many health conditions. Stevia is believed to have anti-bacterial, anti-septic, anti-microbial, anti-oxidant, anti-glycemic, and anti-hypertensive properties which may help with hypertension (high blood pressure), diabetes, chronic fatigue, indigestion, upset stomach, heartburn, weight loss, cold and flu, gingivitis, tooth decay, cavities, dandruff and hair loss, brittle bones or osteoporosis, streptococcus, candidiasis, bacterial infections and skin conditions such as cuts, wounds, rashes, itchiness, blemishes, acne, seborrhoeic dermatitis, dermatitis, eczema, and wrinkles. It may also improve energy levels, strengthen immune system, stimulate mental activity, and may also help in withdrawal from tobacco and alcohol addiction.
Uses of Stevia
Dandruff free and healthy hair
Stevia concentrate is believed to be beneficial for dandruff, dry scalp, and dull, dry and thin hair. People have noticed stronger, dandruff-free and rejuvenated hair after the regular use of Stevia. Simply mix 3-4 drops of concentrate into your regular shampoo and wash as normal. Also, after shampooing, using stevia tea as a conditioner and rinsing it out after 5 minutes can help retain natural hair colour and strength.
Diabetes
Studies show that Stevia may stabilize blood sugar levels, increase insulin sensitivity, may even promote insulin production by promoting the pancreas health, discourage glucose absorption in the blood, and inhibit candidiasis – a yeast infection that flourish with sugar. It's a great low carb, low sugar and low calorie sugar alternative and the steviol glycosides are not metabolized by the body and are excreted in the urine without getting accumulated in the body. A Study also suggests that this herb may inhibit the craving for sweet and oily or fatty foods. Drinking tea made with crushed raw Stevia leaves, or with its extract or tea bags two to three times daily may help with hyperglycemia. To make Stevia tea, heat – not boil one cup of water and let a tea bag or 1teaspoon of its leaves steep in it for 5 -7 minutes. Drink it hot or cold. Or 3-4 drops of Stevia extract can be added to warm or cold cup of water. Also it can be used as a natural alternative to any other artificial sweetener being used.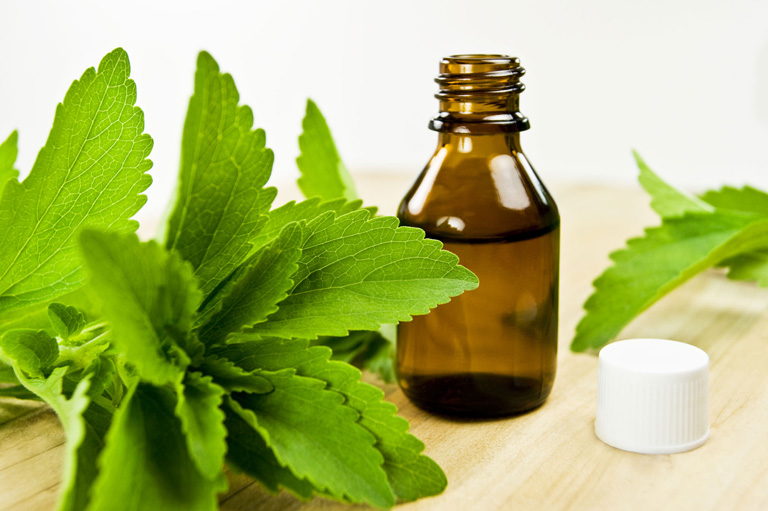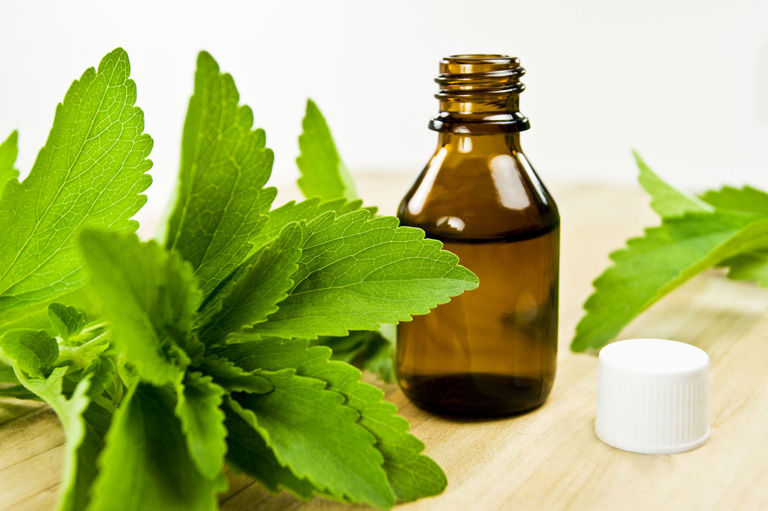 Gingivitis
Study shows that antibacterial properties of this herb may help with gingivitis, cavities, tooth decay and mouth sores. It may suppress the development and reproduction of infectious organisms in the gums and teeth, inhibit the growth of plaque and may improve overall oral health. People who have used it as a mouthwash has reported significant decrease in gingivitis and other mouth infections. Simply gargling with Stevia mouthwash and brushing with Stevia added toothpaste may be beneficial. To make Stevia mouthwash, add 3-4 drops of Stevia extract in half a cup of lukewarm water or steep half a cup of tea with its leaves or teabag and gargle three to four times daily especially in the morning and at night. For toothpaste, mix 2 drops of Stevia extract to the regular toothpaste.
Heartburn and indigestion
People in Brazil, Paraguay and Bolivia have been using Stevia tea to soothe upset stomach, heartburn, and to improve indigestion and gastrointestinal function. Drinking Stevia tea after every meal may serve as a digestive aid and relieve heartburn and stomach pain.
High blood pressure (hypertension)
A few longer term studies done over a period of 1 and 2 years show that this herb may lower elevated blood pressure levels. Simply drinking Stevia tea twice daily may help stabilize the blood pressure levels.
Osteoporosis
A study performed on chickens shows that by adding Stevia leaf powder to chicken feed it significantly increased calcium metabolism in the chickens and had 75% decreased eggshell breakage. A patent application for possible Osteoporosis treatment with Stevia suggests that this herb may help promote absorption of calcium in the body and help improve bone density. Suggested remedy is to make Alfalfa and Stevia tea by steeping Alfalfa herb and Stevia half teaspoon each for 5-7 minutes. Drink it two to three times daily. Adding vitamin D powder to the tea or taking its supplements can be beneficial too.
Weight loss
Recent medical research suggests that low at carbohydrates, calories and sugar Stevia may be beneficial in weight management. One preliminary research suggests that this herb may interfere with the functions of hypothalamus and may aid weight loss by curbing the hunger sensation. Hypothalamus is a part of the brain which controls hunger, thirst and fatigue along with its other functions. Anti-glycemic activity of the herb may also control blood glucose levels which is one of the major causes of weight gain. The plant works as a tonic to increase energy levels in people battling for weight loss. Suggested remedy is to drink one cup of Stevia tea or mix 10-15 drops of Stevia concentrate in one cup of cold or warm water. Drink it 15 minutes before every meal.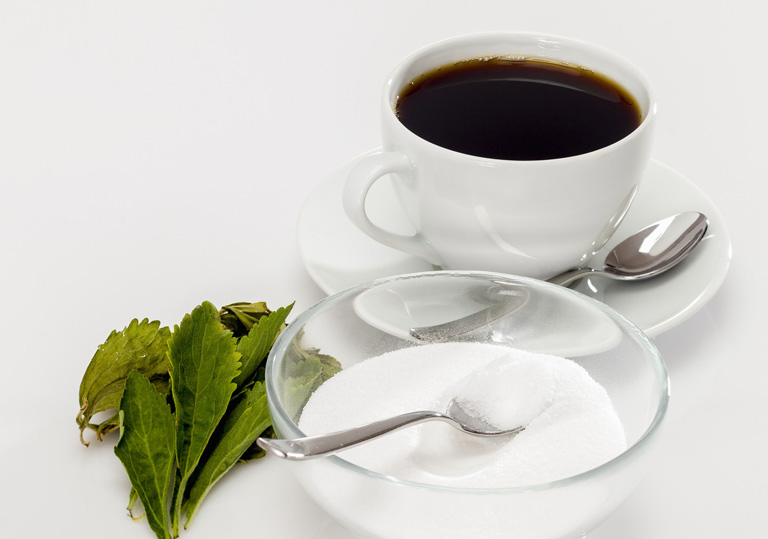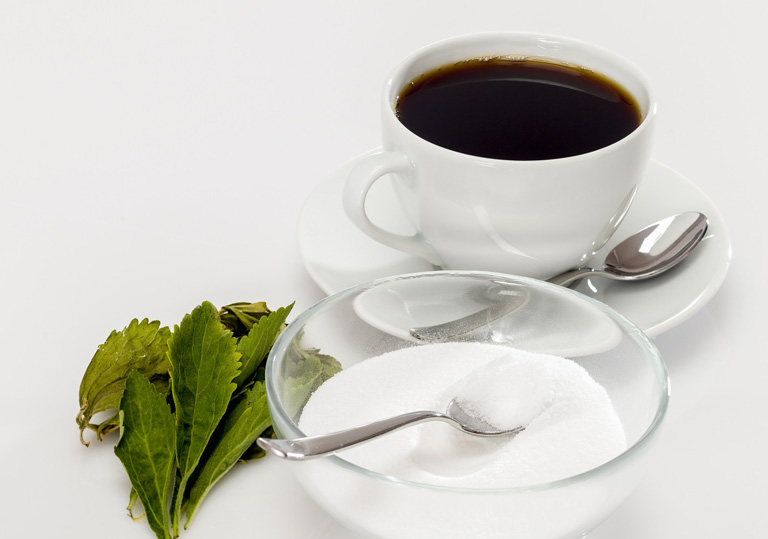 Wrinkles and other skin conditions
Stevia is believed to be a remarkable healing agent for skin disorders. Its antioxidant, antibacterial and antiseptic activity may help with wrinkles, skin blemishes, dermatitis, eczema, acne outbreaks, scarring, rashes, itchiness and chapped lips. A small amount of Stevia concentrate applied directly onto the affected skin may promote the healing process. To smooth out the wrinkles, before going to bed, apply a paste made by crushed Stevia leaves or its liquid concentrate evenly all over the face and let it dry for fifteen to twenty minutes. Wash and pat dry your face and apply a few drops of extra virgin coconut oil on the face and leave it on over night to benefit from its antioxidant effects.
Where and how to buy it?
Stevia is available at organic grocery and herbal food stores in the form of raw dried leaves, white or green powder, sugar tabs, granulated or crystalline sugar, concentrate, and flavoured and nonflavourd liquids. When buying it look for Stevia rebaudiana because it is considered the best type and the FDA approved steviol glycosides are extracted from this genus in the whole Stevia family. In fact, the plant can be purchased from a variety of gardening sources in the US, grown at home, and consumed in a variety of ways, as it has been for centuries in other countries.
Types of Stevia
1. Green Leaf Stevia
Least processed of all types of stevia
Unique because most natural sweeteners contain calories and sugar (like honey), but green leaf stevia has no calories or sugar
Used in Japan and South America for centuries as a natural sweetener and health remedy
Tastes sweet, slightly bitter and isn't quite as potent as most stevia products
30–40 times sweeter than sugar
Has been shown to benefit blood sugar levels, cancer, cholesterol, high blood pressure and weight loss
Best option, but still should be used in moderation
2. Extracts
Most brands extract the sweeter and less bitter part of the stevia leaf (rebaudioside), which doesn't have the health benefits found in stevioside
No calories or sugar
Tastes sweeter than green leaf stevia
About 200 times sweeter than sugar
3. Altered/Barely Stevia-Like Truvia
Extensive processing and added ingredients make the end product barely stevia at all
Contains GMO ingredients
No calories or sugar
Truvia or rebaudioside stevia products are about 200–400 times sweeter than sugar
Avoid, worst option
Side effects like gastrointestinal problems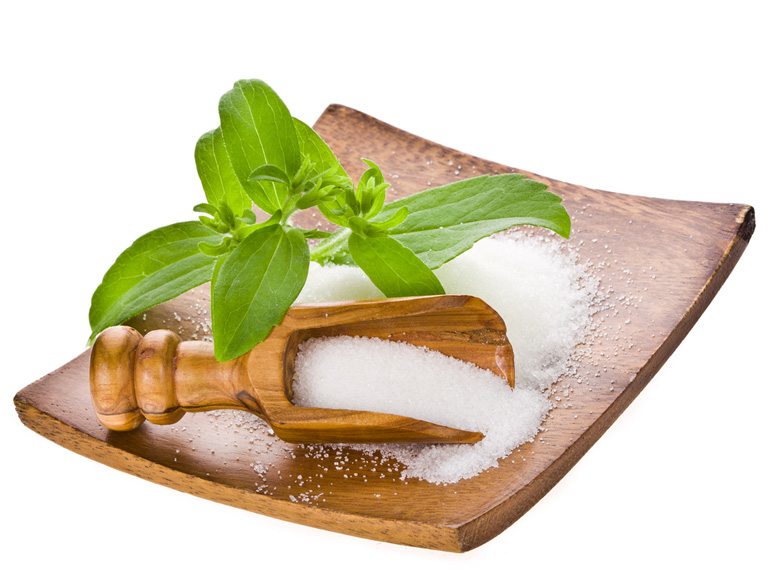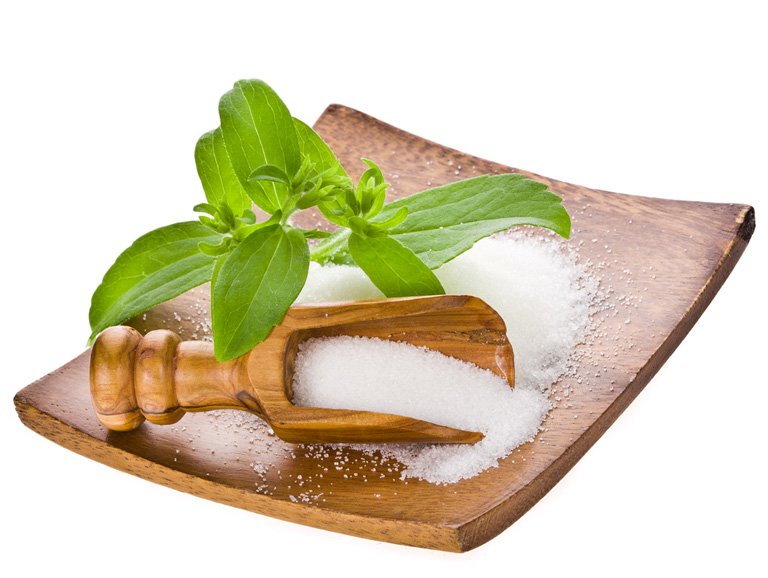 Stevia Leaf Powder vs. Stevia Leaf Liquid Extracts
Products vary, but in general, stevia leaf extracts are 200–300 times sweeter than table sugar
Powder and liquid extracts are much sweeter than crude stevia leaves or green herbal powder that are anywhere from 10–40 times sweeter than table sugar
Whole-leaf stevia or crude stevia extracts aren't FDA-approved
Liquid stevia can contain alcohol so look for alcohol-free versions
Liquid stevia extracts now come in flavors like vanilla and hazelnut
You can get leaf extract in convenient packet form
Some powdered products contain inulin fiber, which is a naturally occurring plant fiber
What are the Side Effects?
There are not any reported side effects of Stevia when taken in moderation. Based on intensive global researches and scientific reports, The World Health Organisation (WHO) of the UN and Food and Drug Administration of the US had approved the use of Steviol glycosides as safe and has established an acceptable daily intake of 4mg per kg of body weight. However, if you are taking any medication for diabetes or hypertension, due to its anti-glycemic and anti-hypertensive activity supervised consumption is advised. If you are pregnant or breastfeeding, consult your physician before using Stevia therapeutically.
This point cannot be stressed enough: Not all stevia products are created equal. There is a HUGE difference between consuming real and chemically processed products like Truvia.
Truvia only contain less than 1 percent stevia. Yes, you read that correctly — LESS THAN 1 PERCENT! Truvia is really barely a stevia product, but people unfortunately believe that this sweetener is natural and harmless. If you avoid Truvia and choose the right product, then dangerous side effects are basically nonexistent — unless, of course, you have a ragweed allergy.
This herb is in the Asteraceae/Compositae plant family. This family includes ragweed, chrysanthemums, marigolds, daisies, and many other plants. In theory, people who are sensitive to ragweed and related plants may also be sensitive to it.
A 1999 study indicates stevia decreases the fertility of male animal subjects. The amount of stevia is not specified, but it was administered for 60 days. The concern is that herb extracts could affect hormones because its glycosides have a similar structure to plant hormones like gibberellin. But many herbs, including ginkgo biloba, also have this natural component, and if consumed in moderation, it's a non-issue. Follow-up studies have also found that stevia has no effect on hormones.
Related: What's the Best Sugar Substitute?
The information on this site is not intended or implied to be a substitute for professional medical advice, diagnosis or treatment. All content, including text, graphics, images and information, contained on or available through this web site is for general information purposes only.
Source: homeremediesweb.com, draxe.com