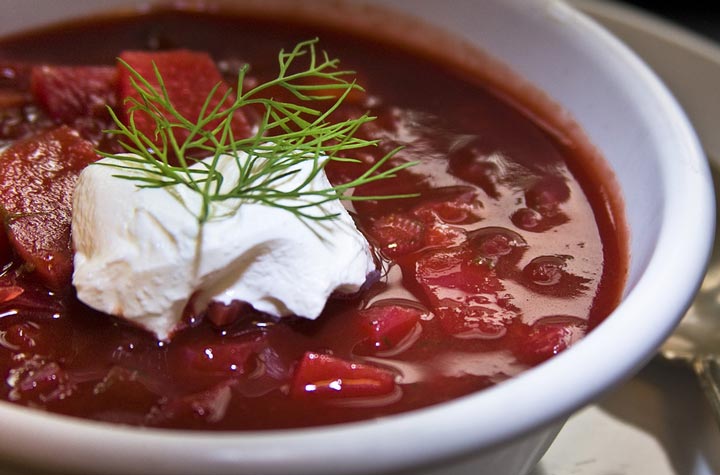 Try This Healing Recipe for Ukrainian Beet Soup (Borscht)
There are many ways to enjoy beets:
Grate them raw over salads
Add them to your fresh vegetable juice
Lightly steam them
Marinate them with lemon juice, herbs, and olive oil
For an even more intense flavor, try Borscht, or beet soup, which is a traditional Russian dish. This particular recipe below, from Dirt Doctor, also includes homemade broth, making it particularly nourishing and healing.
Ingredients:
1 quart of organic, homemade broth (preferably beef or buffalo)
1 tablespoon butter
3 or 4 medium size beets – thinly sliced
1 onion – thinly sliced
1 cup of shredded red cabbage
1/8 cup minced parsley
1 tablespoon Sherry (optional)
Lemon juice – 1 tablespoon
Salt and pepper
Sour Cream (optional)
Instructions:
Over medium low heat, melt butter in a medium size soup pot.
Add onions and beets and cook until soft – about 7 or 8 minutes.
Add a dash of salt and pepper. Stir in broth.
Simmer for about 20 minutes. Then add fresh cabbage, parsley, nutmeg, and sherry. Simmer for a couple minutes more, season with additional salt and pepper, serve, and enjoy.
Add a dollop of creme fraiche or sour cream if you like.