Quick and Easy No-Bake Protein Bars
Quick and Easy No-Bake Protein Bars are SO simple to make. I don't think people realize how easy it is! This recipe requires no baking and will take you only 5 minutes. Seriously! Time yourself. Try it out and see what you come up with!
I've tried most packaged protein snack bars on the market and let's just say there have been some duds. Some of the bars I tried had a gritty taste and texture, and others were so soft, they were like chewing gum.
I've moved away from buying expensive high protein energy bars from the stores, for several reasons.
They were super EXPENSIVE! ($3-$5 for a single bar!)
The ingredient list on packaged snack bars was not impressive
The serving size was minuscule
THEY DIDN'T EVEN HAVE MUCH PROTEIN!
Sorry for yelling, but really…how do you a snack bar 'high protein' if it only has 2 grams?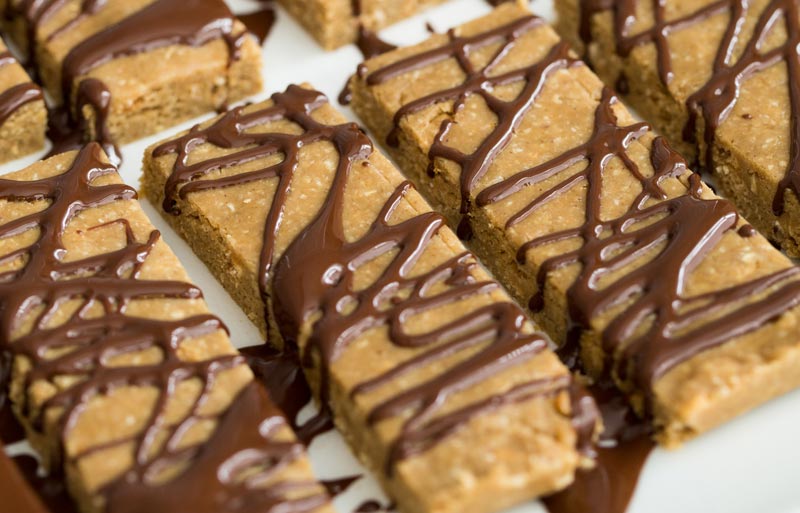 Ever since then, homemade no-bake protein bars have been a staple in my diet. The beauty of making your own homemade bars is that you know exactly what goes into them. It may seem cumbersome and time-consuming to making healthy no bake protein bars, but really- It could not be any easier and they take 5 minutes!
What I also love about homemade protein bars is that they make the perfect pre-workout and post-workout snack! The only thing this recipe does require is a pot to heat up and thin the peanut butter. Here's how it goes: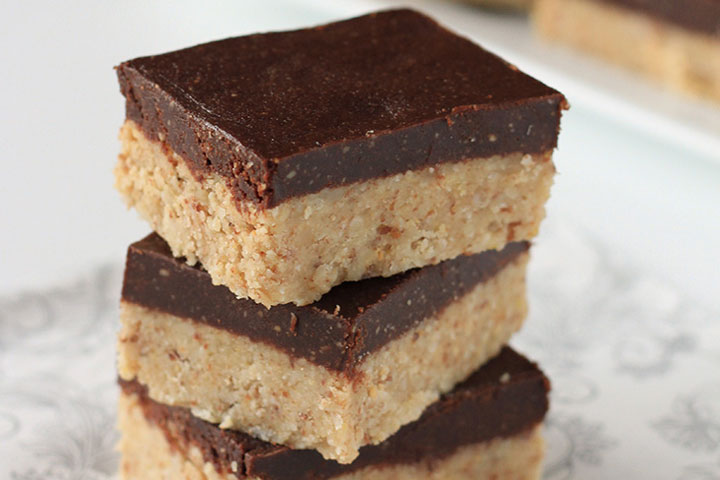 No-Bake Protein Bars
Quick and Easy No-Bake Protein Bars are SO simple to make. This recipe requires no baking and will take you only 5 minutes.
Ingredients
1/2

cup

peanut butter

I use crunchy for added texture

1/2

cup

cup honey

2/3

cup

oats

2 1/2

scoops

protein powder

2

tbsp

water

(if needed)

1/2

cup

dark chocolate chips
Instructions
First, heat the peanut butter and honey in a pot on medium to low heat until it's thin.

Then remove from heat, add your protein powder and oats, and mix up. (You may need to add a little water as the mixture will get super thick. Only add a tsp at a time until it reaches a consistency that is relatively hard but will be easy to mold).

Put the mixture into a 9×9 glass dish and press it out into a square.

Heat up your chocolate chips (I use 30 sec intervals in the microwave mixing in between- usually takes 90 secs total), and cover the top of your protein bars with chocolate.

Throw them in the freezer for 30 mins to an hour to harden then cut six lines down and two across for a total of 28 bars.
There are many protein powders on the market and not all protein powders are created equal. I've tried and tested many vegan-friendly, gluten-free and paleo protein powders and have my favorites here-
Vegan protein powder- Brown rice protein powder works really well for these protein bars, as they have a thicker consistency. It's also naturally dairy-free and gluten-free.
Casein protein powder- While this type of protein powder does contain dairy, it is still low carb and tastes great. If you are familiar with using casein protein powder, you'll know that it is super thick- You may need to add an extra tablespoon or two of liquid to help shape the protein bars.
I never recommend using whey protein powder for my recipes, as the consistency just doesn't work well, and they yield sticky and gritty bars.
Nutrition
per bar for 28 bars
75 calories
3g fat
5g protein
8 carbs
1g fiber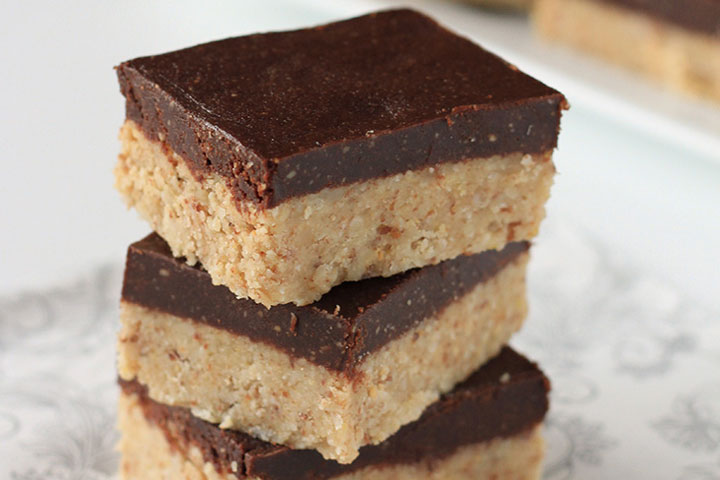 So there you go! Quick and Easy No-Bake Protein Bars are everything you'll ever dream of. Enjoy!
Need more easy, quick and delicious homemade recipes? Gotcha covered!
If you love this Quick and Easy No-Bake Protein Bars as much as I do, please give it a five star review and help me share this recipe on facebook!
Please follow us on Facebook Page and enjoy our collection of recipes, crafts, fitness, health tips, gardening, DIY and more…
Source www.yummly.com