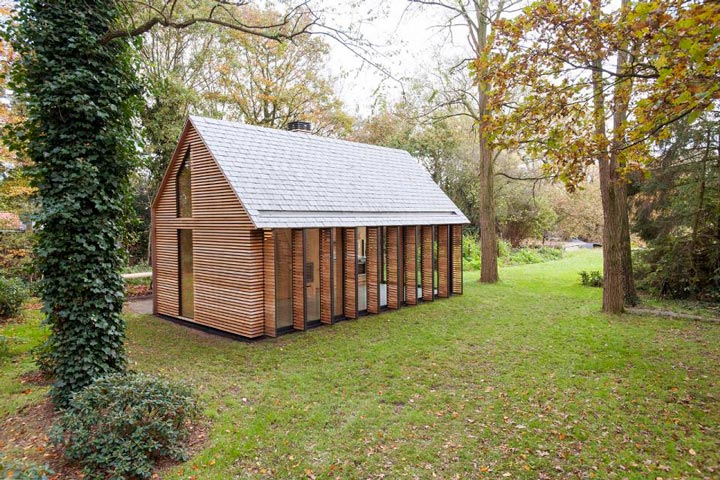 Picture Perfect Glass Cottage With A Wall Of Moving Shutters
A remarkable vacation cottage sits at the edge of a clearing in a rural area outside Utrecht, the Netherlands. It was created by a partnership between Utrecht-based studio Zecc and Roel van Norel. At first glance the cottage appears to be an ordinary gable-roofed house, and from some angles it might even be mistaken for a garden shed. Even the fully-glazed end wall isn't all that unusual. But look closer and it becomes apparent that the archetypal house has been refined with a few unique twists.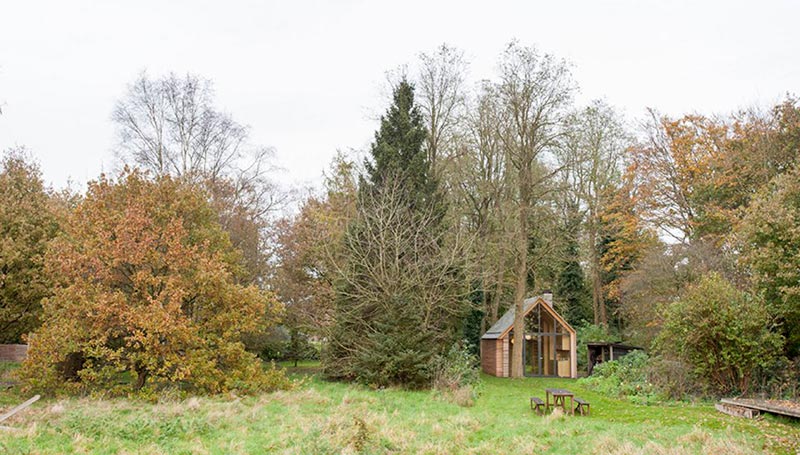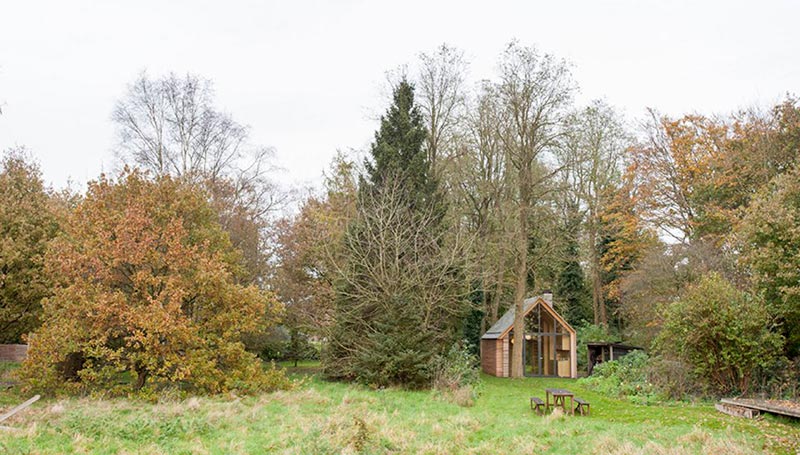 For one thing, the cottage has an asymmetric profile — the front side has a generous roof overhang while the back side has none. Instead, the slate roofing wraps over the edge and runs down the wall to ground level. On the opposite side, what looks from a distance like a windowless wall turns out to be a series of louvered shutters that extends the full length of the façade. When the shutters are opened, they reveal that this wall too is all glass.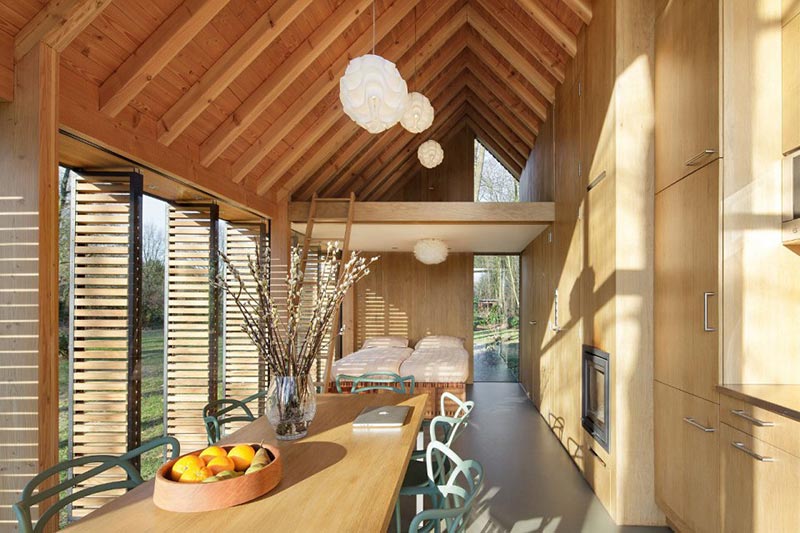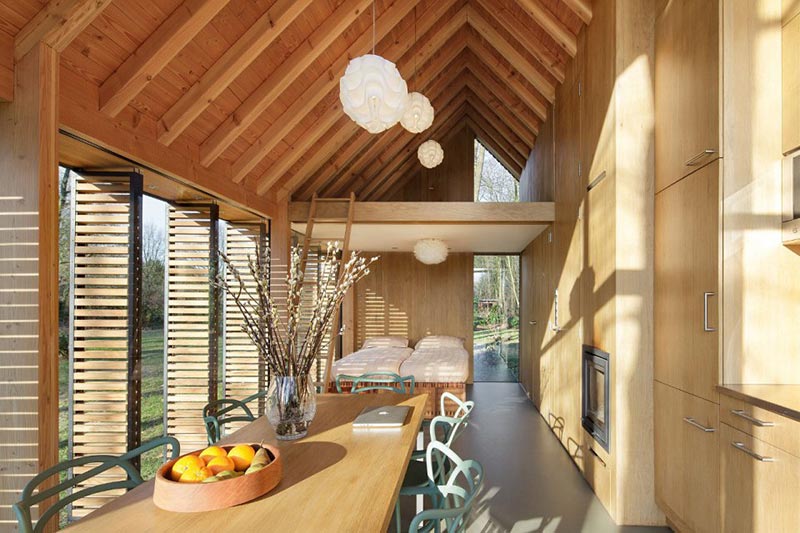 French doors in the gable end lead into the living/dining/kitchen area, which takes up about two-thirds of the cottage's 30 m2 (323 ft2) floor plan. The far end is allocated to sleeping, with a bedroom area below and a loft above. The bedroom area can be kept open to the living area or closed off with a retracting wall of sliding panels. The shutters regulate the amount of afternoon sunlight entering the cottage. With the shutters closed, the spaced cedar slats still allow plenty of light in, along with a filtered view of the garden.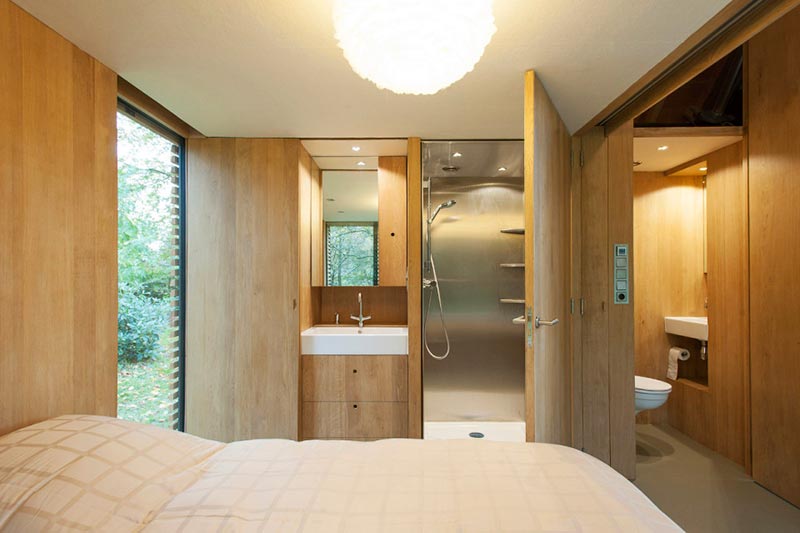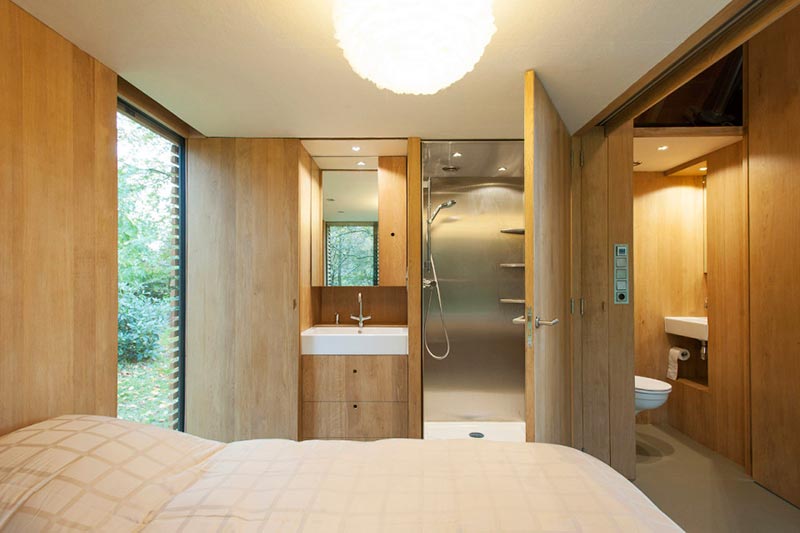 The entire back wall of the cottage is lined with oak cabinetry designed and built by van Norel. These highly crafted built-ins house all the service functions, seamlessly integrating the kitchen, bathroom facilities, clothes storage and even a wood-burning fireplace. To fit within the narrow width of the built-ins, the normal three-piece bathroom is split in three.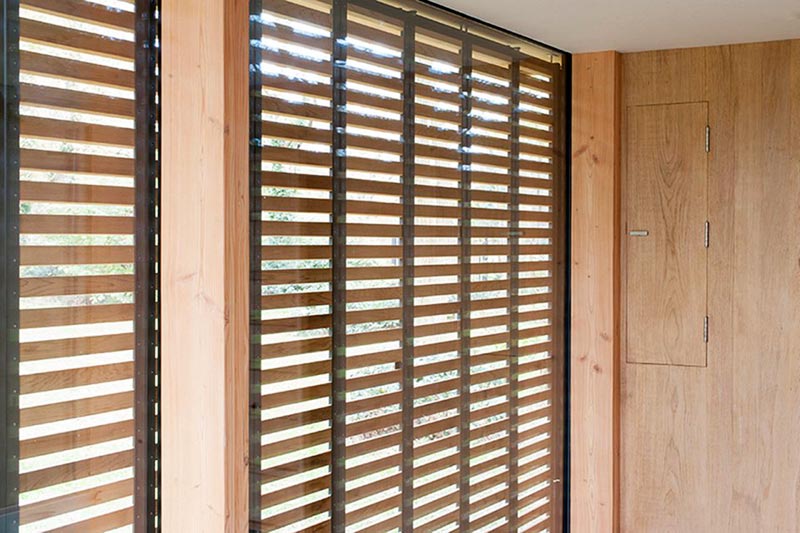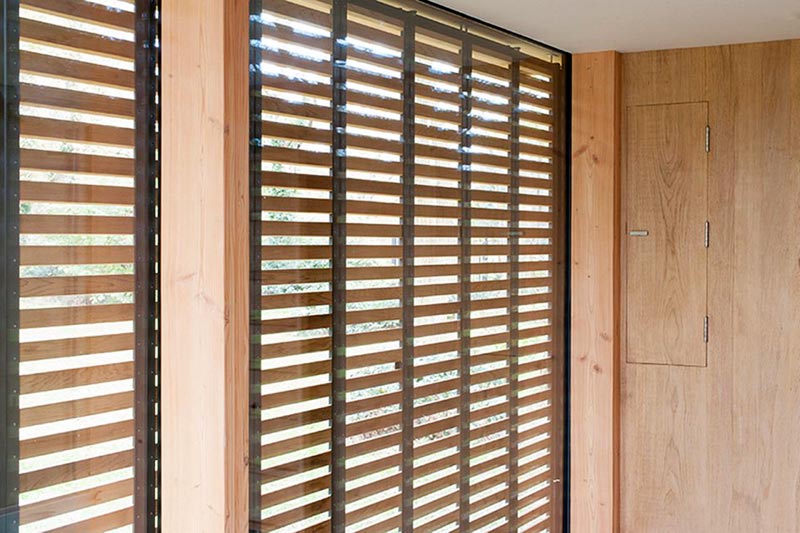 There is a compartment for the shower, a compartment for the toilet and a small handbasin, and a larger sink open to the bedroom. Having a shower directly off a bedroom seems like a great idea, giving a lot more room to dry off and dress than a cramped bathroom, provided the flooring is water-resistant.
Source:
archfly.com
smallhousebliss.com
youtube.com / Home Evolution