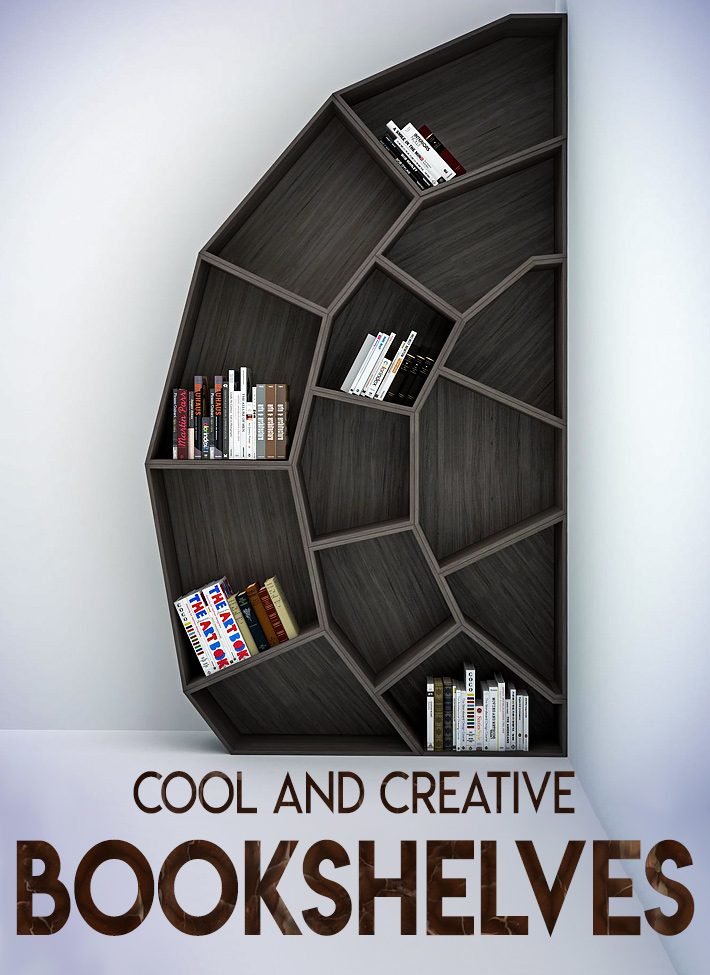 If you don't read books and don't care about the bookshelves don't be too quick to close this article. Just think about it. What impression does a room full of books make? That's right! It will immediately make you look smarter!
Now that we agree that it's essential to have a bookshelf, let's take a look at some of the most creative designs out there.
Superhero Bookshelf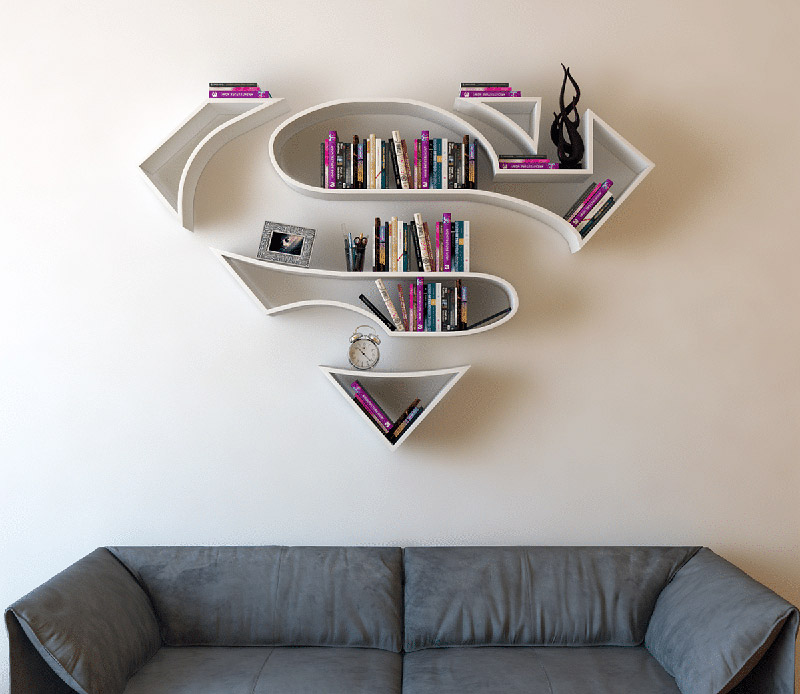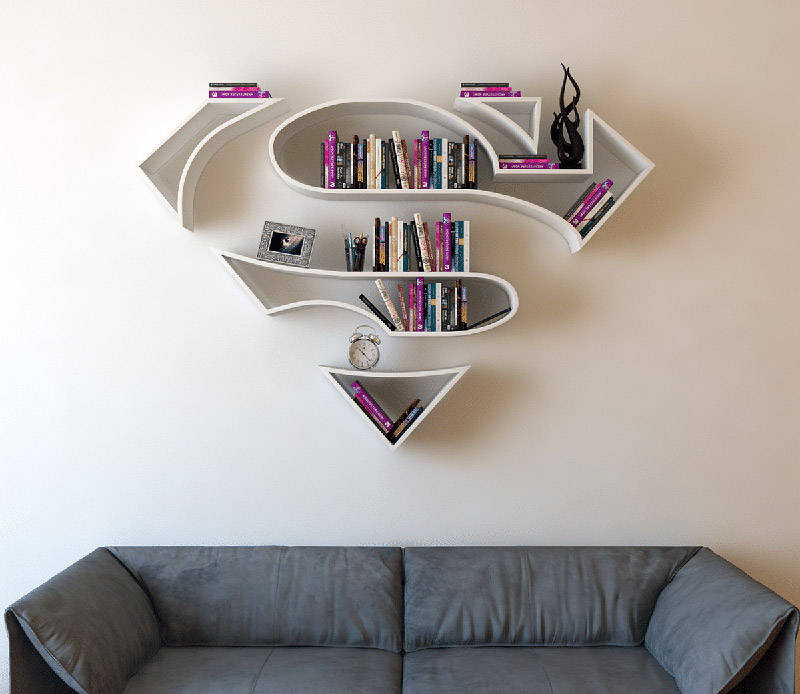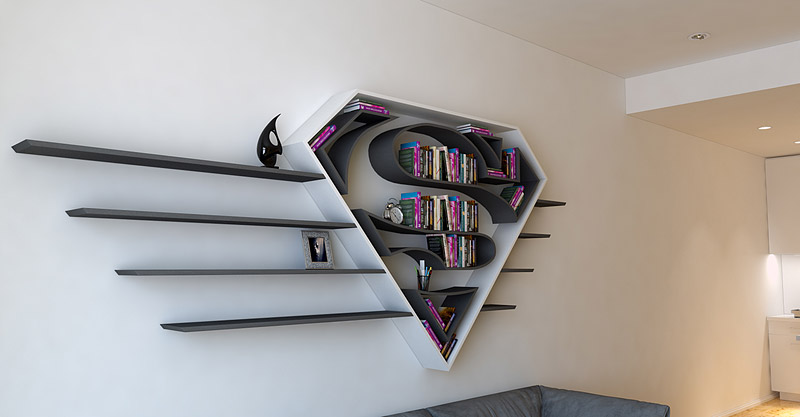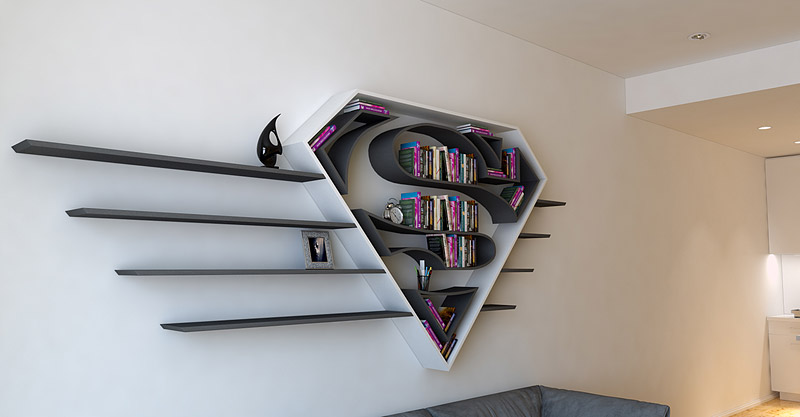 Burak Doğan is a product and industrial designer in Istanbul that makes wall-mounted bookshelves that are ideal for a superhero's secret lair or cozy den. This Superman shelf offers a few storage challenges, but also provides visual flair for comics and graphic novels.
Catwalk Bookshelf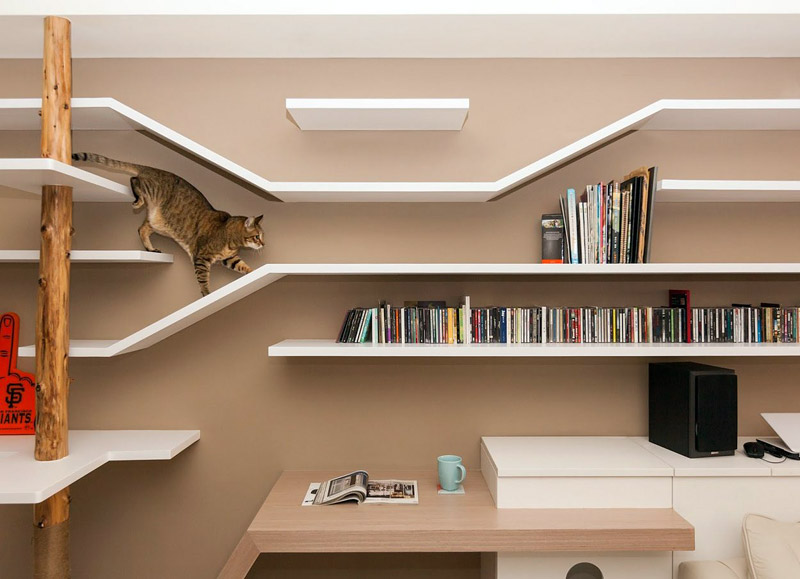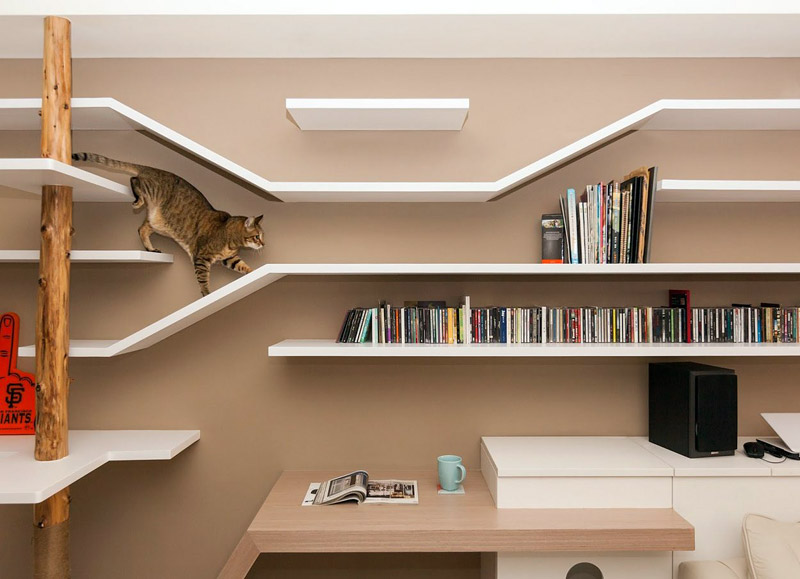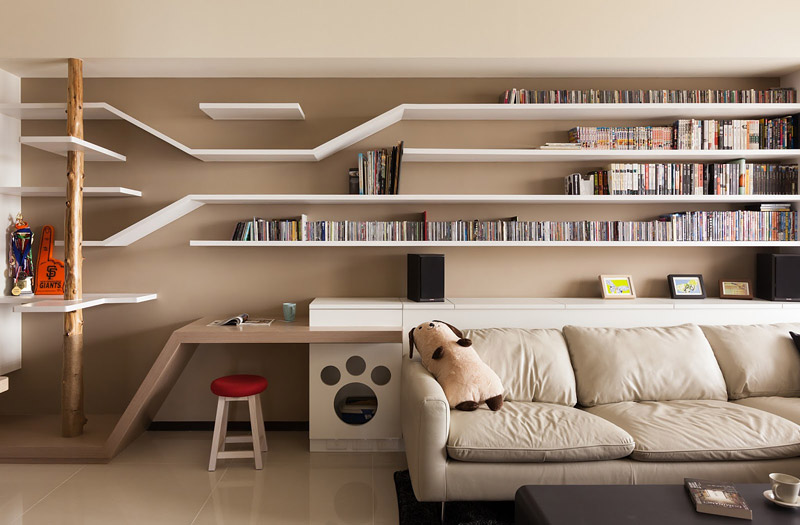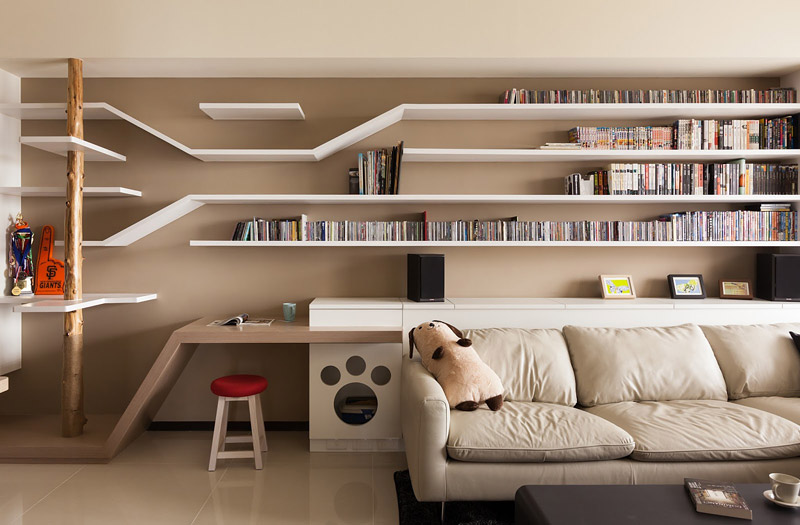 Taiwanese agency Thinking Design was commissioned to redesign a client's interior, with the presence of their beloved cat in mind, so the studio has reimagined the bookshelf into a giant catwalk.
Fallen Branch Bookshelf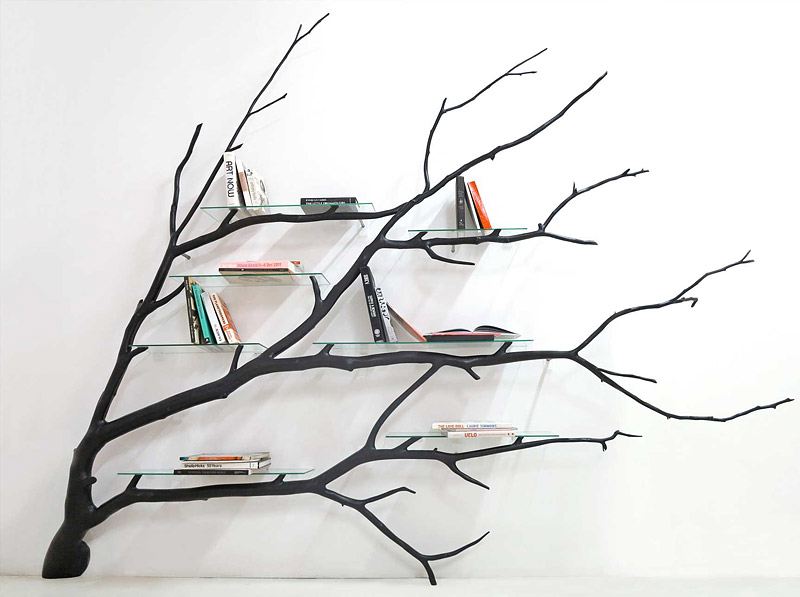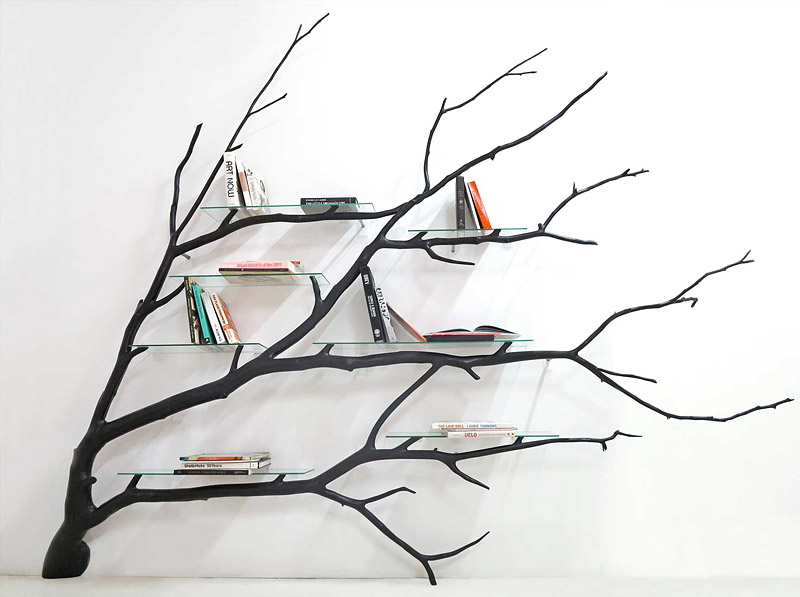 Sometimes, life gives you branches, and you make bookshelves out of them. That's what Sebastian Errazuriz did. Bilbao—named after the street he found it on—is a black shelf made out of a tree branch. Its shape was dictated by the form of the branch.
Errazuriz twisted and sanded the wood, then lacquered it black and added glass shelves to hold the books. He is Chilean artist, and this isn't the first branch shelf that he has made—he also made another bookshelf and a coffee table.
Spider Web Bookshelf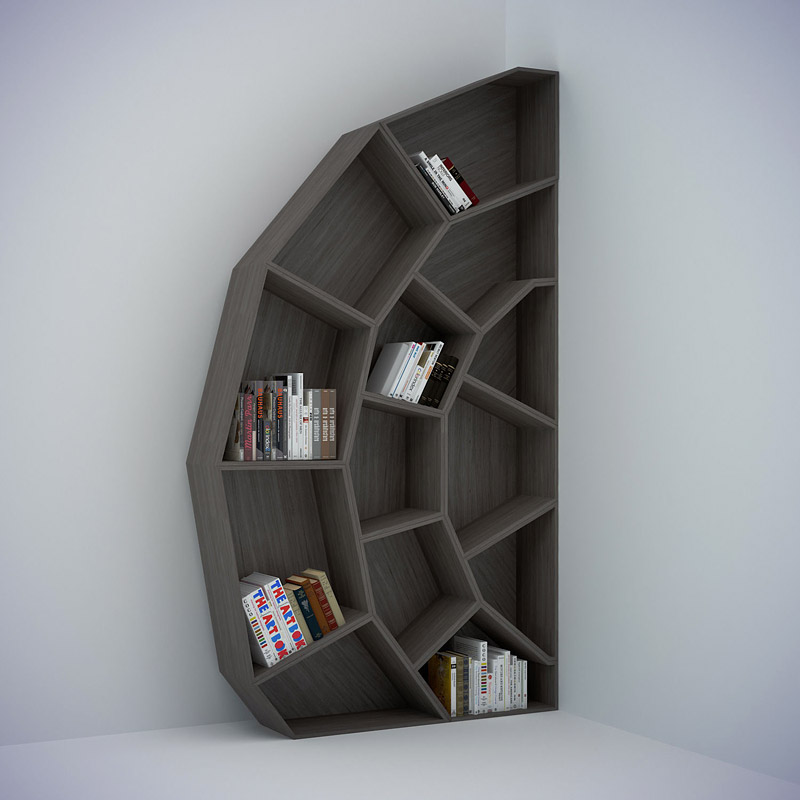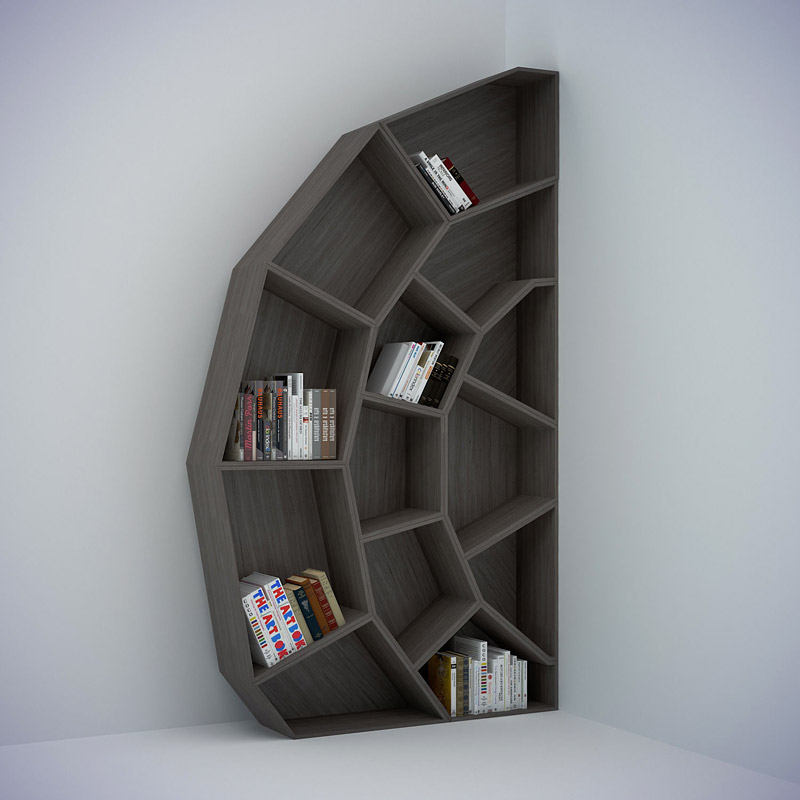 "Silk" is a new concept and designed by Bloq based on a spider's web in the corner of a room. This large bookcase was designed to sit in the space that is underused in the corner, but it can also be placed in the middle of a wall. "Silk" can also be turned on its side. All the pieces are made to order so all the sizes and finishes can be changed.
Digitally Fabricated Bookshelf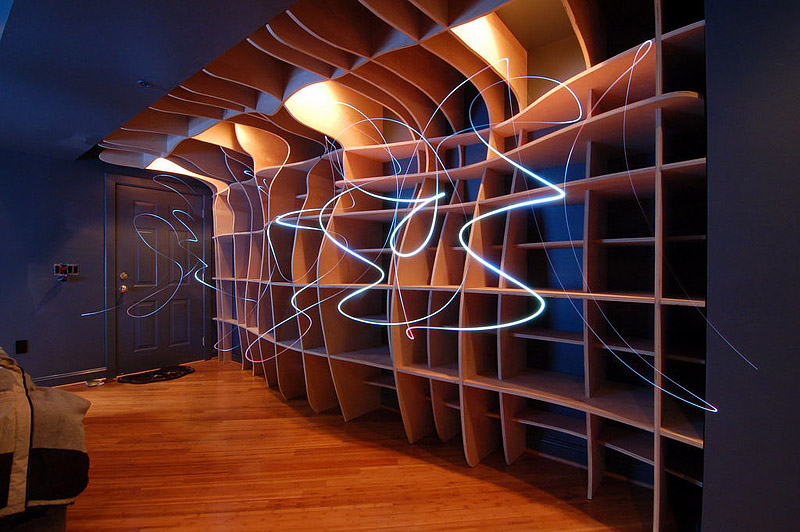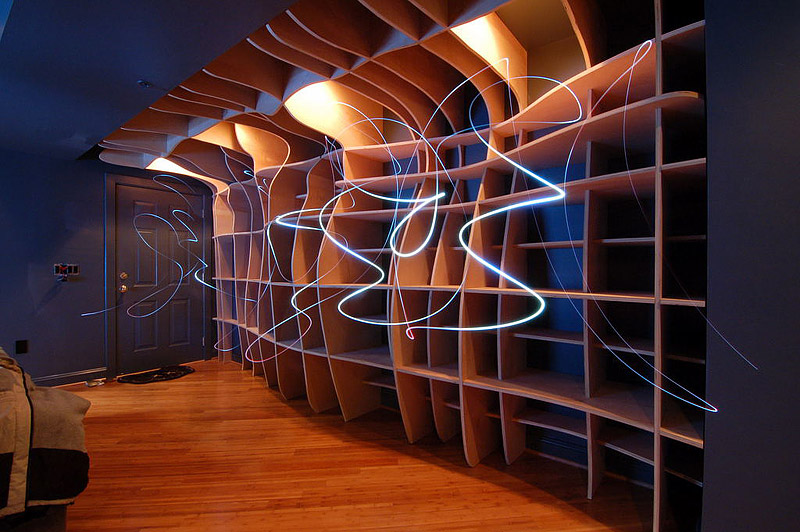 Washington-based dbd Studio has recently completed an organic bookshelf specifically designed and built for a condo in the Dupont Circle neighborhood of Washington D.C. It stretches from floor to ceiling and overhead and terminates at the existing bulkhead.
The large bookshelf serves as both an art piece in itself and a functional storage/display system. An organic curving surface was created in Rhino that stretched from floor to ceiling and overhead, terminating at the existing bulkhead.
Special attention was paid to avoid interfering with the recessed lights, sprinkler heads, air vents and fire alarms along the hallway ceiling.
Equilibrium Bookcase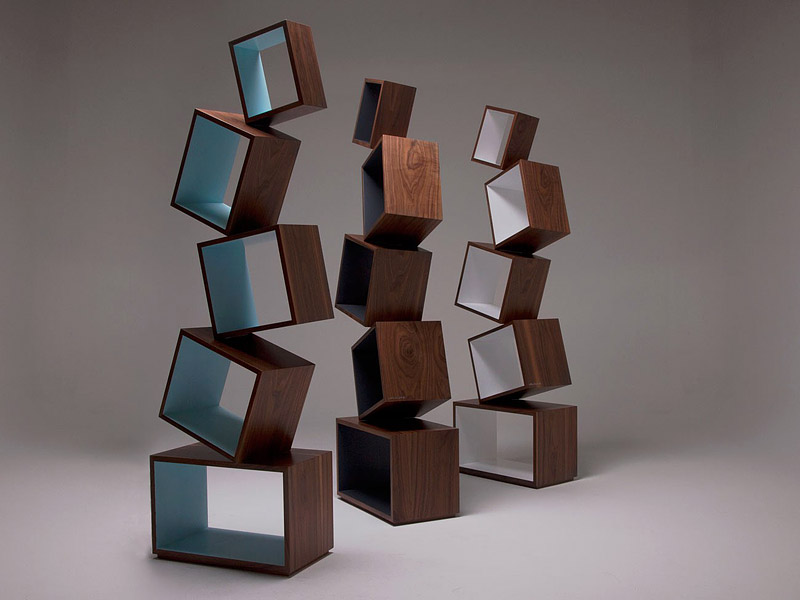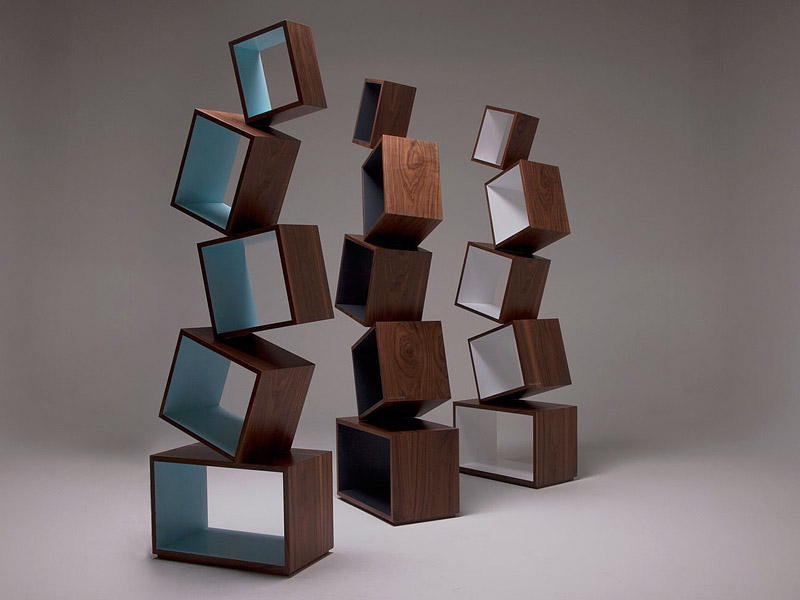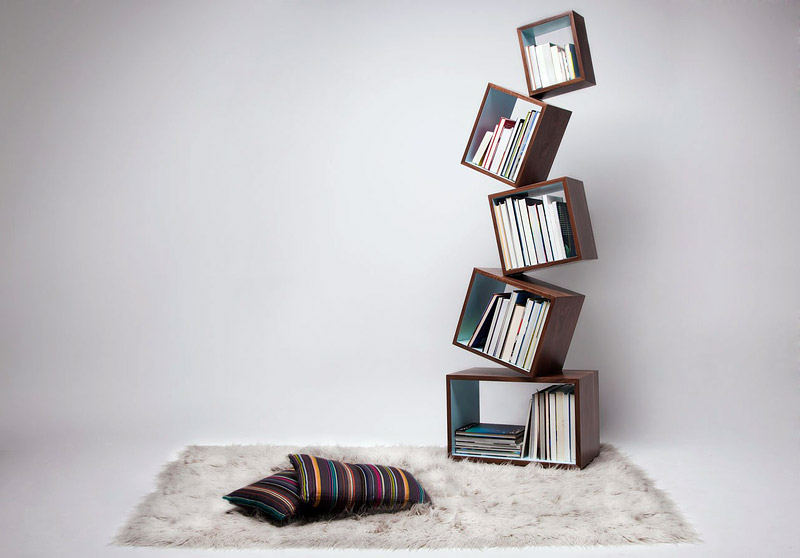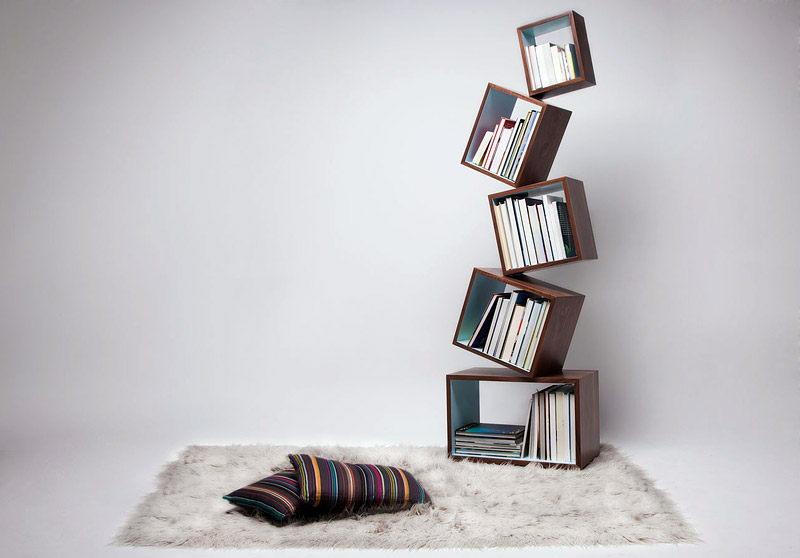 With its cantilevered modules stacked upon each other at a single angled point, the Equilibrium five tier bookcase from Malagana Design is a unique piece that immediately catches attention by creating a sense of amusement and surprise. While its compartments seem to float in the air, Equilibrium can hold over 120 pounds of weight. It's molded polyethylene keep books and magazines organized in a naturally tilted position that eliminates the need for bookends.
Interlocking Bookshelf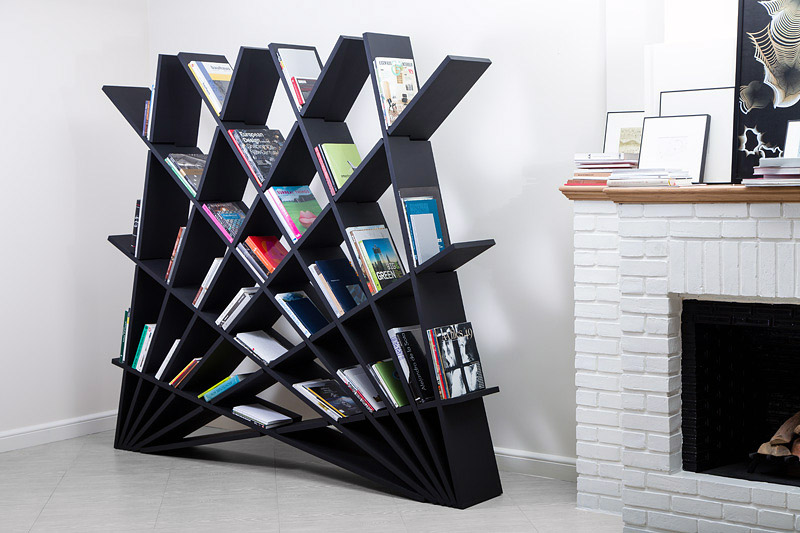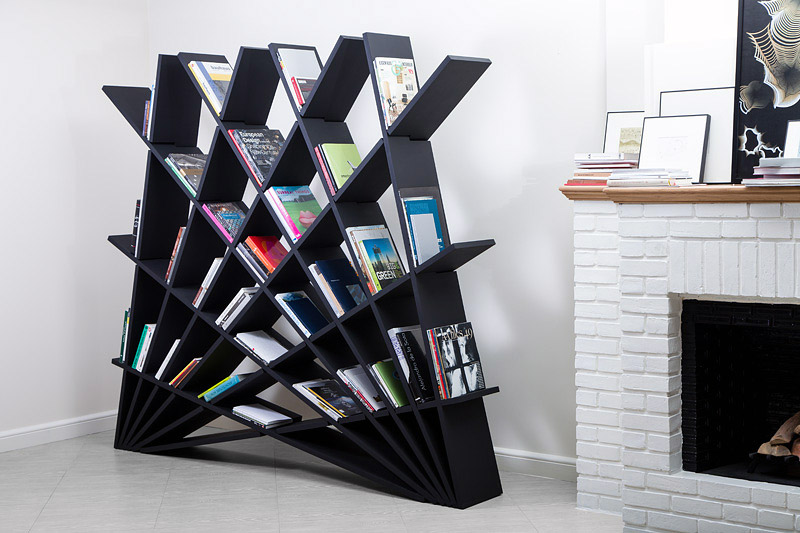 Studio Pousti designer Maryam Pousti has created a bookshelf as part of her CHEFT Collection, which was shown during Milan Design Week in 2015. It is made of twelve interlocking elements which slide in and out of specifically designed grooves.
The grooves interlock, creating a self-supporting structure that stands on its own without the need to attach to walls; therefore, it can also be used as a partition in home or office environments. No nails, glue or screws are required for assembly; it takes about 10 minutes to build the bookshelf.
Tree Inspired Bookcase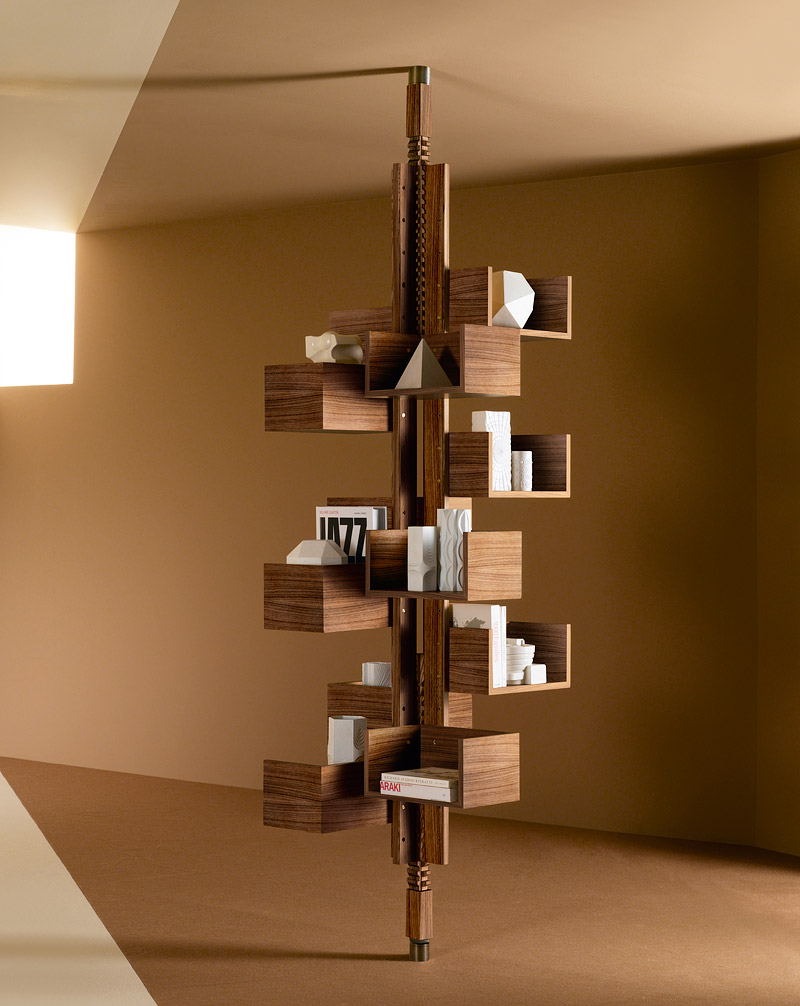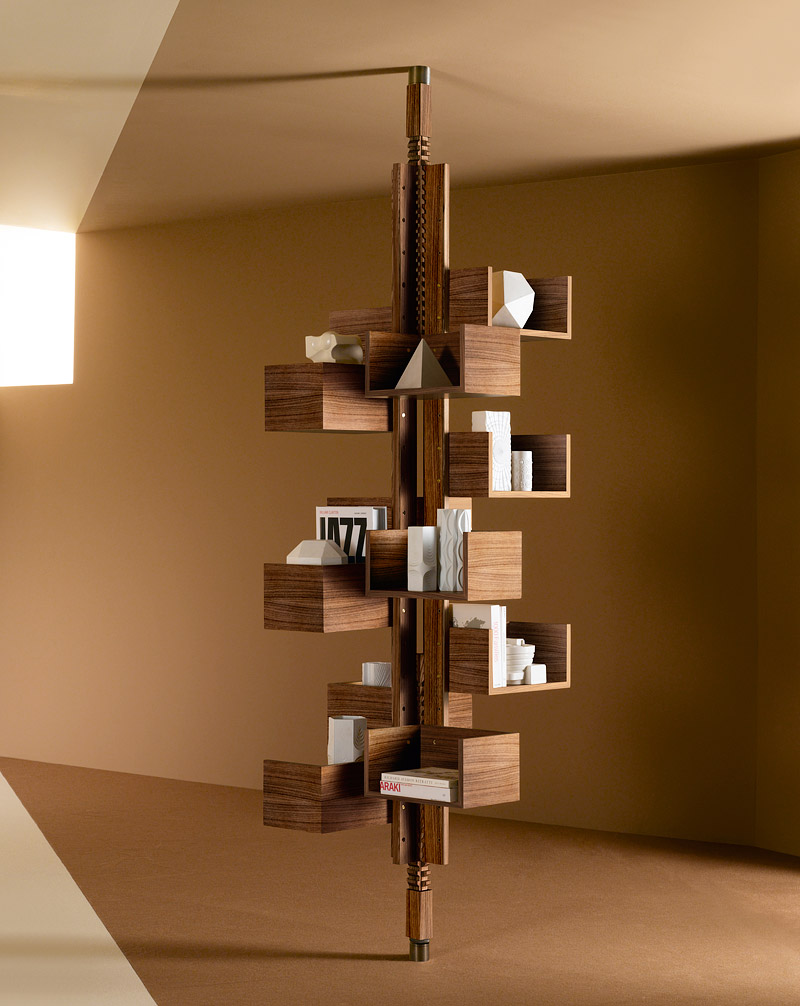 Albero means "tree" in Italian, so it's only fitting that this bookcase bears the name of the very thing that inspired it. The central post serves as a trunk, and like a real tree, it can expand and grow to fit any space—although this particular tree only grows to 11 feet tall. The branches can be spread out in any given pattern, but these boughs are better suited for holding books and knickknacks than leaves.