Meringue Ghost Tartlets Recipe
Boo! Knock guests socks off with Meringue Ghost Tartlets — the perfect sweet and spooky Halloween dessert.
                         TOTAL TIME: 2:30             PREP: 2:00   COOK: 0:20              YIELD: 8
Ingredients:
Graham Cracker Crust
 large graham cracker planks
⅓ c. sugar
6 tbsp. melted butter
Chocolate Ganache
½ c. heavy cream
4 oz. bittersweet chocolate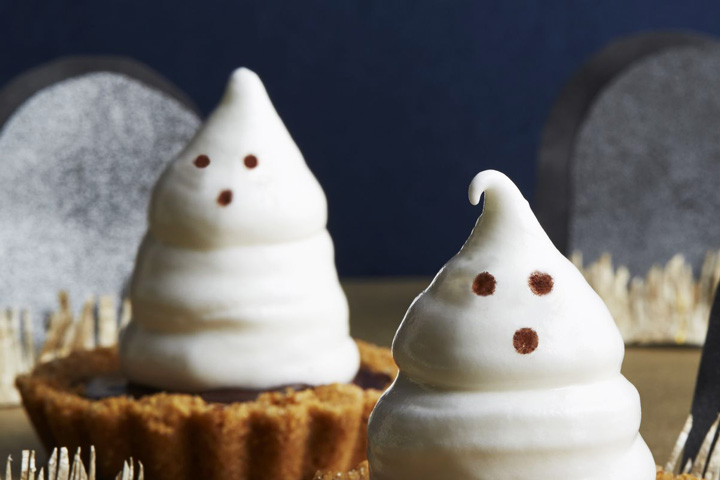 Meringue Ghosts
1½ c. sugar
6 large egg whites
1 tsp. cocoa powder
Directions:
Heat oven to 350 degrees F.
To make Graham Cracker Crust: Crush graham crackers into pieces. Transfer to the bowl of a food processor; add sugar. Process until crackers form a very fine crumb. Add butter, and pulse to combine.
Pack graham cracker mixture into 8 (2 1/2-inch) mini tart pans; transfer to a baking sheet, and bake 20 minutes or until the edges of the tartlets darken slightly. Let cool.
To make Chocolate Ganache: Heat cream in a small saucepan over low heat until barely simmering. Remove from heat, add chocolate, and whisk well until very smooth. Spoon into graham crusts.
To make Meringue Ghosts: Heat 3 inches of water in a saucepan over medium-high heat. Bring to a boil, and reduce heat to low. Place sugar and egg whites in a heat-proof bowl. Place bowl over the water and whisk to combine the sugar and egg whites. Stir constantly until sugar is dissolved and mixture is hot to the touch. (Rub a bit between your fingers. If it feels gritty, the sugar has not dissolved.)
Remove bowl from the stove and beat egg white mixture with the whisk attachment of an electric mixer until shiny stiff peaks form. Transfer meringue to a plastic pastry bag, snip the end to about 1 1/2 inches wide, and pipe 4-inch-tall ghost shapes onto the ganache.
Use a small paint brush dipped in cocoa to form the eyes and mouth. Serve immediately.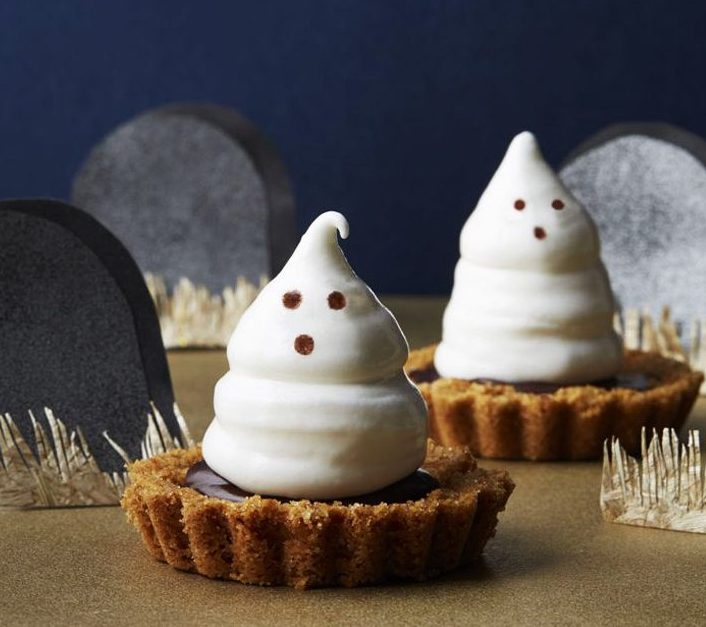 Source: countryliving.com