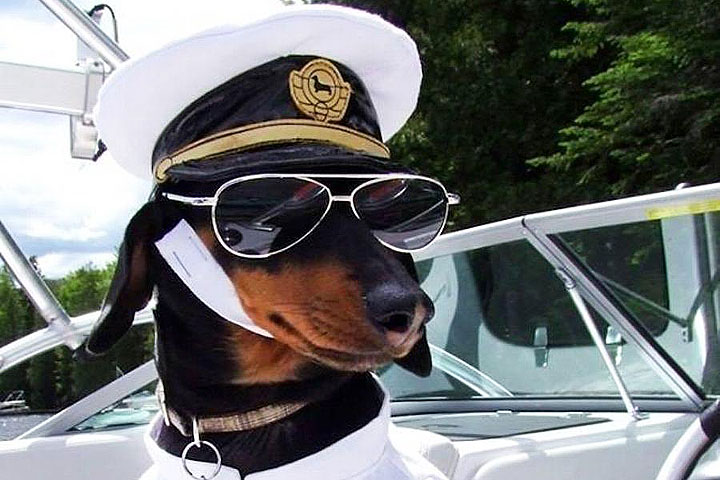 A businessman's bizarre requests to staff at a Salt Lake City hotel are going viral after photos of his successes were posted online.
Sean Fitzsimons, 28, whose hotel requests went viral thanks to a Reddit post by friend Janet Fortener, said he has been visiting Salt Lake City from Denver every alternating week for about four years, and he recently decided to make his visits more interesting by using the "additional requests" form of his hotel's booking process.
Fortener's post included photos of Fitzsimons' requests along with photos of the requests as fulfilled by hotel staff.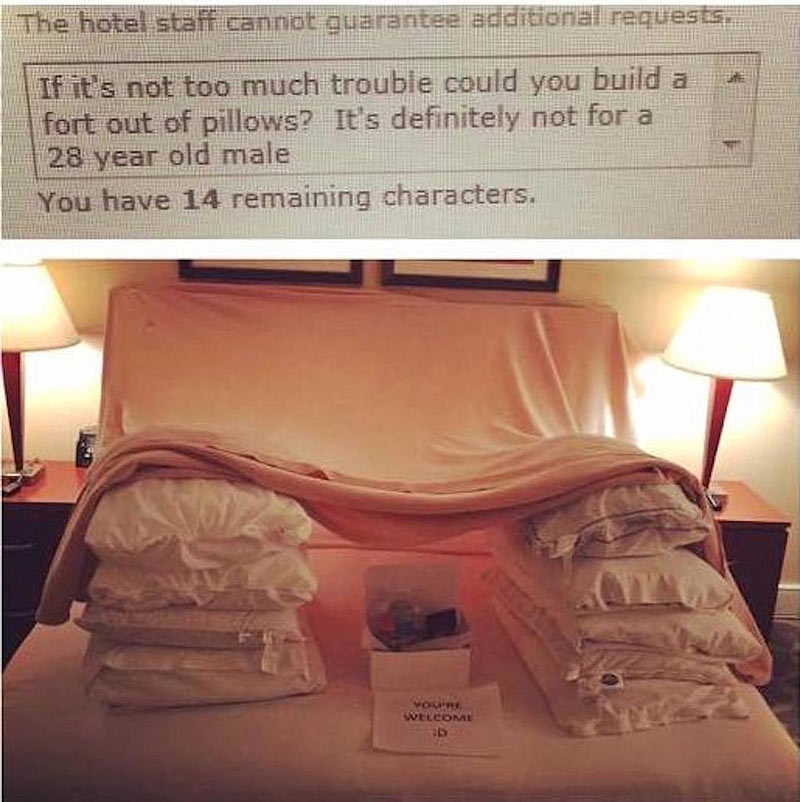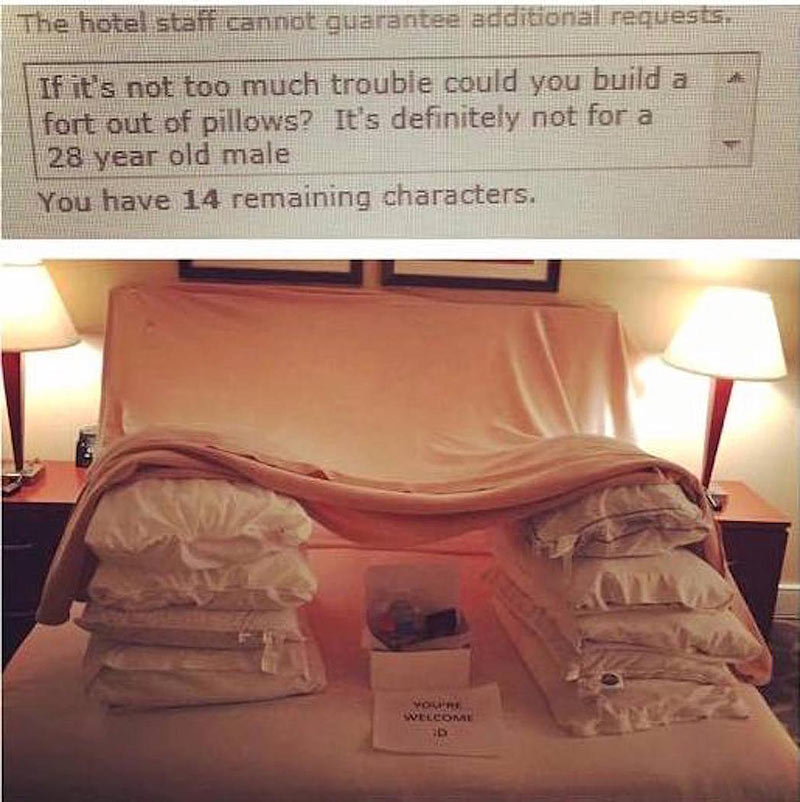 "If it's not too much trouble could you build a fort out of pillows? It's definitely not for a 28-year-old male," Fitzsimons wrote, leading hotel staff to do just that on his room's bed along with a note reading "You're welcome" with a smiling emoticon.
"I got bored doing the routine checking-in and checking-out, so I thought, why not try a random request?" Fitzsimons told ABC News.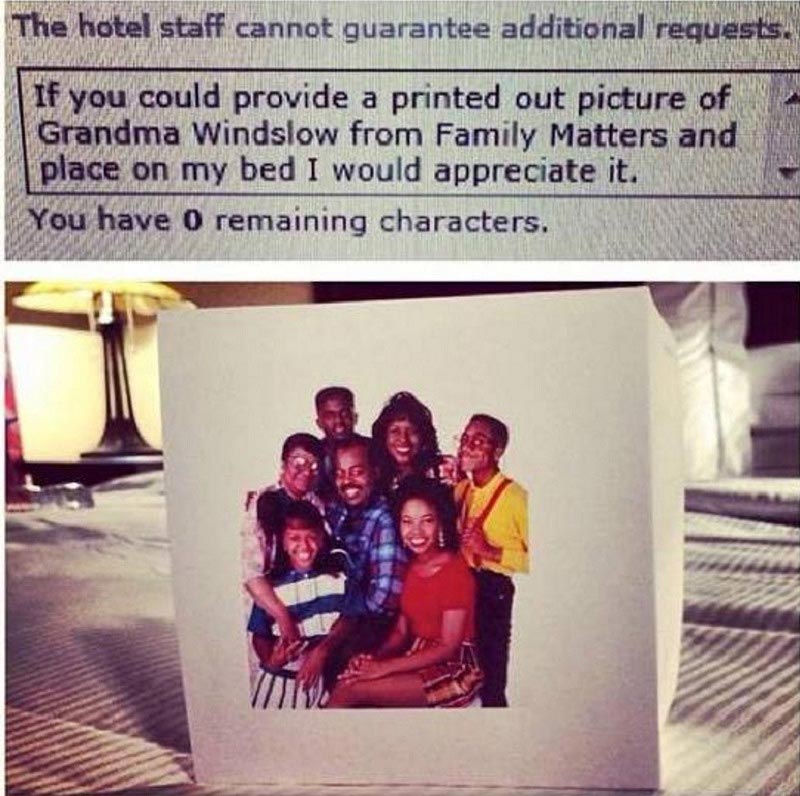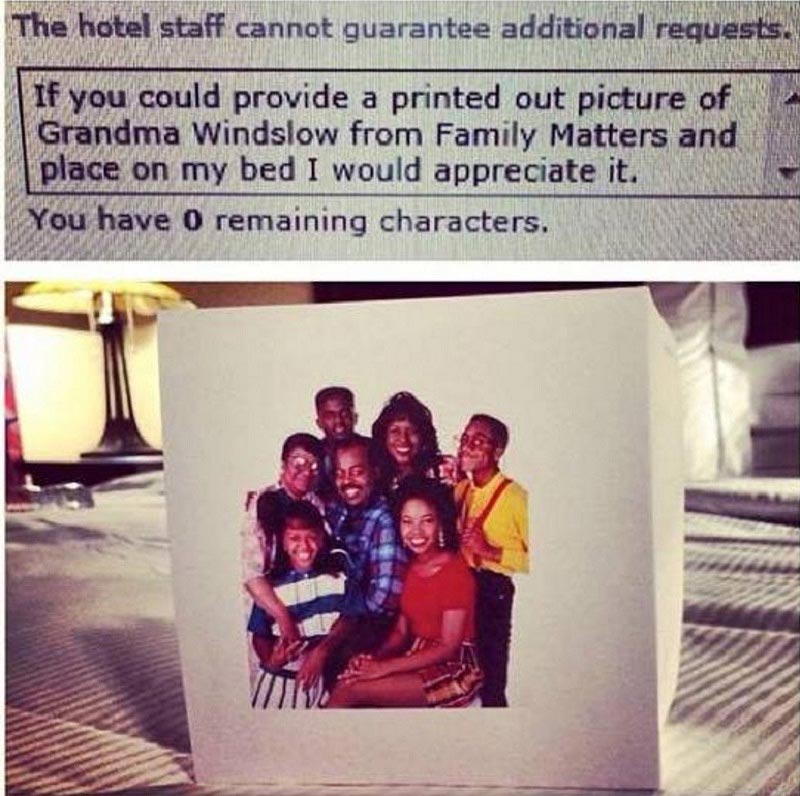 His other requests included asking for a photo of Grandma Winslow from 1990s sitcom Family Matters, requesting a photo of a dog dressed as a sea captain and asking for photos of actors Alfonso Ribeiro and Jeremy Jackson to be placed on his bed "like they're looking at each other."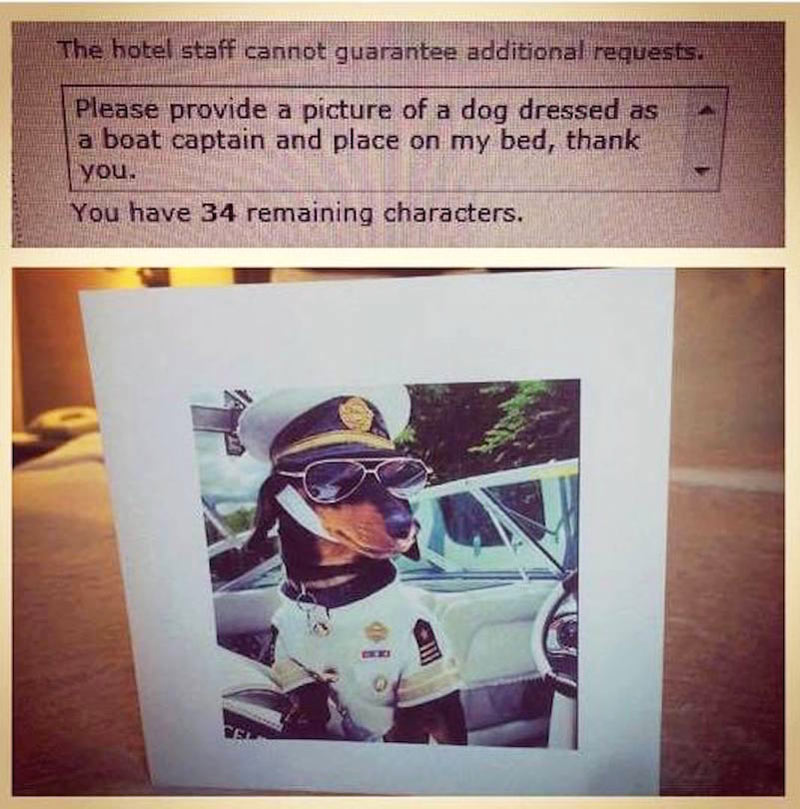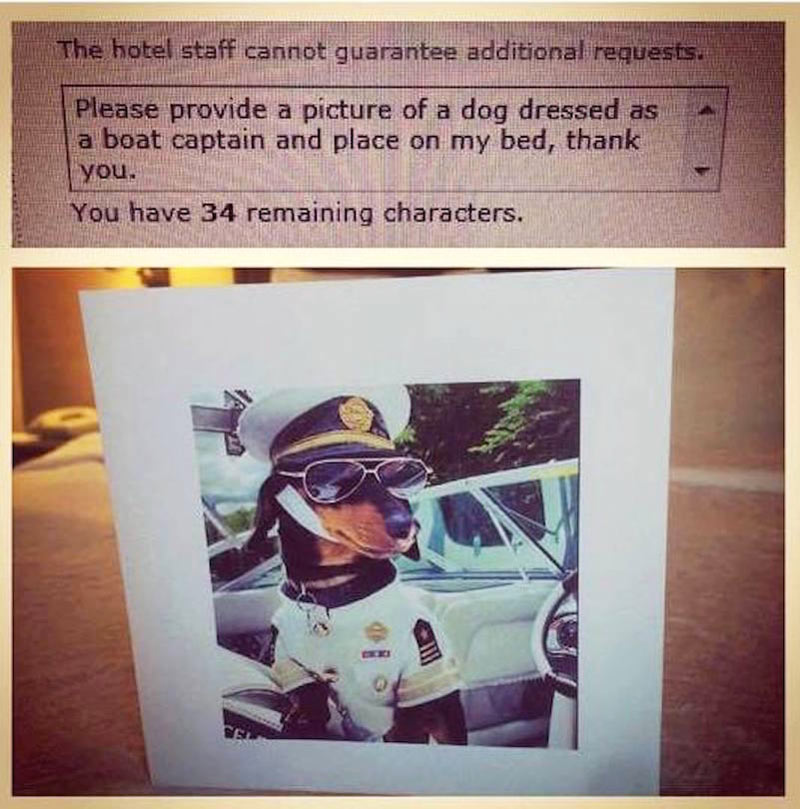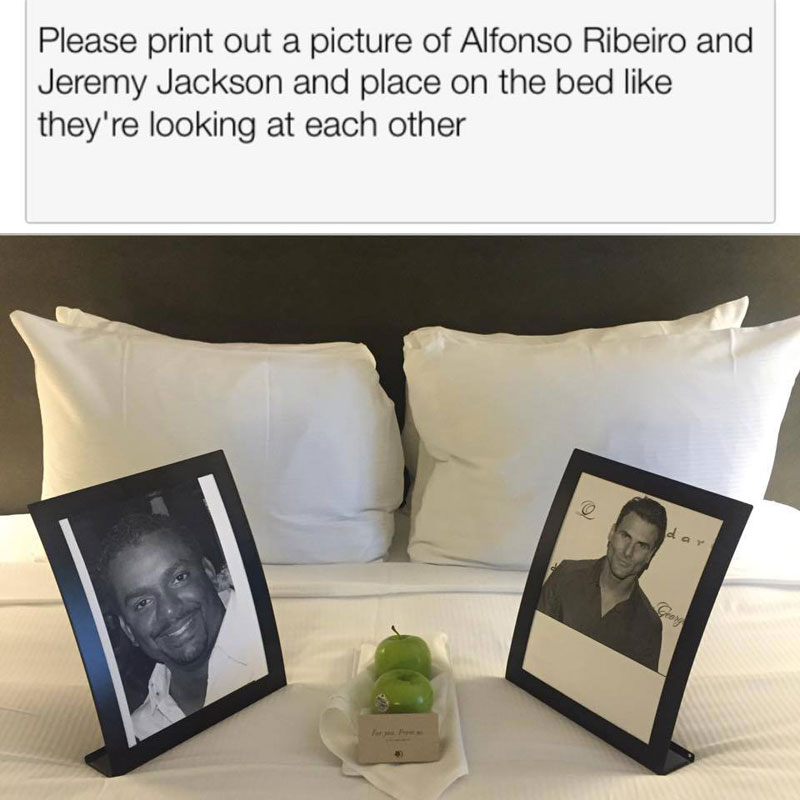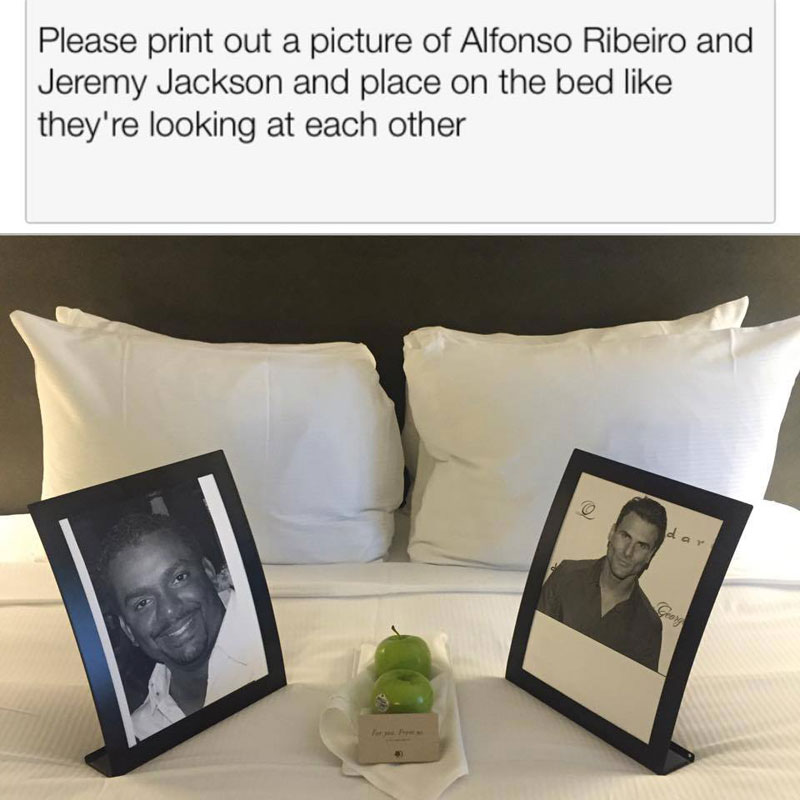 Fitzsimons also got one member of hotel staff to "draw a picture of what you think I look like."
"Many people at the front desk have told me they they thought my request was hilarious and that they had so much fun doing it," he said. "It makes them laugh and it helps take their mind off the daily grind."
The frequent traveler said only one of his requests has ever been refused.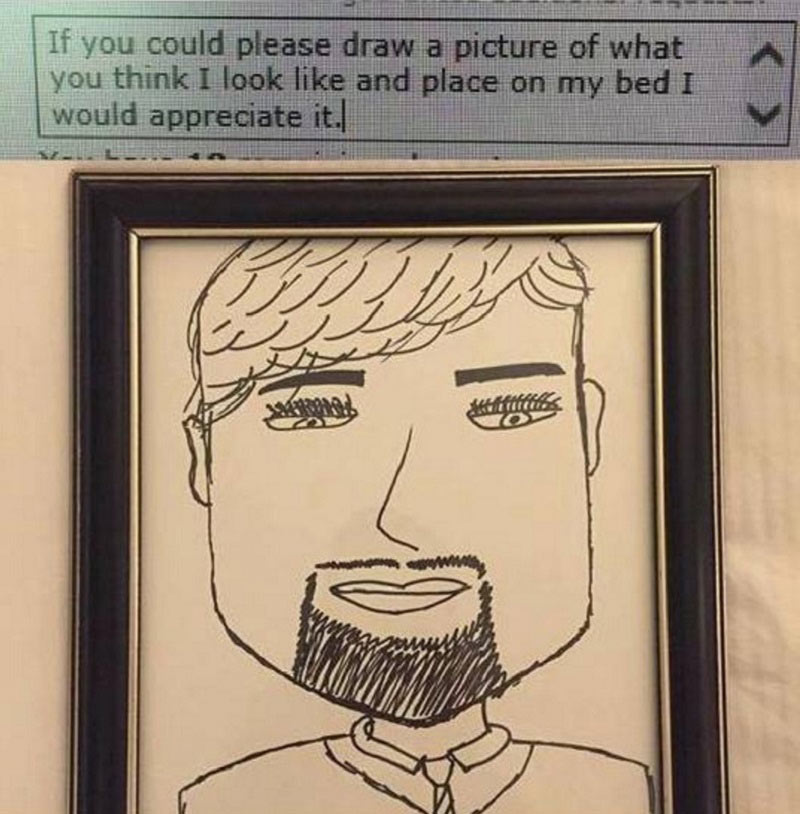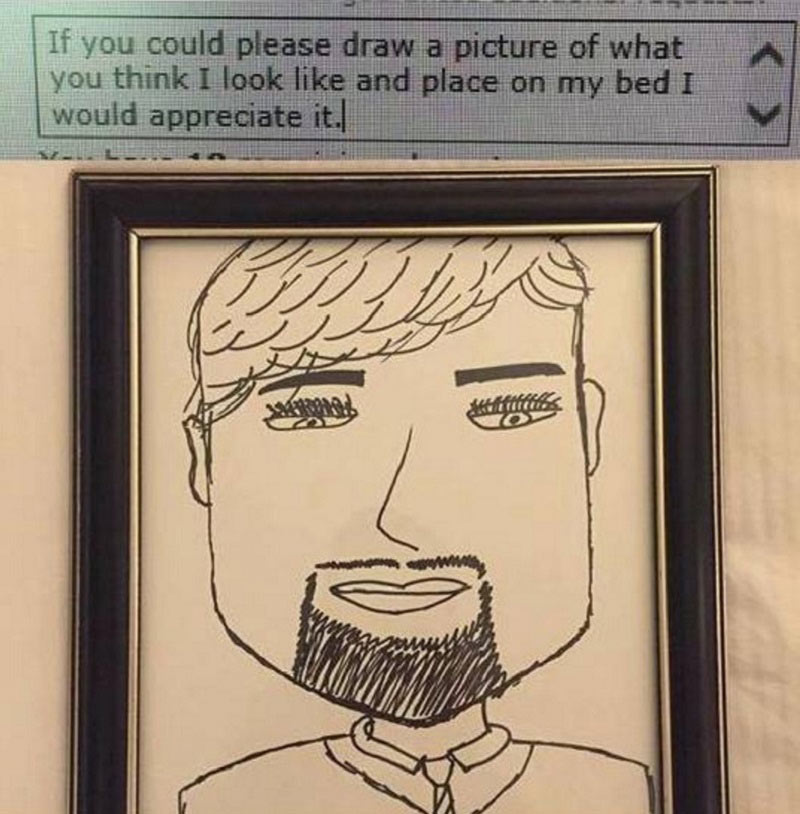 "It was the first time I asked for someone to draw a picture of what I look like," he said. "When I checked in, the lady at the front desk looked at me so weird, and it got so awkward. I'm pretty sure I weirded her out. So, I was like, 'I can't ever come back here again.'"
Fitzsimons said staff at some of his favorite hotels often ask him about his next bizarre request.
"I'm like, 'Don't worry! I'm working on it, I'm working on it,'" he said. "It's all in good fun."
Source: upi.com