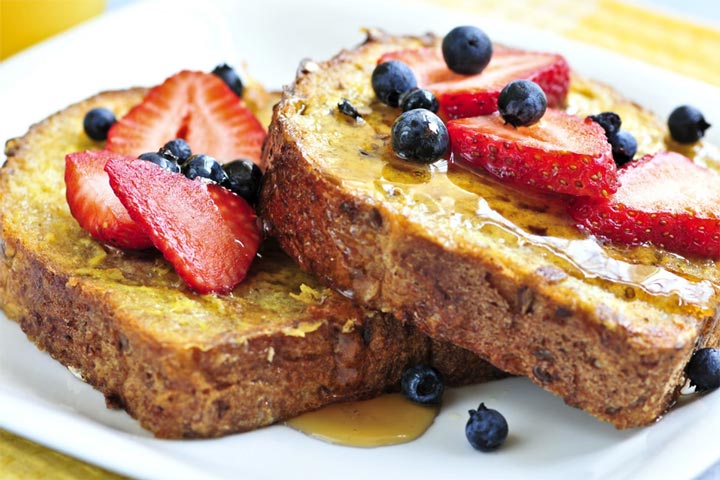 French Toast Restaurant Style Recipe
French toast is a dish of bread soaked in beaten egg batter, then fried and baked. Classic french baguette sliced diagonally make a nice, chewy version.
Prep Time: 10 min       Cook Time: 15 min         Serves: 6
Ingredients:
6 Thick slices french bread
2 Eggs
⅔ Cup Milk
1 Tablespoon Brown sugar
¼ Teaspoon Ground cinnamon
1 Teaspoon Vanilla extract
⅛ Teaspoon Salt
1 Tablespoon Butter, for frying bread
Instructions:
To make french toast, first cut the french bread into 6 thick slices.
Place 2 eggs in a big shallow bowl.
Add the milk.
Then add ground cinnamon and salt
Next add the brown sugar. Next add the brown sugar.
Lastly add vanilla extract.
Dip each slice of thick french bread into the egg mixture.
Soak the bread on both sides. Make sure the bread is completely soaked.
Soak all the 6 slices of bread, drained and set aside.
Place all soaked slices of bread on a plate and set aside.
Melt butter in a frying pan over medium heat.
Working in batches, brown the bread very lightly until golden brown. Sauté for 3 minutes, just to kind of seal the egg batter.
Flip over and brown for another 3 minutes until it's beautiful and golden colour.
Transfer the golden brown slices of french bread to a baking sheet.
Preheat oven to 200 degree C (400 degree F).
Then bake in preheated oven for about 15 minutes. The bread will puff slightly & will be crispy on the outside and incredibly moist and soft inside.
Keep the french toast warm in the oven over low temperature if not eaten right away.
The baking cooks custard inside the bread & gives it a creamy texture. The outside is crispy and golden. Gives an amazing french toast experience.
Serve hot with butter.Or serve with maple syrup and garnish with some blueberries.
ENJOY!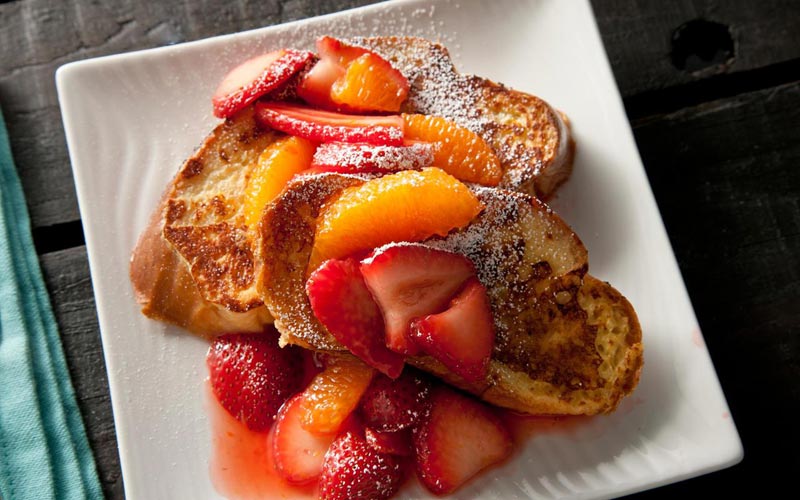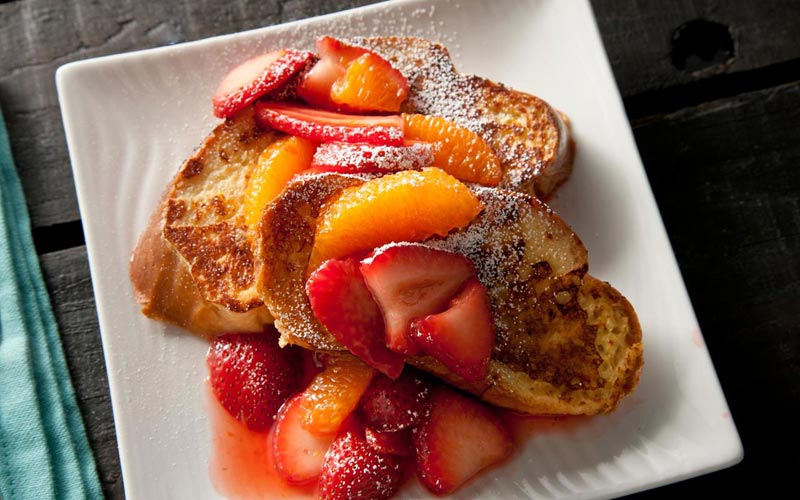 Source huangkitchen.com