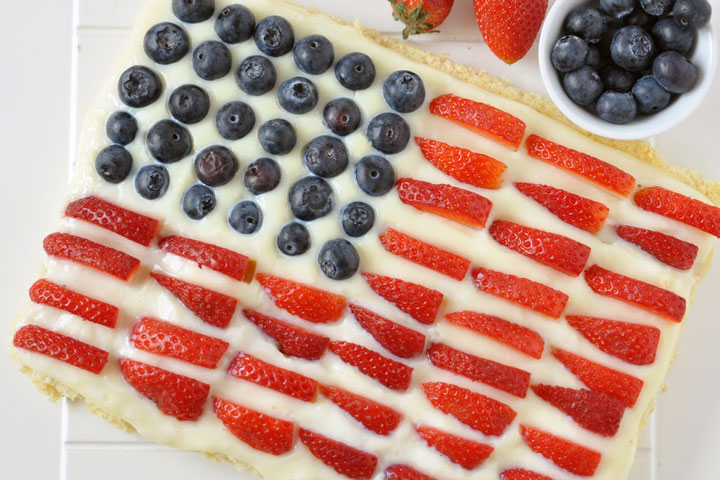 Fourth Of July Cheesecake Recipe
Celebrate Independence Day with Fourth Of July Cheesecake. Perfect dessert for summer and the fourth of July!
ingredients:
Crust
1 1/2 cup lowfat graham crackers, crumbled
1 tablespoon oil
3 tablespoons granulated sugar
Filling:
1 env unflavored gelatin
1 cup skim milk
16 ounces fat-free cream cheese, softened
3 ounces fat-free cream cheese, softened
2 tablespoons lemon juice
1 tablespoon lemon peel, grated
2 teaspoons vanilla extract
1/2 cup granulated sugar
2 cups blueberries
4 cups strawberries, sliced
Directions:
Preheat oven to 350 degrees F. Prepare a jelly roll pan with cooking spray; set aside.
To prepare crust, combine graham cracker crumbs, oil, and 3 tablespoons sugar. Pat crumb mixture evenly on bottom of prepared pan. Bake for 10 minutes; cool.
In a saucepan, combine gelatin and milk. Let stand 2 minutes. Then, heat over medium heat, stirring constantly, until gelatin is dissolved. Cool to room temperature; set aside.
In a mixing bowl, combine cream cheese, lemon juice, lemon peel, vanilla, and remaining sugar. Add milk mixture. Pour entire mixture over baked crust. Refrigerate until set, about 4 hours.
Decorate with berries in a flag design.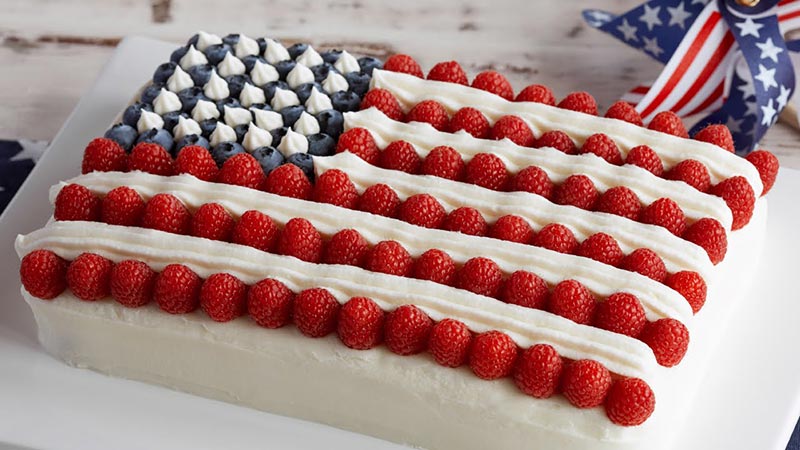 Source:
yummly.com
Masterchief23
www.cdkitchen.com