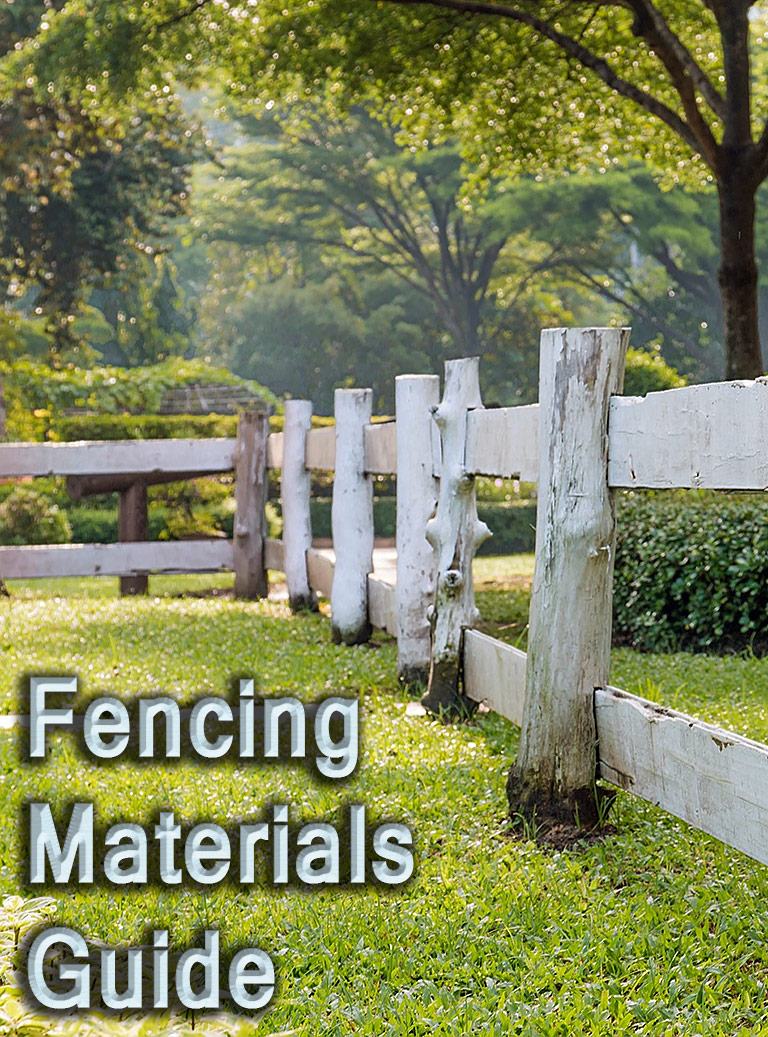 Your fence can provide you with privacy and security or even act as a boundary to keep animals in or out. All of the following materials are commonly used in the construction of home fencing. Each one adds a unique architectural accent and is suited to your specific fencing wants and needs.
Natural Materials
When it comes to choosing a natural material, classic timber, modern bamboo, and stonework are all popular but very different choices.
Traditional Wood
It's hard to ignore the beauty and utility of a traditional wooden fence. Wood fencing is typically made of redwood or cedar, as these varieties stand up well against decay, naturally occurring oils, and wood-boring insects.




However, as with any natural wood product, they require regular upkeep. Redwood and cedar have raised grains and an appearance that is architecturally unique. While they can be a bit pricey, these woods are easy to work with and make for an easy do-it-yourself project if you're planning to not only choose your fencing medium, but also install it.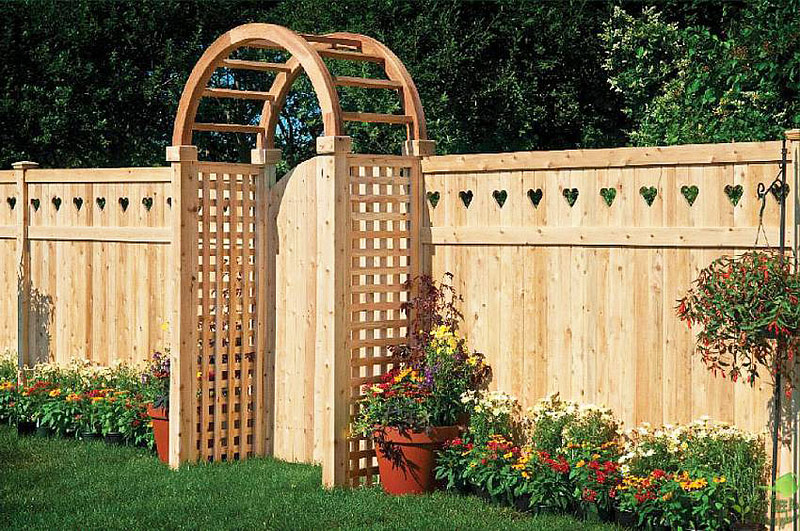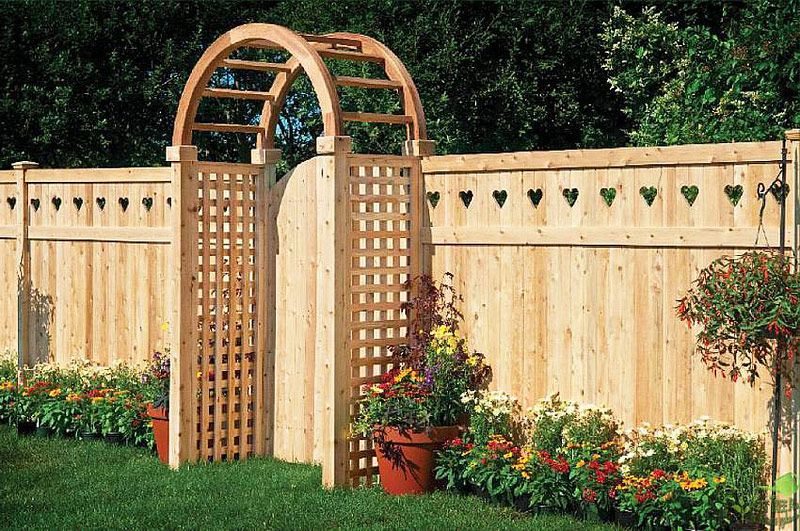 There are also other varieties of wood that are chemically treated to resist the elements. These options allow you to hold on to the integrity associated with natural wood, but they are less expensive than traditional redwood or cedar and are easy to paint upon installation. Similarly, even the chemically treated woods will require maintenance from time to time.
Bamboo
Bamboo products are one of the toughest natural material options and are becoming a favorite for environmentally-conscious homeowners. This material regenerates after six months, making it a renewable resource.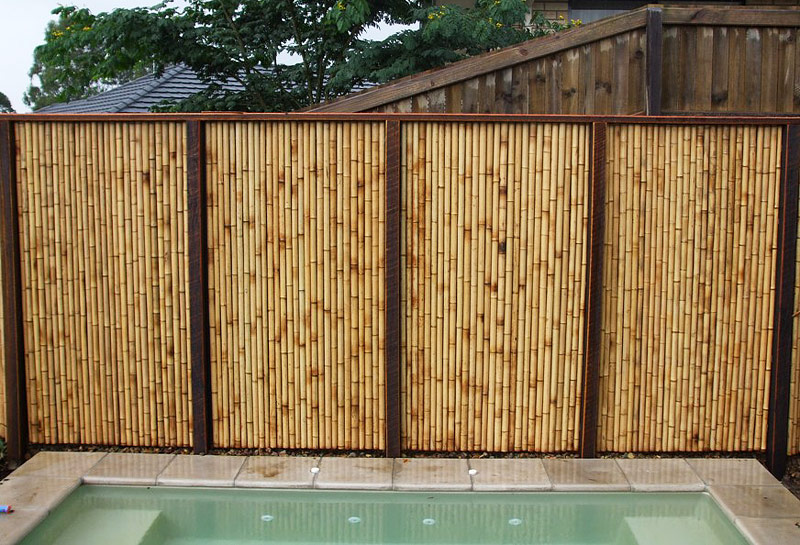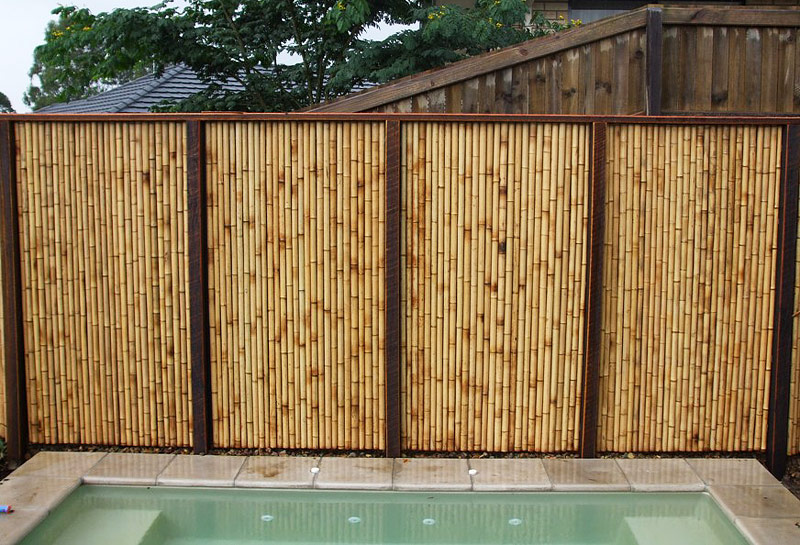 Bamboo can withstand the harshest environments and treatments, with no painting or maintenance needed. In fact, bamboo is so durable that structures made from it have even withstood earthquakes of 9.0 on the Richter scale. A fence made of this material will stand for generations of homeowners.
Stone
Whether you use true field stones, river rocks, or pre-cast concrete, a stone wall can be an elegant and sturdy addition to the perimeter of your property. Although stone fences can require more hard labor options to build than other options, it will provide years of beauty and barrier.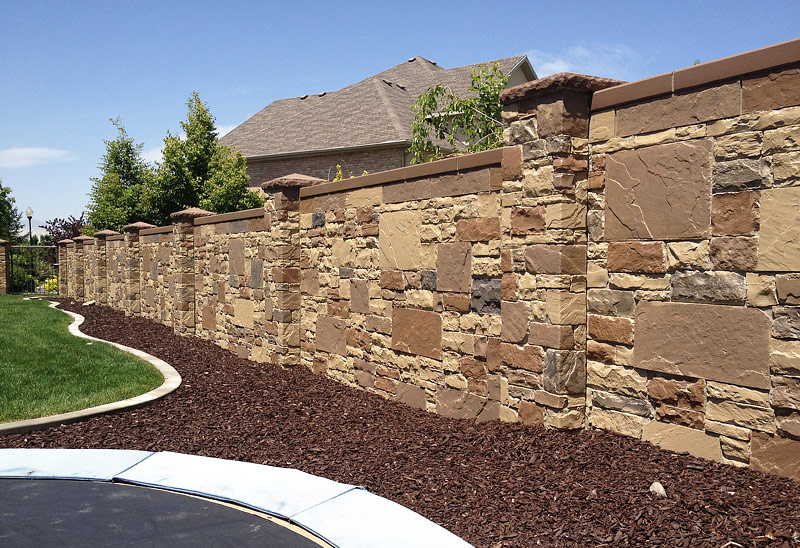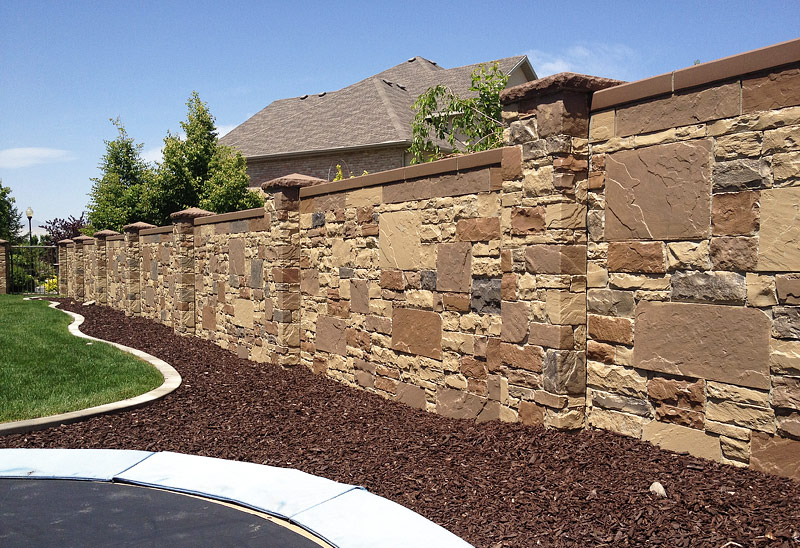 Depending what kind of look you're going for and the level of durability needed for your geographical location, you can dry set or mortar set your stone structure. Dry setting is less expensive because no adhesive is used to keep hold the structure together, but it is not a great option for areas that see frequent earthquakes. The weight of the stones will keep the structure together, but the earth can be strong enough to topple it. Laying the stones in mortar gives a bit more stability for volatile weather areas.
Engineered Materials
A wide range of fencing is manufactured from man-made materials. These choices may lack the abstract appeal of being straight out of nature, but they all have other benefits if you're eyeing one of these options for your next fence project.
Wrought Iron
Wrought iron is made from an iron alloy, so it's extremely durable and strong. Wrought iron fences provide excellent security, are impervious to insects, and come in a highly stylized black powder-coat finish that both weathers nicely and is immediately recognizable.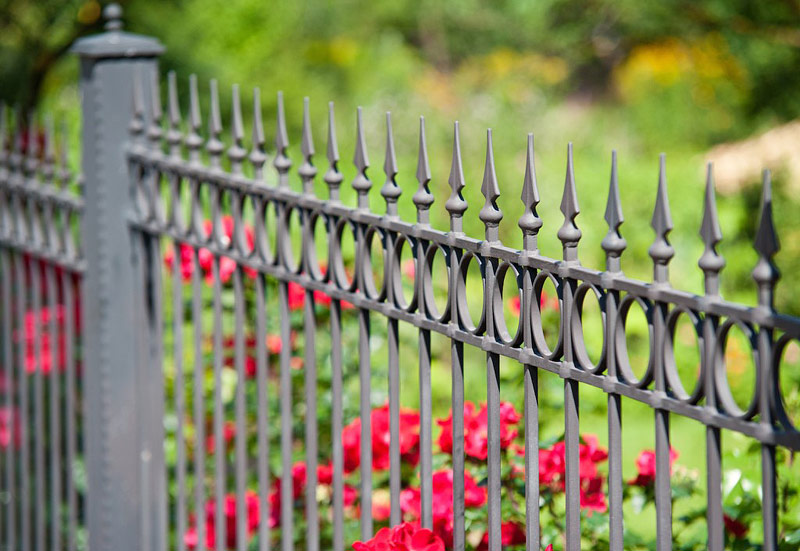 If you're planning to do the installation yourself, be aware that wrought iron is not the easiest material to work with. The material is quite heavy and installations can and sometimes require welding skills to join sections of fencing.
Vinyl
Vinyl fencing has become very popular due to its affordability and ease of installation. It's made from extruded polyvinyl chloride (PVC), a material that is lightweight but still durable, weatherproof, insect-proof, and available in a variety of styles and colors. While the standard for vinyl fencing is a simple white, colors and even a wood-grain texture are options on the market. It is easily maintained, requiring nothing more than a thorough wash with soap and water.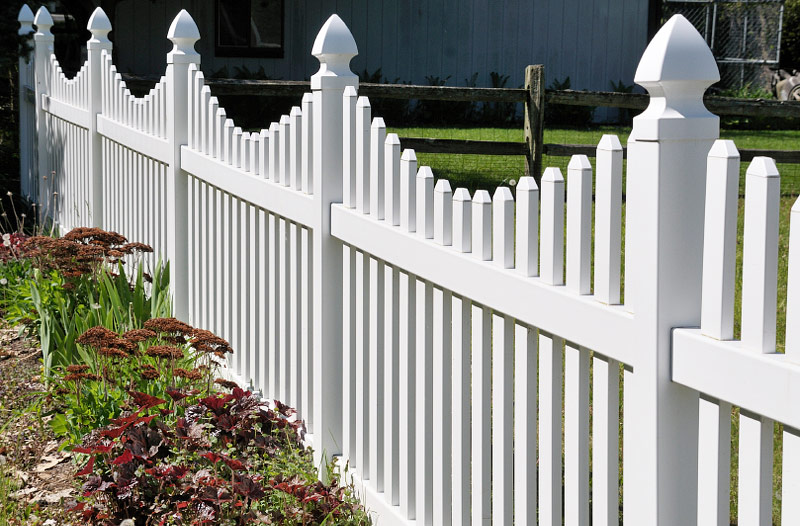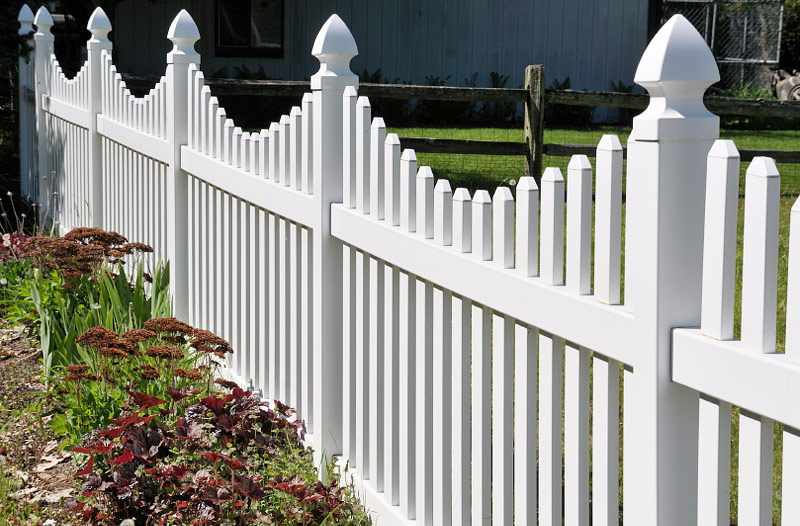 Assuming that you are all right with its appearance and artificial construction, the only real detriment to vinyl fencing is that when compared to wood and iron, it is not nearly as durable.
Fiberglass
Composite fiberglass fencing, manufactured under many trade names, offers the strength of iron. In fact, fiberglass fencing is virtually indestructible, and pound for pound has greater tensile strength than steel while being significantly lighter and more easily handled and installed. This makes it a more expensive choice than wood or vinyl, but as a perk fiberglass fences usually come with a lifetime warranty, and since the material will not crack or peel, these fences are essentially maintenance-free.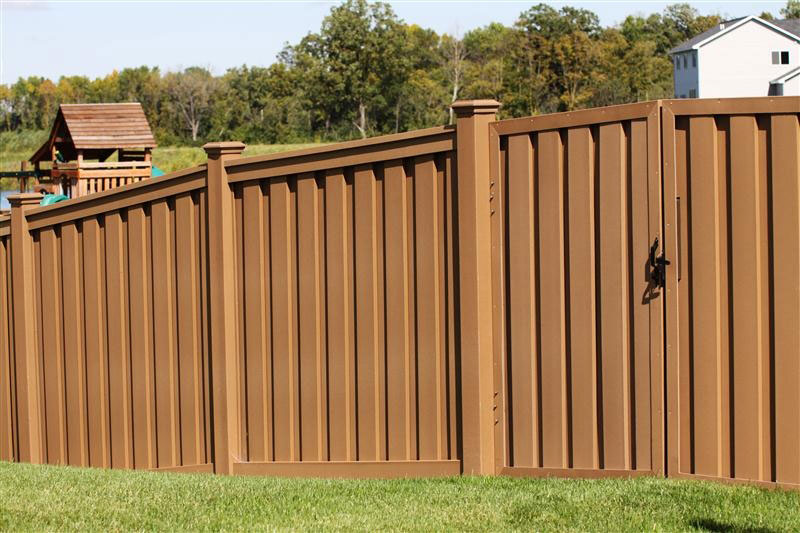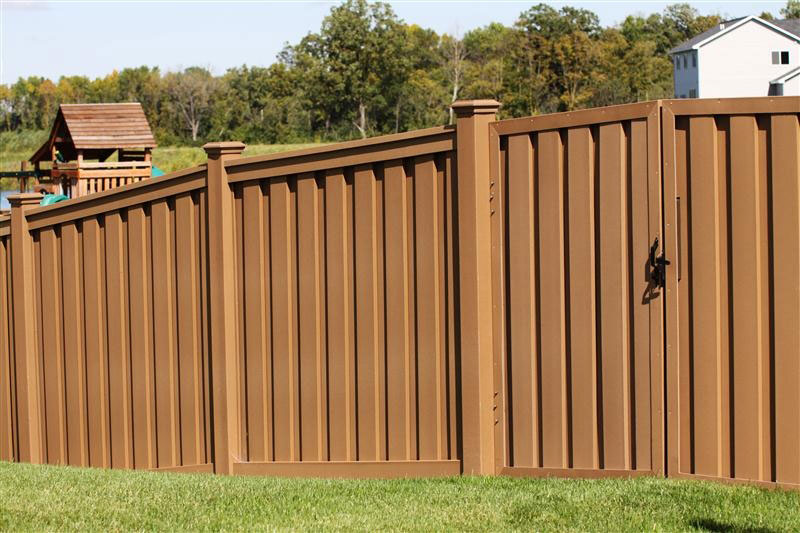 Fiberglass can be manufactured in numerous colors and styles and even be made to look like wrought iron, steel, or wood grain.
Chain Link
Chain link fences are almost as classic as the traditional wood fence at this point. Chain link is fairly easy to install, strong, economical, and insect and weather proof.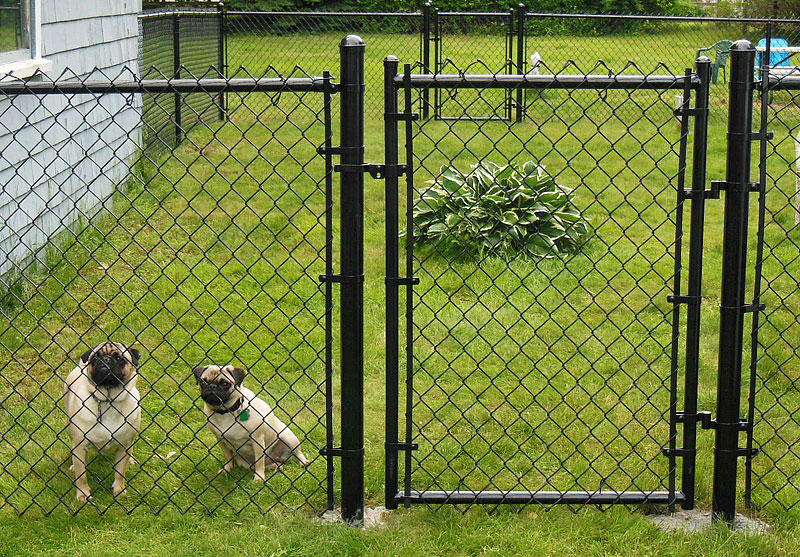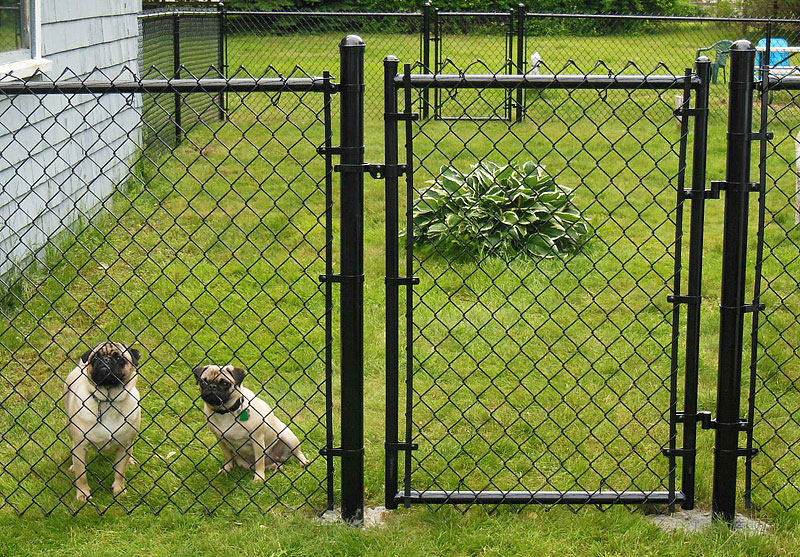 While these fences have limited architectural appeal, they're still incredibly functional for privacy and marking boundaries in your yard, even if generations of kids continue to scale them on the schoolyard.
Source: doityourself.com