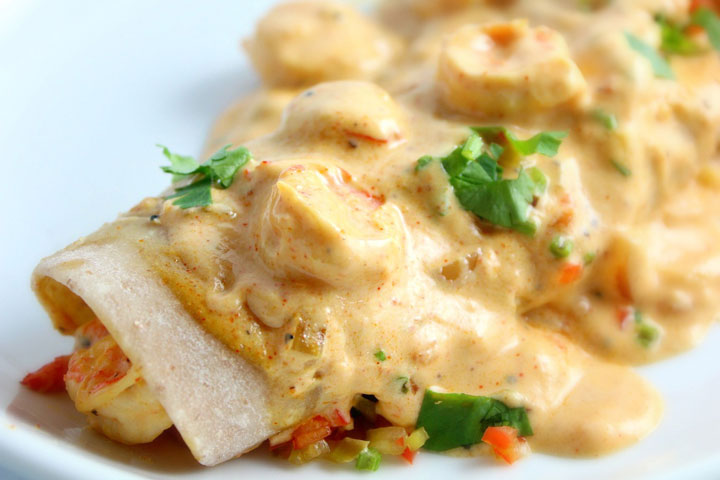 Recipe for Creamy Cajun Shrimp Enchiladas
This creamy shrimp sauce is also delicious served over pasta or steamed rice. As with many spice-based recipes, the flavors deepen the longer they have time to blend with the other ingredients.
Ingredients:
1 small onion, finely chopped
3 cloves garlic, minced
2 Tbs olive oil
3 lbs* raw medium shrimp, peeled and deveined
2 Tbs Cajun seasoning (or more, to taste)
1 fl cup heavy whipping cream
2 Tbs cornstarch mixed with 1 Tbs cold water
10 5-inch flour tortillas
Instructions:
Heat the olive oil in a large fry or sauté pan, and sauté the onions and garlic until softened. Add the shrimps and lightly toss, then evenly sprinkle Cajun Caleb seasoning over them. Cook until the shrimps start to turn pink, about 1-2 minutes. Add the whipping cream and stir well. Bring to a low simmer and add the cornstarch slurry to thicken the sauce. When the sauce has thickened, remove from heat.
Preheat oven to 325˚F.
Spoon some sauce – without any shrimps – into a rectangular glass or ceramic casserole and spread it evenly. For each tortilla, spoon about 2 tablespoons of the creamy shrimp down the center length and roll it. Place each rolled-up enchilada side-by-side in the dish and ladle more sauce on top of them. Cover the dish with aluminum foil and bake for 15-20 minutes.
Garnish with finely chopped red bell peppers and cilantro.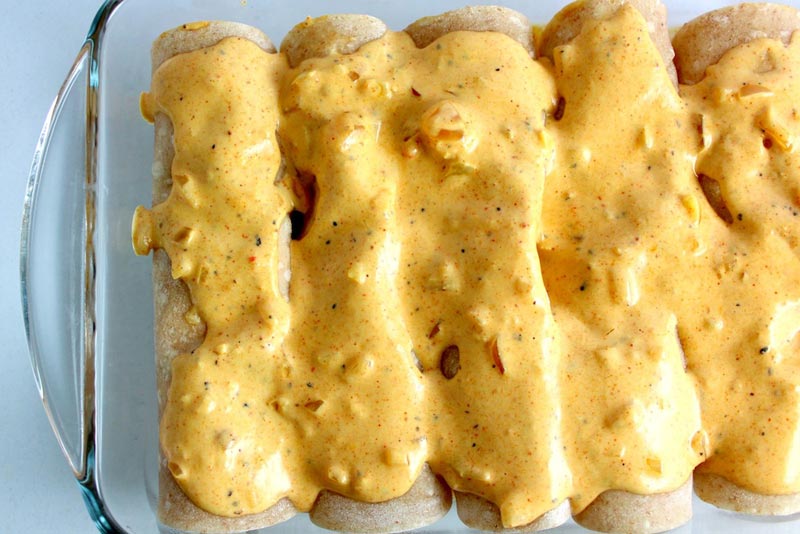 Source flavorite.net