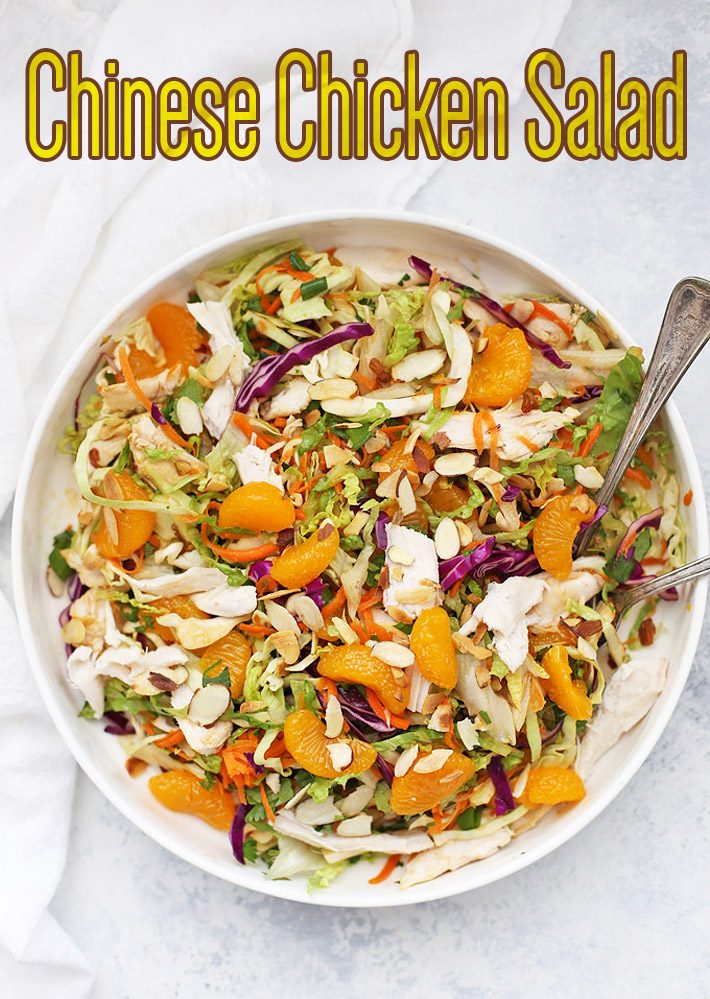 Chinese Chicken Salad Recipe
The Chinese Chicken Salad recipe begins by poaching chicken tenders in a flavorful broth seasoned with rice vinegar, ginger, and soy sauce. This infuses flavor into the chicken, which pretty much guarantees that this salad is anything but boring! If you are short on time and have leftover grilled or rotisserie chicken, you can certainly utilize it in this salad as well.
Serves: 6
Ingredients:
1 1/4 pounds chicken tenders
1/2 cup seasoned rice vinegar
1/4 cup peeled fresh ginger slices plus 1 tablespoon finely grated ginger
2 tablespoons plus 1 teaspoon soy sauce
2 tablespoons dark sesame oil
2 tablespoons canola oil
1/3 cup coarsely chopped scallion
4 cups shredded Napa cabbage,
1 can (8 ounces) sliced water chestnuts, drained
1 cup shredded carrot
1 can (15 ounces) mandarin oranges, drained and rinsed
1/4 cup sliced almonds
2 tablespoons black sesame seeds
Instructions:
Rinse and pat chicken dry. Bring 5 cups water, 1/4 cup vinegar, the ginger slices, and 2 tablespoons soy sauce to boil in a large saucepan. Add chicken and simmer 5-6 minutes or until cooked through. Drain chicken and discard ginger slices. Transfer chicken to a cutting board and cut diagonally crosswise into thin slices.
Whisk remaining 1/4 cup vinegar, 1 tablespoon grated ginger, 1 teaspoon soy sauce, the sesame oil, vegetable oil, 2 tablespoons water, and the scallion together in a large bowl; salt and pepper to taste. Stir in cabbage, water chestnuts, carrot, three-quarters of the chicken slices, and 1 tablespoon sesame seeds until well combined. Gently fold in mandarin oranges.
Mound salad on serving plates, top with remaining chicken slices and sprinkle with sliced almonds and remaining sesame seeds. Alternatively, layer the salad ingredients in a mason jar and package dressing separately to pack. Before serving, pour dressing over salad and shake.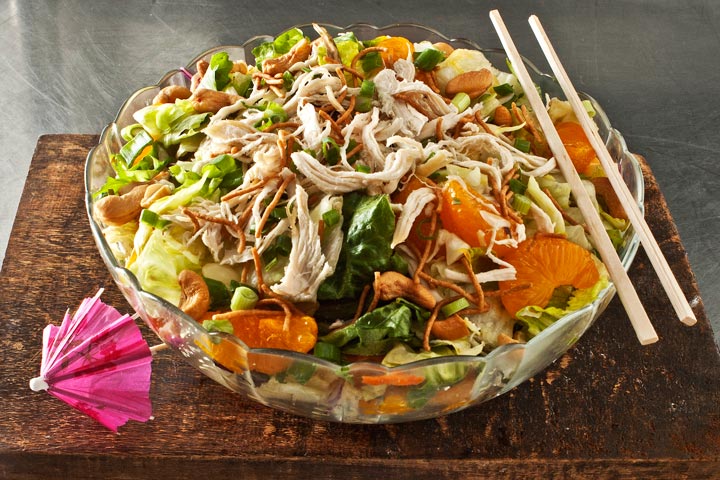 Source recipe.com