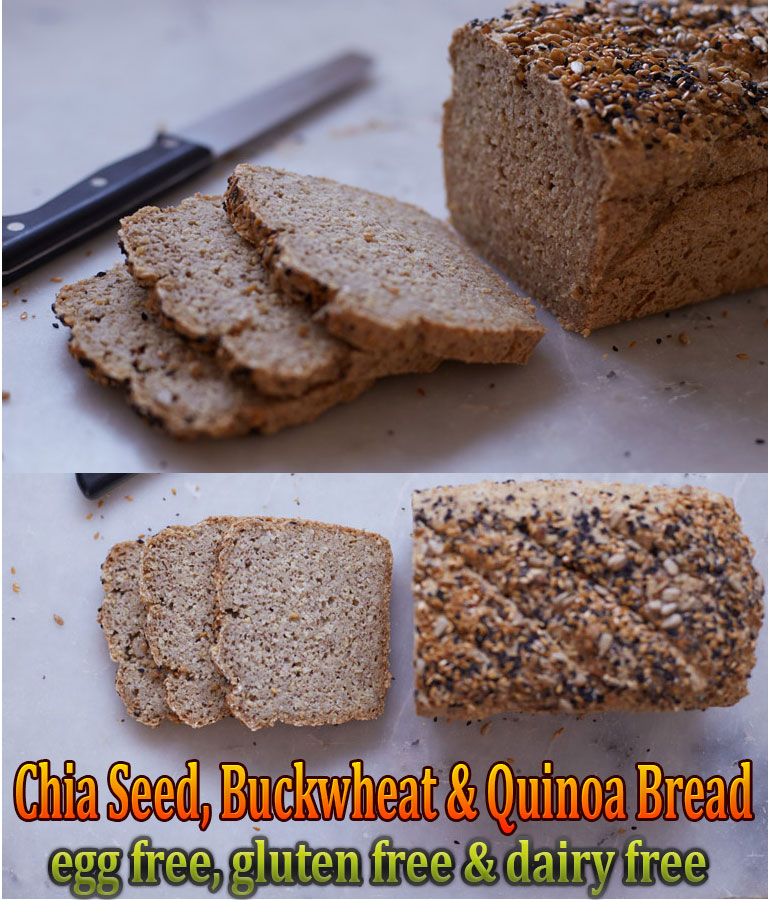 Chia Seed, Buckwheat & Quinoa Bread
Chia Seed, Buckwheat & Quinoa Bread – egg free, gluten free & dairy free.  It's simple, not too expensive, and tastes great! The texture isn't crumbly at all – the chia seeds and xanthan gum work really well to make it soft and pliable. The secret to getting the texture right on this bread is to cook it for long enough that it's not still sticky inside. The crust will get quite brown – don't worry, it won't dry out. It needs to rise for an hour and cook for an hour, maybe even a little more. You can make two loaves at once by grinding the dry ingredients in two lots, removing the first lot to a bowl, and mixing the two loaves separately. The dough is very thick and sticky, so it's a bit too much to do two loaves at once.
Because it's a moist bread, it lasts really well for a couple of days. Great for sandwiches, or toast. Add in a couple of handfuls of seeds towards the end of the kneading time if you want a seeded bread.
The other day I started to make this bread, then realised that by the time it rose I wouldn't have time to bake it as I needed to go out. So I covered it loosely with a plastic bag and popped it in the fridge. When I got home a few hours later, I took it out of the fridge and it had risen beautifully – better than usual! I placed it into the cold oven, turned the oven on to 170C, and cooked it for an hour and it turned out the best it ever has. So there you are – you can make it in the morning, pop it in the fridge to rise, and bake it when you get home at night. Easy.
Ingredients:
70g buckwheat kernels
80g white quinoa or millet
60g chia seeds
170g arrowroot or tapioca starch
1 heaped tsp instant yeast
1 tsp xanthan gum
1/2 tsp bicarb soda (baking soda)
1 tsp fine sea salt
30g macadamia oil or olive oil
30g raw honey or rice malt syrup
250g water, at room temperature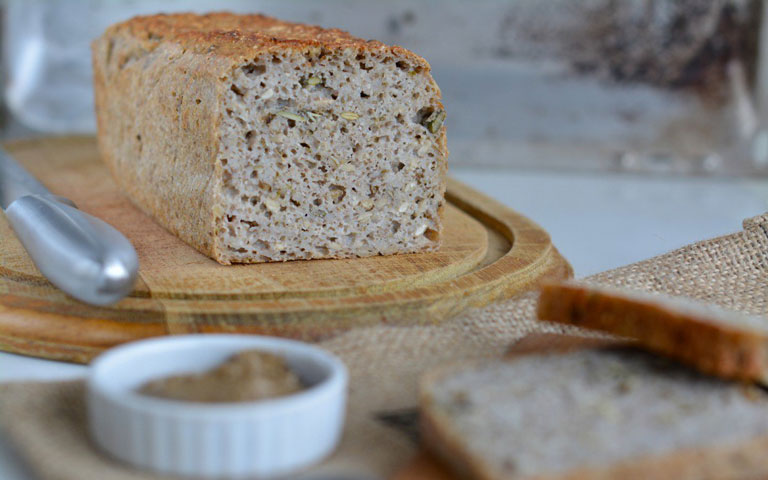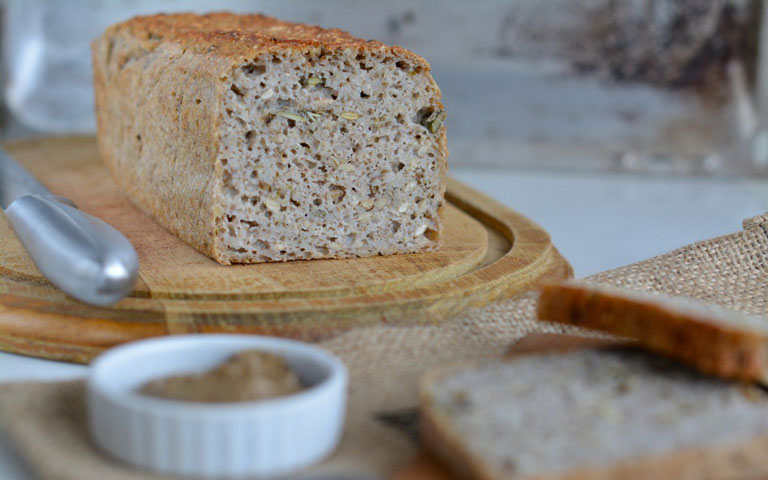 Instructions:
Place buckwheat, quinoa or millet and chia into Thermomix bowl and mill 1 min/speed 9.
Scrape down sides of bowl and add remaining dry ingredients, and mix 10 sec/speed 6.
Add wet ingredients and mix 10 sec/speed 6, or until dough comes together. (It will be a very thick, sticky dough.)
Knead on interval speed for 2 minutes.Use the Thermomix spatula to scrape the dough out of the Thermomix bowl, into a baking paper lined loaf tin. (Once you get most of it out, the easiest way to get the sticky dough off the blades is to whiz for a second on turbo, then you can scrape the rest out with the spatula.)
If you like, you can sprinkle the loaf with a little water and use the back of a spoon to smooth the surface. Cover loosely with a plastic bag (so it doesn't touch the dough) and leave to rise for an hour in a warm spot. (Or rise for a few hours in the fridge.)
Preheat oven to 170C. Place bread in oven and cook for approx. an hour, or until nicely browned. Turn out of bread tin and check underneath the loaf to make sure it's browned all over. If not, cook for another 5 to 10 minutes upside down, to brown underneath. Allow to cool on a rack before slicing.
Source quirkycooking.com.au