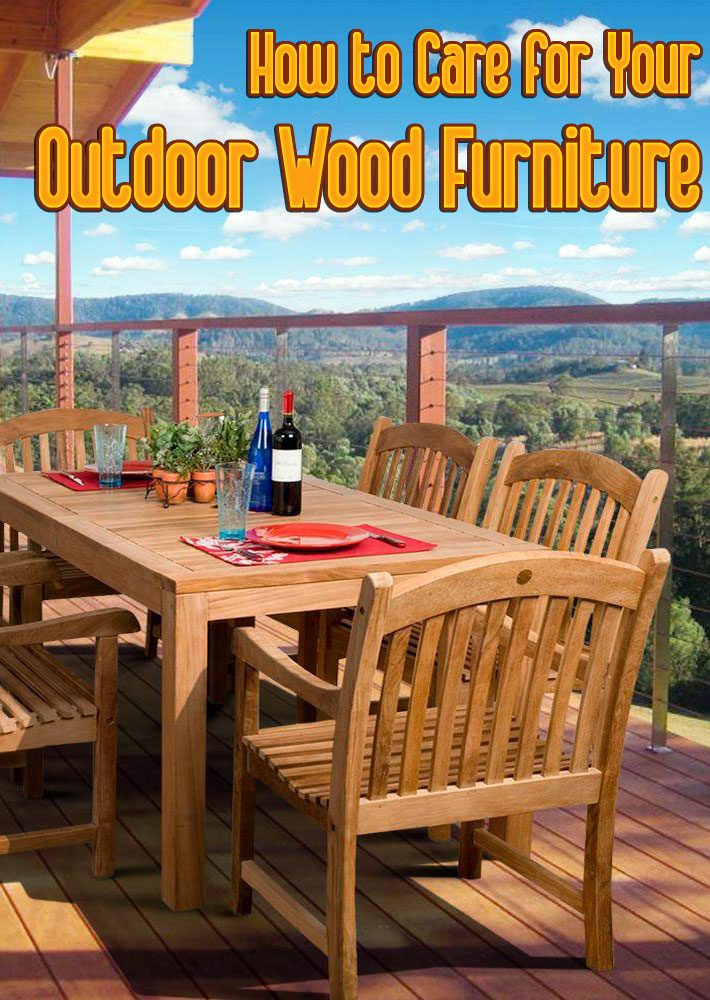 You've invested in a piece or set of outdoor wood furniture, and you want to make sure it lasts for several years. What's the best way to protect your outdoor investment from the elements? For wood and hardwood garden furniture, it's a combination of keeping it under cover as much as possible, away from extremes in temperature or moisture. Discover what it takes to maintain your outdoor wood furniture through the years, allowing it to retain its strength and natural beauty.
Know Your Wood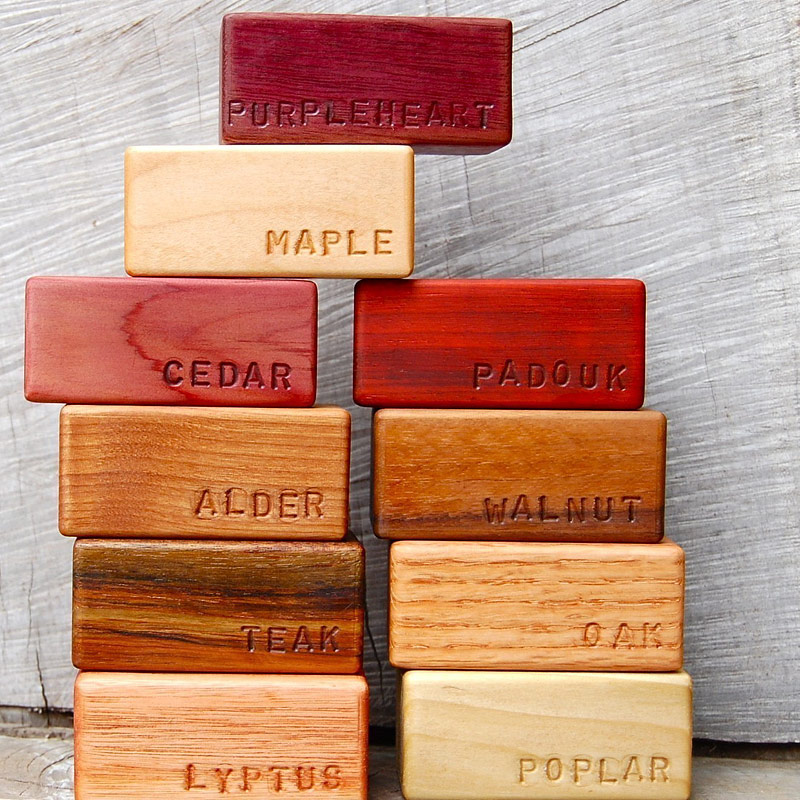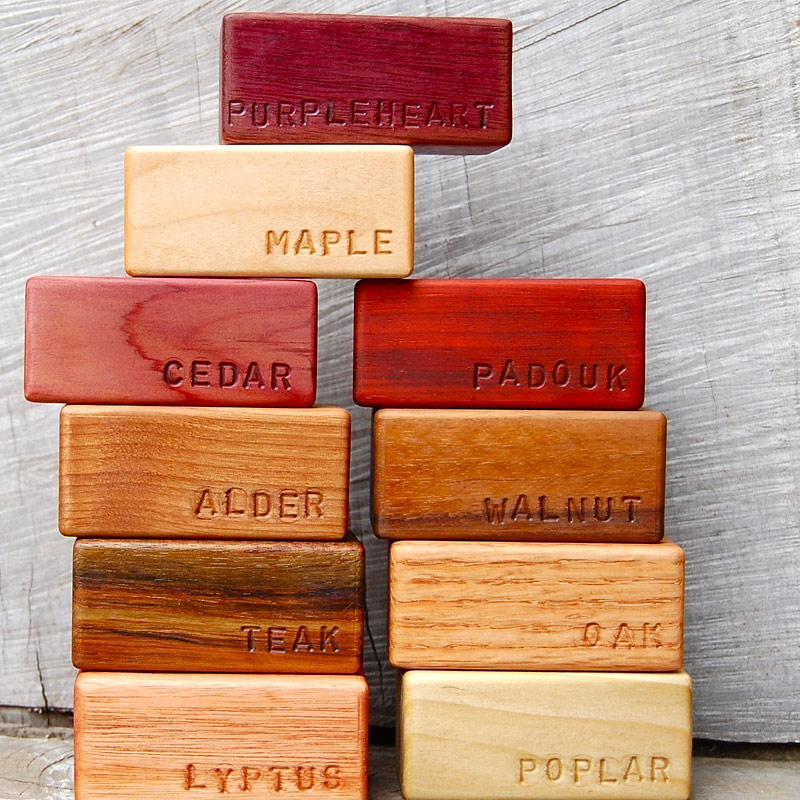 Wood has two classifications: softwood and hardwood. Not surprisingly, softwood is softer and much less expensive than hardwood. It is often painted or treated, and maintenance usually involves keeping it clean and applying a fresh coat of paint or finish each season.
Because it has the potential to last long, withstand the elements and resist insects and decay, hardwood can be a smart investment. Left alone, the natural color of hardwood garden furniture — like pieces made from shorea, teak or ipe—will weather to a soft, silver grey. This process will take 6-12 months, depending on the climate in which you live and the amount of exposure to the elements.
Those imperfections that are inherent features of the wood will become more pronounced over time, giving the garden furniture a rich, natural beauty. In humid, wet or subtropical climates that experience frequent rain, hardwood furniture may expand and contract — causing the grain to rise. This is a normal part of the weathering process for outdoor wood furniture.
Shorea Care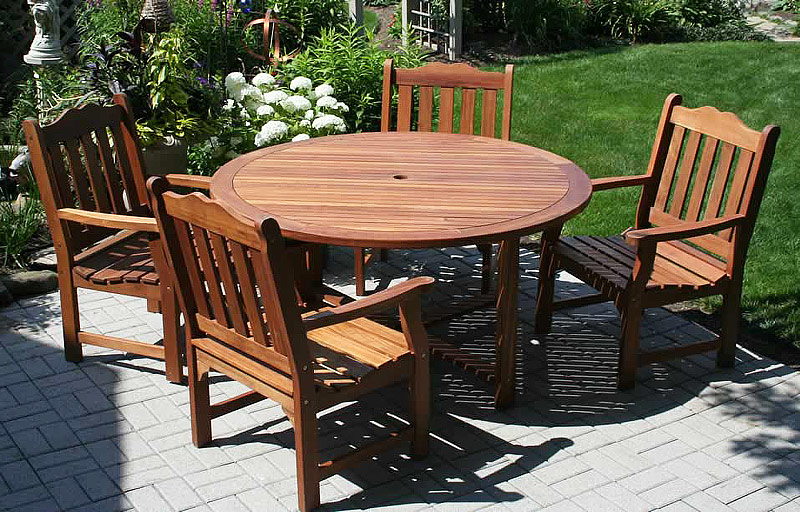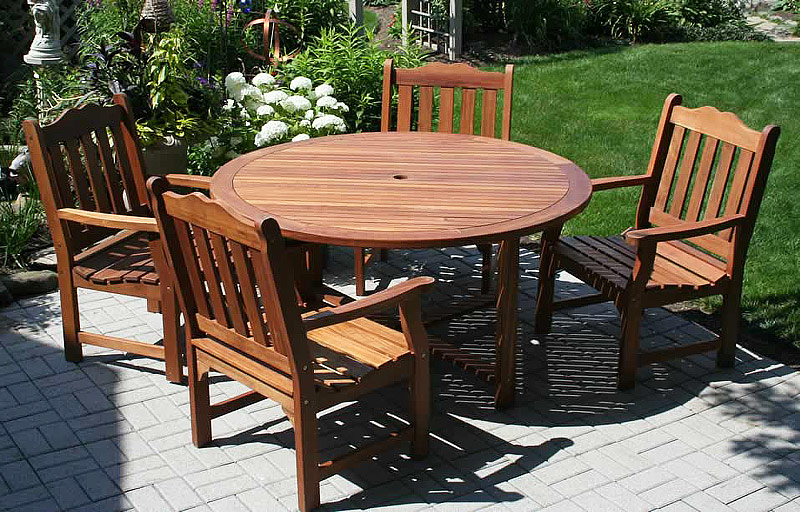 The tropical hardwood known as shorea is similar to teak or ipe wood. Its high oil content allows shorea wood furniture to resist water, making it less likely to rot. Like teak, Shorea can withstand all types of weather conditions and is resistant to invasive insects. As is typical for hardwoods, shorea weathers to a silvery gray. It also experiences surface roughness for about a year after being exposed outdoors, but the weathering process will eventually stabilize.
When you set up a new piece of shorea outdoor furniture, lightly spray it with water to remove any dust. Sometimes, all that is needed is a light seasonal cleaning. To do so, rinse the shorea furniture with a light spray from the hose. Dip a sponge or soft-bristle brush into a mixture of mild detergent and water. Scrub lightly and evenly. Rinse again, with clean water. Allow to dry completely.
If you desire to return your shorea furniture to its original warm brown color, use a high-quality hardwood or teak oil each season to maintain and preserve its color. Before applying, test the oil on a small, inconspicuous area, rub it in with a soft cloth or paintbrush, allow to dry and see if you like the color and finish. If so, continue to apply oil, distributing it evenly with a cloth or soft-bristle brush.
Caring for Teak Garden Furniture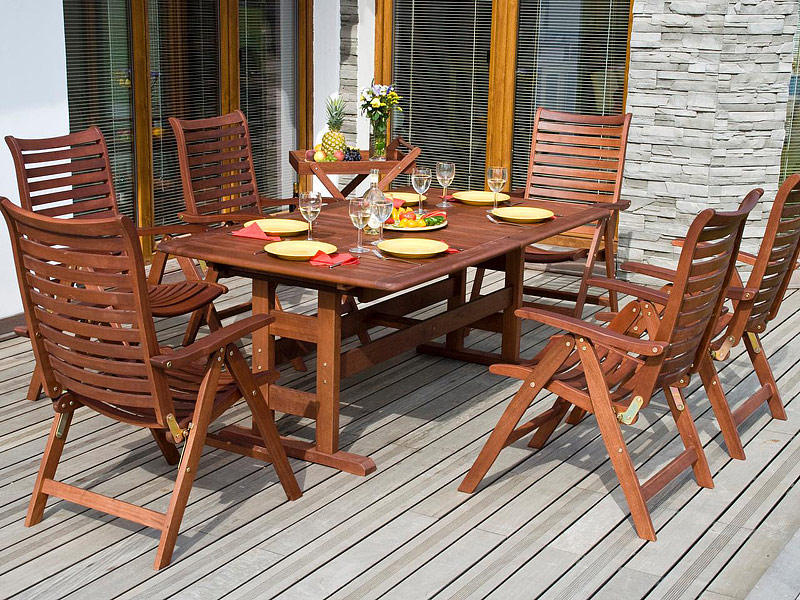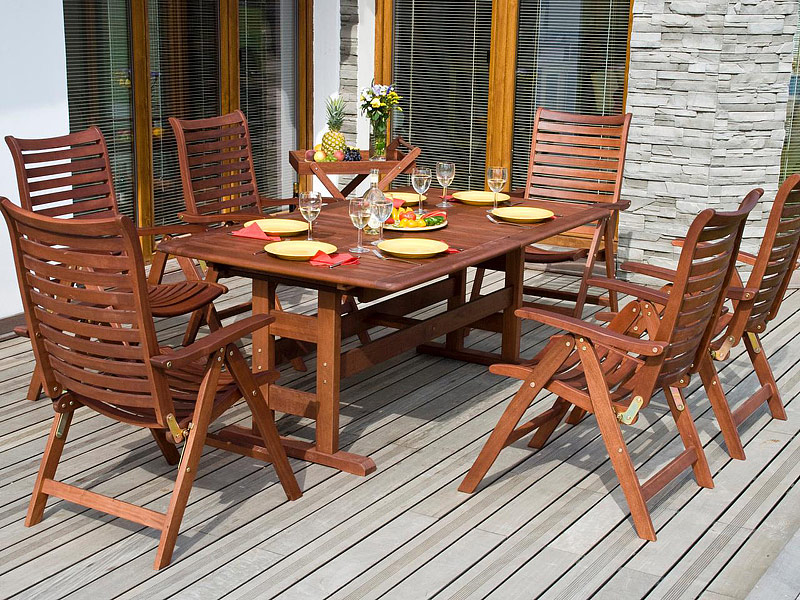 Teak is a hardwood that shares many of the same properties as shorea. Experts recommend that teak oil be applied routinely to outdoor garden furniture in arid or extremely dry climates. It's also a good idea to apply oil regularly to prevent staining from food or drink spills. Cleaning teak pieces is the same as shorea.
Cleaning Ipe Wood Furniture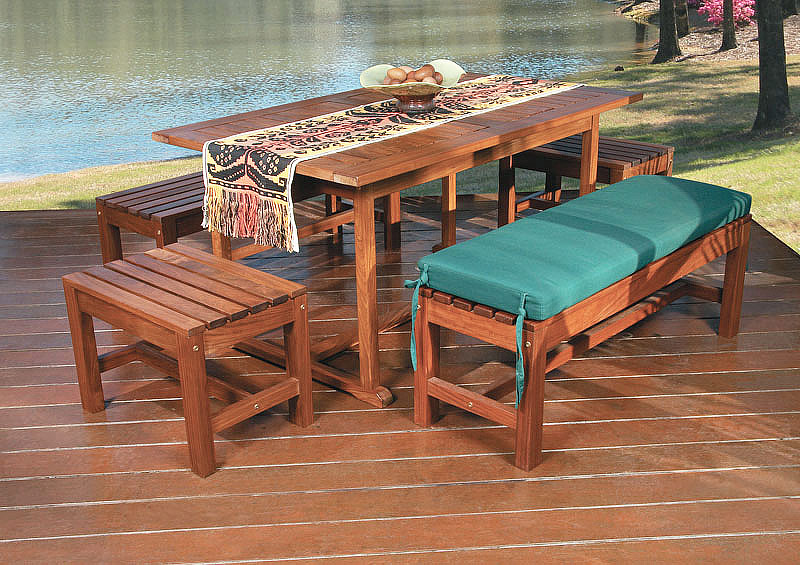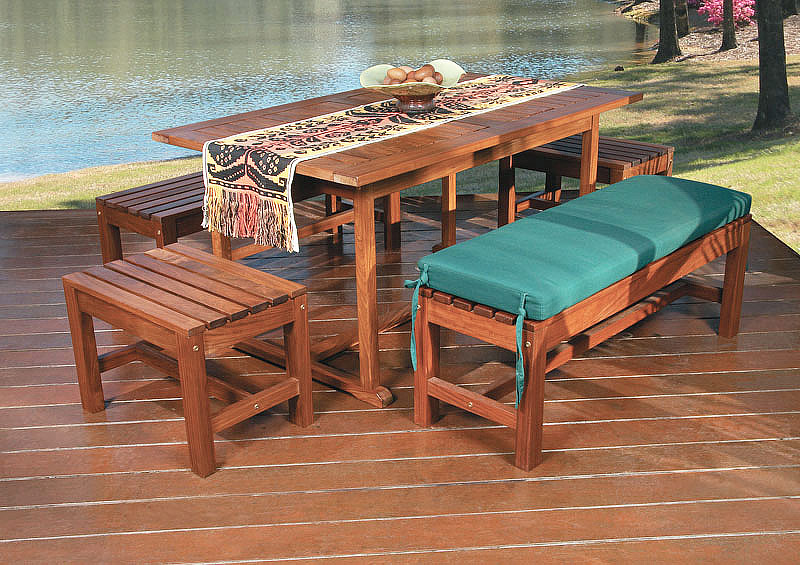 First off, ipe is is a South American hardwood that sometimes goes by other names, like Brazilian walnut, ironwood or Pao Lope. Originating from Brazilian forests, ipe is supposedly three times as hard as teak. Ipe shares many of the same weathering characteristics as teak and shorea. Hardwood or teak oil should be applied when the wood starts to look dull — every three months in mild climates; more often in harsher climates. Even on a quarterly-or-more oiling schedule, ipe will turn that familiar silver-gray. Don't forget to clean lightly with fresh water and a mild detergent mixture and allow to dry before each oil application.
What if Wood Furniture Needs More Than Cleaning?
I have a teak outdoor dining set that neighbors gave my family before they moved to Austin. It had weathered to that gray color and had cracks and deep grooves from over-weathering. Obviously, it was in need of more than a good old cleaning. Try sanding and refinishing.
I recall my neighbor suggesting we borrow a power washer to knock off all the embedded dirt and oil residue. Using a hose nozzle with a strong spray, I tested the technique on one chair. It worked — dirt was blasted right off. As I continued, I decided to use the liquid dish soap and water mixture beforehand to loosen the dirt. After more hose blasting, the dining set looked remarkably better—and this was just the initial step.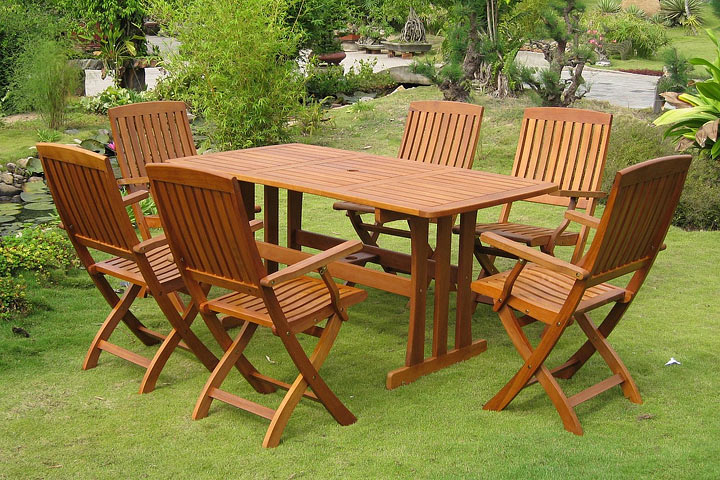 After allowing the furniture to dry overnight, I took an ergonomic light-grade sandpaper tool to it, one section at a time, over the next few days. Even better! A quick spray with the hose removed any dust from the furniture. Again, I let it dry overnight. The next day, I applied teak oil with a soft cloth, rubbing in the direction of the woodgrain. It worked: the teak dining set was no longer that splintery-looking behemoth on our deck—it was actually something we used. Regular applications of hardwood oil help maintain its health and beauty. And—judging by the amount of use the dining set has gotten since I sanded and deep-cleaned it—it was well worth the effort.
Source: poolandpatio.about.com