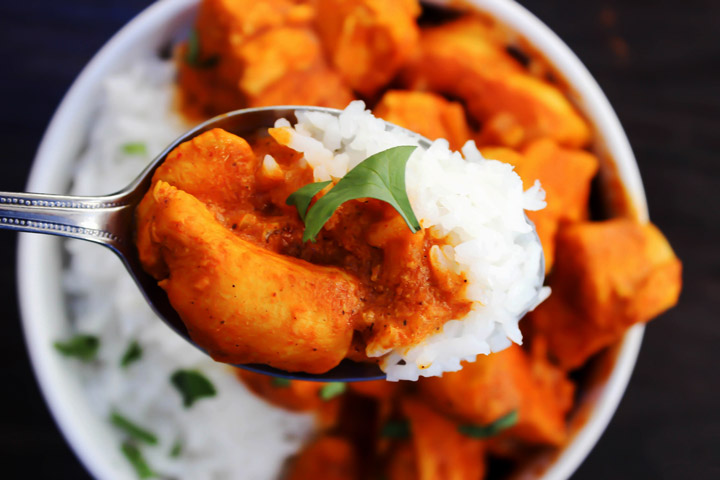 Butter Chicken Recipe
Butter Chicken is an authentic recipe and is also called as Chicken Makhani or Murg Makhani. It is a traditional and Indian Non-Veg recipe. It is one of the most popular Indian chicken recipes and favorite of all for its mild flavor and deliciously rich gravy.
Serves :4      | Prep Time:25 min.      |Cook Time: 80 min.
Ingredients:
Chicken – 1/2 Kg. (Medium Pieces)
Butter – 2 tbsp.
Diced Onions – 2 Medium
Tomato Puree – 1/2 Cup
Cashew Paste – 3 tbsp.
Kasuri Methi – 2 tbsp.
Chilli Powder – 2 tsp.
Ginger Garlic Paste – 1 tsp.
Curd – 2 tbsp.
Chat Masala – 1 tsp.
Red Colour – 2 Pinches
Salt – to taste
Garam Masala Powder – 1 tsp.
Black Salt – 2 Pinches
Green Chillis – 3
Fresh Cream – 1 tsp.(Optional)
Sugar – 1/4 tsp. (Optional)
Grated Boiled Egg – 1 (Optional)
Turmeric Powder – 1/2 tsp.
Chopped Coriander Leaves – 1 tbsp.(only for garnishing)
Chicken Stock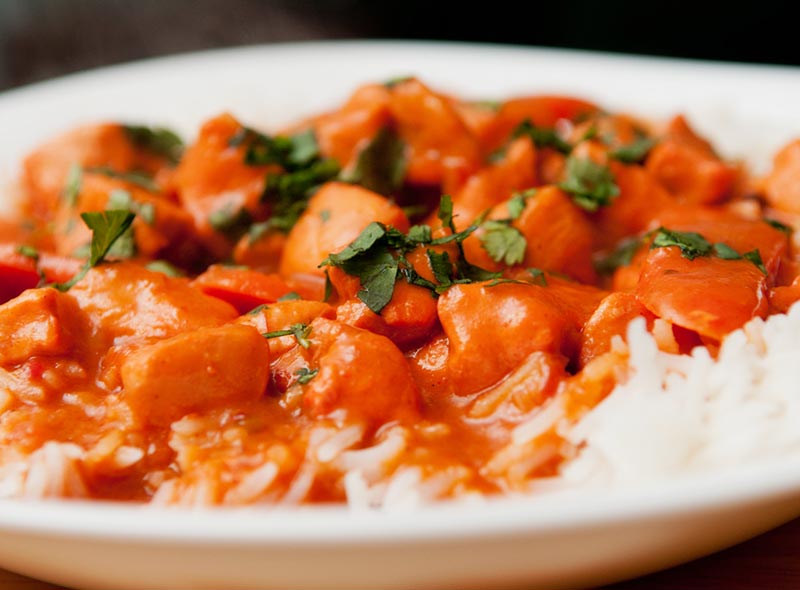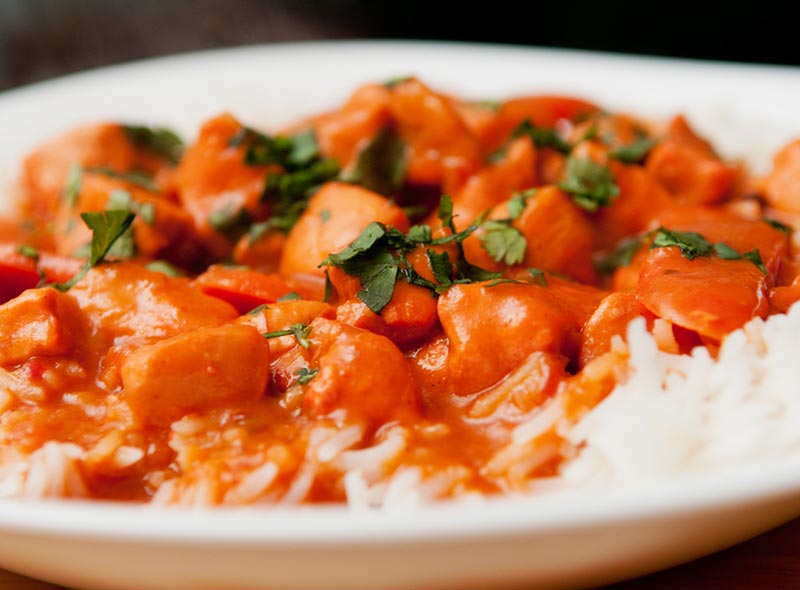 Directions:
Wash chicken thoroughly. Marinate chicken with turmeric powder, ginger garlic paste, curd, red chilli powder, red colour, salt, 1 tsp. oil, half tsp. chat masala and half tsp. kasuri methi for 1 hour.
After 1 hour, boil the above in a kadai for about 15 – 20 minutes on low flame and keep aside.
Boil onion and green chilli in a different vessel (small) with half cup of water on low flame for about 10 minutes. Once cooled, grind to form paste.
Take a kadai, heat oil and butter. Then add onion chilly paste and saute thoroughly on a medium flame for 5 minutes.
Once it appears tight, add tomato puree and cashew paste. Stir well for 5 minutes on low flame.
Add chicken and chicken stock (water if stock not available) and add remaining chat masala, kasuri methi, black salt and garam masala.
Add fresh cream and sugar(optional).
Close the lid for 2 minutes on low flame.
Garnish with grated egg or coriander leaves while serving.
Nutritional Facts:
Nutrient Amount per Serving(250gm)
Calories 254.3
Cholesterol 0.7 mg
Carbohydrate 28.8 g
Protein 5.7g