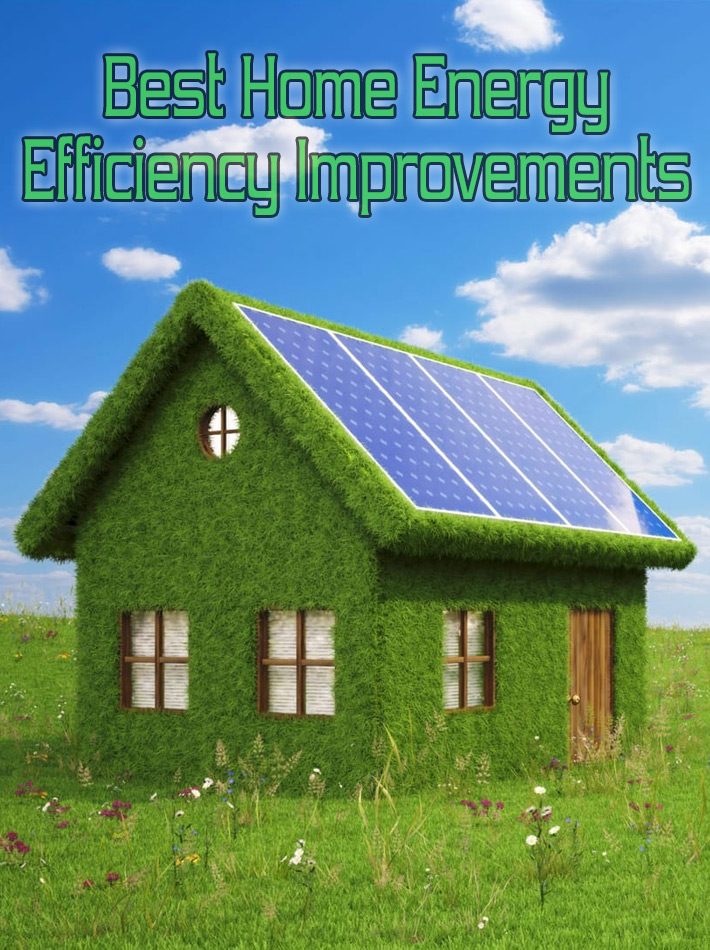 PV panels and wind turbines might have a lot of sex appeal, but they can also be pricy. If you're on a limited budget, here are some recommendations for affordable home energy efficiency improvements that will pay for themselves in short order.
Have you thought about making energy retrofits to your home? It's a great way to make your home more energy efficient and reduce your carbon footprint. Home energy efficiency improvements are good for your bank account, too, because money you invest in energy efficiency or renewable energy systems will pay off over time in reduced energy bills. That's especially true right now, because the federal government currently offers big financial incentives for purchasing solar panels, wind turbines, efficient windows, added insulation, woodstoves and more. It's also possible to finance home energy upgrades with a loan specifically designed for energy conservation. These loans are usually called energy improvement mortgages.
However, it's not always easy to determine what energy improvements you need. Which projects make the most sense for your home? Which are really worth the money? And if you can't do all of them, where should you start?
Imagine You Had a Little Extra Dough …
Each home is different, and how much you could benefit from a particular project depends on many variables, including the age and design of your home, your financial situation, and your personal priorities. To help focus on what you really need and want, consider this hypothetical scenario: You have been given $5,000 to spend on home energy improvements. What would you do with the money?
Some of the projects that may come to mind first, such as solar-electric (photovoltaic) panels and wind power systems, are outside that budget. For example, if you were to purchase a residential wind turbine, you could expect to spend at least $10,000 and easily as much as $50,000. Solar panels usually fall into a similar price range. Energy-efficient windows come with a big price tag, too. They can cost between $200 to $800 per window. Add the cost of installation, and depending on the size of your home and the number of windows, you could easily spend $10,000 or more.
Can you make significant energy improvements to your home on a more modest budget? Absolutely! You could add insulation, buy a new, high-efficiency furnace, or purchase a new energy-efficient refrigerator. The big question is how to decide which of these energy improvements will provide the biggest benefits for you.
Regardless of your home's age, most residential efficiency experts recommend a home energy audit as a first step. An energy audit costs about $300, although low-cost or free audits are sometimes offered by local utilities. George Twigg, the deputy policy director at Efficiency Vermont, a state organization that connects homeowners with qualified auditors and contractors, explains how this process works: "The contractor will help guide the homeowner through the most cost-effective things that can be done to save energy. Often it's sealing air leaks and other ways to tighten up the house. Those strategies have a reasonably fast payback, as opposed to windows, which have a fairly long payback time."
A "payback period" is the time required for the improvement to save enough fuel or energy to pay for itself, and it's a useful tool in determining which high-dollar home improvements will yield quick results. For example, for home insulation upgrades, a payback of three to five years is not unusual, while for energy-efficient windows, a payback period of more than 10 years is common. One thing to keep in mind is that you shouldn't rely too heavily on payback period estimates from product manufacturers. Look for estimates from sources that don't have a vested interest in the results, such as a state energy agency or an energy auditor (especially an energy auditor who isn't also proposing to do the repair work he or she recommends.)
Real People, Real Money
To get a sense of the real costs and savings of home energy improvements, I interviewed three people in different parts of the country whose homes had recently undergone extensive energy retrofits. Here are their real-world experiences, and a breakdown of how much of it they could have done on a modest budget — in this case, our hypothetical $5,000.
Ex. #1: Sealing up a leaky house. Brett Wells and his wife, Elna, purchased a two-story home in Shelburne, VT, in 2009. Wells says that even before they bought the home, they knew it needed a substantial energy-efficiency upgrade because they could stand almost anywhere in the house and feel air movement. Wells hired a contractor to do the energy-efficiency work, including adding foam sealant around the foundation in the basement and elsewhere, installing 19 inches of cellulose insulation in the attic, and making other improvements to reduce air infiltration and heat loss.
Wells is pleased with the results. "Having all that insulation put in has made a big difference," he says. "I don't think we would have been able to afford to live here if this work had not been done." The work cost about $8,000, and Wells received a rebate of $2,900 from his electric utility, bringing the total cost close to $5,000.
Ex. #2: Step-by-step improvements. Jefren Olsen's home in Madison, Wis., is more than 105 years old. Until recently, the house had shingle siding from the 1940s, loose and drafty old windows "that rattled in the wind," and poor insulation. The home offered multiple opportunities for energy improvements and, on the advice of a knowledgeable neighbor, Olsen decided to have a thorough energy audit performed before beginning any work on the house. He chose an experienced home inspector who was listed with Focus on Energy, an organization that helps eligible Wisconsin residents evaluate energy efficiency and renewable energy projects. The inspector produced a report that laid out all of the areas that needed improvement in order of importance.
The project included extensive insulation in the walls, attic, and basement, and rigid insulation under new siding, as well as new doors and windows. The home has a gas-fired, forced air heating system, and Olsen reports a 30 percent reduction in gas usage since the retrofits. In addition, Olsen was able to take advantage of rebates from Focus on Energy, as well as a federal tax credit, to help reduce the project cost.
Although the total cost of Olsen's home improvement projects was well above $5,000, many of the individual projects he did cost much less than that. In 2003, he replaced an older water heater with a more energy-efficient model (about $750). In 2006, he replaced a 25-year old clothes washer with an almost-new, front-loading washer ($150 from a neighbor). In 2007, his old refrigerator died and he replaced it with a new Energy Star model (about $600). And in 2008, when his clothes dryer finally gave up the ghost, he replaced it with an energy efficient unit (about $500).
Olsen reduced the use of the new dryer even further when he installed an outside clothesline on some existing posts in his backyard (about $20). He has also replaced virtually every incandescent light bulb in his home with a compact fluorescent bulb (less than $100total).
The total cost of all of these incremental improvements comes to less than half of our $5,000 budget, demonstrating that you can do a lot for a relatively small amount of money. And if you do have more money to work with at some point in the future, you've already taken care of a lot of basics, as Olsen did.
Ex. #3: From efficiency to renewables. Steve Carlin, in Portland, Ore., also turned to energy experts to help bring his plans into focus. Carlin made use of advice from both Earth Advantage and the Energy Trust of Oregon, nonprofit organizations that help homeowners and businesses save energy and switch to renewables. Built in 1977, Carlin's 100- percent-electric home needed a number of improvements, and rather than tackle everything at once, he worked through a list of options over several years.
First on the list was an old, inefficient heat pump, which he replaced in 2007 ($11,069), resulting in a 10 percent savings on the electric bill. In 2009, he installed a new high-efficiency water heater ($835). That was followed by new windows and doors ($20,317); floor and pipe insulation in the crawl space ($1,240); air and duct sealing, duct insulation and attic insulation ($2,190); as well as a new energy efficient refrigerator ($1,878), which boosted the overall savings on the electric bill to 41 percent. While the heat pump and windows and doors clearly cost more than $5,000, most of the other improvements — especially the insulation — would have been covered.
Carlin also participates in Portland General Electric's Green Source Clean Wind program and is planning to have a 5.3-kilowatt solar PV system installed on his home this year.
"We are already using a clean energy source with the wind program, and by adding solar, we will reduce our carbon footprint much more," he says. When Carlin does install solar panels, it will be with with no upfront cost because he's using a special financing option that gives the installer the tax credits and rebates. Carlin expects to save up to $10,000 on electricity over a 20-year period.
Considering Your Options For Energy Retrofits
Often the home improvements with the greatest benefits aren't immediately obvious. Insulation and caulking may not be sexy, but they may make a lot more sense from a return-on-investment perspective than new windows or a photovoltaic system. That's why it's so helpful to start with expert information from a nonprofit or utility-based residential energy conservation program. These programs will help you find the areas of your home that offer the most potential for cost-effective improvements, and they will help you find a qualified professional to show you how to make them.
Also, remember that regardless of your budget, home energy improvements are an ongoing process that will gradually improve the comfort and quality of your indoor environment, plus reduce your carbon footprint and your demand on limited resources — all while saving energy and money. If you don't take that first step, however, you aren't saving anything — so get started now!
---
Energy Saving Projects For $50 or Less
Even if you don't have a lot of money to spend on home energy improvements, you can do many things around your home that are cheap or even free! For example, you can wrap your hot water pipes with pipe insulation, and if you have an old hot water heater, put an insulating blanket on it. (It's easy to tell whether your water heater needs a blanket: If you touch it with your hand and it feels warm, it does.) Another quick and easy strategy is to lower the set point for your thermostat. It doesn't cost you anything and can result in instant savings. Below are more suggestions for low-cost green energy upgrades along with typical price ranges:
Energy-efficient lighting: $3 to $15 per bulb
Power strip: $12 to $35
Water heater blanket: $25
Foam pipe insulation: $4 to $5 for 6-foot length
Programmable thermostat: Starts at $25
Door sweep: $3.50 to $20
Clothesline: About $10
Timers for lights: $7 to $13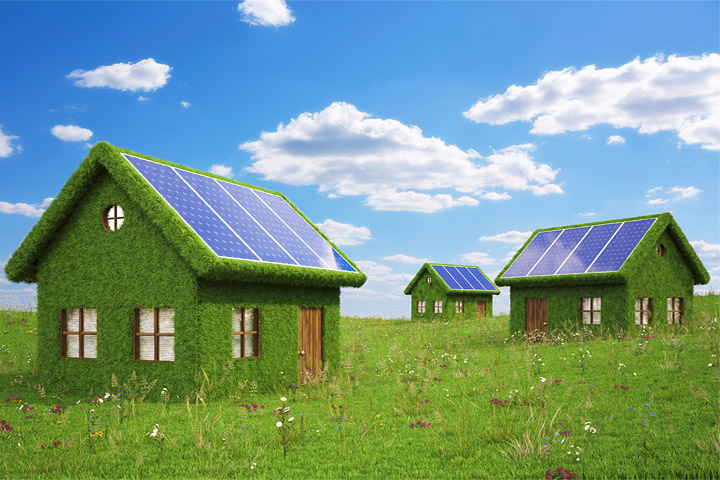 Source: motherearthnews.com