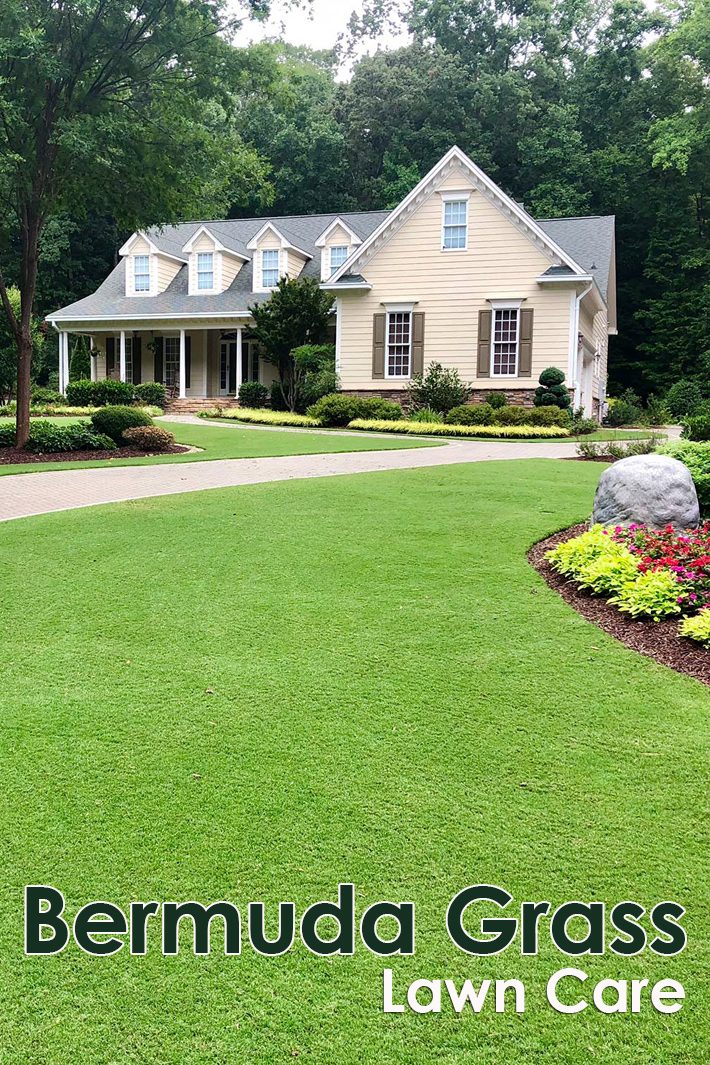 Bermuda Grass Lawn Care
For any individual or family dwelling in a Southern climate who wants to have a hardy grass which is capable of enduring fiercely hot sun as well as living on smaller quantities of water, Bermuda grass proves to be a terrific choice.
Bermuda is a low-to-the-ground growing, extra-tough variant of grass, offering wonderful cover for the ground, as well as withstanding high levels of foot and pet traffic.
Taking care of a Bermuda grass lawn is not difficult. It revolves mainly around having the grass grow in sunny areas. The following are the various factors necessary to effectively care for and maintain a Bermuda grass lawn, including proper mowing, watering, and aerating.
Preparing to Plant Bermuda Grass Lawns
Bermuda grass is a warm season turf grass and is best planted in spring to late spring or early summer. Plant Bermuda grass seeds when soil temperatures are consistently above 65° F (18°C) — this soil temperature is reached when daytime air temperatures are 80° or higher. The optimum soil temperature for germination and root growth of Bermuda grass is 75° to 80°F (24° to 27° C) – Higher temps are acceptable provided moisture is maintained.
Site Selection: Plant Bermuda grass in full sun on well-drained soil in the temperate, sub-tropical and tropical climate zones. Proper drainage is essential for successful establishment and the development of mature healthy turf.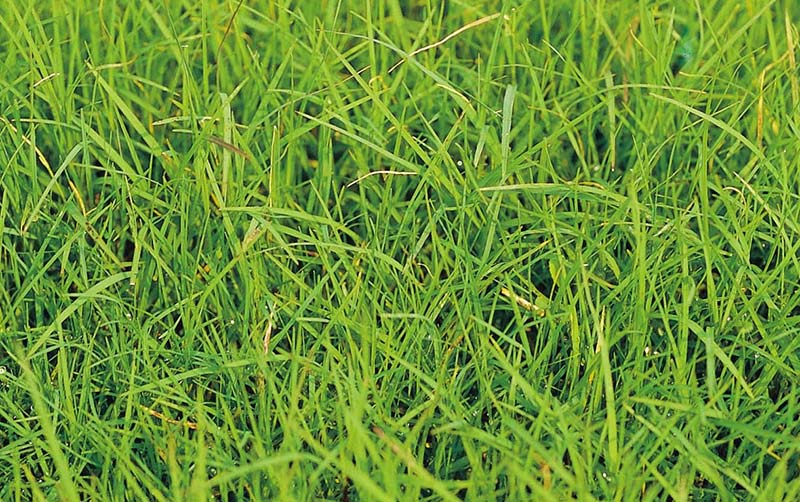 Soil Test: Prior to seeding, a soil test is recommended. Apply fertilizer and other amendments per test. Add lime as needed to establish a minimum 6.0 soil pH. A lawn starter fertilizer is an ideal choice to apply prior to planting.
Seedbed Preparation: Loosen soil to a depth of six inches (15 cm). Level area to proper grade with approximately .5 inches (14 mm) pulverized soil at the surface. Rake smooth prior to planting. Do NOT use any herbicides or weed & feed fertilizers during planting.
You must allow a period of 10-14 weeks prior to, and 10-14 weeks after seeding date in which NO herbicides or weed & feeds can be applied. Keep area mowed frequently to control weeds.
Related: 10 Grasses for Your Yard
Information on Bermuda Grass
Because Bermuda grass is in fact a perennial form of grass, it does not typically require re-seeding. It sports a richly green color, and features a fine to medium texture. It does exceedingly well in yards. Typically, Bermuda grass is the one selected for golf fairways or putting greens around the South of the United States.
The regular varieties of Bermuda grass which are grown throughout the United States' South can be had in more than a dozen different varieties which have their own best uses for different scenarios. As an example, a user might pick out a specific variety because of its color, tolerance for wear and tear, mowing height, or practicality for a little bit cooler climate found in the northerly ranges of the South.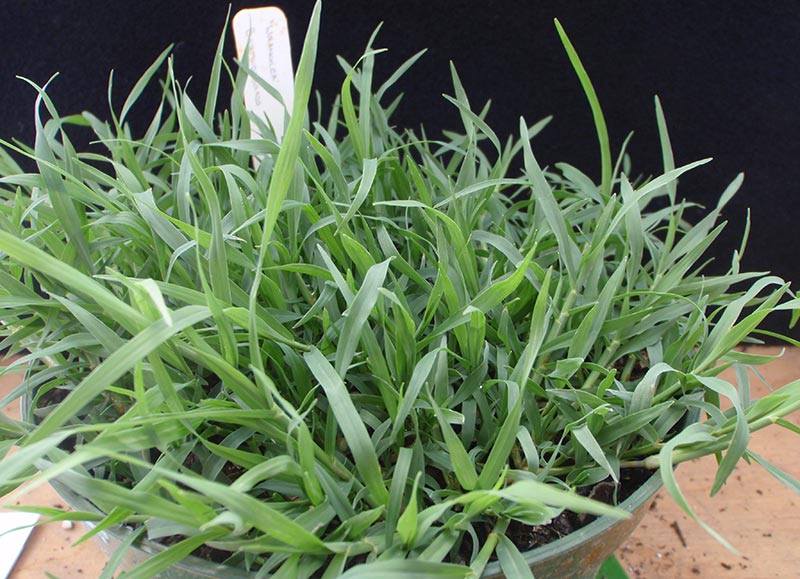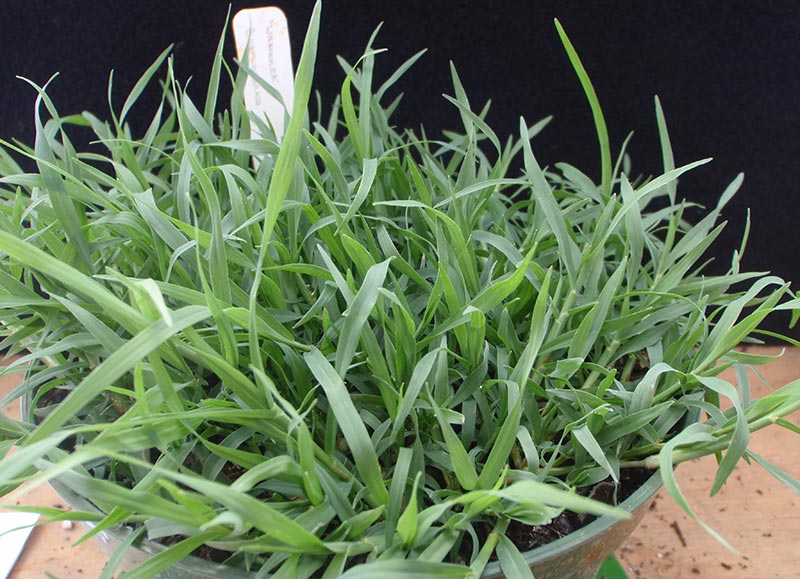 Bermuda Grass Seed and Types
Bermuda grass is popular because it is usually drought resistant and can easily grow on different soil types. Bermuda grass is broadly classified into two categories: Hybrid Bermuda and Bermuda Common.
The common Bermuda grass varieties are usually seeded varieties. Cheyenne, Jackpot, U-3, Santa Ana, Ormond and Yuma are examples of common Bermuda grass. Bermuda hybrid grass varieties include Tif varieties (such as Tifway-I, Tifway 419, Tifway-II, Tifgreen, Tifeagle) and Sunturf etc. These hybrid varieties are mostly used in sod.
The common Bermuda grass is light green in color and has a coarse texture. It's a loosely netted turf grass with low shoot density. Although the hybrid varieties have higher density, common Bermuda grass has more nutritional value that help developing forage or pastures ideal for domestic animals. The common Bermuda grass is mostly used in roadsides or reclamation sites, or in lawns, but not much in play grounds.
Common or Seeded Bermuda Grass varieties
Here are information about some of the common or seeded Bermuda grass that are popular worldwide:
Blackjack is a deep green warm season grass available in seed form. It has super fine texture with carpet like density. The growth is vigorous and has excellent cold tolerance capacity even in cold winter areas. The color of the grass remains same all through the summer providing dense green lawn. Among the others Bermuda grass seeded variety, it is one of the best in quality.
Ormond Bermuda grass is blue-green in color. The grass has a medium texture and density. It can tolerate a number of leaf diseases but can't survive in cold. The grass is mainly used in golf courses, playground and sports fields.
Jackpot Bermuda Grass is good for Baseball Fields. It needs some good maintenance for proper growth. The quality of Jackpot depends on the sourcing locations. For example, in Georgia, it is quite poor in quality when you compare it with average turf grass.
Yuma is a dark green grass capable of forming dense turf. It is developed from the basic forage grasses. These days it finds its applications even in most exclusive golf greens. It has fair salt tolerance and drought resistant capacity. It requires sun and is a low growing species. It remains dormant below 60 degree temperature but recovers quickly when temperature rises. Though it generally grows from sod, it's also available as seed in both common and improved varieties.
Oasis Blend is popular for its rapid growth and easy maintenance. It is green in color and commonly use for golf course fairways, sports fields, home lawns, parks etc.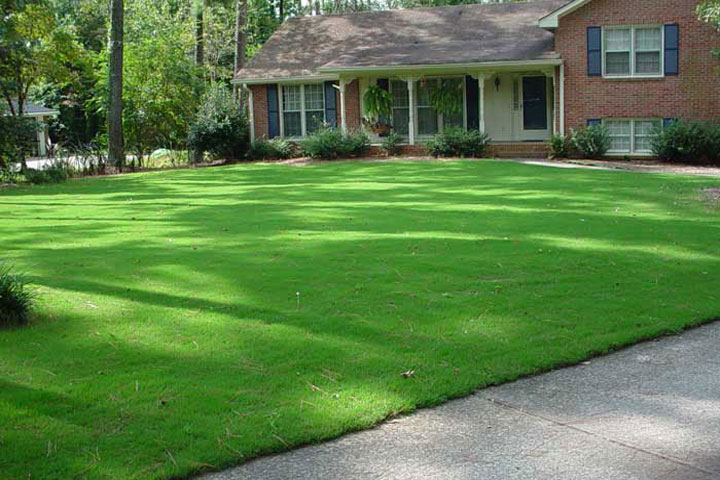 Improved common Bermuda seeded varieties
The improved common varieties are generally darker green, deeper-rooted, medium-textured, and moderately denser than common Bermuda grass. They are used in golf course roughs and fairways, lawns, parks, roadsides and sports turf. However, their maintenance cost is lower than the hybrid varieties.
The new improved seeded Bermuda varieties include Princess-77, Riviera, Sahara, Savannah, Sultan, Sundance, Sundevil I & II, Sydney, Mohawk, Triangle Blend, Yukon, La Prima etc.
La Prima is the 2-way blend of improved turf type of La Paloma and SR-9554. They have some characteristics quite similar to the hybrid varieties. It is dark green in color and forms genetically stable turf having medium to fine texture with pest and disease resistant quality. It is mostly used for fast germination and rapid growth in short time. It has low maintenance requirements and is relatively less expensive. This is one of the best choices out of improved turf-type seeded Bermuda grass having excellent quality.
Sahara (SR-9554) is a dense turf with beautiful green color. It is wear and drought tolerant. Sahara is economical, easily seeded good choices for use in lawns and excellent for athletic fields, parks areas and such. It needs very low amount of fertilizer to grow well.
Princess 77 is a special variety of improved common Bermuda and has very fine leaves. It is world's first dense, finest textured seeded Bermuda grass and available in seed form. Recommended mowing height of Princess 77 can vary between 3/16 inch to 1 inch.
Triangle Blend is a dark green improved turf type seeded variety with medium fine texture. It is a fast growing turf grass with excellent drought and cold tolerance capacity. Due to genetic diversity it can adapt to a wide range of conditions. It may not be as good in quality as other varieties, but considering price and performance, it can be very attractive. Recommended mowing height is between ½ inch to 2 inches.
Mohawk is an advanced synthetic turf-type Bermuda grass variety. The name of the variety Mohawk has come from the Mohawk Valley in Arizona from where it was produced. It is lush green with fine textures and a cold tolerant variety. It can survive in low winter temperatures in the Northern transition zone area. During winter, it can be in dormant stage for a much longer period than the other cold tolerant varieties of Bermuda. It is also a great choice for saline condition.
Yukon or OKS91-11 is a seeded variety created by the Oklahoma State University. It is one of the best varieties among the seeded Bermuda grass when it comes to cold tolerance ability. It has uniform, dark green color and ultra fine texture. Arizona, Oklahoma are the most popular zones in US for growing this Bermuda grass seed.
Related: 10 Grasses for Your Yard
There are different types of Bermuda grass that are available and planted in tropical and subtropical regions all over the world. And there are also some cold tolerant varieties such as Yukon, Riviera or Mohawk that are often planted in Northern areas in US.
It is always a good idea to discuss with a lawn specialist to find out which Bermuda grass type will be the right one for your location and soil conditions. You can also get such information from Agriculture University and departments of horticulture. Or alternatively, refer to the website of National Turf Grass Evaluation Program.
Advantages and Disadvantages of Bermuda Grass
There are many impressive advantages to Bermuda grass versus other grass variants. Among them are its tendencies towards aggressive growth, a minimum level of maintenance, and tolerance for extreme heat, sun, and drought. The disadvantages of this family of varieties lies in the brown shade that it turns during the months of winter, as well as its lack of ability to thrive in shady places.
Mowing
Bermuda grass is commonly thought to be the most challenging family of grasses to mow. This is actually because in many cases, the incorrect lawn mower is being utilized.
Optimally, Bermuda grass should be reduced to a height of only one to one-and-a-half inches. The vast majority of lawn mowers simply are not able to mow so low to the ground without butchering the whole lawn. This sort of scalping is the result of a wheel in the lawn mower rotary dropping down into a small rut, which forces the blade to dip down, scalping the grass in the process.
Should a homeowner's Bermuda grass become scalped, a half moon shape shows up in the place where the grass was injured by the blade. Not only is this ugly to look at, but it is very hard on the health and well-being of the lawn.
Preventing a Bermuda grass lawn from becoming scalped is really only accomplished effectively in utilizing a reel mower. Otherwise, with a traditional lawn mower to work with, the level of the cutting blade will likely need to be raised. While this will prevent the lawn from being scalped, it will not allow the owner to achieve that wonderful looking, even, low to the ground cut typically enjoyed on golf courses.
It is true that Reel mowers might cost more money than traditional mowers might, but they will offer a far more even cut to the lawn, which is closer to the ground, and on top of this, they never, ever scalp the person's grass.
Ultimately, early in the grass-growing season, you should focus on achieving a cutting height of only one inch. Once the summer begins to finish, raise the blade height on up to two inches. In order not to stress-out Bermuda grass, do not ever take off more than a third of the total height of the blades of grass, or the lawn will become stressed.
Fall is the point of the year to allow a Bermuda grass lawn to be dormant, mowing it only on rare occasions.
Finally, a word should be offered about whether or not to bag Bermuda grass while mowing. Studies have demonstrated that in allowing the clippings from the grass to stay on the lawn, lost nitrogen will return to the soil, eliminating the need for fertilizing the lawn. The clippings should naturally decompose and not increase the odds of thatching problems or disease arising.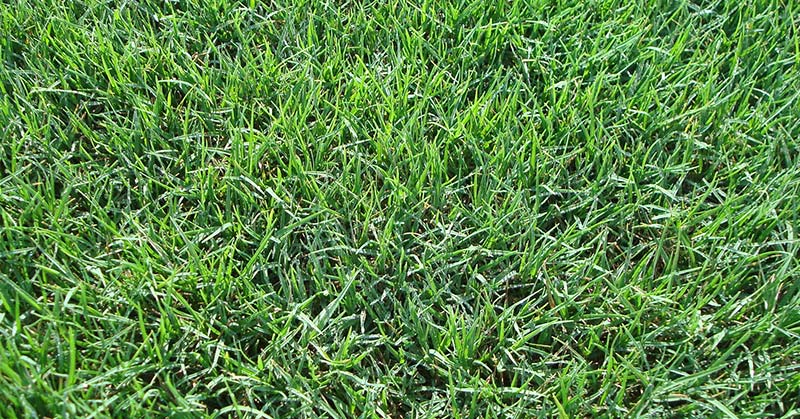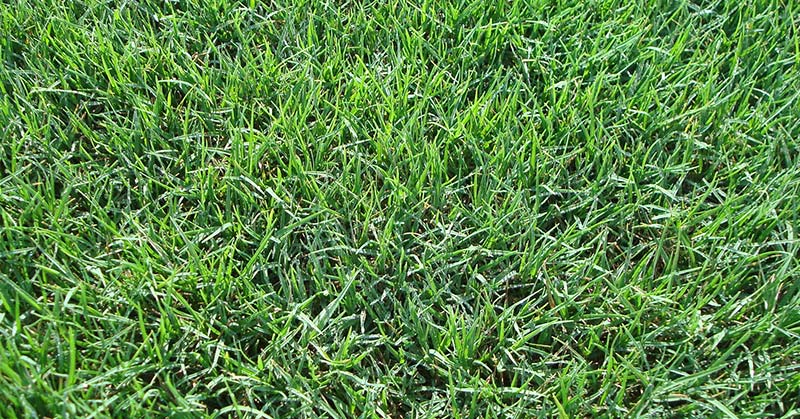 Properly Watering
All lawns need water in order to remain green and healthy. This can come from two different sources, either natural rain fall or man-made irrigation.
Everyone prefers to allow nature to take its course and water the lawn, but this cannot be counted on. So watering a Bermuda lawn will become a necessity. Ascertaining whether or not a Bermuda grass lawn is in need of water is possible, if you know what to look for. When a yard with Bermuda grass is thirsty, its blades will actually bow down a little. Because Bermuda grass proves to be among the most drought resistant kinds of grass, it only really needs to be watered once to twice per week.
The advantage to only watering a Bermuda lawn one time every week is in forcing the roots of the grass to dig down farther towards the available water, once its own supply becomes exhausted towards the end of the week. As the roots go down deeper, the lawn will stay both healthier and greener in the next area drought. So long as you put down a good amount of water on that one day every week, it will be sufficient for the grass.
Typically, the proper watering depth is approximately a good six inches. This will promote that deeper root growth necessary to protect a lawn from the cold, heat, and future droughts.
To test the level of watering just completed, simply push a screw driver into the ground. If it sinks down without difficulty a good six inches into the ground, then the watering is enough. If not, apply more water to ensure that the Bermuda grass has been sufficiently saturated.
Aerating
Aeration involves literally poking thousands of holes down into the soil. This is helpful once a year, since the lawn takes a good deal of abuse in that amount of time.
In aerating a Bermuda grass lawn, the nutrients will be more capable of getting down to the roots. Also, punching holes in the soil permits oxygen, water, and various other nutrients to reach to the lawn's roots.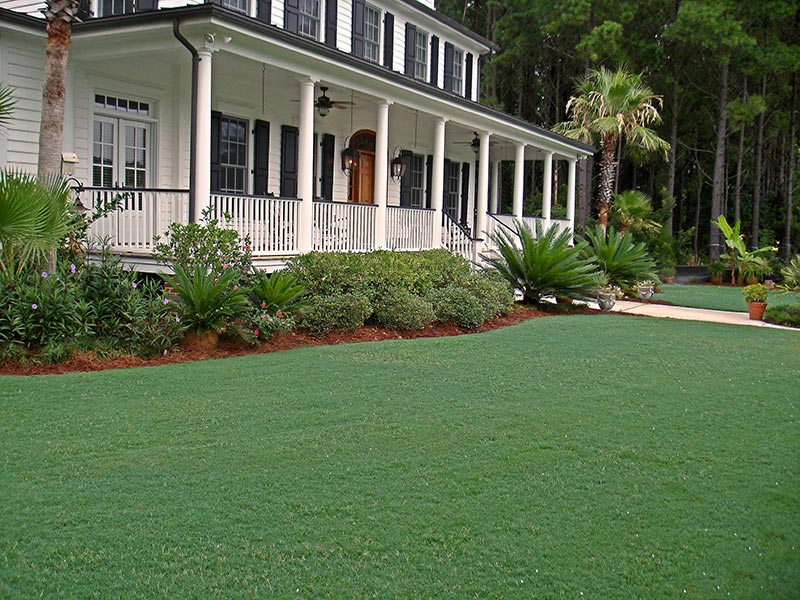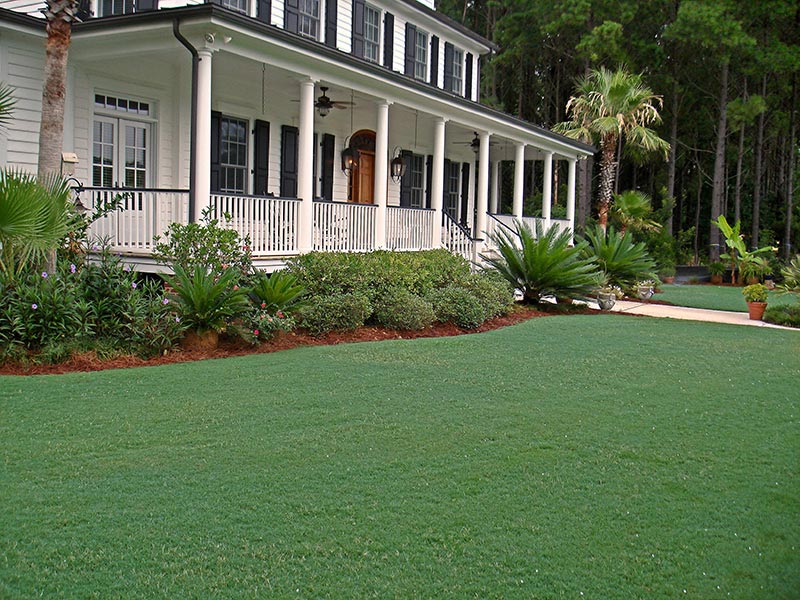 Although there are two types of aerators available, one containing spikes and the other containing plugs, most people should rent a core aerator.This machine contains hollow spoons that pull up soil plugs when the machine is moving around the yard.
Aerating turns out to be similar to mowing the lawn, but doing it two times. The lawn should be properly aerated first in one direction, then in another one which is at a ninety degree angle to the first one. In such a criss-crossing pattern, the lawn should attain the proper twelve individual holes for every square foot of lawn.
Bermuda lawns ought to be aerated early in the summer. This is the point at which the lawn grows the fastest. Following the aerating procedure, apply a good serving of fertilizer and a thorough watering, so that the yard will swiftly recoup.
Related: 10 Grasses for Your Yard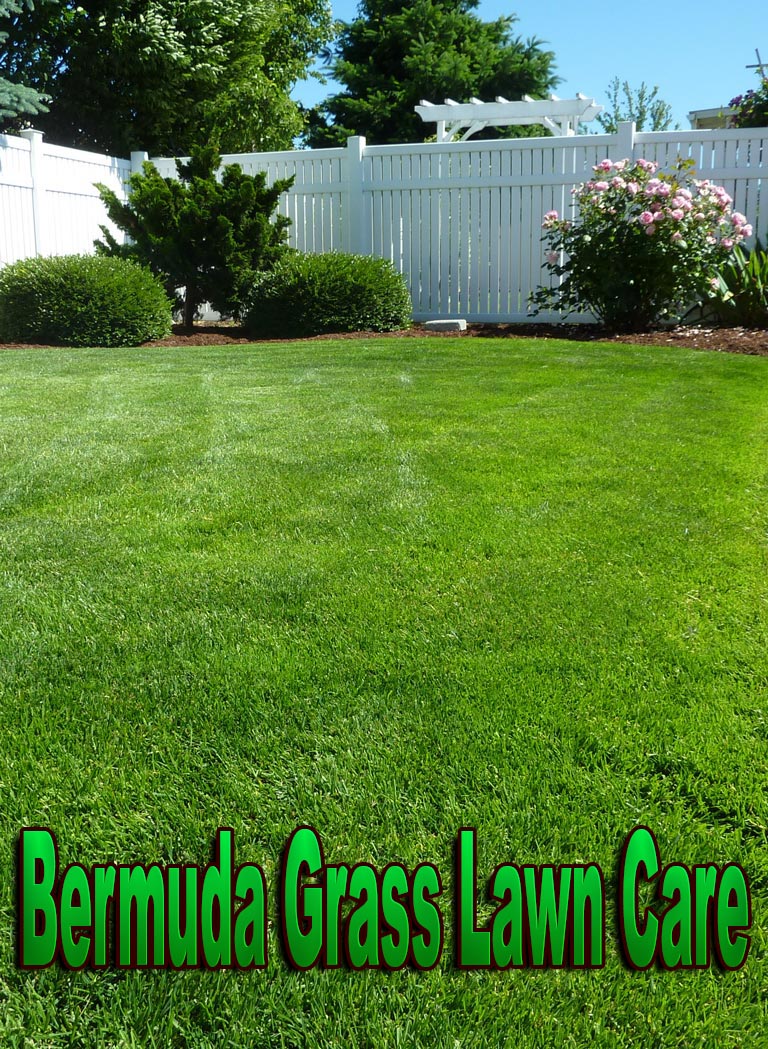 Source:
bermudagrass.com
lawncare.org