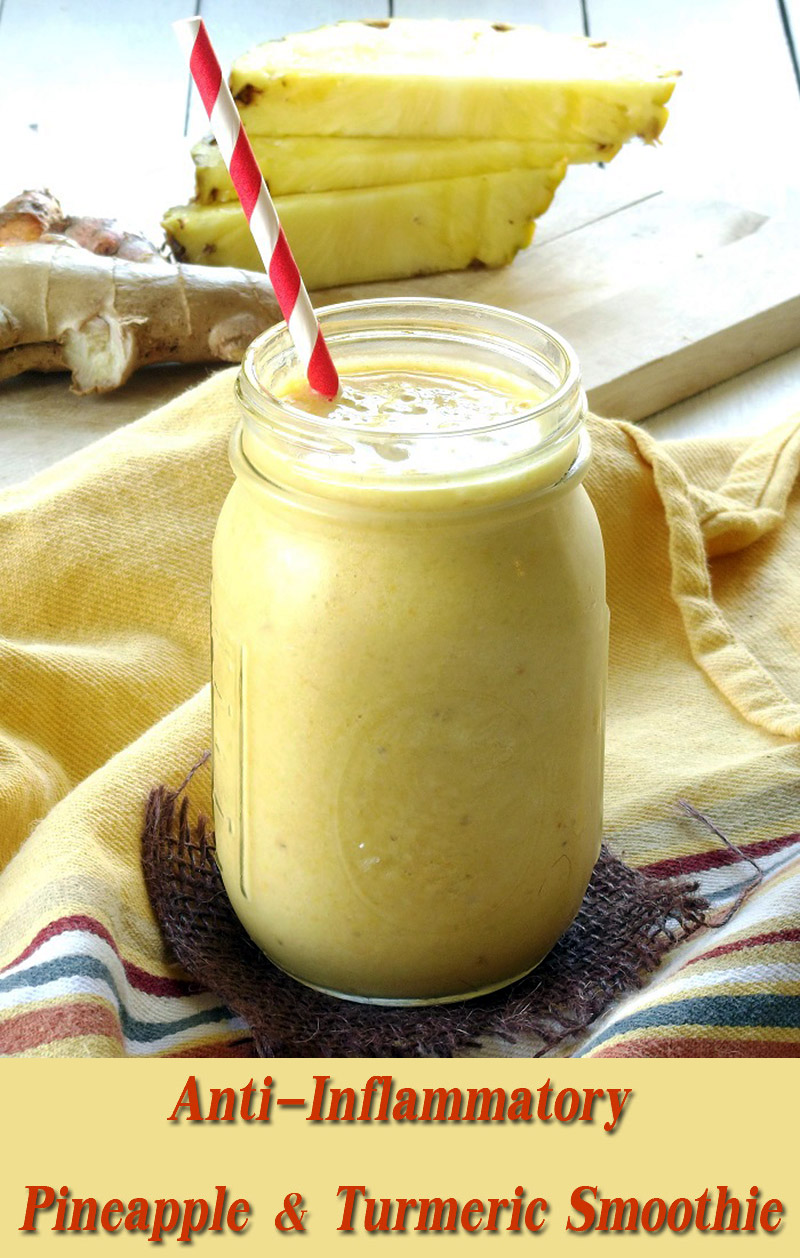 While acute inflammation is a natural body response to allergens, injury, or stress, due to malnutrition and our fast-paced modern lifestyle many people are suspected to chronic or constant inflammation which can lead to a wide range of ailments.
Inflammation is associated with weight gain, headaches, migraine, chronic (joint) pain, bloating, acne, fogginess, depression, and cancer.
Turmeric would have to be one of Mother Nature's best gifts! Turmeric works wonders in fighting inflammation and healing wounds. The smoothie I'm about to share with you is not only yummy and inflammation fighting… turmeric is also great for digestion, detoxification, it boosts the immune system, reduces bad cholesterol, breaks down dietary fat and has anti-cancer properties too!! Click here to learn more about turmeric benefits for overall health. And the best part not only turmeric is going to help you get rid of inflammation; all other ingredients are inflammation fighters too.
Pineapples contain the digestive enzyme bromelain, a natural enzyme that supports the digestive system in breaking down and absorbing nutrients from the food we eat.
Pineapple & Turmeric Smoothie
Ingredients:
1 cup diced pineapple
1 tsp turmeric powder or freshly grated
1 tbsp chia seeds
1 tbsp shredded coconut
1/2 lime, peeled
1 cup water or coconut water
Optional: maca powder
A dash of black pepper (it sounds weird but necessary to help with the absorption of curcumin in turmeric)
1 tablespoon coconut oil
1/2 lemon, peeled
Directions:
Blend all ingredients together and enjoy your Pineapple & Turmeric Smoothie! If the smoothie is too thick for you, add more coconut water.