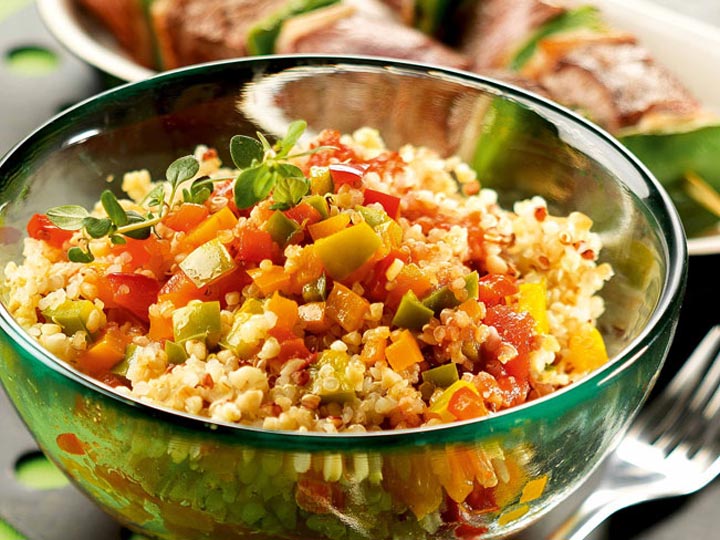 Wheat Berry Salad with Tomatoes, Corn and Basil recipe
Serves:  6
Ingredients for the salad:
1 cup wheat berries
1 tablespoon extra-virgin olive oil
1 large shallot, minced (about 1/3 cup)
2 ears fresh corn, shucked, kernels cut away (about 1 3/4 cups)
3 cloves garlic, minced
1 1/2 cups cherry tomatoes, quartered
3/4 cup minced fresh basil
1/2 cup feta or goat cheese
Ingredients for the dressing:
1 tablespoon fresh lemon zest
2 tablespoons fresh lemon juice
2 tablespoons extra-virgin olive oil
1/2 teaspoon Dijon mustard
3/4 teaspoon kosher salt
1/4 teaspoon fresh black pepper
Instructions:
Combine the wheat berries, 3 cups cool water and 1/4 teaspoon salt in a medium saucepan and bring to a boil. Reduce the heat, cover and simmer for 30 minutes to 1 hour, or until wheat berries are tender and have absorbed most of the liquid (see Cooking Note, below). Remove from heat and leave covered for ten minutes. If necessary, drain away any excess water.
In a large nonstick skillet, warm the olive oil and add the shallot. Cook over medium heat until just soft, 3 to 4 minutes. Add the corn and increase heat to medium-high. Cook corn until it's just beginning to brown on the edges and soften, about 10 minutes. Add the garlic and stir to combine. Cook an additional 2 to 3 minutes.
To prepare the dressing, whisk together the lemon zest, lemon juice, olive oil, mustard, salt and pepper until smooth.
Toss the cooked wheat berries, corn mixture, tomatoes and basil together with the dressing in a serving bowl. Taste and season with additional salt and pepper, if desired. Fold in the goat cheese and serve room temperature (it's also good cold). Cover and refrigerate any leftovers for up to 3 days.
Recipe Notes:
This salad is actually best when made the day before and has a chance to settle into all of its flavors. If you like your corn softer, you can boil it on the cob for 10 minutes or so before slicing the kernels away.
Source thekitchn.com