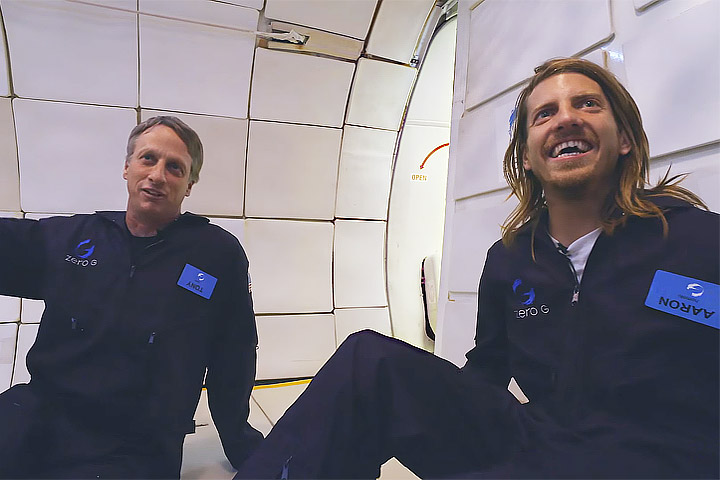 Pro skateboarders Tony Hawk and Aaron "Jaws" Homoki boarded a specially designed aircraft to try out skateboarding tricks in zero, martian, and lunar gravity.
The skateboarders, who teamed with Sony, 900 Films for the stunt, boarded a Zero Gravity Corporation plane — similar to NASA's famed "vomit comet" — that flew in parabolas to simulate gravity that would be found in places other than earth. The first parabola caused the aircraft to simulate the gravity on Mars, about 1/3 the gravity found on earth.
The skateboarders had some initial trouble getting their boards to respond property to their trick attempts, but they had more luck with a simulation of the moon's gravity, which caused them to be about 1/6 of their normal body weights.
The first attempt at zero-g resulted in some chaos, but the men were able to hold onto their boards and simulate flips and other tricks. Hawk and Homoki attempted other tricks in subsequent zero-g parabolas, including spinning through the air, trading boards and spinning boards around their legs.
"I have no sense of where I am when we're doing it," Tony Hawk said in the video, referring to the periods of zero gravity.
Source: upi.com