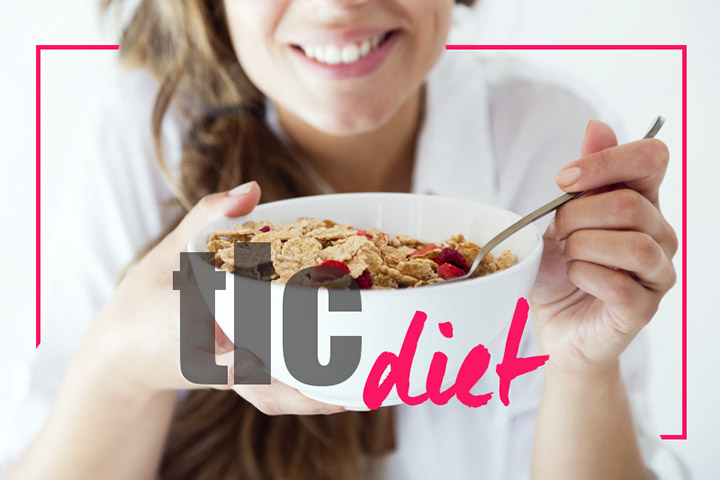 TLC Diet
With TLC Diet You'll lower your "bad" LDL cholesterol by 8 to 10 percent in six weeks
Created by the National Institutes of Health's National Cholesterol Education Program, the Therapeutic Lifestyle Changes Diet (TLC Diet) is endorsed by the American Heart Association as a heart-healthy regimen that can reduce the risk of cardiovascular disease. The key is cutting back sharply on fat, particularly saturated fat. Saturated fat (think fatty meat, whole-milk dairy and fried foods) bumps up bad cholesterol, which increases the risk of heart attack and stroke. That, along with strictly limiting daily dietary cholesterol intake and getting more fiber, can help people manage high cholesterol, often without medication.
How does TLC Diet work?
Start by choosing your target calorie level. If your only concern is lowering LDL, the goal is 2,500 per day for men and 1,800 for women. Need to shed pounds, too? Shoot for 1,600 (men) or 1,200 (women). Then cut saturated fat to less than 7 percent of daily calories, which means eating less high-fat dairy, like butter, and ditching fatty meats like salami. And consume no more than 200 milligrams of dietary cholesterol a day – the amount in about 2 ounces of cheese.
If after six weeks your LDL cholesterol hasn't dropped by about 8 to 10 percent, add in 2 grams of plant stanols or sterols and 10 to 25 grams of soluble fiber each day. (Soluble fiber and plant stanols and sterols help block the absorption of cholesterol from the digestive tract, which helps lower LDL. Stanols and sterols are found in vegetable oils and certain types of margarine, and are available as supplements, too.) On TLC, you'll be eating lots of fruits, vegetables, whole grains, low-fat or nonfat dairy products, fish and skin-off poultry. Exactly how you meet these guidelines is up to you, though sample meal plans are available.
Each day, you'll keep meat to a minimum (no more than 5 ounces, and stick to skinless chicken and turkey or fish); eat 2 to 3 servings of low-fat or nonfat dairy; enjoy fruits (up to 4 servings) and vegetable (3 to 5); and have 6 to 11 servings of bread, cereal, rice, pasta or other grains.
Will you lose weight?
Unclear, since the TLC diet was designed to improve cholesterol levels, not for weight loss. But research suggests that in general, low-fat diets tend to promote weight loss.
In one study, 120 overweight people followed either the Atkins diet or the TLC diet for six months. At the end of that period, Atkins dieters had lost an average of 31 pounds, compared with 20 for TLC dieters, according to findings published in 2004 in the Annals of Internal Medicine. (If you're overweight, losing just 5 to 10 percent of your current weight can help stave off some diseases.)
In an analysis of 19 clinical trials, researchers found that participants following low-fat diets lost significantly more weight than those in control groups – typically about 7 additional pounds per year, according to findings published in the International Journal of Obesity in 2000. On average, reducing daily fat calories by 10 percent was associated with a loss of 6.3 pounds over six months.
What can I eat?
Meat lovers can craft a roast beef sandwich with leafy greens and a tomato. Add a half cup of pasta salad with a quarter cup of mixed vegetables and an apple for a balanced lunch

Need a snack? Try popcorn – but stick to two cups cooked with canola oil.
One cup of oatmeal is a delicious, heart-healthy way to start your morning. Add apple slices or your favorite fruit to sweeten.
Eggs are fine for breakfast, but limit yourself to two yolks per week on this cholesterol-friendly diet. (Egg whites and substitutes aren't limited.)
Skinless poultry is a great way to add protein to your lunch salad or dinner plate. Just remember not to eat more than five ounces per day. Consider substituting a quarter cup of cooked dry beans or peas for one ounce of meat.
Leafy greens, cooked or raw vegetables and raw vegetable juices are great ways to get your required three to five servings of vegetables each day. Incorporate squash into your soups or make a radish salad. The choice is yours.
Don't shy away from healthy whole grains like English muffins for breakfast if that's what you crave. The TLC Diet calls for six servings of bread, cereals, pasta, rice and other grains each day. Just remember to limit yourself to one teaspoon of soft margarine.
Do's and Don'ts
Do: Go heavy on fruits and veggies. Aim for up to 4 servings of fruit a day, and 3 to 5 of veggies each day.
Do: Stick to skinless poultry. That's true be it chicken or turkey; same goes for fish. Red meat is strongly discouraged, since it's often high in saturated fat.
Do: Eat more fiber. Regularly consuming fiber can help avoid or manage high cholesterol.
Don't: Eat much saturated fat. Avoid whole-milk dairy, fatty beef or pork and anything fried.
Don't: Exceed the calorie limit, which varies based on your goal.  Sticking to this limit helps meet specific goals, such as losing weight or lowering LDL cholesterol.
Don't: Drink too much. Men should stick to two alcoholic beverages a day – women, one – for myriad reasons, including keeping triglycerides low.
How easy is it to follow?
Depends on your knack for tracking what you eat. It's up to you, for example, to ensure that no more than 7 percent of your daily calories come from saturated fat, and that you don't exceed 200 mg. of daily cholesterol from food. Convenience. The TLC diet takes work and a certain aptitude for reading nutrition labels. And aside from an 80-page manual available online—called Your Guide To Lowering Your Cholesterol With TLC—there are few resources to help you along. Recipes. The manual contains a few suggested meal plans, but no recipes. Eating out. Allowed, but you'll have to decipher which menu choices are lowest in saturated fat and cholesterol. Smartest are steamed, broiled, baked, roasted or poached entrees.
Don't be afraid to make special requests; for example, swap fries for a salad, and get the dressing on the side. Alcohol. Because alcohol can raise triglycerides – a fatty substance that's been linked to heart disease – moderation is key. That means a-drink-a-day max for women and two for men. Timesavers. None. Extras. Included in the NCEP's "Your Guide To Lowering Your Cholesterol With TLC" are dining-out tips, a few sample menus and primers on why cholesterol matters. Fullness. Nutrition experts emphasize the importance of satiety, the satisfied feeling that you've had enough. Hunger shouldn't be a problem on the TLC diet. You'll be eating lots of fiber-packed fruits and veggies, which quell hunger. Taste. How much will you miss butter, fast food and creamy sauce? If you like your food greasy or have a sweet tooth, the TLC diet may not make you salivate. But a little lemon and spices can make a seemingly bland chicken breast delicious. For dessert, nonfat frozen yogurt, low-fat sorbet and Popsicles are all in-bounds.
Health & Nutrition
Developed by the National Institutes of Health, the Therapeutic Lifestyle Changes (TLC) diet is a healthy choice, panelists agreed. Doling out all 5s and 4s, experts approved of the fiber and calcium it generously provides as well as the saturated fat it doesn't.
Does it have cardiovascular benefits?
Yes. It reflects the medical community's widely accepted definition of a heart-healthy diet. An eating pattern heavy on fruits, veggies and whole grains but light on saturated fat and salt is considered the best way to keep cholesterol and blood pressure in check and heart disease at bay.
In one study, 36 adults transitioned between two diets, which they followed for 32 days each: a typical American diet (16 percent saturated fat and 180 mg. of cholesterol) and the TLC diet (7 percent saturated fat and 75 mg. of cholesterol). After making the shift to TLC, their LDL cholesterol decreased by 11 percent, according to findings published in the Journal of Lipid Research in 2003.
In a study published in the Journal of Atherosclerosis and Thrombosis in 2007, 16 participants with high levels saw their total cholesterol drop from 254.8 milligrams per deciliter to 224.2 mg/dL after six months, and their LDL dropped from 174 mg/dL to 143 mg/dL. In general, a 40-point drop in total cholesterol leads to a 20 percent reduced risk of heart disease.
A 2014 study published in the European Journal of Clinical Nutrition with 31 participants found that total cholesterol concentrations decreased after consuming TLC diets. In addition, substituting legumes in place of red meat in a TLC diet significantly decreased triglyceride concentrations and low-density lipoprotein cholesterol, or so-called "bad cholesterol", where elevated levels of both are consider risk factors for cardiovascular disease. The improvements in lipid profiles were independent of any change in a person's body mass index, a measure used to gage whether someone is considered to be at a healthy weight.
In another study, 32 adults followed the TLC diet for nearly 8 months. (They were given all their meals, making compliance easier than when going it alone.) By study's end, their LDL cholesterol had decreased by 18 percent, according to findings published in Arteriosclerosis, Thrombosis, and Vascular Biology in 1995. The response was slightly more profound in men than women – though exactly why was unclear.
Source: health.usnews.com