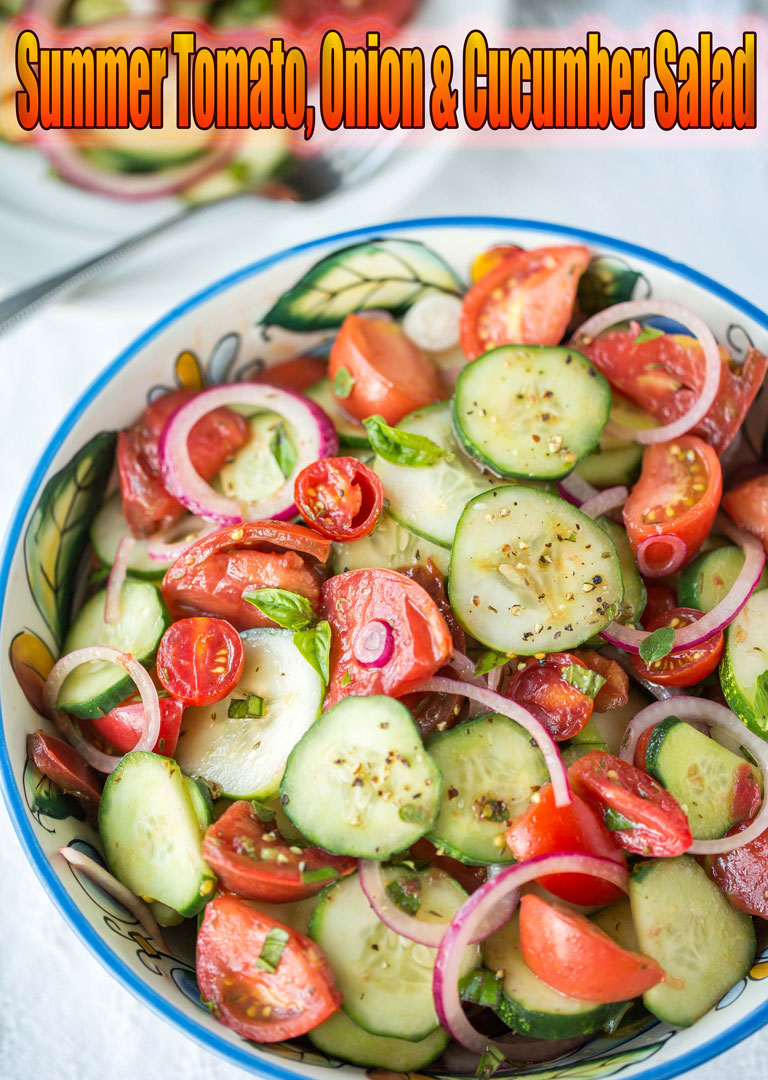 Summer Tomato, Onion & Cucumber Salad recipe
Fresh vegetables of tomato, thinly sliced onion and sliced cucumber dressed simply with vinegar and oil makes the most simple salad possible—think of it as the Southern counterpart to the classic Italian tomato-and-mozzarella salad. It is best enjoyed at the height of summer, when tomatoes and cucumbers are fresh from the garden.
Ingredients:
3 tablespoons rice vinegar
1 tablespoon canola oil
1 teaspoon honey
1/2 teaspoon salt
1/2 teaspoon freshly ground pepper, or more to taste
2 medium cucumbers
4 medium tomatoes, cut into 1/2-inch wedges
1 Vidalia or other sweet onion, halved and very thinly sliced
2 tablespoons coarsely chopped fresh herbs, such as flat-leaf parsley, chives
and/or tarragon
Directions:
Whisk vinegar, oil, honey, salt and pepper in a large shallow bowl.
Remove alternating stripes of peel from the cucumbers. Slice the cucumbers into thin rounds. Add the cucumber slices, tomatoes and onion to the dressing; gently toss to combine.
Let stand at room temperature for at least 30 minutes and up to 1 hour.
Just before serving, add herbs and toss again.
Nutrition:
Per serving: 58 calories; 3 g fat (0 g sat, 2 g mono); 0 mg cholesterol; 8 g carbohydrates; 1 g added sugars; 1 g protein; 2 g fiber; 202 mg sodium; 264 mg potassium.
Nutrition Bonus: Vitamin C (20% daily value)
Source yummly.com