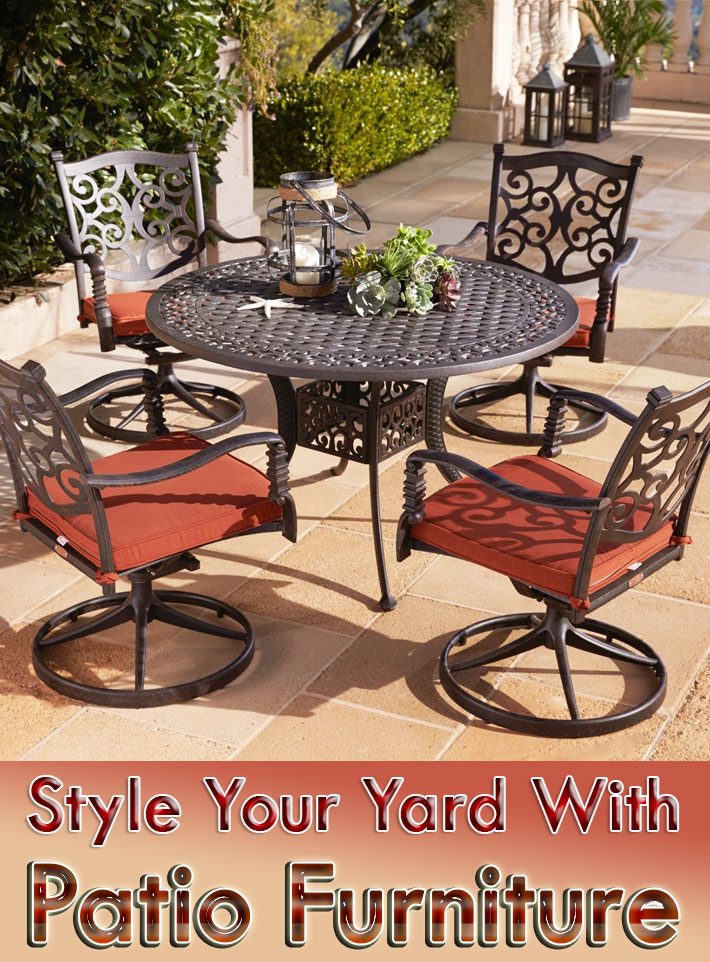 Are you tired of walking in the yard and yawning out of boredom? Do you feel that it costs too much money to create a more beautiful yard with patio furniture? If so, don't wring your hands in frustration because this guide will help you decorate your yard in amazing ways. Many home decorators and even some professional interior designers visit inexpensive places such as flea markets, garage sales and discount chain stores to purchase inexpensive patio furniture and for those talented in woodworking and carpentry, they build their own patio furniture.
Use Poinsettias To Complement Red And White Patio Furniture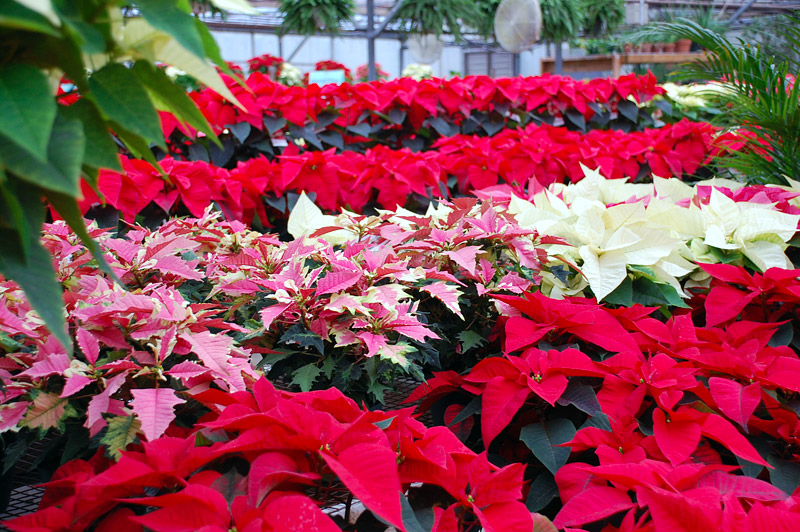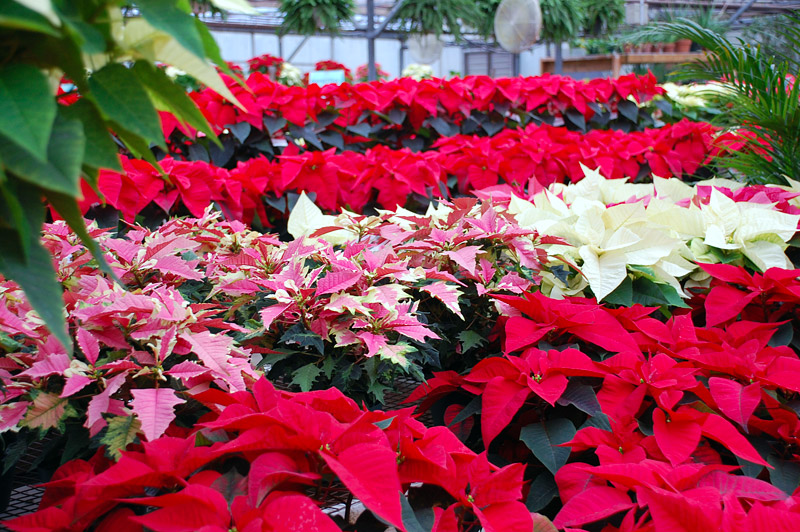 If you have red painted wicker outdoor patio furniture with white garden collectibles and tables, complement the wicker furniture by planting poinsettias in the yard. Other good flowers that you can plant with the poinsettias are conifers, pinecones and Spanish moss. Poinsettias have a beautiful red and green color and are great for late fall or earl;y winter months. Two to three large poinsettias are adequate enough since you don't want to overpower the garden's other neat features.
Consider Current Trends But Maintain Your Own Style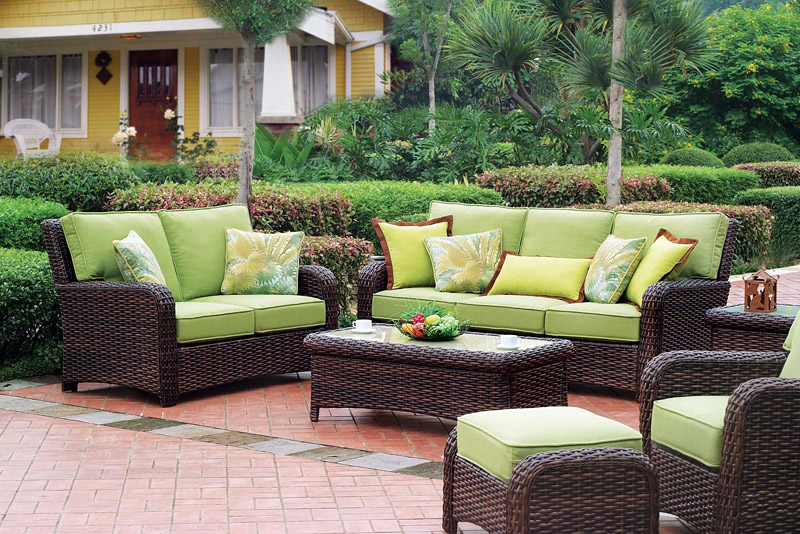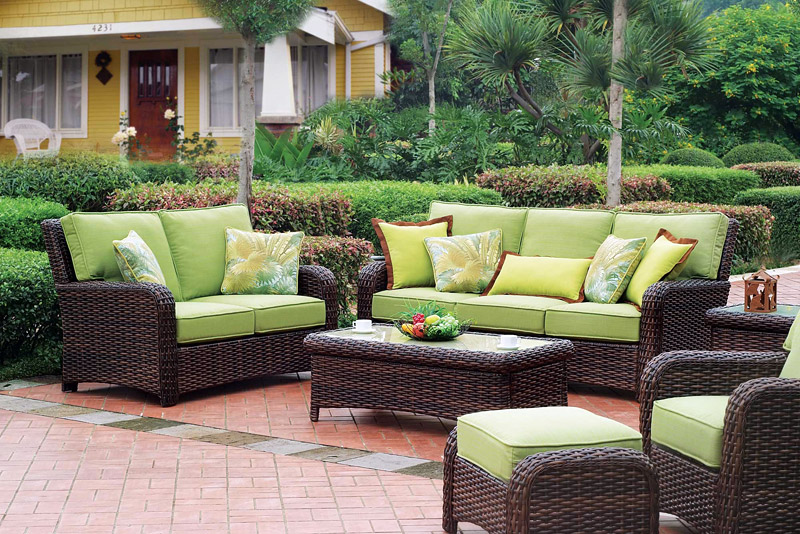 It looks like blue and green are popular colors for patio furniture but if you prefer pastel colors since it's springtime and pastels are your favorite colors overall, you can combine a teal green with a light pink or light yellow. You can have a blue painted oak chair with a yellow and white patterned oak table. Neutral tones are also in style now for patio furniture and if you're decorating a classic Victorian style garden, neutral toned collectibles that have a dainty appearance would look nice with a white patio sofa.
I Want The Rustic Look For My Patio. How Do I Pull It Off?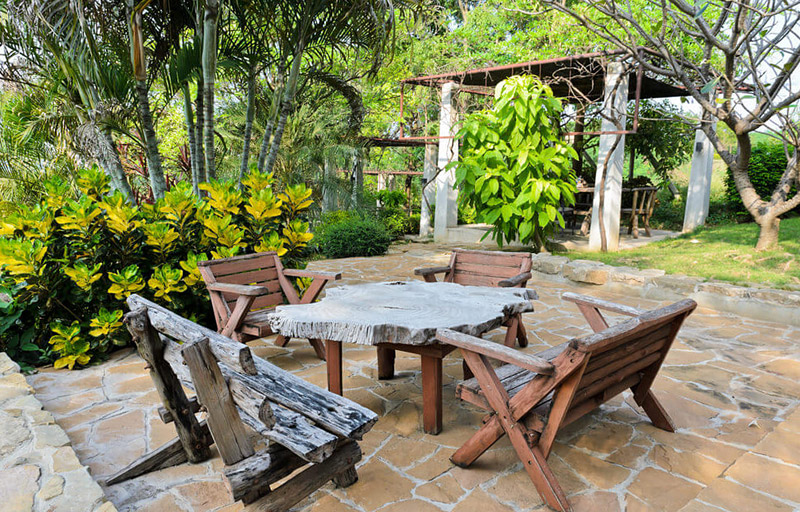 Start by installing tough stones in the patio to create a stone floor since stones complement rustic patio furniture. You can also install log columns on top of the newly built stone floor for a rich rustic look. As for choosing the best patio furniture for a rustic themed patio, Andironack chairs are ideal because they're wooden and you can complement the chairs with wooden tables. Rugs or mats with floral designs make for good rustic patio design and add bold colored potted flowers for a slight modern touch.
Use Wrought Iron Furniture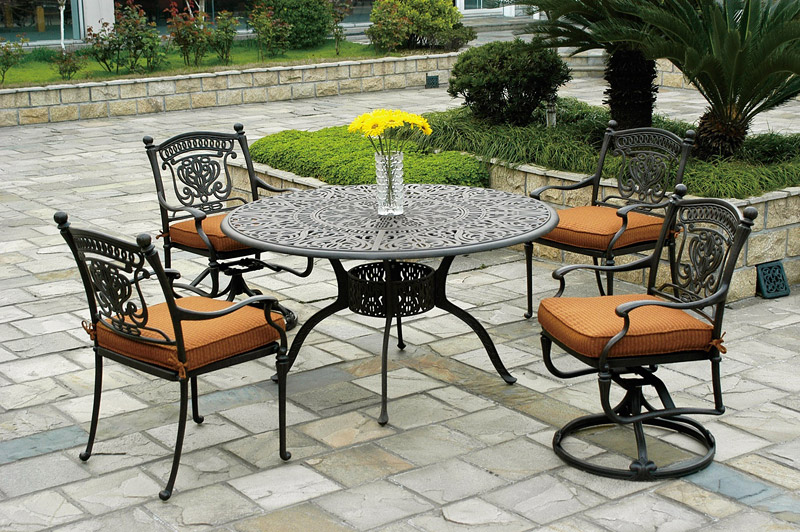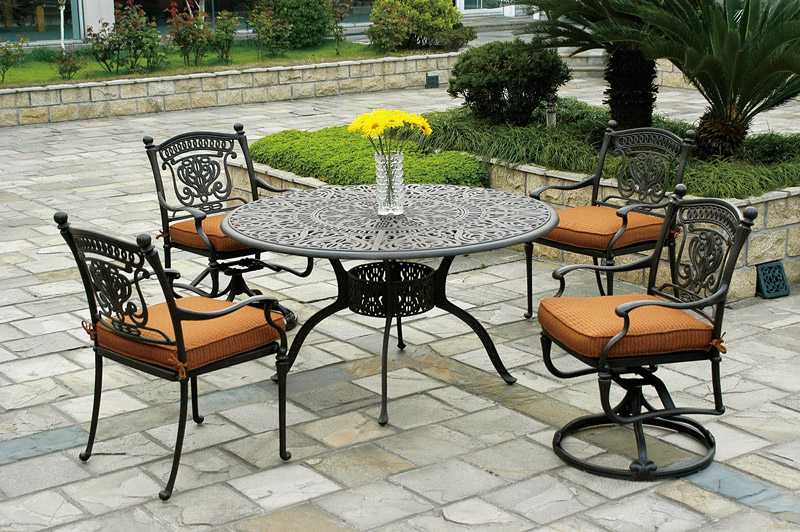 Wrought iron furniture has a graceful and sturdy appearance and it is nice to have if you want the patio to have an Old World European look to it. Incorporate wrought iron chairs, tables and plant shelves and for extra flair, glue rhinestones and pearls on the wrought iron patio furniture. Another idea is to add some bold colored cushions to the furniture and remember that this furniture tends to rust so it's important to wash it and apply wax to restore the beauty.
Add Patio Kitchen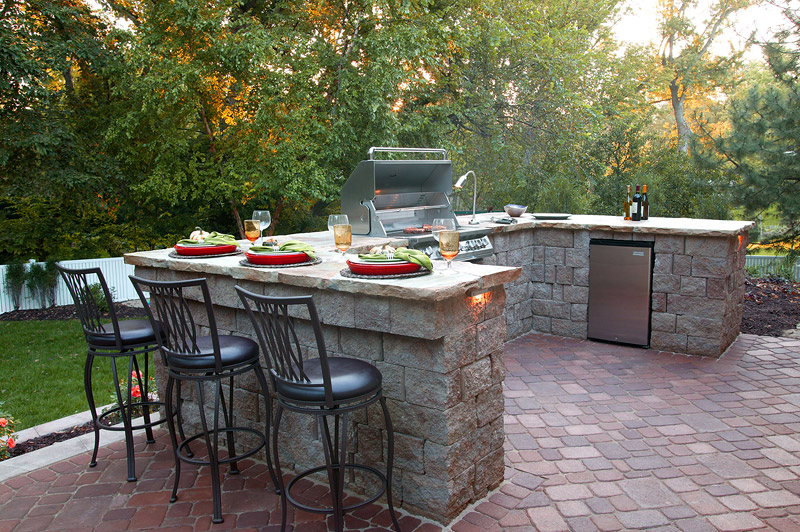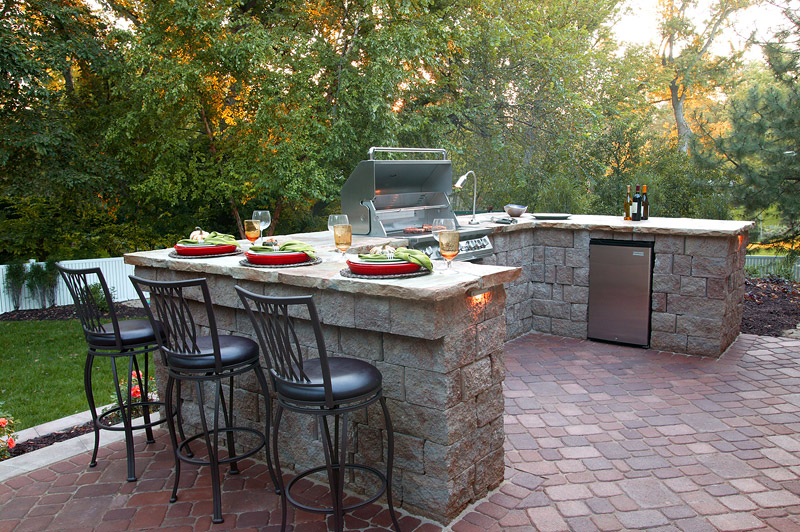 Why not add an outdoor kitchen to your patio and entertain guests with good food and conversation? Install a nice stainless steel grill in the yard and then install other patio appliances such as a cupboard for storing dried and canned foods, wine refrigerator, a sink, and some bar stools along with an island where people can sit and eat together.
Don't Forget About Privacy Protection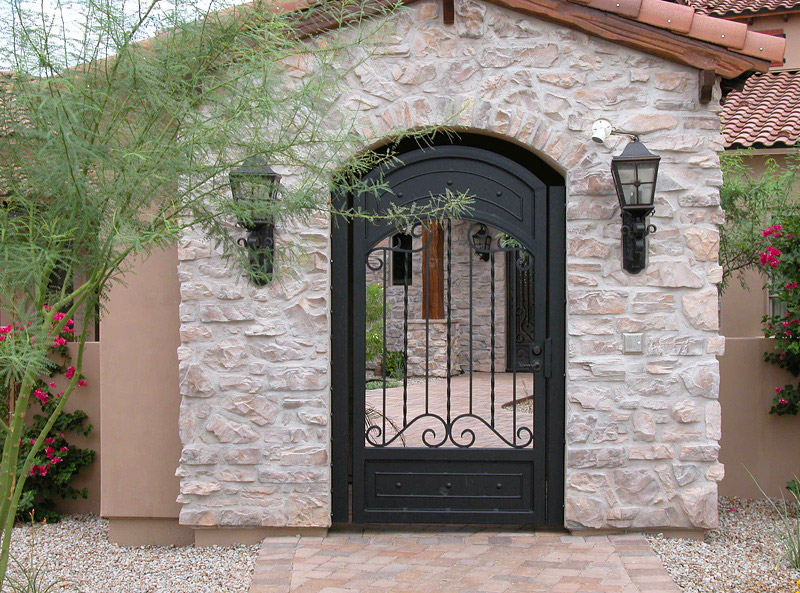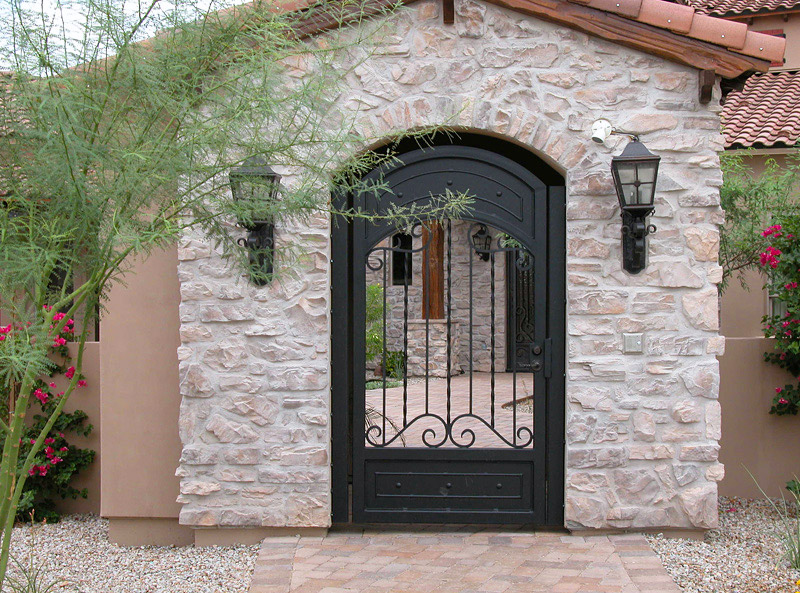 When designing your patio you should choose the kind of fence or gate that is tall enough to hide your items and then you would make sure that you use locks that are secure enough for the gate you install for the patio. Wooden or metal gates especially look nice with patios and if you prefer doors, most home improvement stores have patio doors you can buy.
Huge Tree Stump As Homemade Patio Table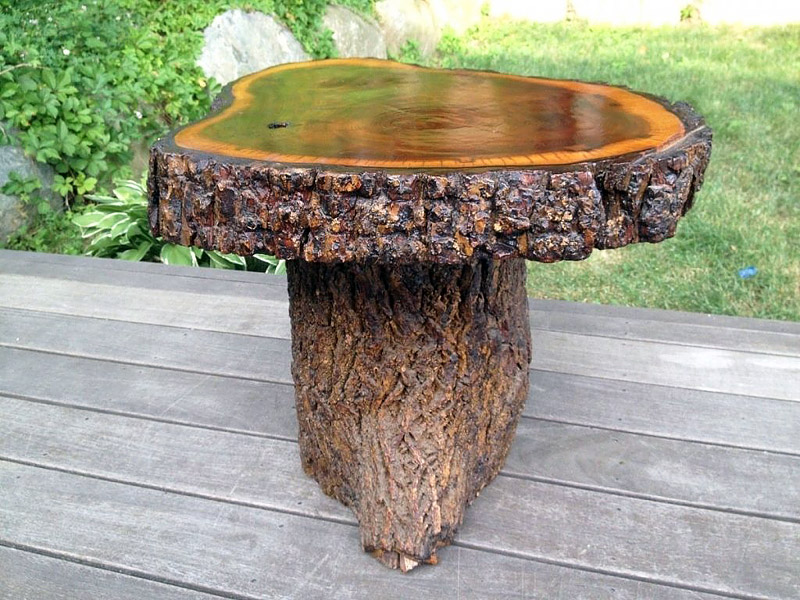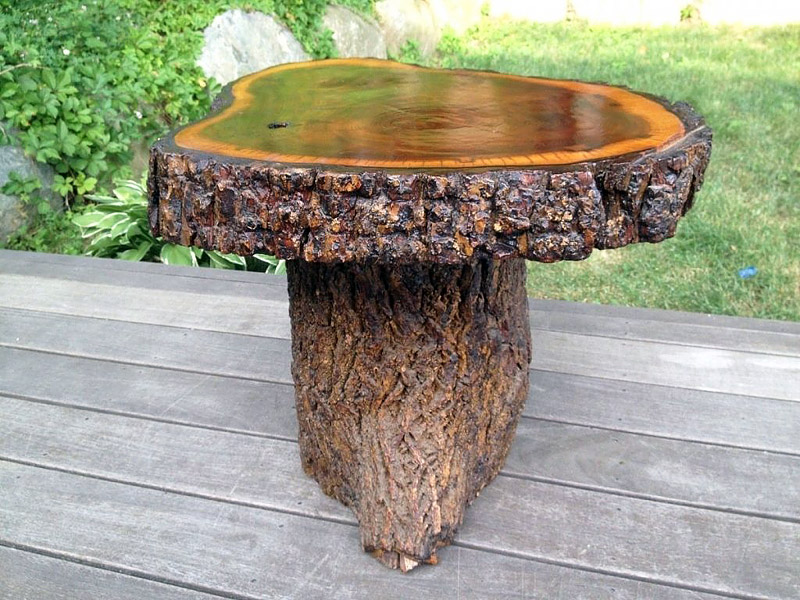 If you cut down a tree recently and there is a huge stump in the middle of the yard, make it a patio table. Sand the tree stump then apply stain to the tree stump before painting it any color you want. When the tree stump is finished place a colorful tablecloth over the tree stump and then add a glass vase filled with flowers. You can also add some small chairs or bean bags around the stump and make it a kids' table.
Stencil Designs Also Look Nice On Patio Floor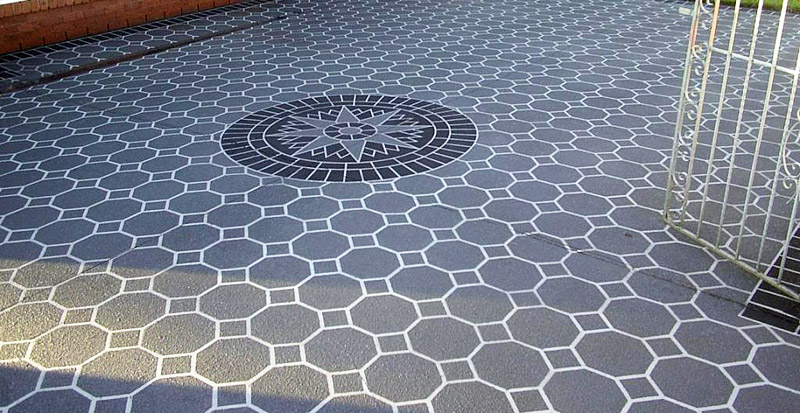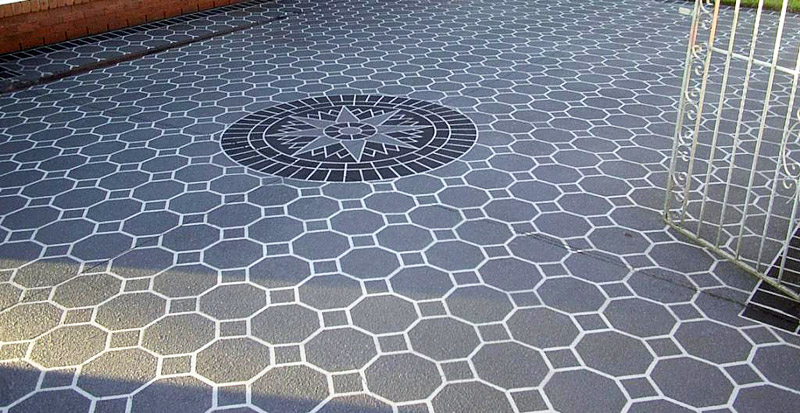 If you have a concrete or brick patio, add some pizzazz by stenciling words, phrases or designs throughout the patio floor. Here is how you would stencil patio concrete. Start by scrubbing the patio floor to eliminate particles and dirt then block off the sections where you'll stencil the patio floor with tape and plastic sheets so the rest of the patio floor isn't affected. Once you do this put the concrete primer on the surface and then heat the surface with a heat gun for effective stenciling. Add your stencils to the surface and then paint inside the stencil shapes. Let dry for a few hours.
Save Money On Patio Furniture By Purchasing Used or Refurbished Items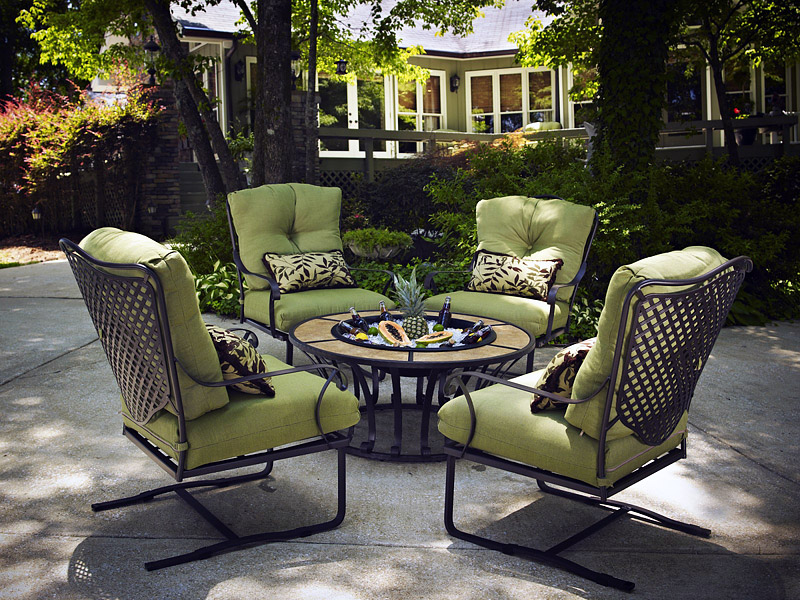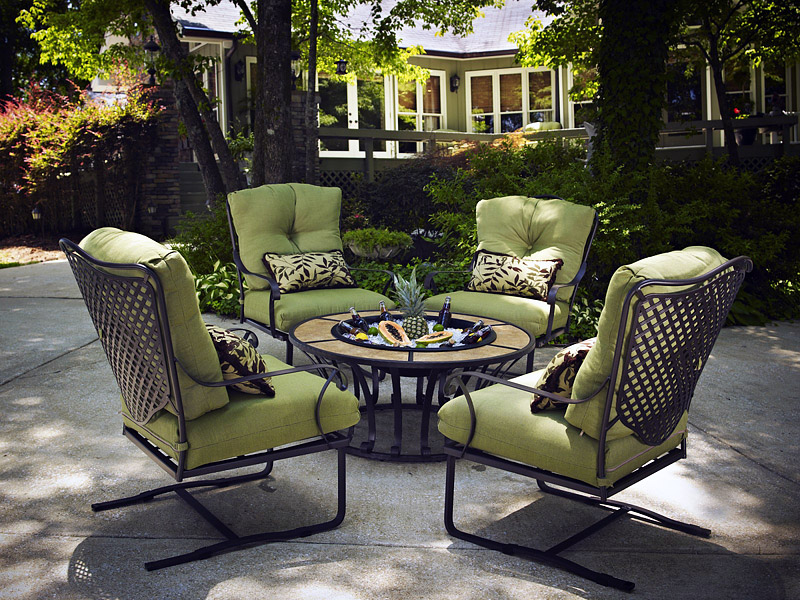 Sometimes the best patio furniture to buy comes from flea markets and thrift stores because the furniture at these stores have existed for decades and older furniture is usually of higher quality than new furniture since older furniture tends to be built with stronger materials. Don't be afraid to negotiate for a fair price if you think the seller's starting price is not appropriate. Also consider your budget when buying patio furniture at flea markets or thrift stores.
Conclusion
Patio furniture is great for the yard and you can choose from large or small pieces depending on the size of your yard. There are interior design apps you can download to your phone that assist you in getting ideas for a newly designed patio. There are also home decorating magazines that you can look through for inspiration. Periodically clean and apply wax to the patio furniture to keep it looking nice and you can repaint it if you want new colors for a different theme. Finally, be uninhibited with your patio design.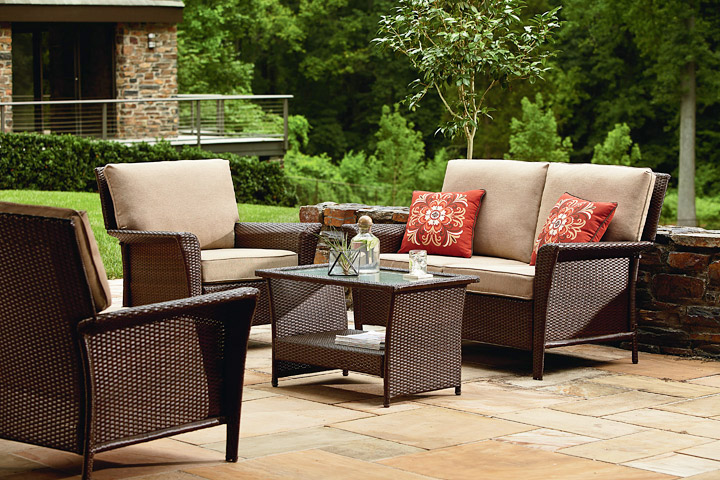 Source: peakgardencentres.co.uk