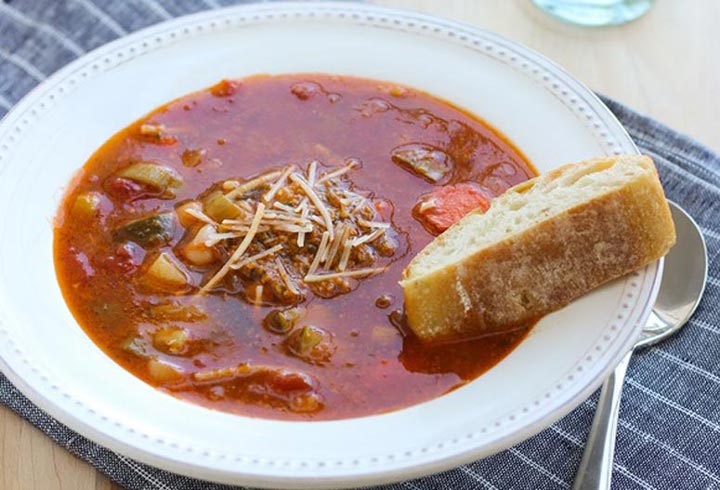 Soupe au Pistou Recipe
Partly because the flavor of Soupe au Pistou is so fresh and comforting that it's perfect to enjoy during the last chilly days of winter as we welcome spring.
Prep Time:  15 minutes        Cook Time:  30 minutes        Total Time:  45 minutes
Ingredients:
1 (15 ounce) can white beans, drained and rinsed
1 (14.5 ounce) can diced tomatoes
1 onion, diced
2 leeks, chopped
3 small potatoes, diced
2 small zucchini, diced
3-4 large carrots, peeled and diced
2 tablespoons olive oil
salt & pepper to taste
6 cups vegetable broth
1 cup water
1/2 cup bite-size broken pieces of thin spaghetti (I used whole wheat but you could also use gluten-free pasta if necessary)
Pistou
5 garlic cloves
1/2 cup fresh basil leaves or 5 tablespoons dried basil
2 tablespoons tomato paste
1/2 cup shredded parmesan cheese*
6 tablespoons olive oil
Instructions:
In a large soup pot, warm the olive oil over medium heat. Add the onion and cook for a few minutes, until fragrant.
Next, add the potatoes, zucchini, carrots, and leeks along with a sprinkle of salt & pepper. Cook for about five minutes.
Pour in the vegetable broth, the drained and rinsed white beans and the diced tomatoes then turn heat to high to bring to a boil. Add the broken pieces of spaghetti then cover and reduce heat to a simmer.
Meanwhile, make the pesto by placing all of the ingredients into a food processor and blending until smooth. Alternatively, you can muddle the ingredients together as the traditional recipe does.
Once the pasta is cooked and the vegetables are tender (after about 15 minutes), ladle it into a bowl and top with a tablespoon of the pesto. You can also sprinkle with a bit of parmesan before serving. Enjoy!
Source makingthymeforhealth.com