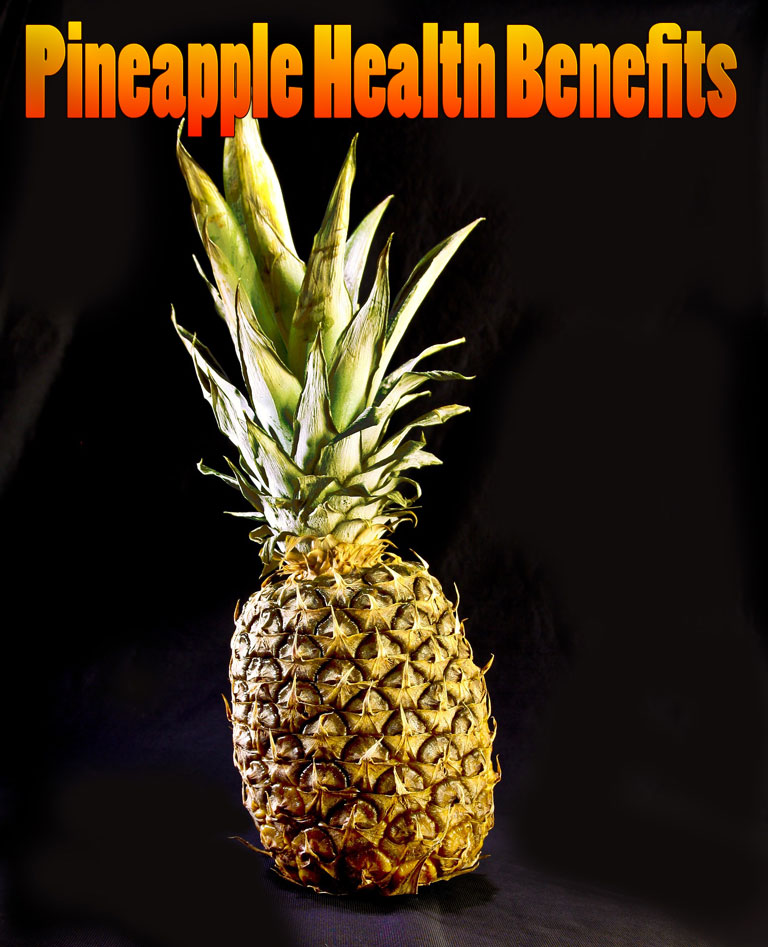 Reportedly the second favorite fruit in America right after another tropical fruit – bananas – the pineapple is unique among fruits. The drought-tolerant pineapple plant grows five to eight feet tall, and bears fruit with a tough, spiky exterior around 12 inches long. A pineapple fruit can weigh up to eight pounds. Both sweet and tart, its fiber-like pectin gives the pineapple its satisfying chewy texture.
Native to Paraguay, pineapples got their name from the Spanish word "piña," meaning "pinecone." Technically, it's not one fruit, but 100-200 fruitlets fused together. Cultivation found its way northward to still-warm regions via roaming Indians, and was discovered by the same explorers who claimed the Americas back in 1492. The fruit became a favorite on ships as a hearty food source and as a protection from the sailor's dread: scurvy. Today, the bulk of the world's pineapples come from Southeast Asia, Thailand being the biggest producer.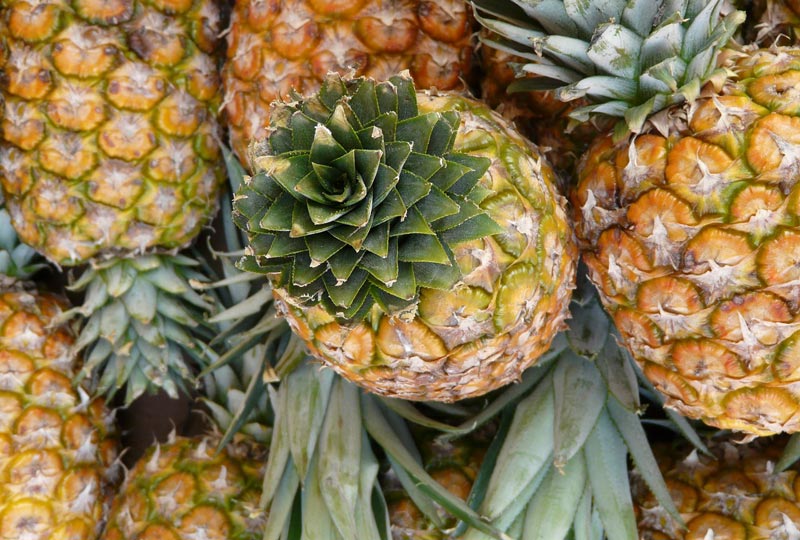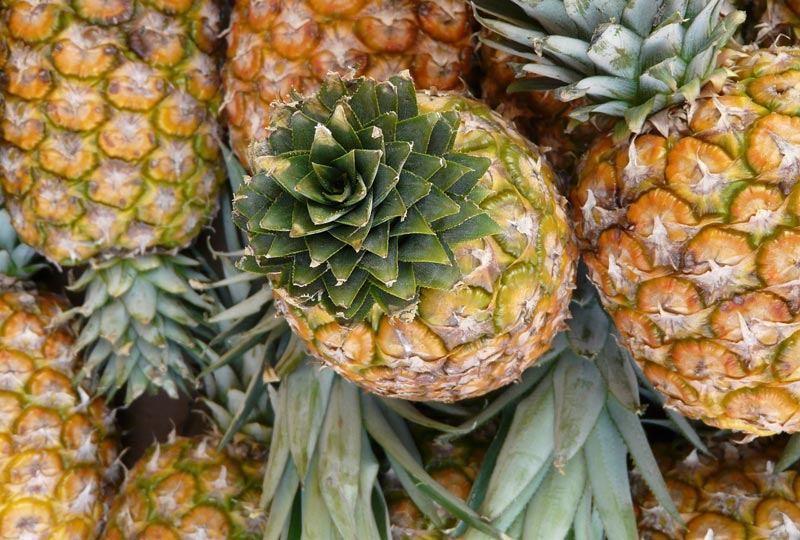 Pineapple is great by itself and for so many recipes: shish kebabs, lettuce and fruit salads, stir fries, and salsa, to name a few. Prepare it by simply chopping off the top and bottom, and then placing on a flat surface to slice off the rind, top to bottom, all around. Then, just slice the fruit into "rings."




When choosing a pineapple, it's good to remember that the heavier they are relative to size, the better – as those are riper. The ripening process stops when they're picked, so to make sure it's not been too long; they should smell fragrant, not musty or fermented. While some people think they need to eat their pineapple almost immediately for optimal benefit, new studies show that cut and refrigerated pineapple are excellent for as long as nine days with only minor losses of phenolic phytonutrients. So for a rich, nutritious tasting experience, eat up!
Pineapple Health Benefits
Of all the vitamins and minerals in pineapple, vitamin C beats them all with 131 percent of the daily value. Vitamin C has a reputation for suppressing coughs, colds, and flu symptoms for a reason. A natural antioxidant, vitamin C is also needed for synthesizing collagen, which is the main structural protein in the body for healthy blood vessels, organs, skin, and tissue support, heavy metal absorption, and bone strength.
Most of the nutrients aren't greatly diminished between fresh and canned pineapple, except for vitamin C, which is reduced from 131 percent of the daily value to 32 percent in canned. One cup of fresh pineapple chunks equals around 165 grams, while the same amount of canned pineapple contains 246 grams.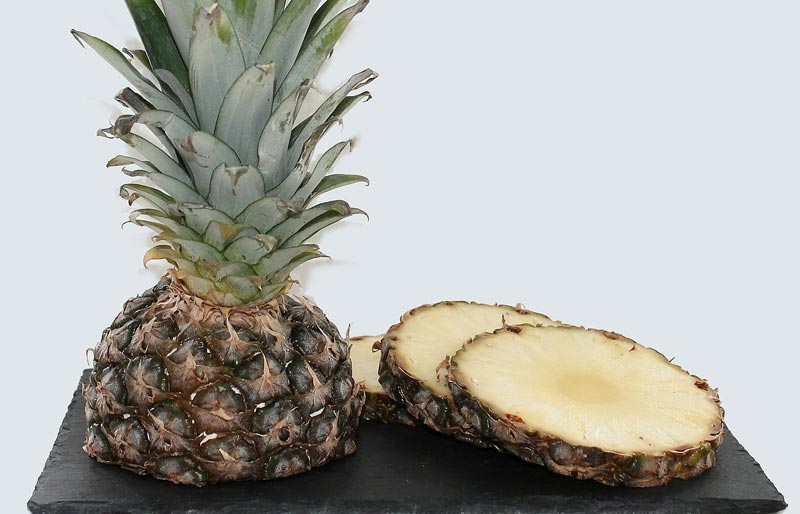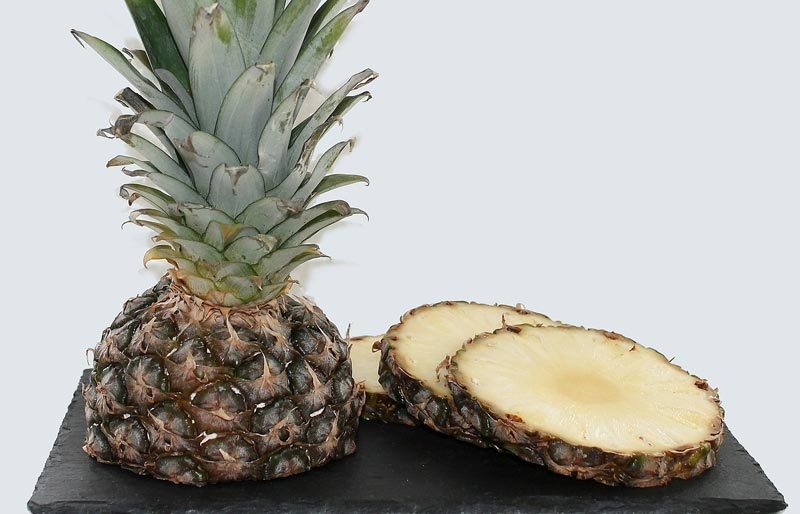 Pineapples provide three-quarters of the manganese needed for one day in a singleserving, letting loose powerful free radical scavenging through the super healthy enzyme superoxide dismutase. What's more, they come with folates, thiamin, biotin, pyridoxine, riboflavin, and minerals like copper and potassium, the latter of which offers what's needed for healthy cell and body fluid maintenance, heart rate regulation, and blood pressure. Vitamin A and beta-carotenes provide additional antioxidants for immune system support and eyesight protection.
An enzyme called bromelain is able to break protein down into simpler substances to provide phytonutrients such as amino acids and peptides needed for digestion. Research indicates that because of the bromelain, wheneating pineapples, , it discourages arthritis inflammation, indigestion, clotting, bruising, and harmful bacteria – even cancer and parasites.
However, consume pineapples in moderation because they contain fructose, which may be harmful to your health in excessive amounts.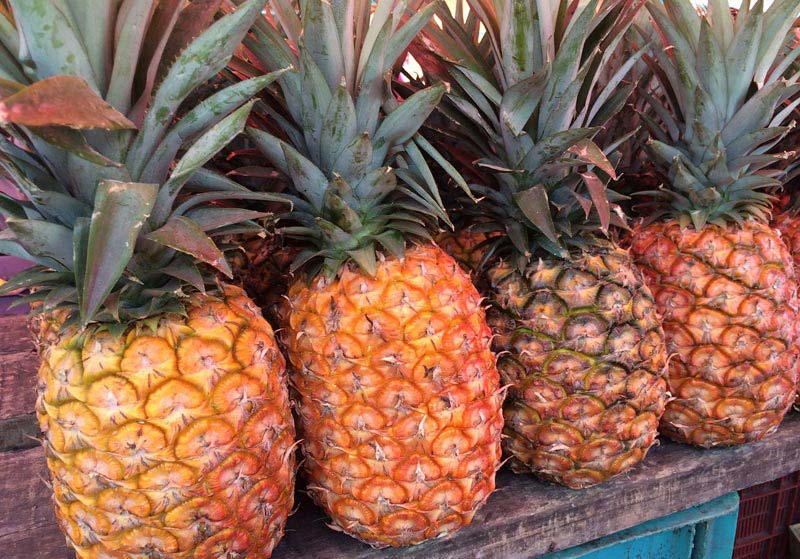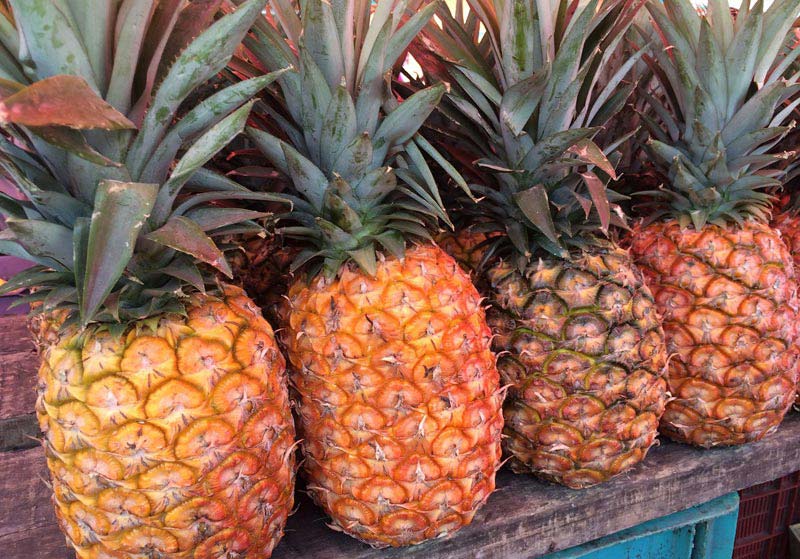 Studies on Pineapple
Bromelain, obtained from pineapple, possesses powerful anti-cancer compounds. Numerous studies have been conducted, but one in particular showed that cancer cells exposed to bromelain exhibited delayed growth, began breaking down, and then died. In a breast cancer study, bromelain given to subjects in ever-increasing concentrations over a 24-hour period demonstrated ever-increasing cancer-minimizing effects.
Another study explored the anti-inflammatory capabilities of bromelain found in pineapple extracts. Research showed significant anti-inflammatory activity in allergic airway disease. Scientists concluded that it might also be an effective treatment for asthma, whether brought on by genetic, allergic, infectious, environmental, or dietary causes.
Source mercola.com