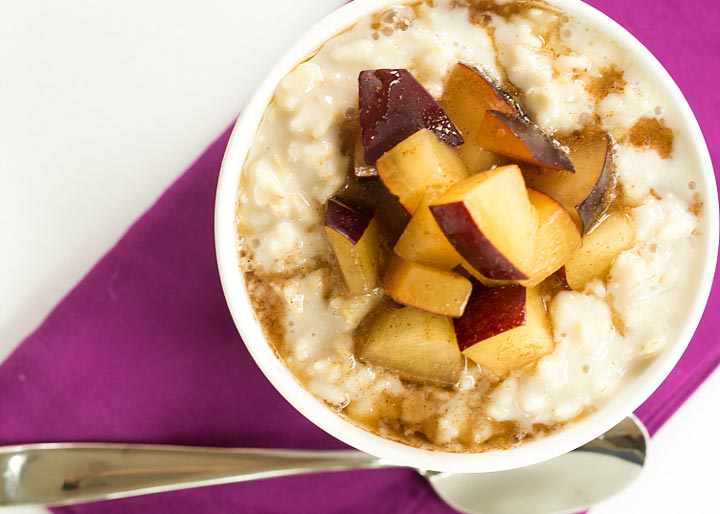 If oatmeal is your thing, but you shy away from it in the summer, definitely give this a try!
A cold oatmeal chilled overnight in the refrigerator – perfect for summer breakfasts!
This is an awesome way to enjoy oatmeal during the warmer months when a hot breakfast is the last thing you want to eat. It very much reminds me of a chilled rice pudding, although obviously not as rich. It goes without saying, but you could add any type of sweetener to this oatmeal, and top it with any type of fruit – summer berries, peaches, bananas, pears in the fall – anything!
yield: 1 serving          prep time: 10 minutes
Ingredients:
½ cup old-fashioned rolled oats
1 cup unsweetened almond milk, divided
¾ cup water
Pinch of kosher salt
2 teaspoons pure maple syrup, divided
1 plum, pitted and chopped
Pinch of ground cinnamon
Instructions:
1. Combine the oats, ¾ cup of the almond milk, water and salt in a small saucepan. Bring it a boil over high heat, then reduce the heat to medium-low and simmer until the oats are tender, about 4 minutes.
2. Remove from the heat and transfer the oatmeal mixture to a bowl and allow to cool for about 10 minutes. Stir in the remaining ¼ cup almond milk and 1 teaspoon of the maple syrup. Cover with plastic wrap and refrigerate overnight.
3. In a small bowl, toss the chopped plum, remaining 1 teaspoon of maple syrup and cinnamon in a bowl; let stand for 5 minutes. Serve the chilled oatmeal topped with the fruit and any accumulated juices.
(Recipe from Martha Stewart Living)
Source browneyedbaker.com