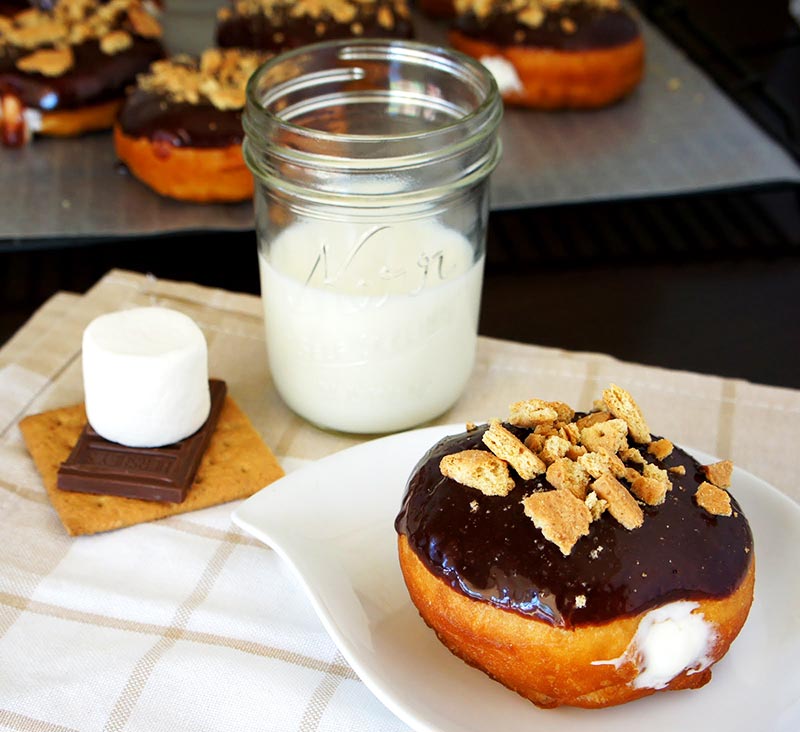 Marshmallow Cream Filled S'mores Doughnuts
These Marshmallow Cream Filled S'mores Doughnuts are simple doughnuts to make.
Ingredients:
1 (8 count) refrigerated tube of dinner rolls, big/jumbo size
4 cups Oil for frying
1 cup marshmallow fluff
4 oz cream cheese, room temp
1 1/4 cups powdered sugar; divided
1/2 cup bittersweet chocolate chips
1/4 cup milk
2 sheets of graham crackers; coarsely crushed
*to fill doughnuts you'll need a disposable frosting bag fitted with a round tip.
Instructions:
Heat oil in a fryer or heavy pot to 375 degrees.
Add biscuits one at a time and cook for 2-3 minutes on each side. (make sure to cook long enough so the inside is not raw) Remove from oil to a paper towel covered plate to cool. Repeat for all biscuits.
In a medium bowl (or your stand mixer) beat together the cream cheese, marshmallow fluff, and 1 cup of powdered sugar until smooth. Fill a disposable piping bag (fitted with a round frosting tip) with the marshmallow mixture.
While holding the doughnut in one hand and the filling in the other, gently poke the side of the doughnut with the round tip and slowly apply pressure the the bag.
Repeat with the remaining doughnuts. *you may have extra filling left over depending on how full you make the doughnuts
Heat milk in microwave for 45 seconds to 1 minutes so milk is scalding, but be careful to not let it boil over. Combine milk, chocolates and 1/4 cup powdered sugar in a small bowl and whisk until smooth. Dip the tops of the filled doughnuts into the chocolate bath and place on top of wax paper.
Sprinkle some coarsely crushed graham crackers on top before chocolate sets and let cool.
Source iwashyoudry.com