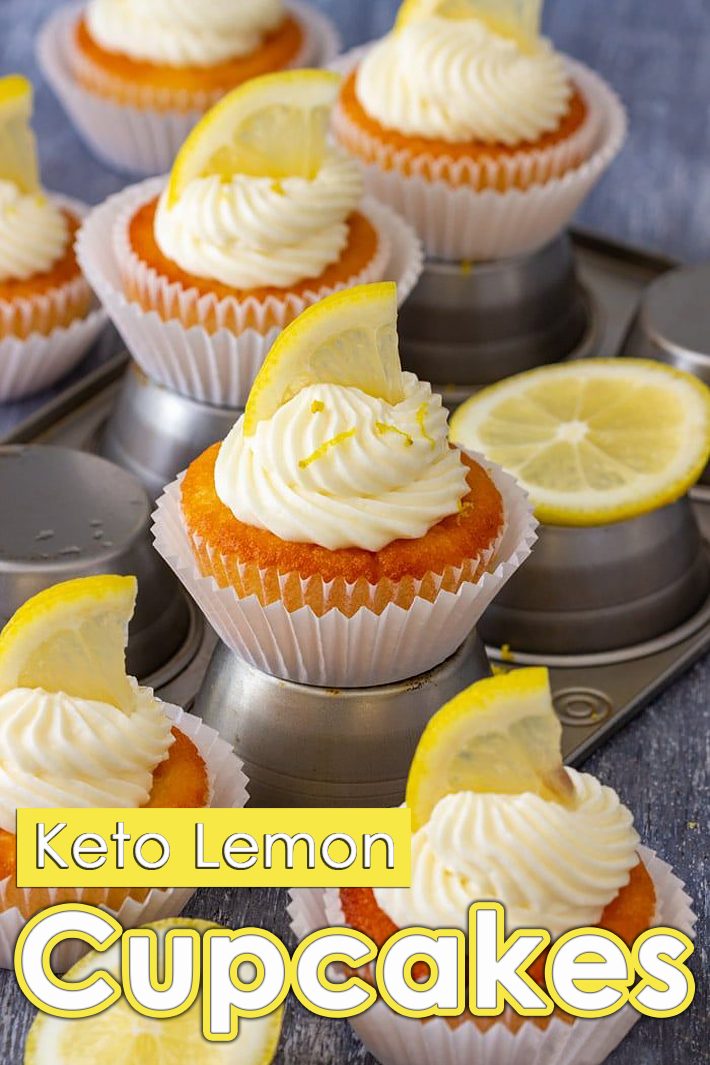 Fluffy Keto lemon cupcakes bursting with flavor and topped with whipped cream cheese frosting make my low carb dessert dreams come true. If you follow a keto diet you'll love this cupcake recipe.
The texture of these Keto lemon cupcakes is almost like the real thing. No one would believe they were eating a low carb cupcake. And the whipped cream cheese frosting compliments the cupcakes very nicely. You could add some lemon oil to the cream cheese frosting if you want, but I didn't and they were fine.
Keto Lemon Cupcakes
INGREDIENTS
WHIPPED CREAM CHEESE FROSTING
4 ounces cream cheese, cold
3/4 cup heavy cream (6 oz)
1/4 cup Sukrin Icing Sugar (or Swerve Confectioners)
KETO LEMON CUPCAKES
2 ounces cream cheese, soft
2 ounces butter, soft
1/3 cup Sukrin :1 (or Swerve Granulated)
1/2 tsp vanilla extract
1/4 tsp LorAnn Lemon Oil
zest from 1 lemon
1/2 cup Bob's Red Mill Coconut Flour
1 tsp baking powder
1/4 tsp salt
3 large eggs (cold)
1/4 cup heavy cream
1 tbsp lemon juice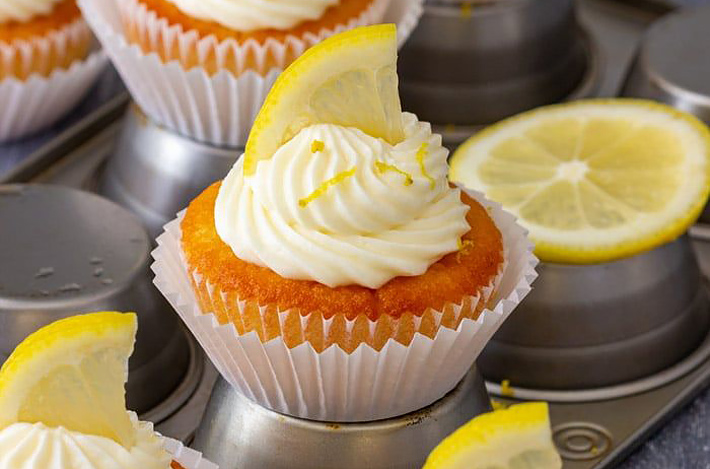 INSTRUCTIONS
Cream Cheese Frosting: (A stand mixer works best, but a hand mixer works, too.) Whip the cream cheese to loosen it. Add the powdered sweetener and whip. Adding the heavy cream a little at a time, mix until incorporated, then whip until the frosting is stiff and fluffy. Use right away or cover and refrigerate until needed.
Preparation: Preheat the oven to 350 degrees F. Position the rack to the middle of the oven. Zest and juice the lemon. Line a 6 well muffin pan with cupcake liners. In a small bowl whisk the coconut flour, baking powder, and salt together to break-up any lumps. Add the lemon juice to the heavy cream.
Method: In a medium bowl beat the first 6 cupcakes ingredients until light and fluffy (1-2 minutes). Add one egg and beat into the butter mixture until the mixture is light and fluffy (it may break or separate, it's okay). Add 1/3 of the dry ingredients and mix until completely incorporated, making sure to keep that light, fluffy texture. Keep in mind that we want a light and fluffy – almost mousse-like texture throughout this process.
Add another egg and beat until fully combined. Add half of the remaining dry ingredients, beating again. Add the last egg, beating until fully incorporated, followed by the last of the dry ingredients. Finish by adding the heavy cream, beating until the batter is thick, but still light and fluffy.
Spoon the thick batter into a plastic zip-loc bag and snip off a corner, producing about a 3/4-1 inch hole. Place the snipped corner into a muffin liner and squeeze the batter into a fat, rounded mound, filling the muffin liner about 3/4 full. Repeat for each muffin liner, adding any remaining batter to those that need a little more. Knock down any peaks with your finger. Lift the pan a few inches off the counter and let it drop.
Bake: Place the pan into the oven. Turn the oven up to 400° degrees for 5 minutes. Then, turn the oven back to 350° and bake the lemon cupcakes for 15-20 minutes more. They're ready when they feel firm when lightly pressed with a finger, but still sound moist. Remove from the oven and let cool five minutes before gently removing from the pan and placing on a cooling rack to cool completely before frosting.
Frost: Cut the tip off of a quart size zip-loc bag and insert a large open-star tip. Spoon the cream cheese frosting into the bag and twist the bag above the frosting. Starting on the outside edge of the cupcake, squeeze the frosting in a spiral making it smaller in diameter while piping. If it's not perfect, scrape the frosting off and add it back to the bag.
You can keep your keto lemon cupcakes covered and refrigerated for 5-7 days. Makes 6 very generously frosted cupcakes.
NUTRITION
Serving: 1cupcake | Calories: 375kcal | Carbohydrates: 7g | Protein: 7g | Fat: 36g | Sodium: 305mg | Fiber: 3g
 

Please follow us on Pinterest and enjoy our collection of recipes, crafts, fitness, health tips, gardening, DIY and more…
Source: lowcarbmaven.com