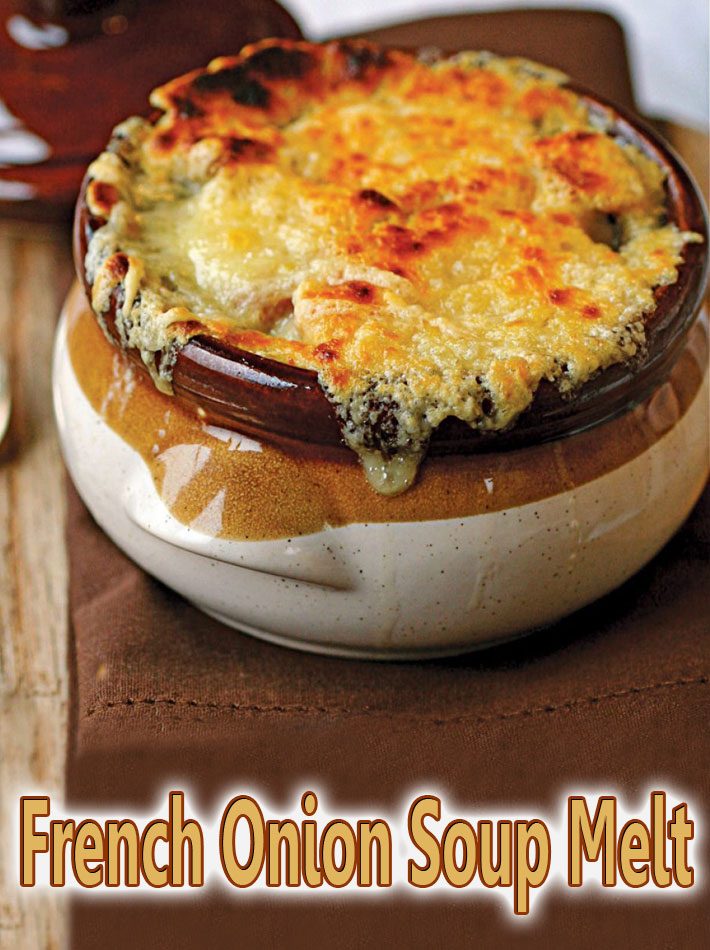 French Onion Soup Melt Recipe
Beautiful caramelized onions with melted cheese on it. Prepare French Onion Soup topped with Gruyere slices!
Ingredients:
Unsalted butter 2 Tbsp
Yellow onions 2 thinly sliced into half-moons
Kosher salt to taste
Sugar Large pinch
Beef stock ½ cup
Thyme leaves 2 tsp
Round white bread 4 slices Tuscan bread
Canola oil 2 tsp
Sliced or shaved gruyere 3 oz
Method of Preparation:
In a large sauté pan melt the butter over low heat.
Add the onion trying to make a layer.
Sprinkle over generously with salt and large pinch sugar.
Sauté over low heat until the onions are tender and caramelized, about 25 min. Remember to stir continuously to prevent burning.
Now add beef stock with thyme and cook on medium until the beef is almost completely absorbed but still a little soupy.
Preheat the broiler and line a baking sheet with aluminum foil.
Now brush 1 side of each bread slice with oil and season lightly with salt.
Divide the Gruyere slices among the un-oiled sides of the bread.
Top 2 of the slices with the onion mixture.
Put the bread slices on the aluminum foil and broil until the cheese melts, approximately 3 minutes.
To serve, top the onion slices with plain cheese slices.
Prep Time: 10 min
Cooking Time: 30 min
Servings: 2