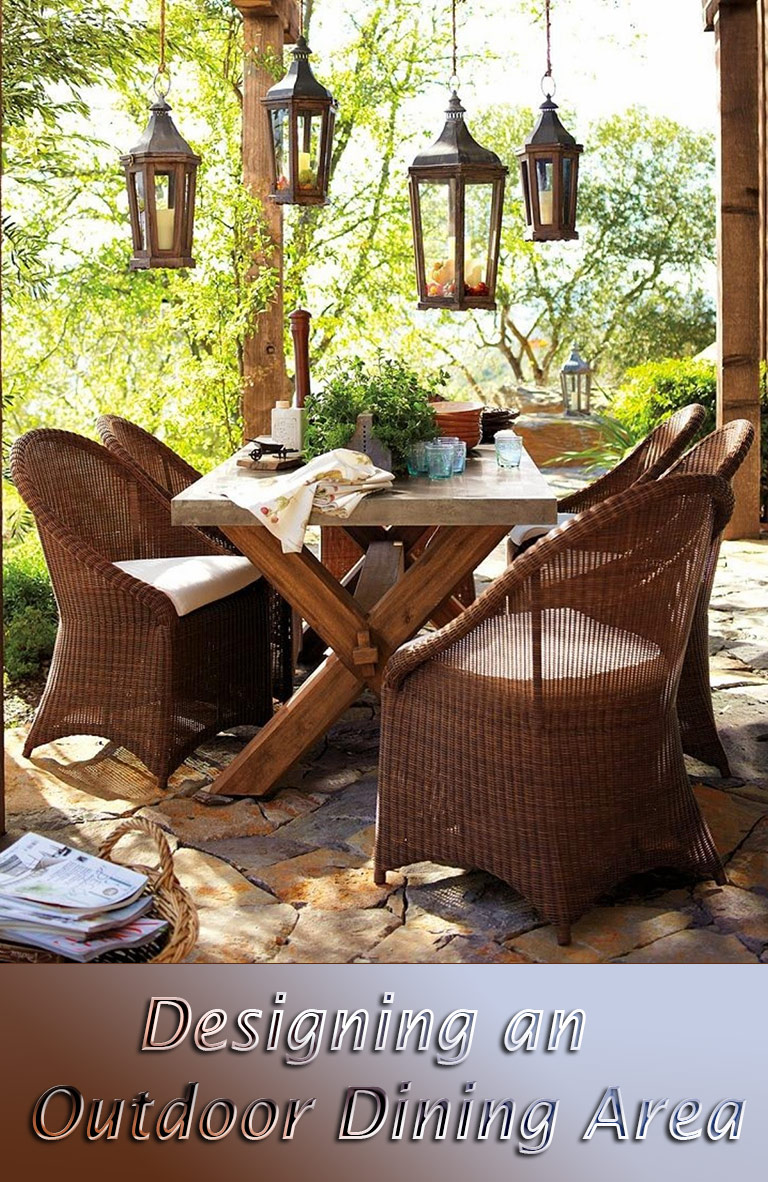 Always start with a goal!
Here at Garden Design for Living, we always start the design process by defining a specific goal. Outdoor dining means different things to different people, so before going out and shopping for your dining furniture, start by defining your goal. Ask yourself what do you want from your dining area. Will it be for large gatherings or just for you and your family? Should it be intimate and private or open and social? Will you use it in the daytime or in the evening? Do you want to cook in your dining area or cook indoors and serve outdoors? Will you be entertaining children, families or all adults?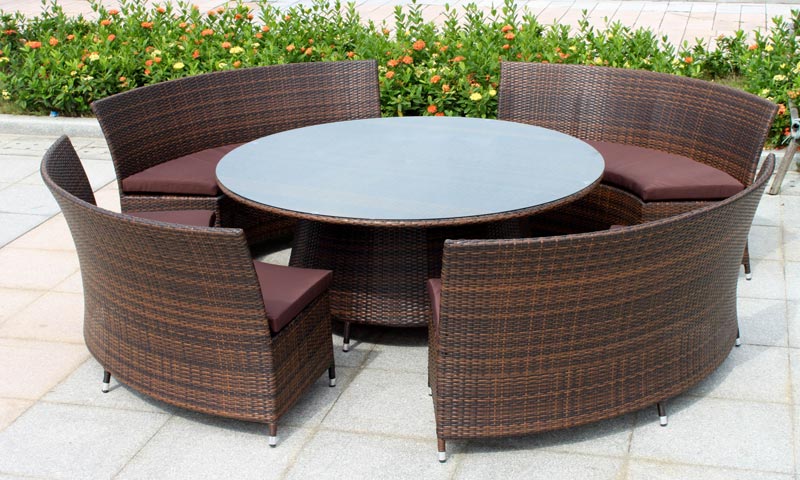 Once you've given these questions some thought, you should define your goal and even write it down. Then you can refer to it anytime during your process to make sure your choices are made in the best interest of completing your goal.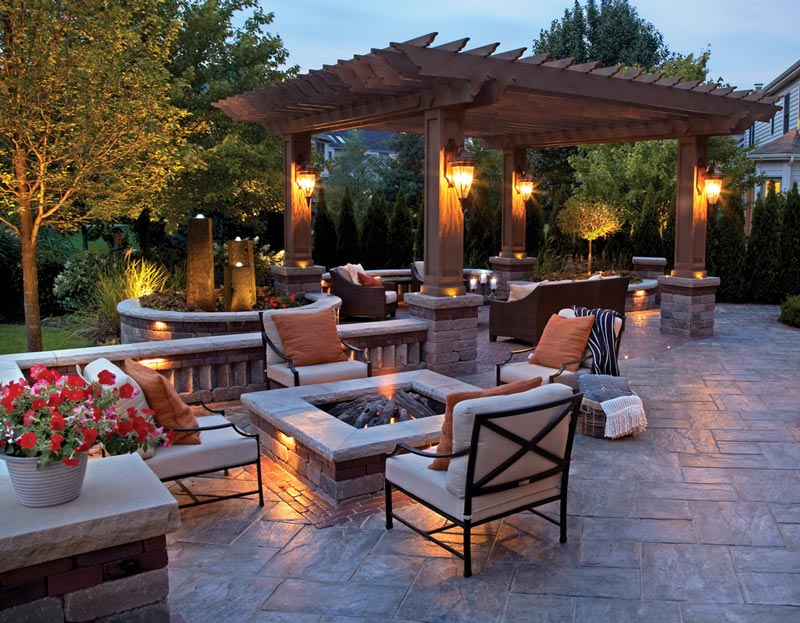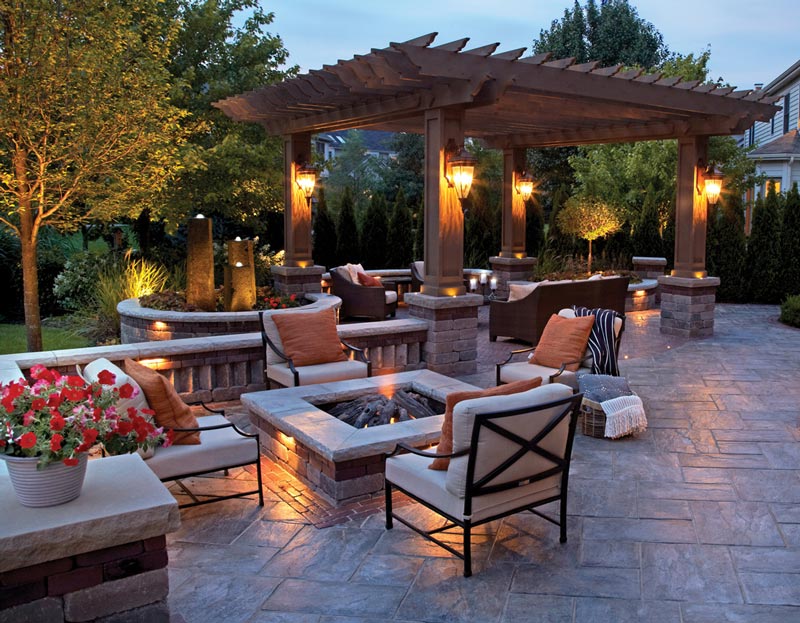 Decide on a mood
The mood you create is very important. Think about how you want your dining area to feel. Your design will look very different depending on the mood you want to create. Here are some tips to create the mood you want for different types of gatherings.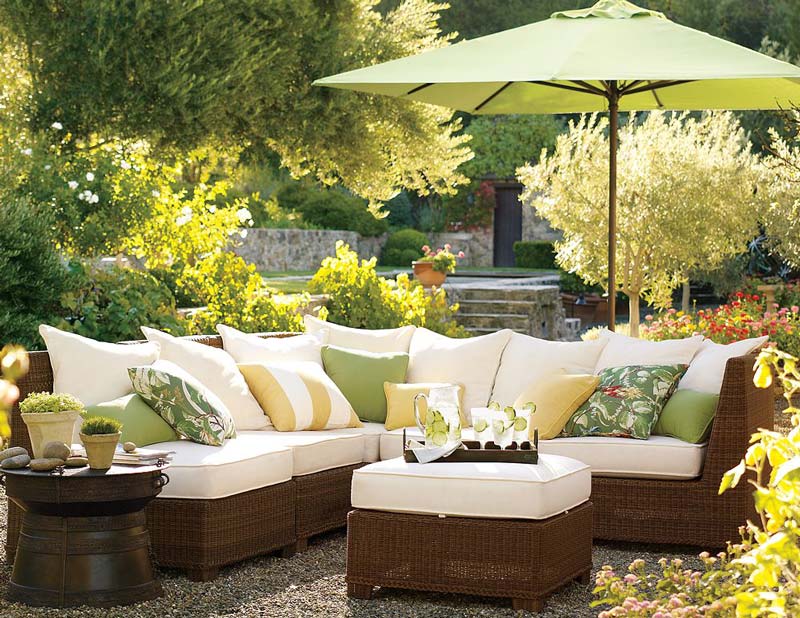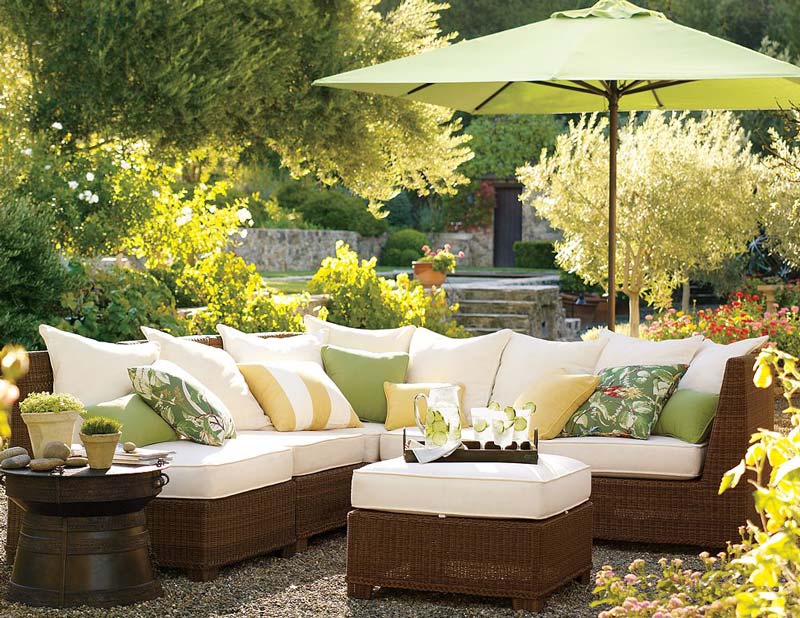 Practical dining for your family
If your dining area is just for you and your family, keep it simple. Position your area close to the kitchen door and include an outdoor grill. Make it practical. Have enough space for a guest or two that might drop by.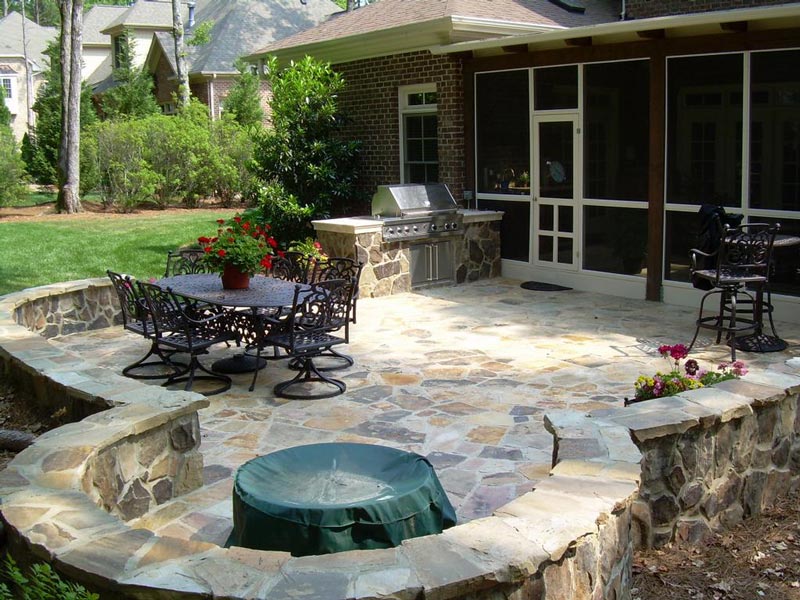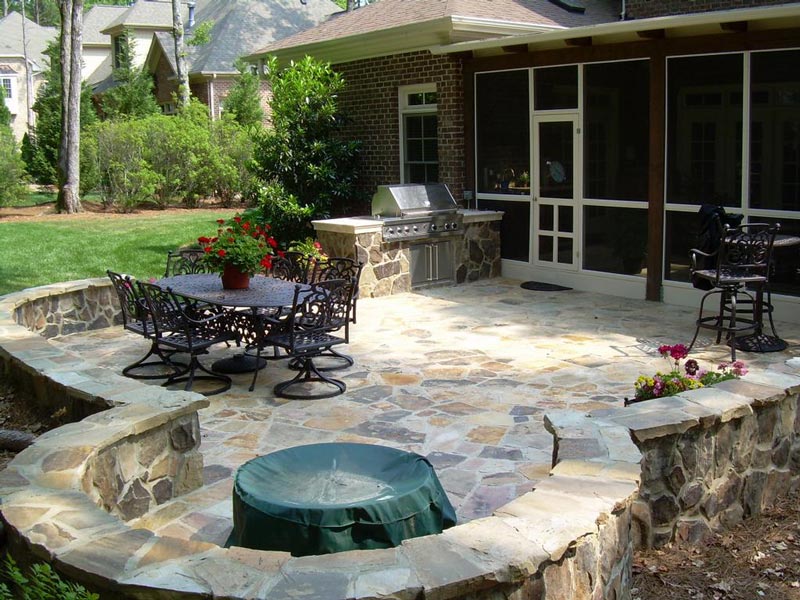 Intimate dining for small groups
If you're looking for intimate gatherings where wine and conversation flow easily among adults, position your dining area away from the house. Don't include cooking appliances in the dining area, do the cooking and dining two separate experiences. This will enhance the intimacy of the dining area.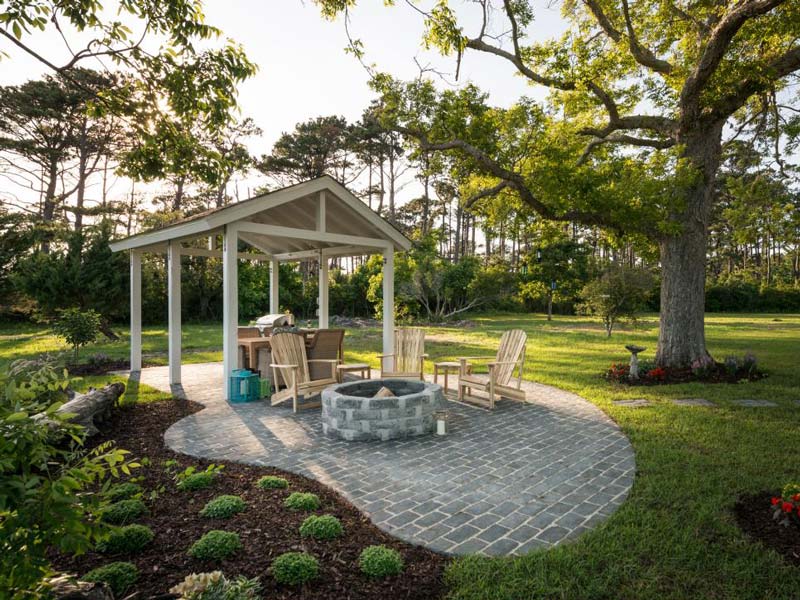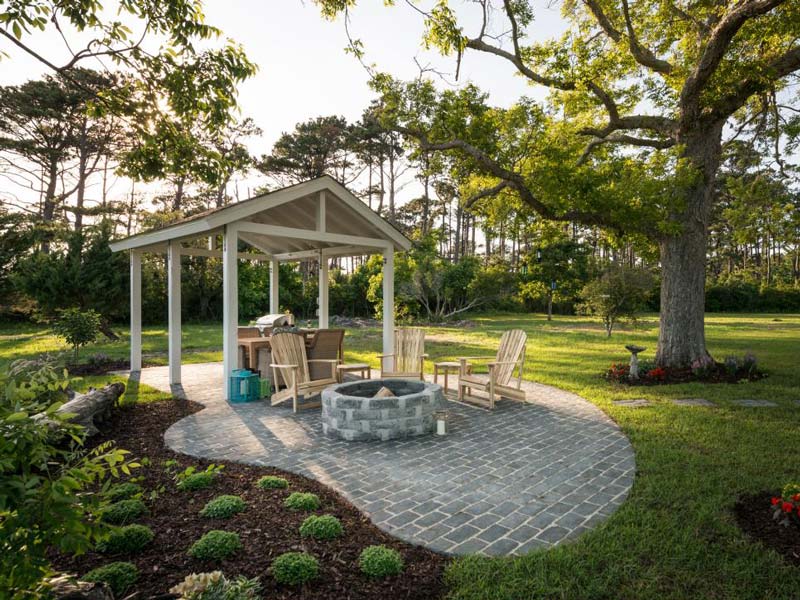 Use generous landscape lighting and keep the lighting closer to the ground. Any lighting that shines down on your dining area from above should be very soft. Another key to creating intimacy is to surround your dining area with either plantings or hardscape like stone walls.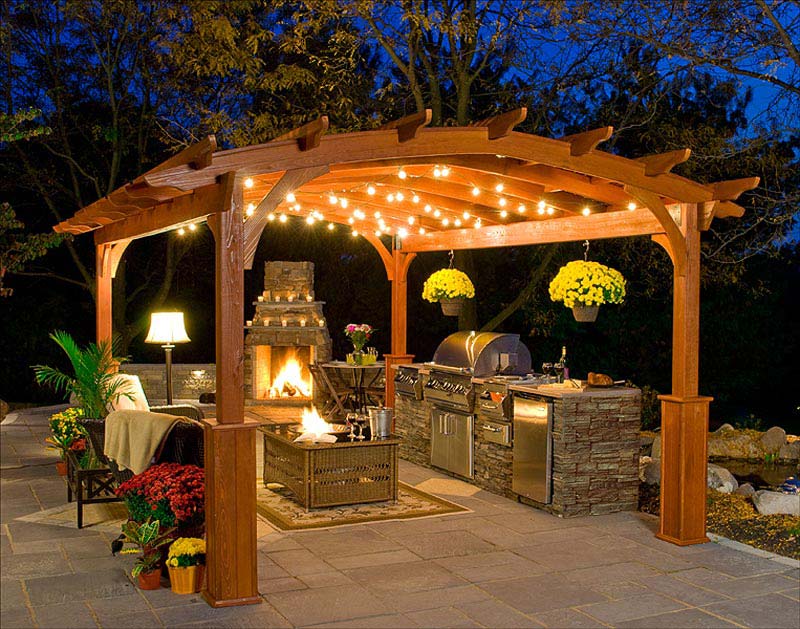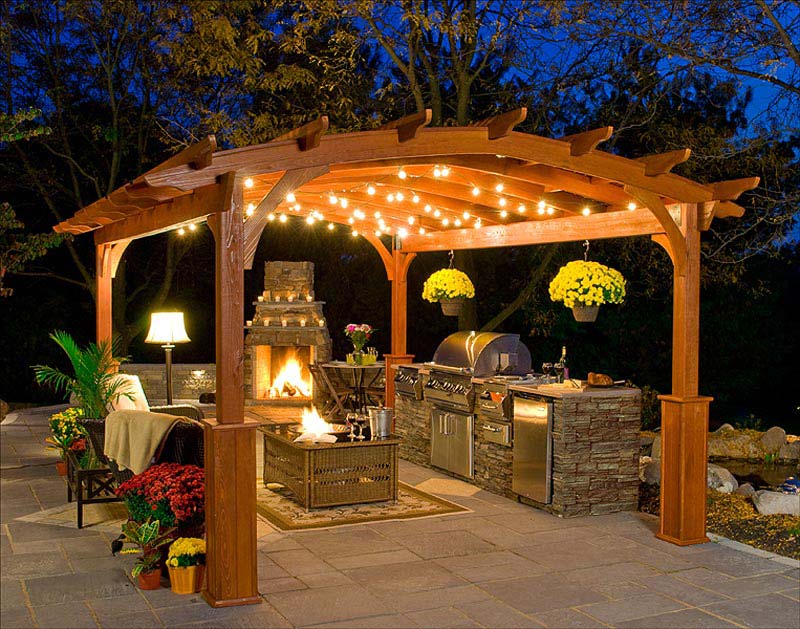 Pergolas and outdoor fireplaces (not fire pits!) also add intimacy, but can get expensive. Don't confuse fireplaces with fire pits. Fire pits tend to create more open and social moods where fireplaces add intimacy. For a surface, pea stone or natural stone is best, but stamped concrete or pavers can work if you stick to designs that look more like natural stone.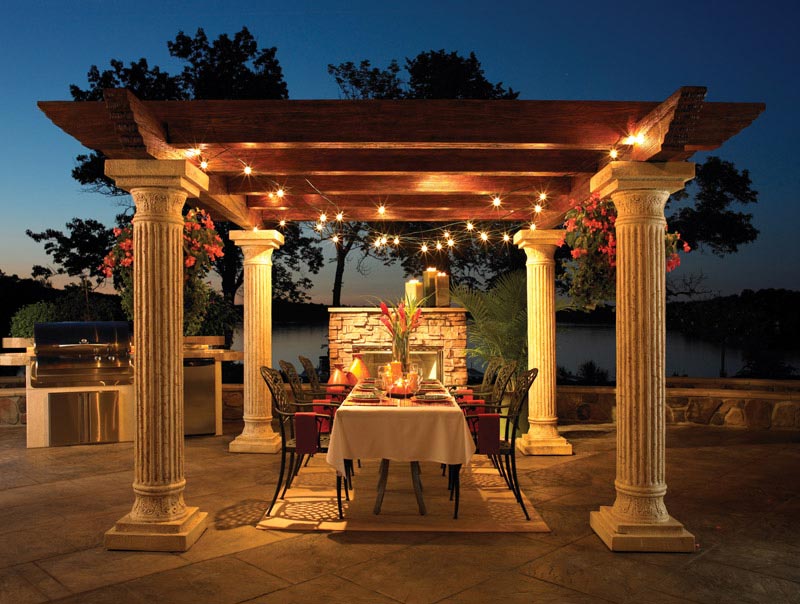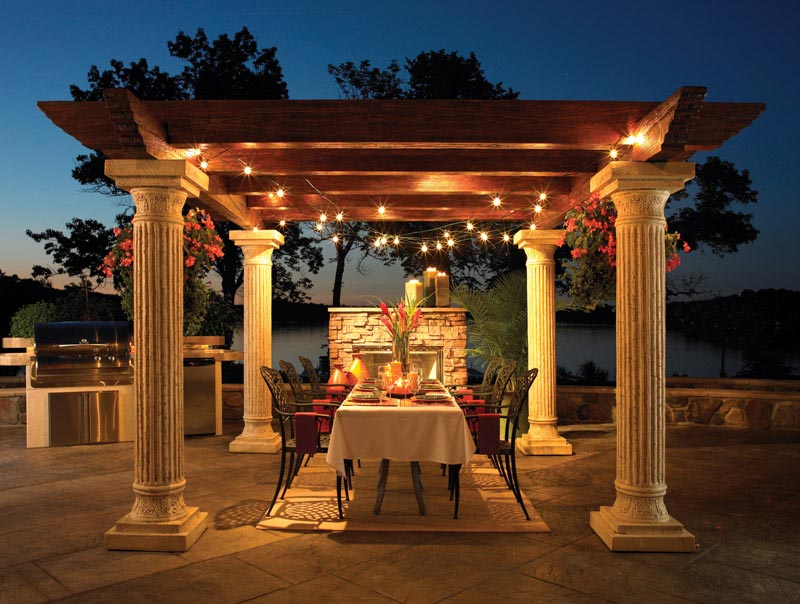 Dining for large social gatherings
If you want your backyard to be party central, then be sure to create a large space that abuts lots of open lawn (or even better…a pool!). If you're using a deck, keep your dining area as close to ground level as possible to avoid the need for railings. Patios usually work better that decks for creating fun social spaces. Include lots of cooking appliances in your design. You want the cooking to take place in the same space as dining. If you can afford it, go with a complete outdoor kitchen with a bar.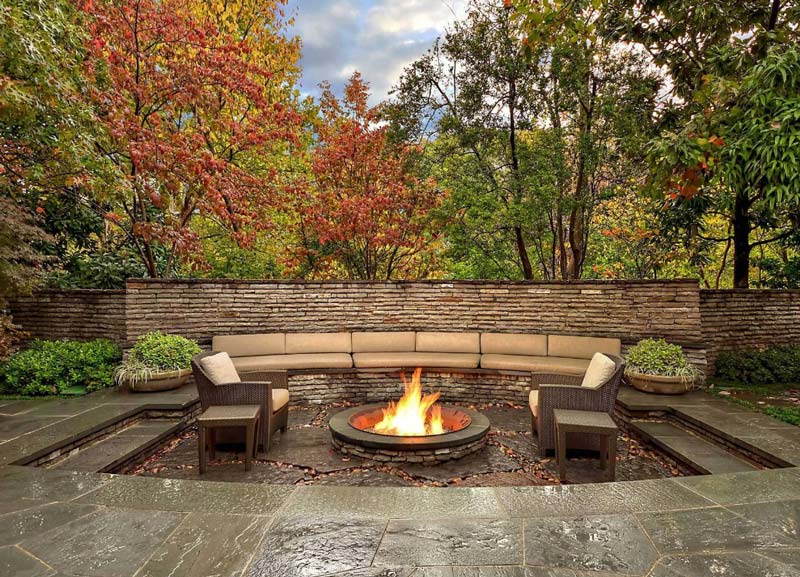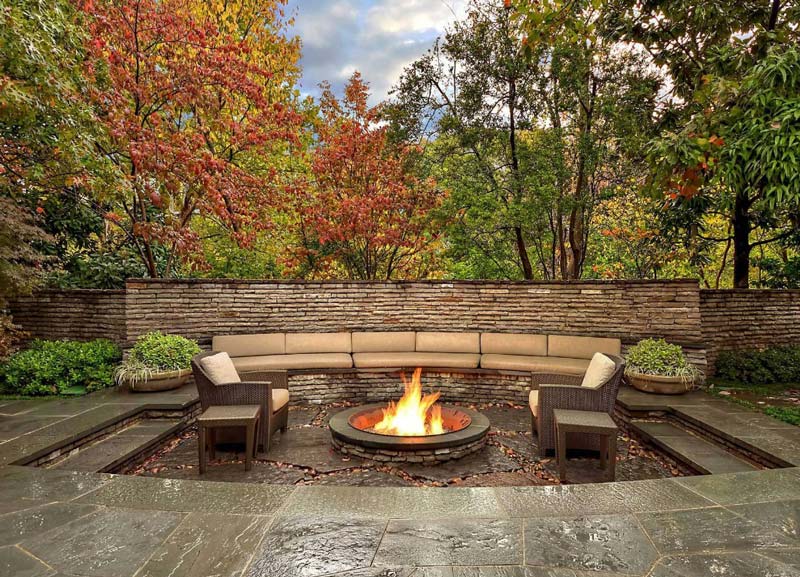 To create a social mood, you want to avoid going into the house as much as possible. The more you can do outside, the better. If you don't include an outdoor kitchen, place the dining area as close as possible to the indoor kitchen to make delivering food easier. If you include plantings, stick with low, sturdy shrubs and avoid delicate perennials. Be sure to keep the space open. Don't close it with too many plants. Fire pits are also great for creating a social atmosphere. Make sure to leave plenty of room for seating around your fire pit.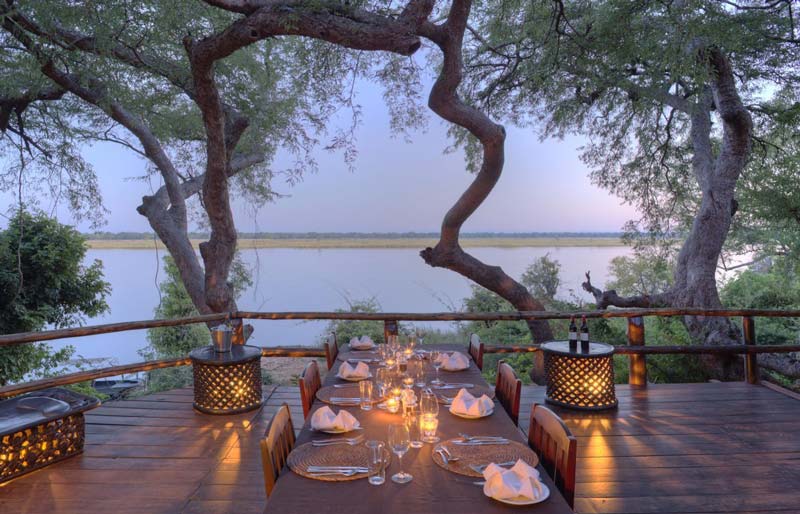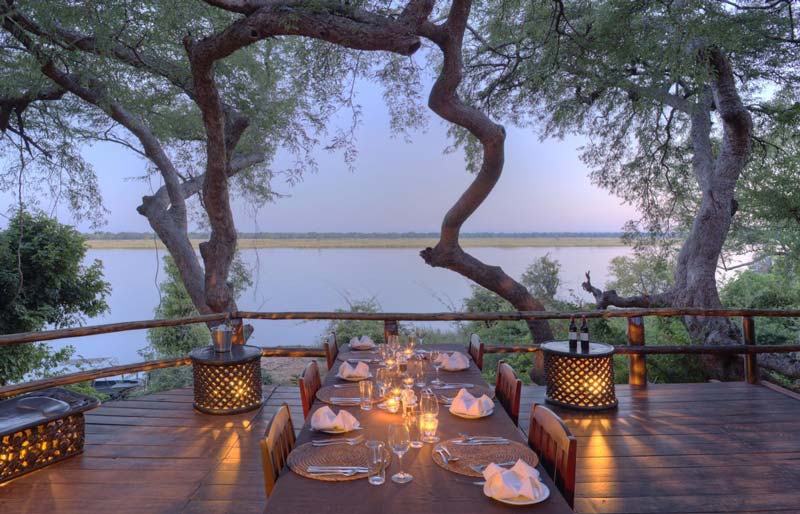 Use lots of light, flexible furniture. In large gatherings, your guests will move furniture around to suit their needs. Use practical lighting that can really light up the space at night. Pavers or stamped concrete work well for patios designed for large gatherings.
Choosing the right surface for your dining area
The surface for your dining area can also make a big difference in how it feels and works to suit your needs. Budget is also a big concern. Landscaping surfaces have a very wide range when it comes to pricing. Let's look at some options for your dining area landscape surface.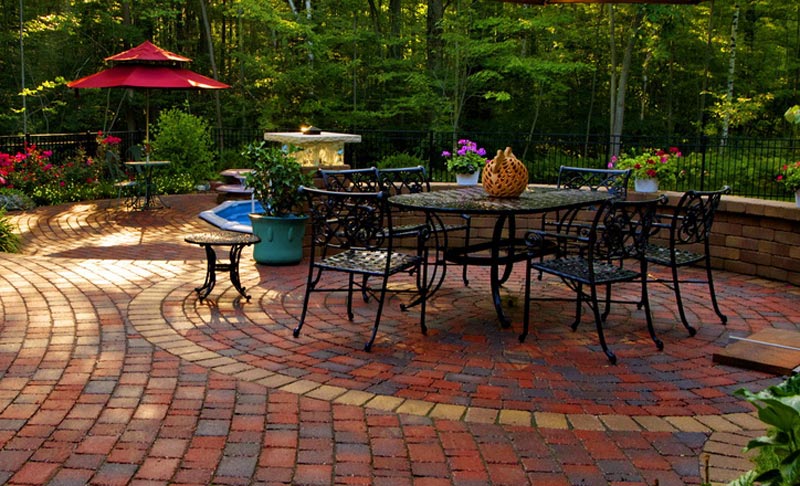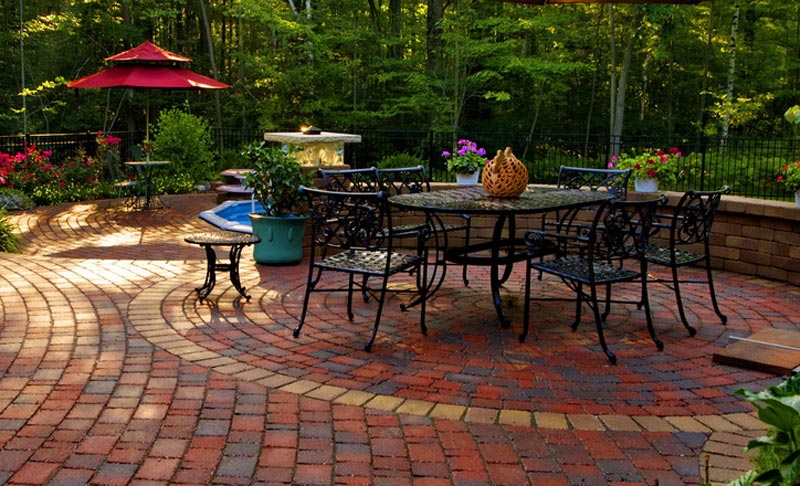 Decks
Decks are a relatively inexpensive way to create a dining area. Most decks use a pressure treated wood frame with an engineered material for the decking surface. Decks are elevated off the ground, some only by a few inches, others can connect to an upper story of a home.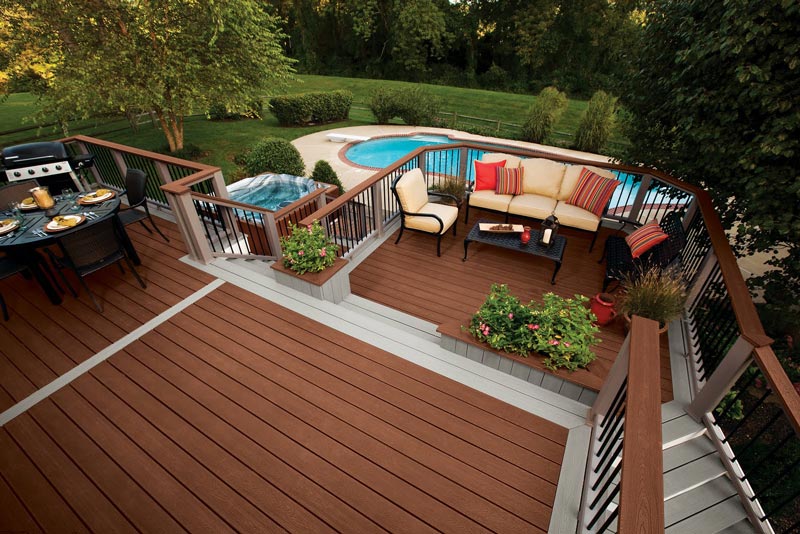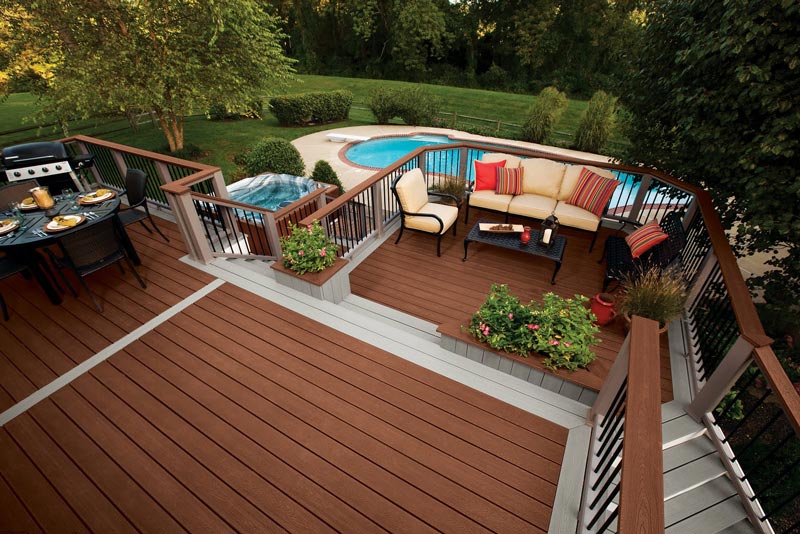 The main benefits of a deck are ground surface elevation and the relatively inexpensive materials. The drawbacks include the limited life of the wood materials used and the wear and tear on the surface. Unlike stone surfaces, the deck surface may need to be replaced eventually.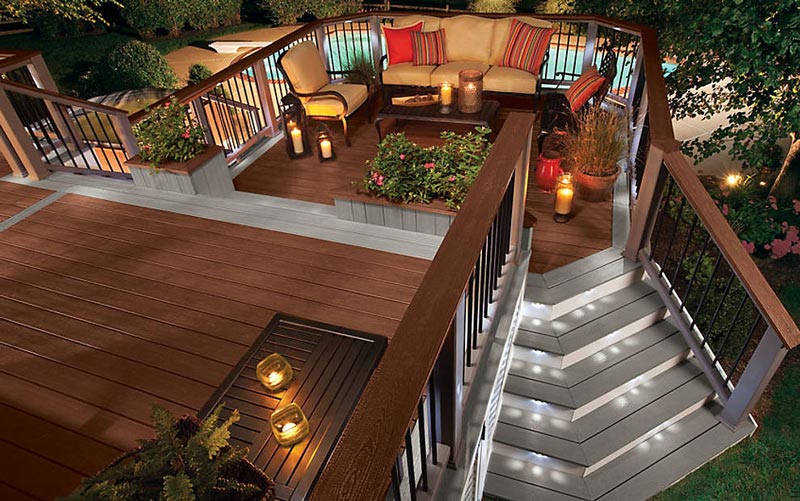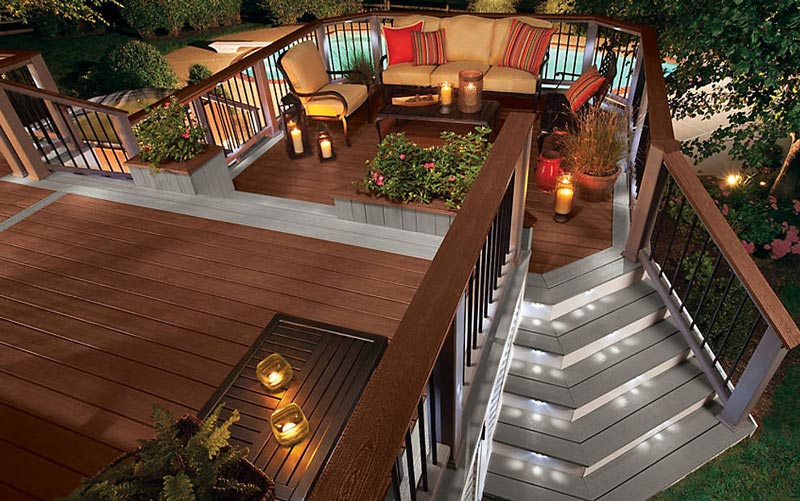 If you decide to go with a deck, we suggest staying away from natural wood decking because of the maintenance involved. Most wooden deck surfaces need to be treated annually and will still have a limited life span. Engineered materials do not need to be treated and will last for several years.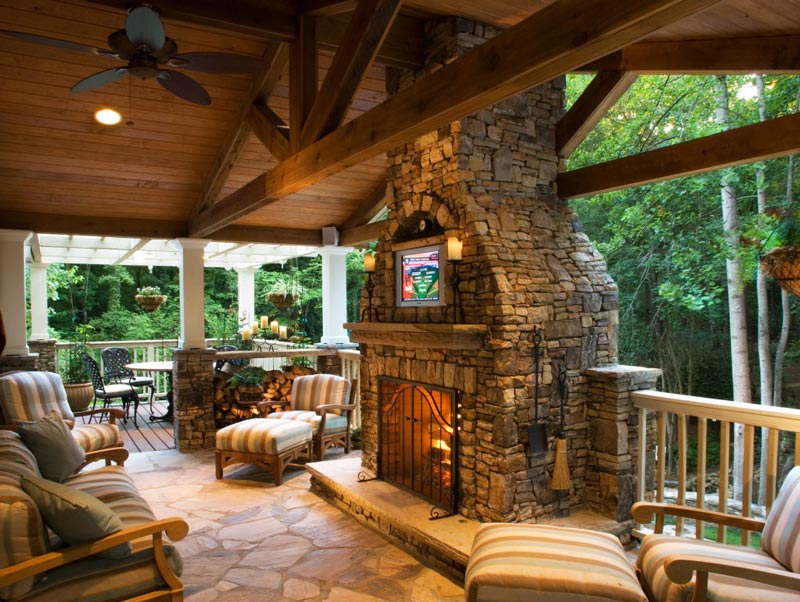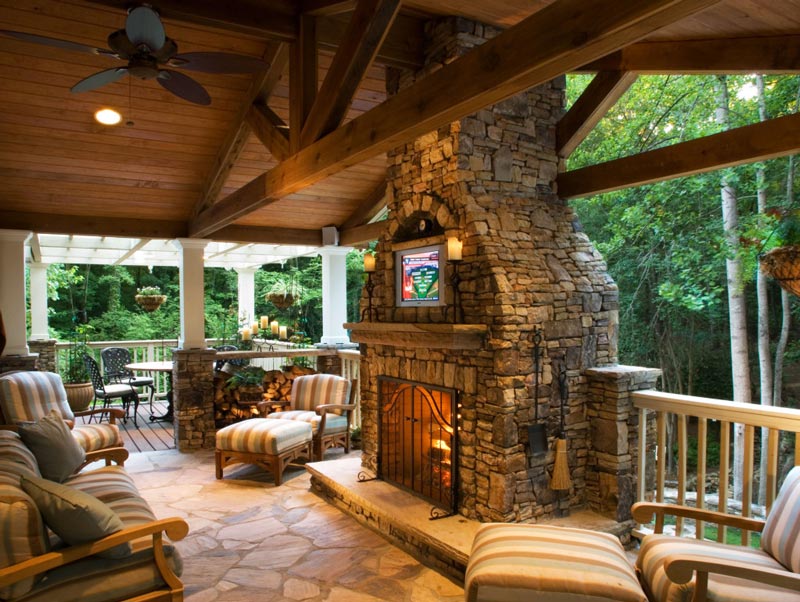 Pea stone and other aggregate stone materials
Crushed stone, pea stone or similar aggregate stone materials are probably the cheapest way to get a landscaping surface into your yard. The installation is easy, even for an inexperienced homeowner and the materials are inexpensive (with the exception of some exotic stone materials). It gives a very rustic look that fits well into casual designs. To install it, you just need to remove 5 or more inches of dirt from the area, lay down landscape fabric and then backfill it with the stone. You can create a patio in one day. If your patio area abuts a lawn, you may want to use some sort of edging between the stone area and the lawn.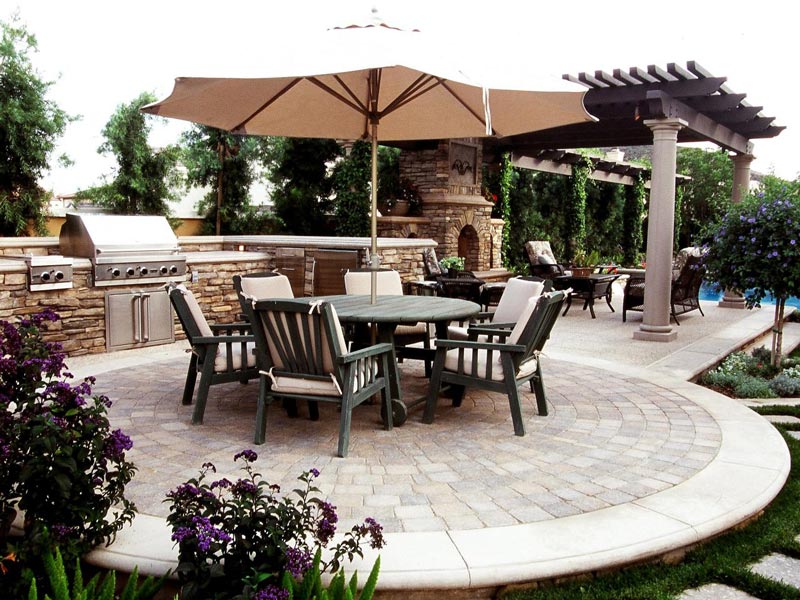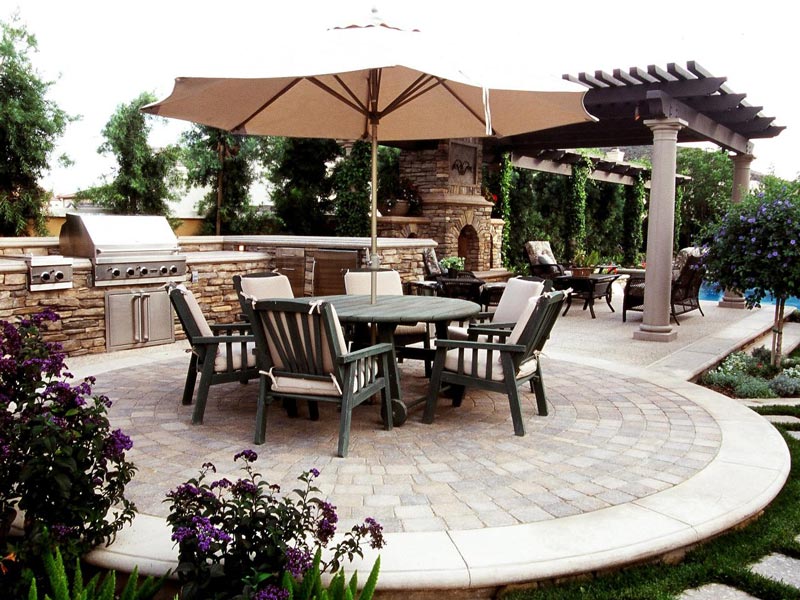 The benefits of this material are in the rustic feel of the stone, the ease of installation and the low cost of the materials. However, there are several drawbacks to using pea stone. The stone tends to find its way into homes and can cause damage to interior floors.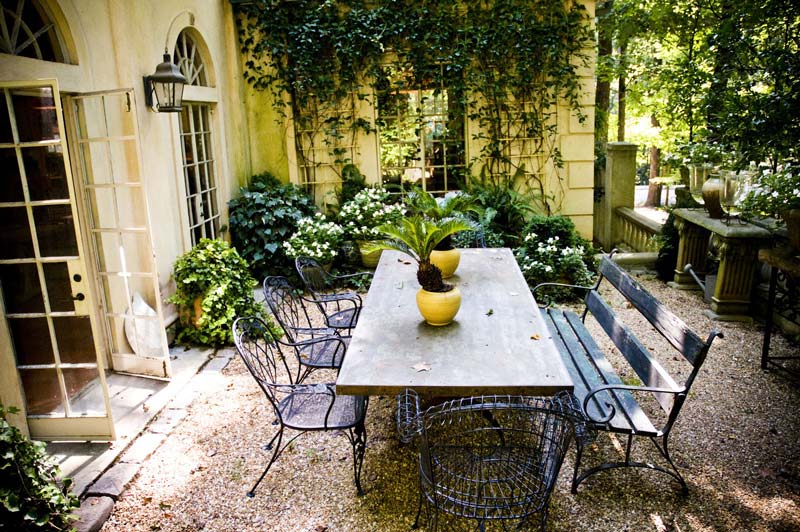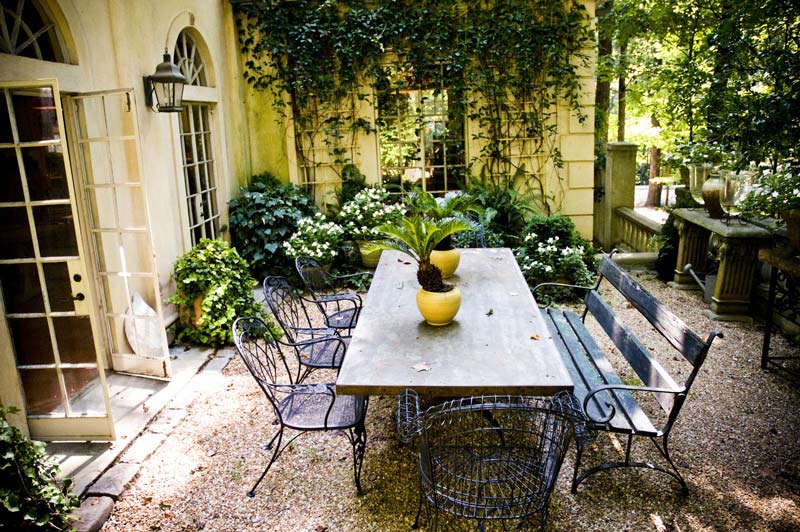 It is also prone to weeds that can grow through the stone (landscape fabric underneath will help, but not completely eliminate this problem). It's also a little difficult to shovel snow or rake leaves off of this type of surface. Pea stone can be a great low cost surface for a rustic dining area, but make sure you're willing to pull a few weeds if you want to use this material.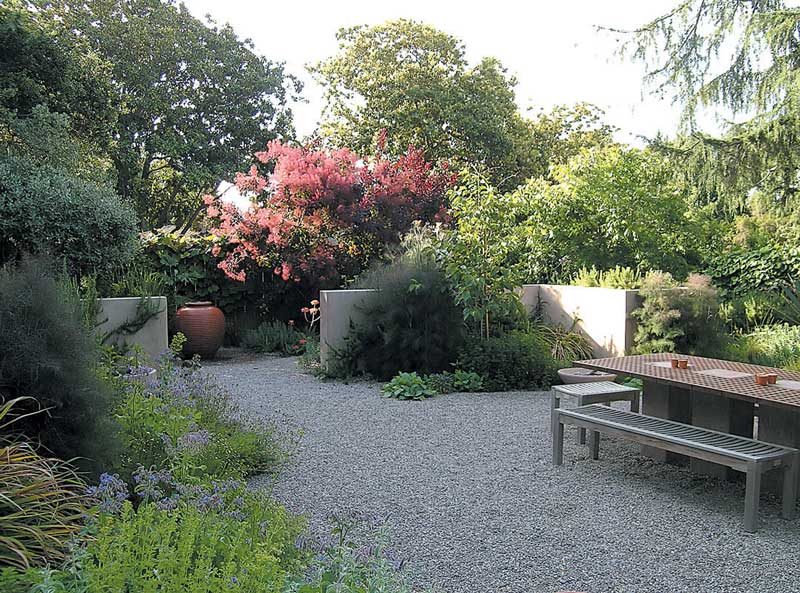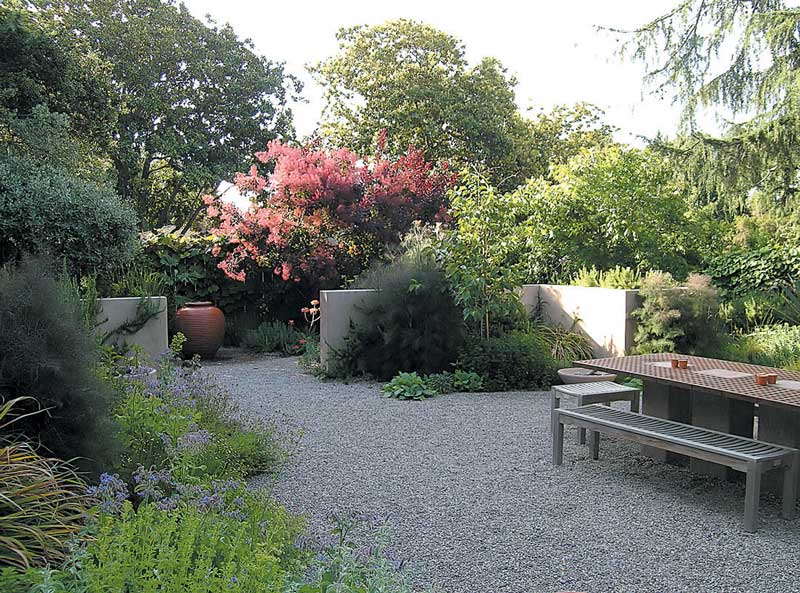 Pavers
Pavers are a great all around patio surface for dining areas. They come in a wide variety of shapes, sizes and colors. Pavers are more expensive than pea stone and most decking surfaces, but they last longer and give a more formal appearance. Pavers are difficult to install if you are inexperienced, but with some training it's possible for a homeowner to install pavers successfully.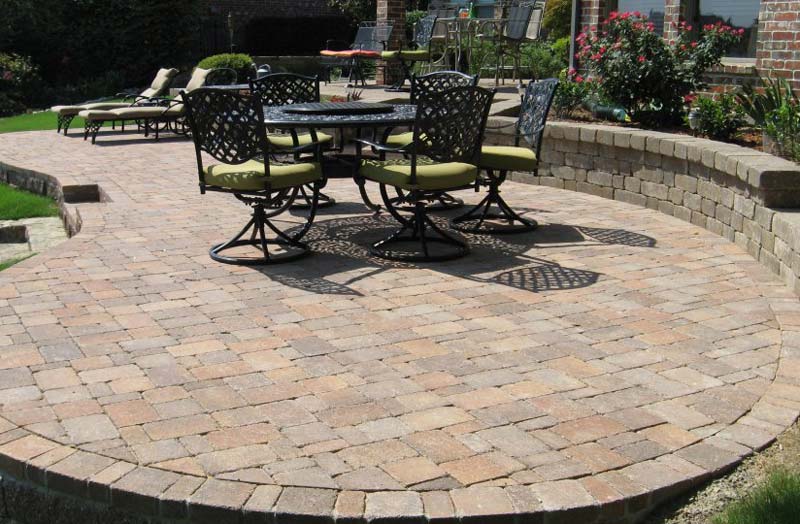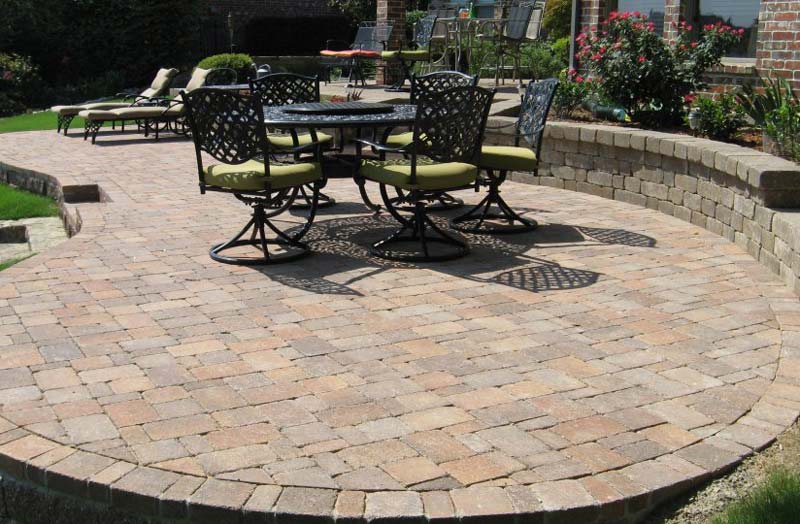 The major benefit of pavers is the fine, smooth, finished look they give. The major drawbacks are the high cost and the possibility of weeds growing in the gaps. Some homeowners also feel that pavers give an artificial look to outdoor surfaces. This really depends on the design and mood you are trying to create. Each year, better and more natural looking pavers are being created, so make sure you take a good look around before you make a decision. If you are installing pavers, we suggest using polymeric sand to fill in the spaces between pavers. Polymeric sand forms a tight bond when water is added that helps block weed growth.
Stamped Concrete
Stamped concrete can give the look (almost) of natural stone, but is much faster to install and does not leave room for weeds to grow between the stones. It's about the same price per square foot as pavers (depending on the paver you choose), but it's much more flexible. You can create very natural looking or more formal looking designs by simply using different patterns.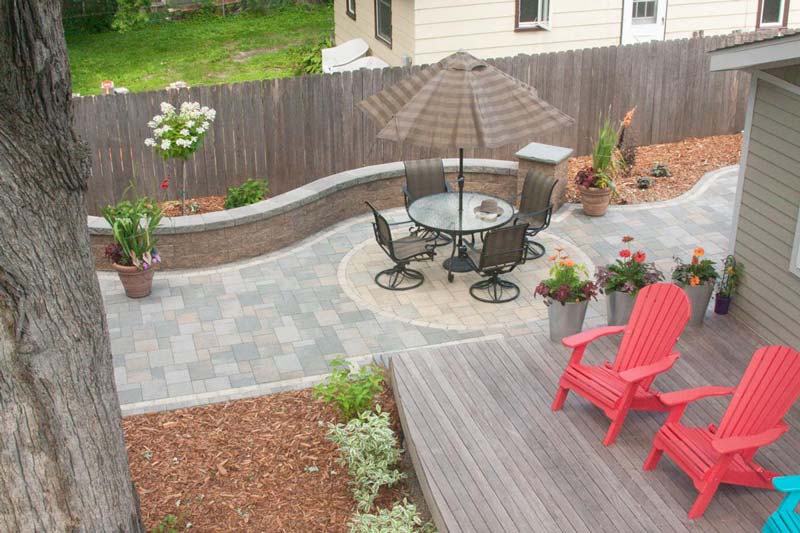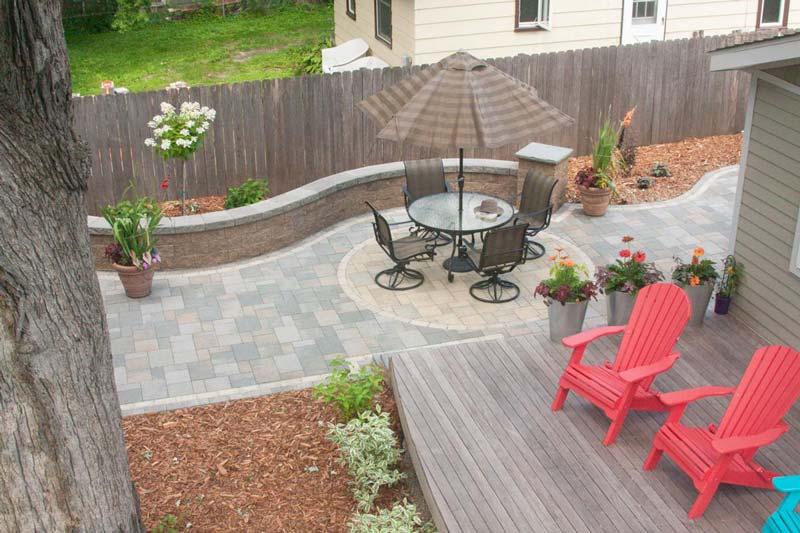 Installation can only be done by professionals with the proper equipment. The major benefits are the flexibility of the style, the speed of install and the cost compared to natural stone. The only real drawbacks are the cost when compared to decks or pea stone and the possibility of cracking over time.




Natural stone
Natural stone is usually considered the most desirable of all patio surfaces. It's hard to beat the beauty of natural stone. You can find stone to match almost any mood you're trying to create. If you want your dining area to feel like it's part of the landscape, then natural stone is your best choice. Unfortunately, it's one of the most expensive surfaces to install. The major benefits of natural stone are its beauty and natural look. The drawbacks are primarily the high cost, weeds that may grow between the stones and the shifting of stones that can happen over time creating uneven surfaces.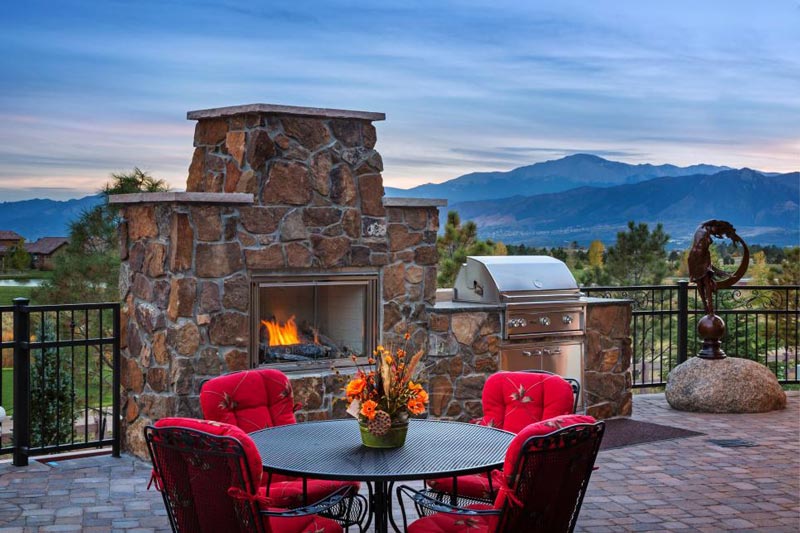 Like pavers, natural stone is not easy to install if you have no experience, but with a little training (and a lot of sweat), it can be done by homeowners willing to put in the effort. If you are installing a natural stone patio, we suggest using polymeric sand to fill in the spaces between stones. As with pavers, this will help keep down weeds.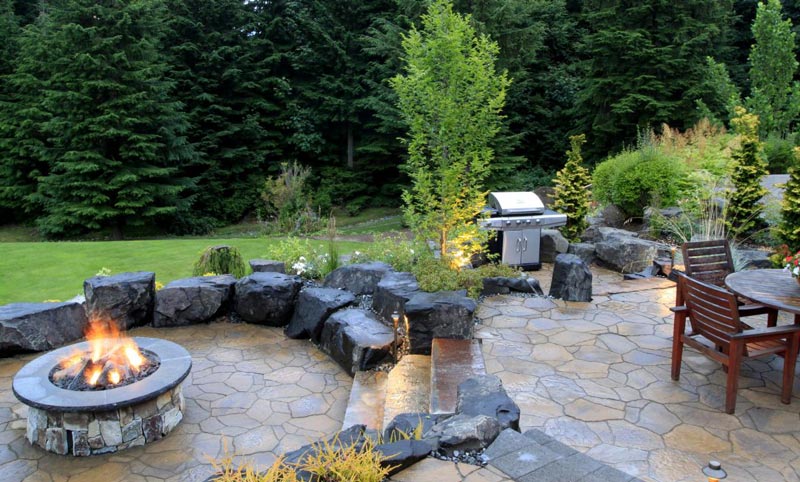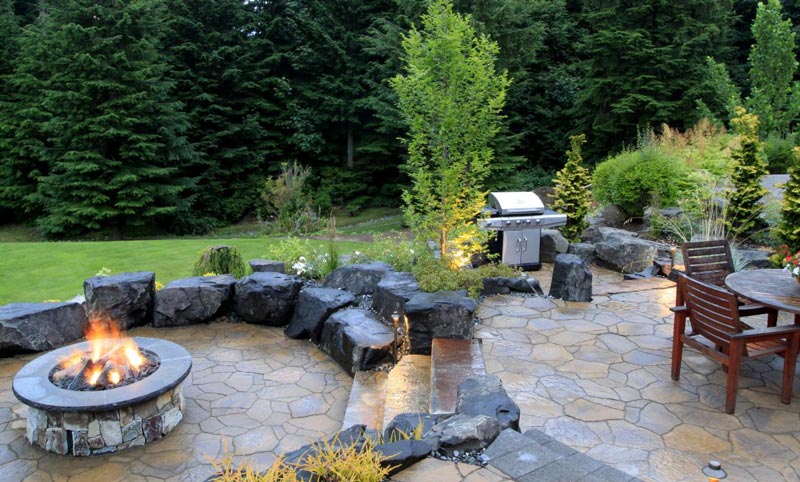 Once you've installed your dining area surface, you'll be ready to add furniture and entertain! Just remember to stay true to your goal and the mood you're trying to set when choosing furniture.
Good luck with your design and remember to enjoy it!
Source: Garden Design for Living