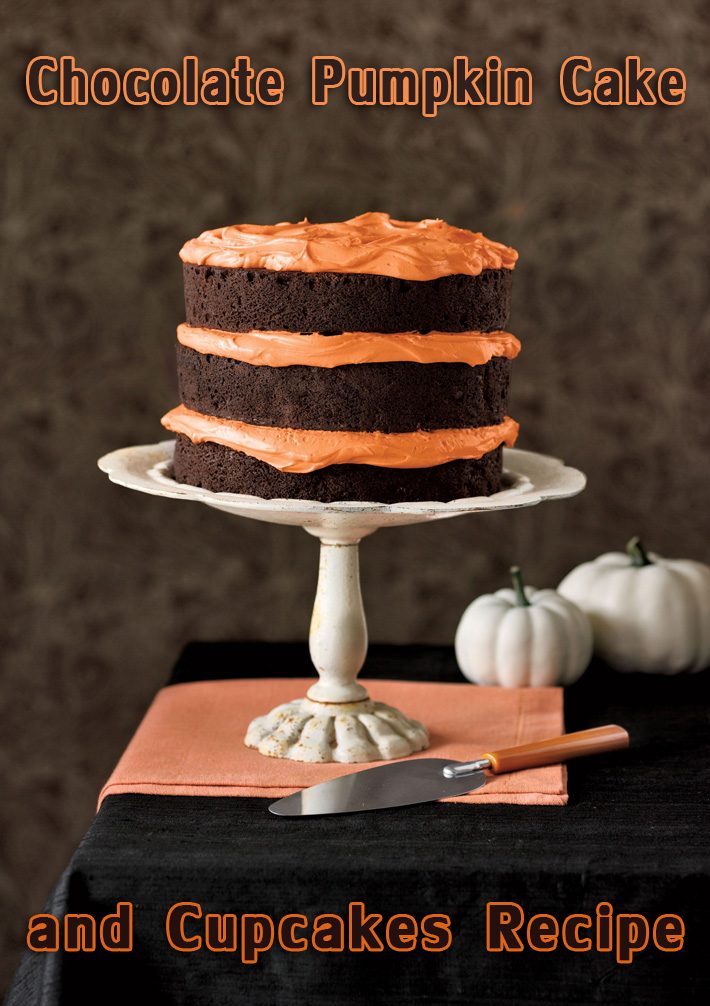 Chocolate Pumpkin Cake and Cupcakes
Have your cake and cupcakes, too: One recipe yields chocolate pumpkin spice cupcakes or a triple-layer chocolate pumpkin cake.
Nothing beats this Chocolate Pumpkin Cake when the weather gets cooler! It couldn't be easier and it's always a hit.
TOTAL TIME: 1:10   LEVEL: Moderate   YIELD: One 8-inch 3-layer cake or 36 cupcakes   SERVES: 18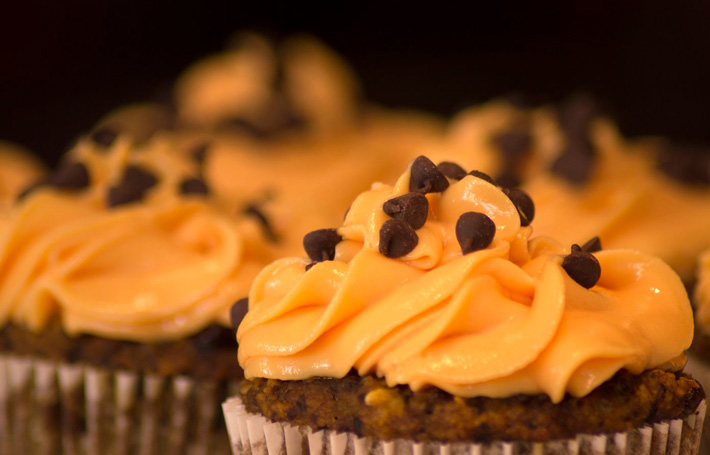 Ingredients:
2½ c. all-purpose flour
2 tbsp. all-purpose flour
1 c. good-quality cocoa
2 tbsp. good-quality cocoa
1 tbsp. baking powder
1½ tsp. baking soda
2¼ tsp. ground cinnamon
¾ tsp. fresh-grated nutmeg
¾ c. Buttermilk
1½ c. pumpkin purée
1½ tsp. vanilla extract
2.25` stick unsalted butter
1½ c. dark brown sugar
1½ c. granulated sugar
5 large eggs
Orange Cream-Cheese Frosting
Directions:
Prepare cake pans: Heat oven to 350 degrees F. Lightly butter three 8-inch cake pans and fit each bottom with an 8-inch circle of parchment paper. Lightly butter the parchment paper. Set aside.
Make the batter: Sift the flour, cocoa, baking powder, baking soda, cinnamon, and nutmeg in a large bowl and set aside. Combine the buttermilk, pumpkin, and vanilla in a medium bowl and set aside. Beat the butter and sugar together in a large bowl, with an electric mixer set on medium speed, until fluffy. Add the eggs, one at a time, beating well after each addition, until the mixture is smooth and light. Alternately add the flour mixture and buttermilk mixture, blending well after each addition.
Bake the cake: Divide the batter among the pans and bake until a wooden skewer inserted into the middle comes out clean — about 35 minutes. Cool the cakes in the pan for 20 minutes. Remove cakes and cool. (For cupcakes: Heat oven to 375 degrees F. Place cupcake liners in standard cupcake tins and fill each with 1/4 cup of batter. Bake for 22 minutes.)
Assemble the cake: Trim each of the layers. Place one layer on a cake plate and top with one third of the frosting. Repeat with the second and third layers. (To ensure that the cake layers do not shift, cut three skewers to 1/4 inch shorter than the full height of the cake and insert them before icing the top layer.) Refrigerate until ready to serve.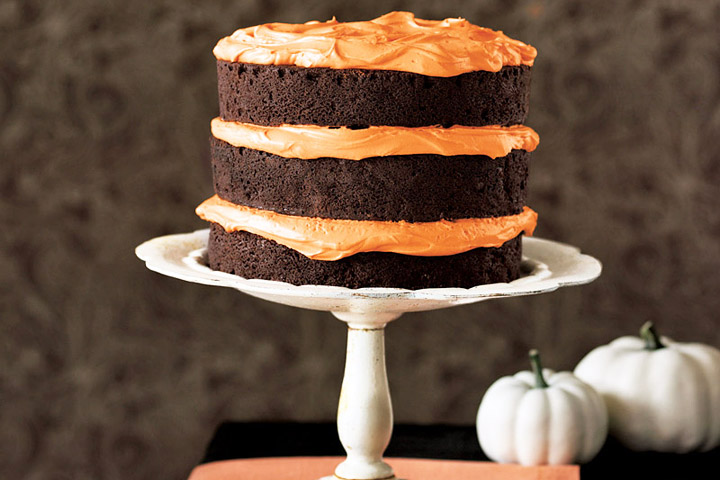 Tips & Techniques
Start with chilled frosting and ice the layers to 1/2 inch from the edge to prevent too much dripping.